The capital of Thailand Bangkok is a great place for a city break. It has everything, from culture, historic landmarks, nightlife, good food and so much more! Bangkok is the kind of destination you should visit for at least 48-72 hours, or longer if you have time. In this guide I will share suggestions on things to do in the city, places to eat, places to stay and how to get around. Towards the end you will also find some photography and destination tips which should help you with your trip.
Getting Around
To/From the Airport
There are two airports in Bangkok, Suvarnabhumi Airport and Don Mueang International Airport. To get from the Suvarnabhumi Airport airport you can use the Airport Rail Link which takes you to Phaya Thai station. From there you could then transfer to the MRT lines, or use local taxis or Tuk Tuks to continue your journey.
Alternatively consider arranging a car transfer with your hotel. You may also be able to get super cheap tickets for around 150 baht to/from the airport using a shuttle bus. This might be possible to arrange through your hotel or local travel agencies. This is what I did when I left my hostel near Khaosan Road, but on my way into Bangkok I took the airport express train.
Within the City
To get around Bangkok you can use the MRT metro, taxi's, tuk tuks or Uber. When using taxi's request the meter to be running and when using Tuk Tuks agree a price up front.
If you use the metro then you pay based on distance. The metro isn't that extensive at present so you won't be able to use it to get everywhere in the city. However it is a good way to skip past traffic during rush hour, and then you could get a taxi/tuk tuk from a station that is closest to your accommodation for the rest of the way.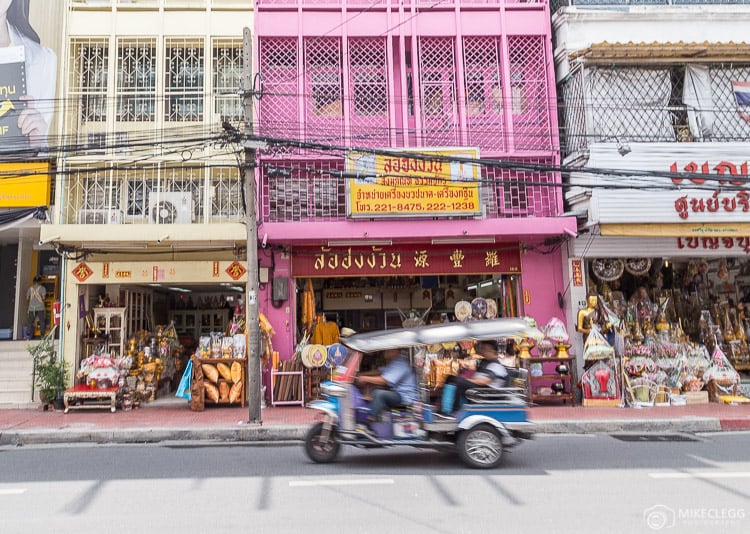 Things to See and Do
Bangkok is very big and quite spread out. During 48-72 hours you will only be able to see and do so much. I recommend doing your research and deciding on what you want to do most before your trip. If you have longer such as four or more days you could probably see most of the main attractions.
Below you will find some of the things I saw during my visit.
Wat Suthat
This stunning Buddhist temple in Bangkok was one of my favourite temples and should be high on your list of things to see. Wat Suthat consists of a large temple in the centre which inside has a beautiful Phra Sri Sakayamunee Buddha. Surrounding the temple is a huge courtyard and on the perimeter are large numbers of Buddha statues lining the walls.
Price: 20 baht
Address: Wat Suthat 144 Bamrung Muang Rd, 10200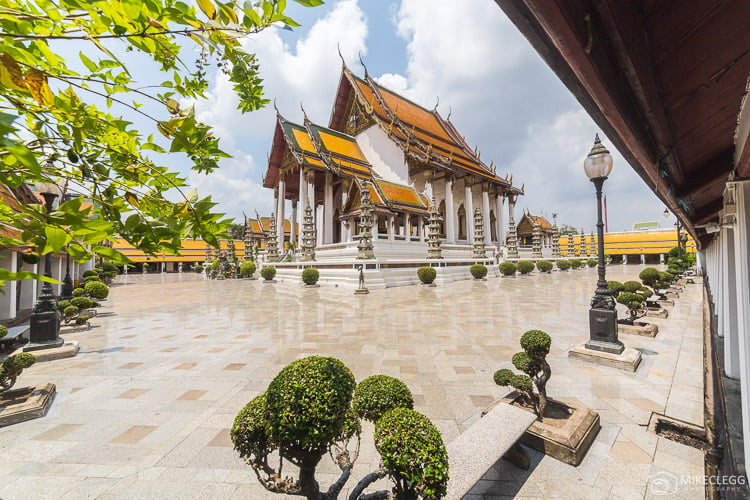 The Giant Swing 
In front of Wat Suthat is the Giant Swing which is a famous religious structure built in 1784. The structure is 21 meters high and in the past was used as a religious Brahman rite by priests who used to swing on the structure to pay homage to the Shiva God. Due to accidents this no longer happens.
Address: Giant Swing, 10200
Wat Arun
Wat Arun or the Temple of Dawn is an ancient Buddhist temple located along the Chao Phraya River in central Bangkok. The temple has been around since the 17th century and consists of a beautiful main tower (prang) in the middle and then 4 spikes on each corner. This central prang is around 79 meters and has beautiful coloured glass and Chinese porcelain decorating it. 
Wat Arun was something I was keen to get pictures of during my visit and one of the best viewpoints is from the rooftop bar of Sala Rattanakosin which is on the opposite side of the river. You can stay at this hotel as a guest or visit the restaurant or rooftop bar.
Temple Price: 100 baht
Address: Wat Arun, 10600
Website: www.watarun.net/tourist_information.html

Wat Pho and the Reclining Buda
Wat Pho is a large temple complex south of the Grand Palace and is the location of the Reclining Buddha. This is a stunning 46 meter long gold Buddha statue lying on it's side, and is one of the most beautiful Buddhas I've seen. The complex is quite large and has other temples, as well as Prang towers, Stupas, Buddha statues, a Medical and Massage school and accommodation for monks. I found Wat Pho particularly impressive and you could easily spend a good few hours exploring.
Price: 100 baht
Address: wat pho,2 Sanamchai Road, 10200
Website: www.watpho.com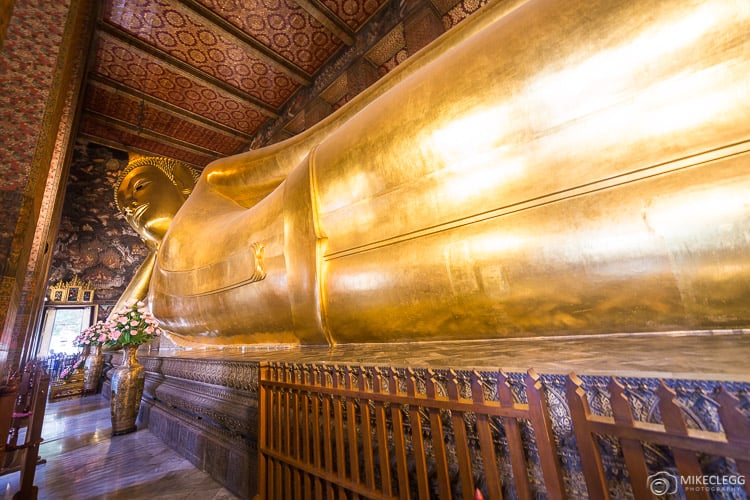 Grand Palace
The Grand Palace is one of Thailands highlights and most important landmarks. The Palace was a established in 1782 and has various sections including the Temple of the Emerald Buddha (Wat Phra Kaew). This is Thailands most famous and sacred Buddhist monument and is made from perfect jade and surrounded by gold ornaments and decorations. The Grand Palace complex also includes throne rooms, government offices and various museums. Although the palace is no longer used as a royal residence since 1925, it is still sometimes used for events and royal ceremonies. When buying tickets for entry you get access to various areas including Wat Phra Kaew, Queen Sirikit Museum of Textile, The Royal Thai Decorations, Coin Pavilion and a couple of other things. When visiting ensure you dress appropriately, so no short skirts/shorts, tight clothing, sandals and sleeveless tops.
Price: 500 baht (adults)
Address: Grand Palace Bangkok, Na Phra Lan Rd,, 10200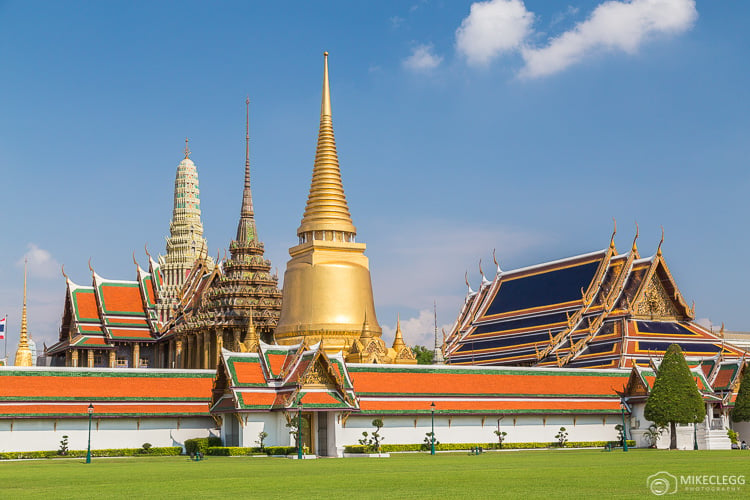 Wat Saket (Golden Mount)
The Wat Saket also known as the Golden Mount is something I highly recommend seeing when you are in Bangkok. You slowly climb a path up to the temple and on the very top is a large and beautiful golden chedi (seen below). From the Golden Mount you will be able to get great views of the surrounding area too.
Price: 10 baht
Address: Wat Saket, 344 Khwaeng Ban Bat, 10100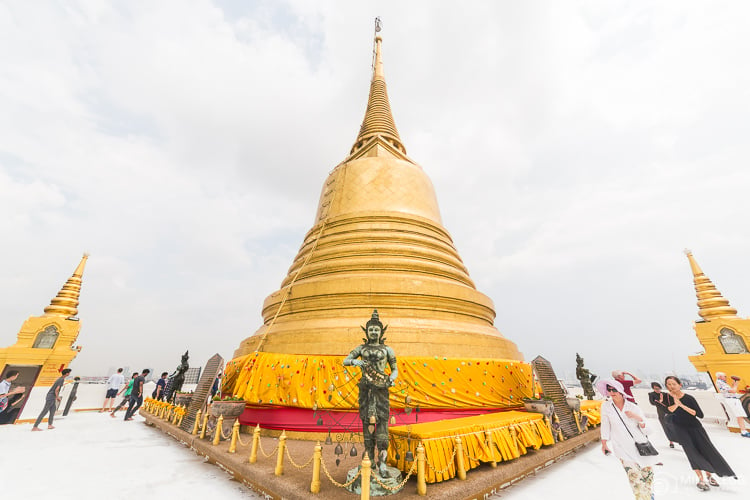 Wat Ratchanatdaram
This beautiful temple complex is very close to the Golden Mount. It consists of a 36 meter high structure with 37 metal spires across 3 levels. It is also referred to as a metal castle. From the top you get quite nice views such as seen below. Close to the temple are beautiful gardens which are also nice to walk around.
Price: Free (Donations appreciated)
Address: Loha Prasat Metal Castle, 2 Maha Chai Rd, 10200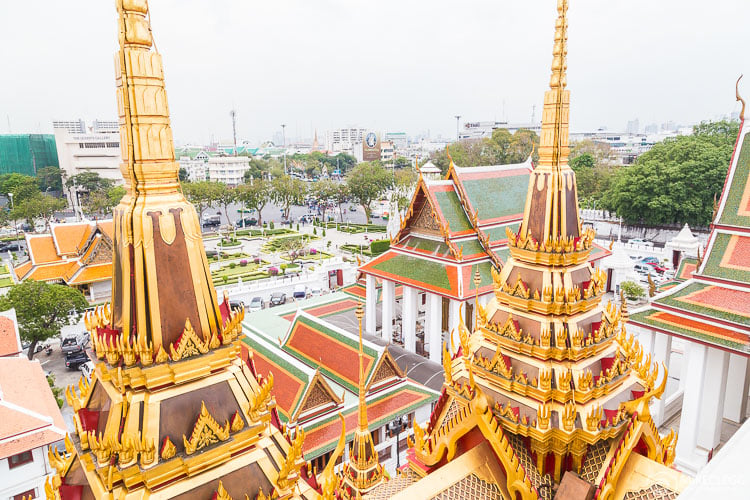 Baiyoke Tower II
One of Thailands tallest towers is Baiyoke Tower II and the building has two observation decks on the 77th and 84th floor. The higher viewpoint is open air whilst the lower viewpoint is through glass. The upper observation deck is quite fun as you stand on rickety rotating platform which slowly moves around the tower providing visitors with 360 views of the city.
Price: 350 baht
Address: Baiyoke Sky Hotel, 222 Ratchaprarop, 10400 
Website:baiyokesky.baiyokehotel.com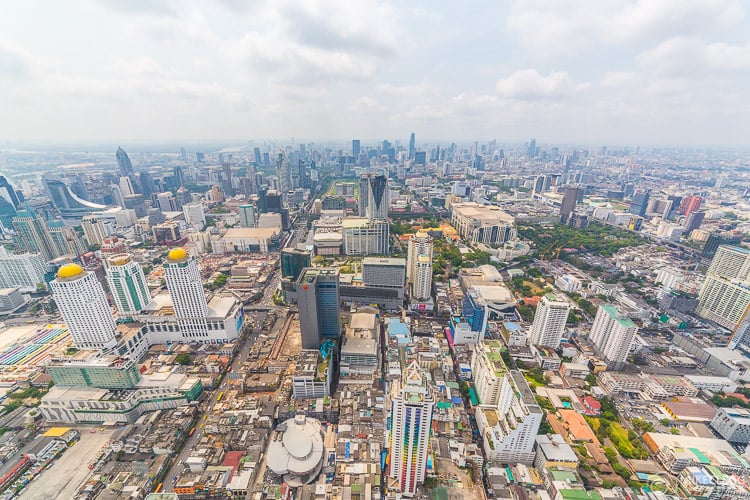 Jim Thompson House
Jim Thompson was a famous silk trader originally from the USA. Whilst visiting Thailand he fell in love with the country and then lived there for the later part of his life. 
Part of the reason Jim Thompson is famous is because he helped build the Silk industry in Thailand. He introduced innovation and standards, which helped market the products to the fashion industry in Europe and the USA. During this time what was important to him was that the work he did would help Thailand and the people. As a result it created a competitive market for silk and jobs for people in the country.
In later years unfortunately he disappeared whilst on a trip to Malaysia in 1967. His house is now a good memory of what he achieved for Thailand. 
When visiting the house you have to go on a compulsory tour which shows you the main areas of the house. Unfortunately you can't take pictures of most of the interior, but the design and decor is beautiful and definitely worth seeing if you are in Bangkok.
Price: 150 baht for entry and tour.
Address: Jim Thompson House, 6 Soi Kasemsan 2, Rama 1 Road, 10330
Website: www.jimthompsonhouse.com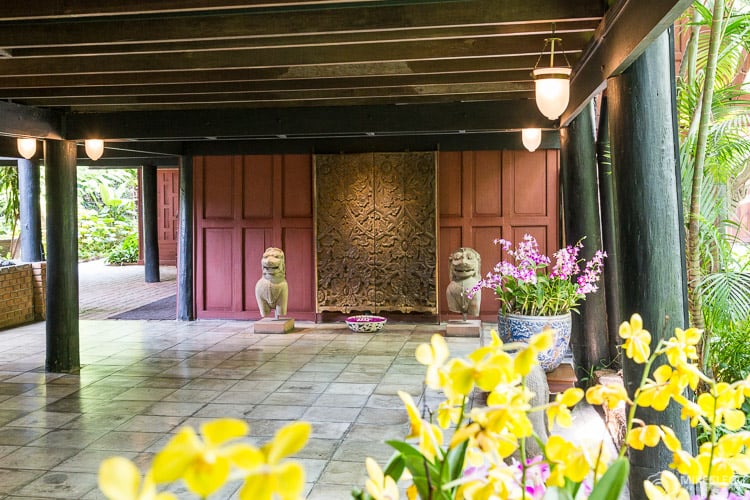 More Things To Do
A few other things I wanted to do but didn't have time included:
Lebua Skybar which provides fantastic views of the city and is a popular place to go in the evening.
Damnoen Saduak Floating Market which is a little out of the city and would probably take the best part of a day to go there and back. You may find your hotel or hostels have excursions to visit this.
Lumpini Park – In the city are many beautiful parks such as Lumpini Park being one of the biggest. There are many other parks in the city and I visited Saranrom Park which was smaller and also nice.
There are a huge number of other activities and things for you to see. Head to www.tourismthailand.org…Bangkok to discover all the things available in the city.
Places to Eat and Drink
Bangkok has food options everywhere, from street food, nice restaurants, rooftop bars and more. You will be spoilt for choice. Food was generally pretty good everywhere I went, and you can easily have a nice dinner at a posh restaurant, or grab cheap dishes from street stalls. For some ideas on food to try head to my post Food and Drinks You Should Try in Thailand.
Smooth Curry
Smooth Curry is located in the beautiful Plaza Athénée Hotel and is one of the many restaurants you'll find there. I had a typical thai curry during my visit which was tasty and full of flavour. Being quite a posh hotel and restaurant I would recommend Smooth Curry for couples and groups, or even for a tasty lunch. It's also a nice restaurant to dine at on your own though.
Website: www.plazaatheneebangkok.com….smoothcurry
Address: 61 Wireless Road (Witthayu), 10330
Recommended for: Lunch/Dinner/Posh/Romantic
—————————————————————-
Sala Rattanakosin
As well as being one of the best places in the city to capture views of Wat Arun and watch sunset, this hotel has an incredible in-house restaurant. During my visit I enjoyed a delicious 3 course meal with a delicious tempura crab and mango salad, red chilli seafood curry, and then finished off with sticky mango salad (which is now one of my favourite deserts). I found the food at this hotel absolutely fantastic and would highly recommend it.
Website: salaresorts.com/rattanakosin
Address: 39 Maharat Road Tha Thien, 10200
Recommended for: Lunch/Dinner/Posh/Romantic

—————————————————————-
Sawasdee House
This restaurant is near Khaosan Road and is a great place to go for evening dinner. This area has a great atmosphere as it's close to bars and clubs. During my visit I had classic Thai spring rolls and green curry which was fantastic. I did find the curry very spicy though and needed a lot of water (and beer) to wash it down.
Website: www.sawasdee-house.com
Address: 147 Soi Rambutree Chakrapong Rd, 10200
Recommended for: Lunch/Dinner/Casual

—————————————————————-
Yong Seng Li Restaurant
I spontaneously ate at Yong Seng Li on my way to visit the Grand Palace. The restaurant is a street food type place, so you pick a few things that are on display and pay a small price. It isn't a posh restaurant but a good place to experience local culture and have cheap and tasty food.
Address: Yong Seng Li Restaurant, Bangkok, 10200
Recommended for: Snack/Cheap/Casual/Culture

Other places to eat and drink – Have a look on www.tripadvisor.com.
Accommodation
Bangkok has a range of accommodation from cheap budget hostels to the most beautiful luxury hotels. Below you will find some suggestions:
High End Luxury – Plaza Athénée Bangkok (Personal experience) – The Plaza Athénée has a beautiful design throughout, as well as great restaurants, an outdoor pool and other great facilities. Read more about this hotel in my blog post: Plaza Athénée Bangkok
Luxury Boutique – Sala Rattanakosin (visited) – I visited the rooftop bar of Sala Rattanakosin and it has amazing views of Wat Arun. I also had a quick look at some of the rooms and they had a  bright modern clean style. Some rooms even had views directly over the river and towards the Wat Arun temple. The hotel is also close to many other attractions such as Wat Pho and the Grand Palace.
Backpacker budget – Nappark Hostel Khao San (Personal experience) – This hostel is more for those on a budget and potentially wanting to socialise and party. It is located close to Khaosan Road which is one of the most popular places for partying. The rooms are ok with big lockers, WiFi is included and the hostel can also arrange excursions and cheap airport transfers.
Have a look on Booking.com for other options:
Bangkok Photography Tips
Some of the streets near Khaosan Road are really photogenic. At night streets such as Soi Ram Butri have beautiful coloured lights (seen in my picture above).
Head to Sala Rattanakosin rooftop bar for sunset to capture pictures of Wat Arun and the river
Another good spot for sunset would be Baiyoke Tower II. You could try taking some pictures at night, although you wouldn't be able to use a tripod at the highest viewpoint due to the rotating platform. If you took photographs from the lower viewpoint you will have to shoot through glass so consider using a jacket or lens skirt to prevent reflections.
A good way to capture locals scenes is to find interesting architecture on streets, and then stand opposite and wait for local traffic such as Tuk Tuk's to go past.
More travel photography tips: Ultimate Tips for Travel Photography
Destination Tips
Always agree prices with Tuk Tuk drivers before getting on the vehicle.
For Taxi's always make sure the meter is being used.
Make sure you dress appropriate for temples such as the Grand Palace. You will need to ensure you have your shoulders covered and long trousers or skirts.
I've been to Bangkok twice and both times it was extremely humid. Make sure you carry bottled water around and stay hydrated during your visit.
Drink lots of tasty smoothies. They are super cheap so make the most of it!
Destination Info Box

Destination type:
History, Architecture, City, Culture
Currency:
Thai Baht
WiFi:
Available at hotels and some restaurants and attractions
Emergency numbers:
1155 – Tourist Police
191 – Police
1554 – Ambulance
199 – Fire
Arrive/leave by air:
Suvarnabhumi Airport (BKK)
Arrive/leave by train:
 If you are arriving to Bangkok by train then it's best to arrange travel through a legit travel agency or through your hotel.
Arrive/leave by bus:
There are many tour agencies selling tickets for buses 

out

of Bangkok, such as to Siem Reap, or places in Thailand. If you are travelling

to

Bangkok from another country or city, then a local agency or your hotel should be able to assist with this.
Language:
Thai – english seemed great everywhere
Power supply:
The plug sockets where I stayed in Bangkok took a range of inputs. I found my European plug (Type F) worked fine and it also took my Canadian plug for my camera charger. To ensure your devices work I recommend taking a plug adapter such as Skross PRO World Travel Adapter. Also remember to check the local voltage and frequency as you may need a converter depending on your electronics. A site I use for this is www.power-plugs-sockets.com.

Thailand plug socket

Tourism Websites: 
 www.tourismthailand.org…Bangkok
 Other notes/tips:
 For lots of tips on travelling Asia head to: Over 40 Top Tips for Travelling Asia
Other posts you may like:
Exotic Breaks: Guide to Ko Phi Phi Islands and Maya Bay
Destinations in Asia
Destinations – City Breaks
<< Pin this

Disclaimer: All content is believed to be correct at time of publishing. Please check official websites for up to date prices and information. If you spot a mistake please feel to contact me using the menu option above.