Kuala Lumpur is a large and well developed city in South East Asia and is the capital of Malaysia.  The city has a mix of cultures and religions with Malay, Chinese and Indian being the main. The design of the city is also mixed, with modern almost futuristic architecture such as the Petronas Towers, to historic temples, mosques, high rise apartment buildings and old houses. Kuala Lumpur would be good destination to visit for a stopover between flights, or for a short city break such as 24-48 hours. In this guide I will give you information on getting around the city, suggestions on things to see and do, ideas on places to eat, destination photography tips and more.
Getting around
To/From the Airport
From the Airport the quickest way is to take the KLIA Express train which costs RM55 single or RM100 return for adults, and RM25 single or RM45 return for children. It takes around 28 minutes from the airport to KL Central station (In Kuala Lumpur). On heading to the airport there are two stops (KLIA and KLIA2) so  make sure you know which stop you need. If you don't fancy the train you could alternatively use Uber or a local taxi.
Within the City
Within the city is a transport network consisting of LRT, KTM, Monorail lines and bus service. You buy single tokens to get around and pay based on distance. I found the ticket prices seemed more expensive early morning but after around 9.30 were cheaper. You can also get a myRapid cashless card for getting around a bit easier. To read about the fares head to www.myrapid.com.my/fares-and-payments. When buying fares you will need small coins or notes such as RM1, so try and remember to keep change aside for this.
To read more about the Kuala Lumpur Metro system and to plan your journey head to www.myrapid.com.my/plan-my-journey. You'll also find a transport map under the main menu "Traveling with Us" and option "Klang Valley Integrated Transit Map".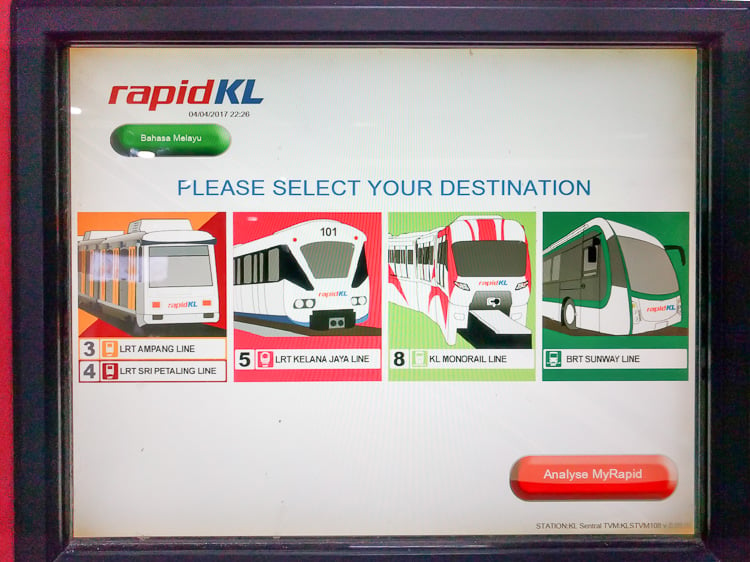 Things to See and Do
You can see many of the main attractions in Kuala Lumpur within 24-48 hours. It's worth having a think about what you want to see before you arrive and then planning your trip accordingly.
National Museum of Malaysia
A good way to learn about Malaysia and it's history is to visit the National Museum of Malaysia. There are various exhibitions and areas available to see and you'll learn about the colonial periods, about the formation of Malaysia and it's independence, the three main religions Malay, Chinese and Indian and how the government works including the individual states. You'll also learn a bit about the Tin Industry which was once a major export for the country. Also on display are old fossils, bone fragments, tools and much more. I really enjoyed this museum and it gave me the insight into Malaysia that I was looking for.
Price: RM 5 (Adults), RM 2 (Children)
Address: National Museum of Malaysia, Tasik Perdana, 50566
Website: www.muziumnegara.gov.my
Thean Hou Temple
The Thean Hou Temple Chinese Temple looks stunning both inside and out. The decoration is so incredibly detailed that those of you that like architecture could easily spend a fair amount of time admiring it! The temple was built in 1989 and commemorates the Goddess of Thean Hou. The temple is quite tall with different levels and from the top you get views towards the Kuala Lumpur skyline.
An interesting thing about this temple is in the main prayer hall you can buy something with your name on, which then goes inside a long candle. This then supposedly brings you good luck! Cool Eh! Below you can see the candles. They are the tall yellow objects around the room.
To get to Thean Hou Temple it was pretty fiddly as it's on top of a tall hill and not particularly close to a metro station. For that reason I recommend getting a taxi from a metro stop close by such as Mid Valley.
Price:  Free
Address: Thean Hou Temple, 65, Persiaran Endah, 50460
Visit the Batu Caves
The Batu Caves is a famous limestone cave complex located north of the city and is a famous Hindu landmark. The caves are around 400 millions years old and the complex consists of a series of caves with Cathedral Cave being the largest. Within the caves are various Hindu Shrines and it's an important place for the Hindu Festival of Thaipusam in Malaysia.
At the entrance to the main caves is a Lord Murugan Statue which is a huge Hindu deity statue and one of the tallest in the world at 42.7 meters. Beside the statue is a long steep staircase up to the caves and temples, and as you walk up you will see monkeys running around which are quite entertaining to watch.
Getting to the Batu Caves is easy, simply use the  KTM Komuter train and stop at the Batu Caves station.
The Dark Cave
Also at the Batu Caves is the Dark Cave which is home to the Trapdoor spider (one of the rarest in the world). As well this spider they have any other spiders, snakes, bats and creepy crawlies. They have two tours available at the Dark Cave. The education tour which is around 40-50mins. This is the one I did. And an adventure tour where you would potentially see more creatures and takes 3-4 hours. For the adventure tour it states you will get dirty as you will be crawling around so it's worth dressing appropriately. This tour is only on weekends and should be booked in advance. When booking this tour I recommend you ask for more information about what you should wear.
Batu Caves Price: Free
Dark Cave Education Tour price: RM 35 (adults), RM 25 (Children)
Dark Cave Adventure Tour price: RM 80 + GST (Should be booked in advance and on weekends only).
Website: www.darkcavemalaysia.com
Address: Batu Caves, 68100 (Use the train to get here)
Head to the Bird Park
The Kuala Lumpur Bird Park is a large park, or aviary, which has netting over and gives the birds lots of space to fly around! As you walk around you will enter different sections containing various species of birds. Some of the birds you'd see include parrots, hornbills, flamingos, storks and many exotic species. If you fancy at some points in the park are desks where you can get pictures with parrots (for a fee).
What's cool about walking around is that you will have birds all around you, such as on the path, and it's like you're in their domain. One thing you will definitely see a lot is Peacocks! There are tons of them and if you are lucky you will see a male spreading it's wings like below.
Price:  67RM (Adults), 45RM (Child)
Address: Kuala Lumpur Bird Park 920 Jalan Cenderawasih 50480
Website: www.klbirdpark.com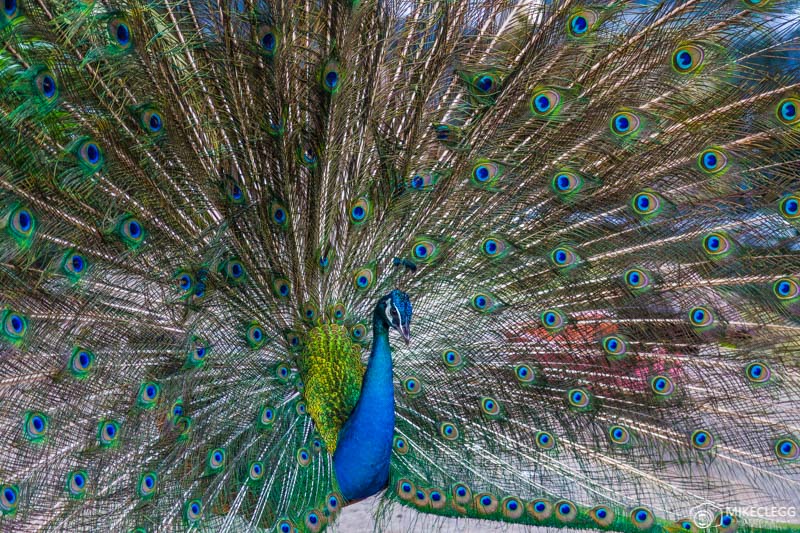 Go Shopping at Suria KLCC Shopping Centre
For those that like shopping head to Suria KLCC Centre. Here you'll find 6 floors containing endless shops from budget to luxury. There are also plenty of restaurants, snack outlets and a food court on site. This shopping center is built next to the Petronas Twin Towers and you can even see part of the buildings through the skylights.
Price:  Free entry
Address:  Suria KLCC, Kuala Lumpur City Centre, 50088
Website: www.suriaklcc.com.my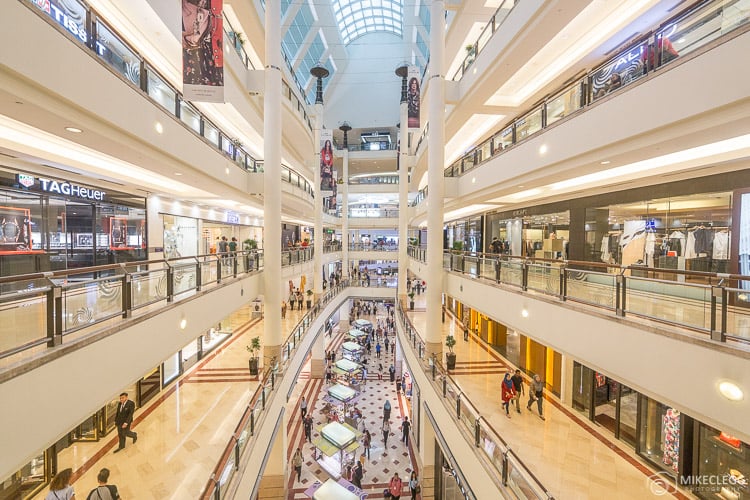 Relax in KLCC Park
The KLCC Park is a huge 50 acre park and a really nice place to visit and relax during the day or night. The park is great for kids as it has a huge playground and also a water splash area allowing them to get wet and cool down!
Price:  Free
Address: KLCC Park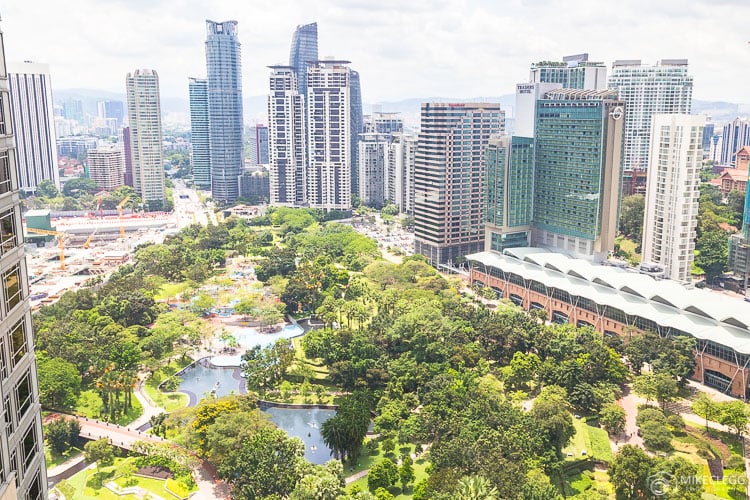 At night in KLCC Park is a special Lake Symphony show, which has wonderful music, colourful lights and dancing water jets. Once it's dark you'll find the show directly in front of Suria KLCC and the Petronas Towers. I found this a nice experience gazing at the dancing lights whilst listening to the music.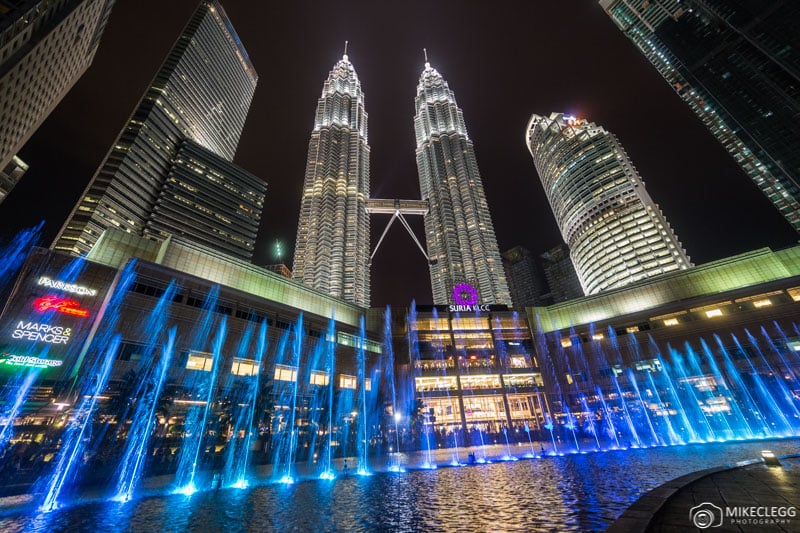 Visit the National Mosque of Malaysia (Masjid Negara)
The National Mosque of Malaysia (Masjid Negara) is a large mosque with beautiful gardens. The mosque was completed in 1965 and has a capacity of 15,000 people. The mosque is free to visit but you can give a little donation if you wish. When visiting if you are not dressed properly ie shorts, exposed shoulders etc, then you will need to borrow a Sarong which they have on site, and unless you're muslim you're not allowed to enter the prayer area, but you can still see it from the outside.
Price:  Free
Address: National Mosque of Malaysia, Tasik Perdana, 50480
Head to the Skybar at Traders Hotel
From the Skybar at Traders hotel you get some of the best views of the city, that is views that you will often find on postcards (such as the first picture on this post). As well as these views the bar has a great atmosphere at night. I recommend heading to the Skybar for around sunset and as it gets dark, so that you can see the city both for sunset and once the skyline lights up. It's also a great experience to sip delicious cocktails, eat snacks whilst enjoying this view.
Price: Free with reservations
Address: Traders Hotel, Kuala Lumpur City Centre, 50088
Website: www.shangri-la.com/kualalumpur/traders….sky-bar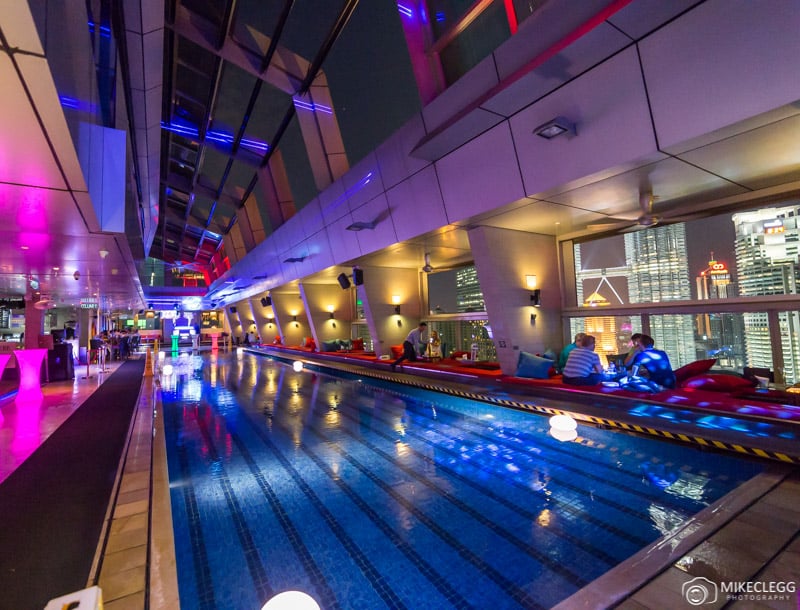 Explore China Town and the Central Market
Around China Town you'll find various temples such as the Sri Mahamariamman Temple, as well as the central Market and various streets with stalls (seen below). Within the Central Market are gift shops, small restaurants and also various sections such as little India etc.
Central Market Website: www.centralmarket.com.my
Address: Central Market, Jalan Hang Kasturi, City Centre, 50050
Head up to the Skybridge on the Petronas Towers
A popular attraction is to visit the Skybridge and Observation Deck between the Petronas Towers. During my trip I decided against going up to this bridge. I felt the view wouldn't really be worth it, as it appears slightly obscured. If you wanted high views of the skyline there is the Traders Skybar mentioned above, the KL Tower, or you could stay in a hotel that has great skyline views, such as the Mandarin Oriental. However the Skybridge is a popular thing to do, so if it takes your fancy go for it.
Price:  Free
Address: PETRONAS Twin Towers, Kuala Lumpur City Centre, 50088
Website: www.petronastwintowers.com.my
Party along Changkat
The streets of Changkat are pretty awesome for going out with lots of bars and music. You will also find many of them offering happy hours prices, although me and some friends had cocktails in a few which were quite weak. A recommended bar is Havana Bar & Grill which we visited. It serves strong drinks, and also had a great atmosphere, as well as music and a dance floor.
More things to see and do
A few things I wanted to do in the city but I didn't have time, included going up the KL Tower for more awesome views of the city, and heading to the Islamic Arts Museum which I imagine would be beautiful. For all the things to do in the city head to www.visitkl.gov.my.
Places to Eat and Drink
The food was pretty good in Malaysia and one of their national dishes is Nasi Lemak which consists of rice cooked in coconut milk, and served with anchovies, chilli paste and various sides. I also tried seafood Laksa (also a malaysian dish) which is a bit like a spicy curry soup. I found this dish particularly delicious.
Little Penang Kafe
For some local food including the Nasi Lemak dish above head to Little Penang Kafe in the Suria KLCC Food court. The food is good and cheap.
Address: Suria KLCC Food Court
Recommended for: Lunch/Dinner/Casual

—————————————————————-
Mosaic
One of the highest rated restaurants on Trip Advisor is Mosaic which is in the Mandarin Oriental Hotel next to KLCC park. The restaurant serves international cuisine and is in a beautiful setting.
Website: www.mandarinoriental.com…mosaic
Address: Mandarin Oriental Hotel, Kuala Lumpur City Centre, 50088
Recommended for: Lunch/Dinner/Smart/Posh

—————————————————————-
Street food along Jalan Alor
Along Jalan Alor are lots of outdoor street food type restaurants. It was here that I actually had my favourite meal during my trip. The meal (which I shared with friends) consisted of grilled fish, asian style vegetables, rice and other delicious sides. I felt the atmosphere was quite sociable and buzzing and would definitely recommend coming here in a group.
Address: Jalan Alor, 50200
Recommended for: Lunch/Dinner/Casual/Culture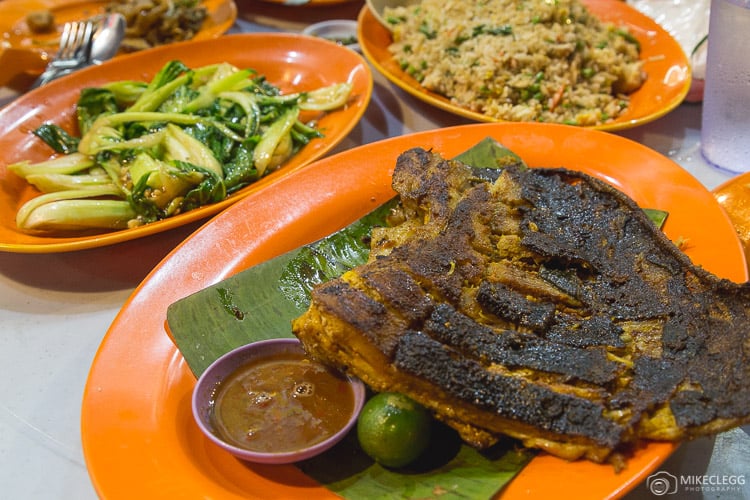 Other places to eat and drink – Have a look on www.tripadvisor.com.
Accommodation
Here are a few places you could stay based on my experience or reviews.
Budget – Residences @ Summer Suites (personal experience) – A hostel close to KLCC that even comes with a swimming pool that guests can use. Within the building are also grocery shops and a cafe. From certain rooms you even get a good view over the city.
Mid-range The Majestic Hotel Kuala Lumpur (Based on reviews) – This hotel has an average of 9.1/10 for over 3,500+ reviews on Booking.com and also comes with beautiful design and decor. The location is good, fairly close to KL Central, KL Bird Park and the National Museum.
Luxury – Mandarin Oriental (personal experience) – The Mandarin Oriental provides luxury at a prime location right next to KLCC Park and minutes walk from the Petronas Towers. The hotel has a wonderful pool, great restaurants and beautiful rooms. Read more and see pics in my post here: A City Break Staying at the Mandarin Oriental, Kuala Lumpur.
Have a look on Booking.com for other options.

Kuala Lumpur Photography Tips
When taking pictures of the Petronas Twin Towers use a wide angle lens otherwise you'll have to stand way back.
Head up Traders Skybar for one of the best viewpoints of the Towers.
Use the lakes such as the Symphony Lake to capture reflections of the Twin Towers.
Make sure you head to the KLCC park at night for the fountain performance and when the city lights up.
For high skyline pictures visit the KL Tower or stay in a hotel with good views.
Read more tips on travel photography: Ultimate Tips for Travel Photography

Recommended Equipment
| | | | |
| --- | --- | --- | --- |
| Canon 6D Professional DSLR | Mefoto Travel Tripod | Canon Compact Camera | Lowepro Camera Bag |
| | | | |
Destination Tips
Carry small notes and coins such as 1MYR for getting single subway ticket, as the machines don't take large currency.
Consider using Uber or taxis to get around. Or get these from the subway stations, as everything seems quite far from the stations.
Remember to bring appropriate clothing for visiting temples as shorts, short skirts and sleeveless shirts aren't allowed.
Destination Info Box

Destination type:
Architecture, City Break, Stopover
Currency:
 Malaysian Ringgit (MYR)
WiFi:
 Available at hotels, some restaurants and attractions.
Emergency numbers:
Police 999
Ambulance 999
Fire 994
Arrive by air:
 International Airport Kuala Lumpur (KUL)
Arrive by train:
 Visit www.klsentral.com.my to start searching for the connection you need. Alternatively use a local travel agency or contact the hotel you plan to stay at.
Language:
Malaysian – English seemed perfect everywhere.
Power supply:
 The plug sockets in Kuala Lumpur were of Type G. A good adaptor I use is the Skross PRO World Travel Adapter. You should also check the local voltage and frequency. A site I use is www.power-plugs-sockets.com.

Plug sockets in Kuala Lumpur

Tourism Websites: 
 www.visitkl.gov.my
More Tips 
Head to my post with top tips for visiting Asia: Over 40 Top Tips for Travelling Asia
<< Pin this

Disclaimer: All content is believed to be correct at time of publishing. Please check official websites for up to date prices and information. If you spot a mistake please feel to contact me using the menu option above.