Vienna, the capital of Austria, is a beautiful city to visit, full of charm, elegant rich architecture, traditional coffee shops, stunning palaces and other landmarks. Vienna is in a great location too, almost in the middle of Europe and has excellent land connections to neighbouring cities and countries, as well as air connections through Vienna International Airport. This guide will provide ideas on things you could do in 24-48 hours, as well as places to eat, cafes and bar suggestions, places to stay, photography tips and more.
Getting Around
To/from the Airport
Getting to and from Vienna International Airport is easy and you can use either the S7/OEBB trains, or the CAT (City Airport Train). The S7 costs approx €3.90 from the airport (Flughafen Wien) to the city, whilst the CAT costs €11 for a single and €17 for a return.
You can also use Uber or Taxis which cost around €30+. Alternatively consider using www.vienna-airport-cab.at if you wanted to book a taxi in advance.
Within the City
Public transport in Vienna is cheap, efficient and well designed, with many subway/tram and bus stops close to attractions and throughout the city. When travelling you can get single tickets, 24 hour, 48 hour, 72 hour and weekly passes. Or annual passes if you are going to be living in the city.
Fares are cheap costing only €2.20 for an adult single fare, up to €16.50 for 72 hour ticket. When buying tickets remember to validate your ticket using the machines in the station. To get around you can also consider using Uber or local taxis.
Head to my post Top Tips if you are Visiting Vienna to read more about transportation in Vienna.
Things to See and Do
Vienna isn't that spread out and many attractions are located close to each other, making it easy to visit and see a lot in a short period of time. Below are a selection of some of my favourite things to see in the city. I recommend looking at the below list and then deciding on your favourites. A good technique is to use Google Maps and pin the places you most want to visit on the map. You can then use this map as a guide. If you have an Android phone then download an offline map, and you can find all these markers on the map.
Available in the city is the www.wien.info/en/travel-info/vienna-card which provides discounts to many attractions and also free travel. If you plan to travel and visit a lot of attractions this may be a good thing to buy.
Stephansdom
Stephansdom or St. Stephen's Cathedral is one of the oldest and most famous landmarks in the city and potentially the country. The church is free to go inside where you can see the old gothic architecture, and for amazing views of Vienna head up the North or South Towers (for a small free).
Address: Stephansplatz 3, 1010
Website: www.stephanskirche.at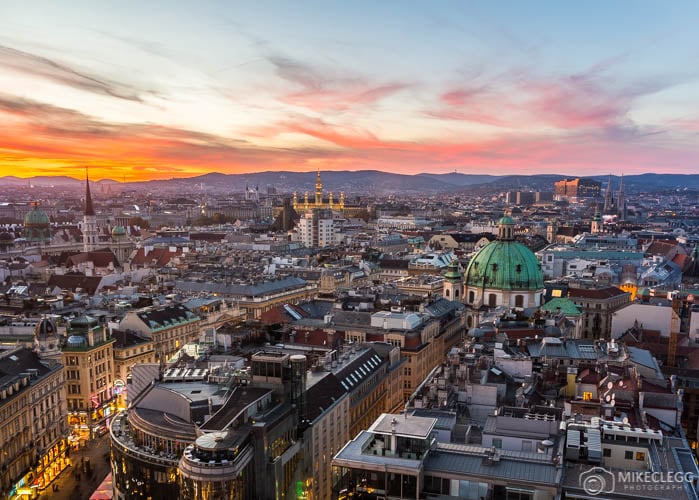 Karlskirche
The most impressive church I've ever seen, Karlskirche is a Roman Catholic Church that was completed in 1737 and the architecture is an example of baroque architecture at it's best. The church is a great place to go and relax, and during the spring, summer and early autumn, there is a water feature and park in the front of it. You can also visit the inside of the church for €8 if you like. 
Address: Kreuzherrengasse 1, 1040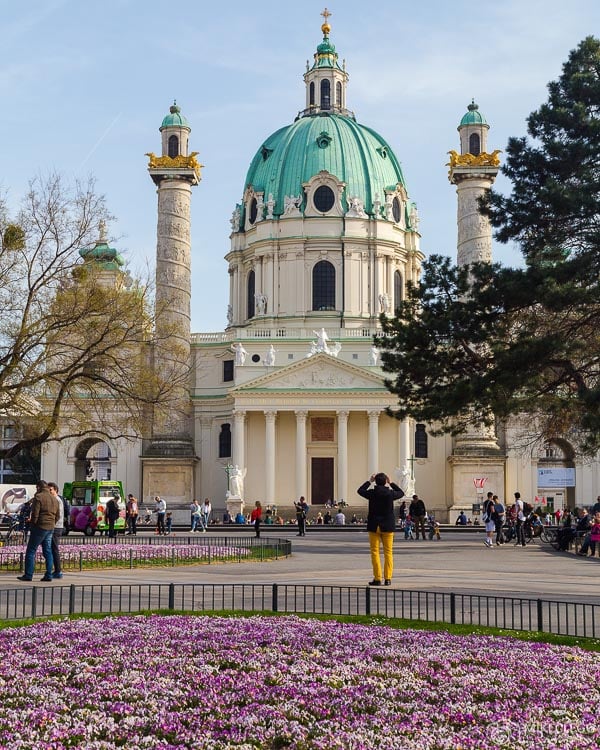 Explore Naschmarkt
In the 6th district close to many of the cities landmarks including Karlskirche (above) is Naschmarkt, which is a fantastic market originating from the 16th century. Also along the market are lots of nice restaurants so it's a great place to stop for lunch! The market isn't open on Sundays so bare this in mind when you plan your visit.
Address: Naschmarkt, 1060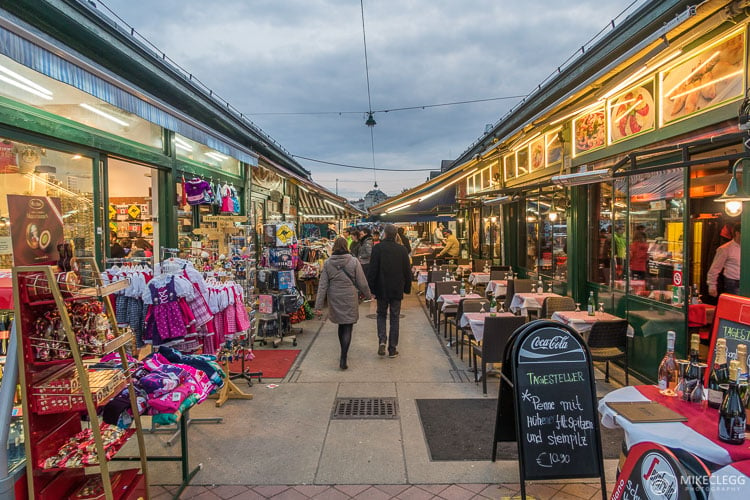 Schönbrunn Palace
Vienna's most popular attraction, the Schönbrunn Palace, is a must do for anyone visiting the city. The palace complex is huge and you could easily spend the entire day there. At the Schönbrunn are combo tickets or single tickets and the attractions on site include visiting the Imperial Palace and learning about it's history, visiting the large Zoo, heading to palm house, seeing the Vienna skyline from the Gloriette and many more.
One of the great things about the Palace is that the main gardens are free to enter and during the warmer months there is the most beautiful flower decorations in artistic patterns (you can see these slightly below).
Address: Schloß Schönbrunn, 1130
Website: www.schoenbrunn.at
Prater
Prater is a large park located in north Vienna, and is home to the cities fantastic amusement park. This amusement park is free to enter and walk around, and then you pay for any attractions.
Within the park are lots of rides which would suit all ages. Some of the top attractions include the Wiener Riesenrad, which is one of the oldest Ferris wheels in the world dating from 1897 and still has it's old wooden cabins. There is also the Liliputbahn which is a small railway ride perfect for the kids, and the Praterturm which is a 117 meters high swing which would provide awesome views of the park and surrounding area whilst you spin around. You will also find bumper cars, roller coasters and much more.
Within the park are lots of food options and a good place is www.schweizerhaus.at which serves good beer and food. Prater isn't open all year round  thought and closes in the winter. Check on their website in advance before you visit.
Address: Prater, 1020
Website: www.prater.at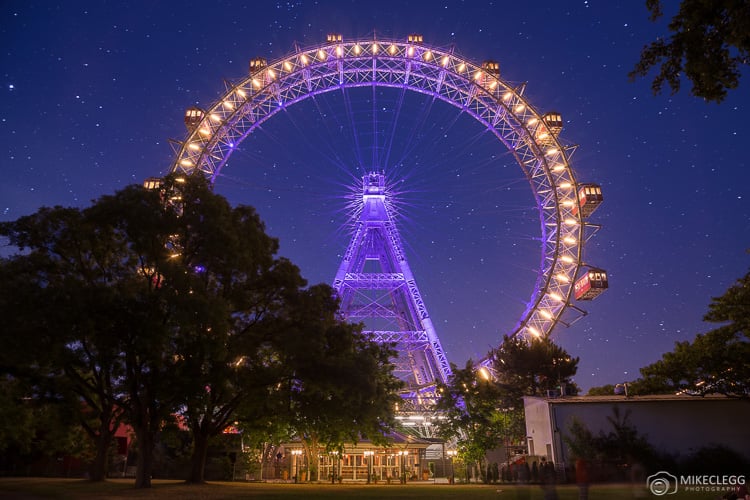 Rathaus (Vienna City Hall)
Vienna's City Hall, or Rathaus, is an architectural gem and is especially impressive at night when it's lit up. It was completed in 1883 and is a government building and the seat of the Mayor. It is possible to have tours of the building providing a look at the various state rooms, halls and other parts of the building. Head to the link below for more information on the tours. 
In front of City Hall is Rathausplatz which is the location of various events throughout the year, including one of the main Christmas markets, the Vienna Film Festival, various concerts, ice skating and much more. 
Address: Friedrich-Schmidt-Platz 1, 1010
Website: www.wien.gv.at/english/cityhall/tours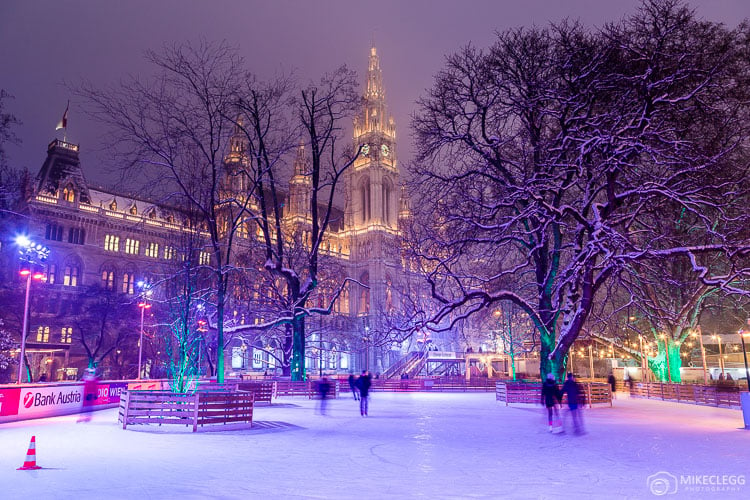 Kunsthistorisches Museum and the Natural History Museum
At Maria-Theresien-Platz are these two fantastic museums facing each other. The Kunsthistorisches Museum is an art museum with a large collection, galleries and various exhibitions. The interior is also very beautiful with an impressive main entrance, staircase and cafe being particularly nice in terms of architecture.
The Natural History museum on the opposite side is of course is about natural history, and has a huge collection of natural objects including gemstones, meteorites, a dinosaur hall and much more.
Address: Maria-Theresien-Platz, 1010
Website: www.khm.at and www.nhm-wien.ac.at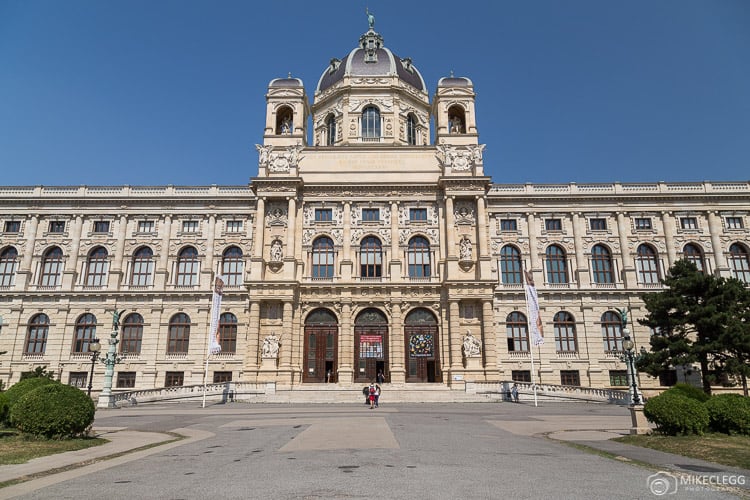 Belvedere Palace
The Belvedere is a large complex consisting of an upper and lower palace as well as large gardens. The gardens are free to enter and from the upper palace you'll be able to see towards the centre of the city and Stephansdom. The palace was built as a summer residence for Prince Eugene of Savoy who lived from 1663-1736. The building has a beautiful baroque design and the attraction is now a listed UNESCO World Heritage Site. 
You can buy tickets to enter palaces, and in the upper palace you'll get to see a large collection of Austria Art and also work from International Artists including Claude Monet and Vincent Van Gogh. And in the Lower palace you'll find various temporary exhibitions. If you visit the inside you will have the opportunity to enjoy the architecture and various rooms that are publicly accessible. During Christmas outside the upper palace is one of Vienna's many Christmas Markets.
Address: Prinz Eugen-Straße 27, 1030
Website: www.belvedere.at
Wiener Staatsoper
The Vienna State Opera (Wiener Staatsoper) is the cities most famous opera house and is exceptionally beautiful, especially at night. The building was finished in 1869 and has around 350 performances each season including operas and ballets. A great experience whilst in the city would be to visit and enjoy an Opera performance. At this particular venue you also get small screens in front of your seats which have English translated text. If you don't fancy opera but wanted to visit the inside you also have the option of guided tours which are 40 minutes allowing you to learn some of the history of the venue and see some of the operational areas of the building.
Address: Opernring 2, 1010
Website: www.wiener-staatsoper.at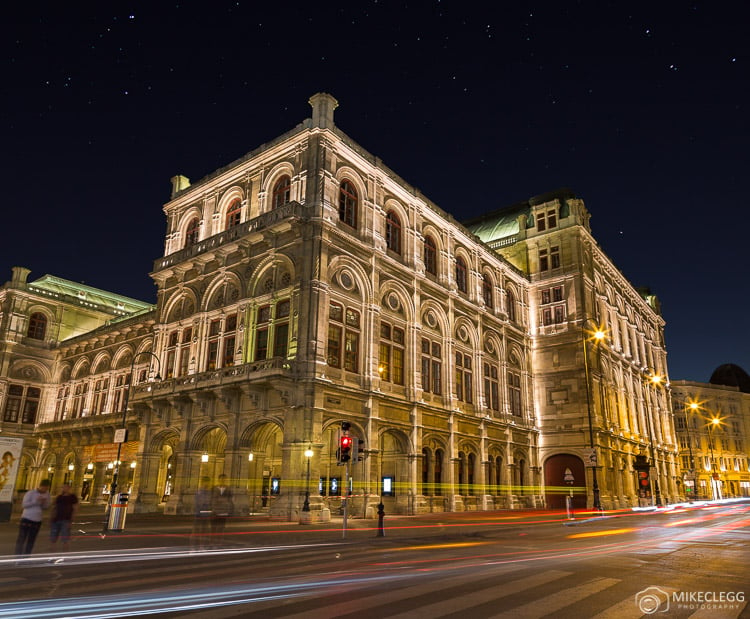 Hundertwasserhaus
This incredible exterior was designed by Friedensreich Hundertwasser and is probably one of the most colourful facades in the world! It was completed in 1985 and within the building are apartments, offices and terraces. If you are a photographer or fan of architecture this building should be top of your list.
Address: Kegelgasse 36-38, 1030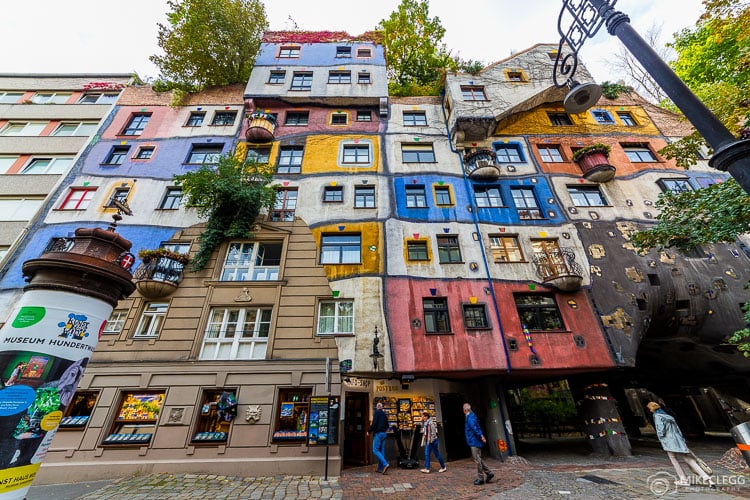 Long Night of Museums
It's worth noting that once a year in October is a special event called the Long Night of Museums where you pay a small fee and get access to a large number of museums in the city. You will be able to find out about participating museums and up to date info on langenacht.orf.at as it becomes available.
More Things to See and Do
The city has lots more attractions including the Hofburg Palace, Austrian Parliament and much more. You can find some more ideas using the links below, including lesser known and the more popular:
Lesser Known Things to Do If You Visit Vienna
Vienna – 10 Top things to see
Vienna Tourism: www.wien.info
Places to Eat
Restaurants in Vienna can generally be quite good. The national dish is a Schnitzel which often comes as pork or veal, with veal being the more expensive option. You'll find some suggestions of places you could eat below based on where I have been. One tip I would say is to book a table as the more popular places can become fully booked. Also remember cash as not all restaurants take bank cards.
ULRICH
The food at Ulrich is fantastic and very tasty. The dish above is one of the options available. They also have a Wild Boar Schnitzel which is also very good.
Website: en.ulrichwien.at |
Address: ST. ULRICHSPLATZ 1 1070
Recommended for: Lunch/Dinner/Casual

—————————————————————-
Motto am Fluss
One of the nicest restaurants in the city, Motto am Fluss is a fantastic place to dine. The restaurant has a posh and romantic atmosphere, and whilst eating some delicious dishes, you will get to enjoy the views of the canal. During my visit, there was really nice music playing from a live DJ that worked really well with the vibe. 
Website: www.mottoamfluss.at
Recommended for: Lunch/Dinner/Smart/Romantic

—————————————————————-
Heurige
My favourite eating experience in Vienna is to visit a Heurige, which are traditional wine taverns that sell their own home made wine. Many Heurige have their vineyards at their restaurants which are a nice to gaze upon whilst eating and drinking the local food.
Website: Head to www.wien.info for some suggestions of places.
Recommended for: Lunch/Dinner/Casual/Culture

—————————————————————-
Cafe Imperial or 1873 – HalleNsalon
Cafe Imperial in my opinion serves the best Schnitzel in the city and is in a beautiful elegant setting in Hotel Imperial Vienna.
Website: www.imperialvienna.com
Address: Kaerntner Ring 16, Vienna, 1015
Recommended for: Lunch/Dinner/Posh/Romantic

—————————————————————-
The Guesthouse
The Guesthouse is a nice place to go for breakfast and they do great eggs benedict. It's also close to various attractions in the 1st district, such as the Albertina and Wiener Staatsoper.
Website: www.theguesthouse.at
Address: FÜHRICHGASSE 10, A-1010
Recommended for: Breakfast/Lunch/Dinner/Smart

—————————————————————-
Swing Kitchen
For amazing vegan fast food head to Swing! They make the most delicious burgers and fries, among other things, and even if you are not a vegan once once you've tasted this food you will probably want to eat this all the time.
Website: www.swingkitchen.com |
Address: various locations, head to their website to find them.
Recommended for: Lunch/Dinner/Casual

—————————————————————-
Pizzeria Il Mare
For amazing pizza and Italian food this restaurant is my favourite. The ingredients are fresh and it has a nice Italian design and atmosphere.
Website: www.ilmare.at
Address: Zieglergasse 15, 1070
Recommended for: Lunch/Dinner/Casual

—————————————————————-
Other places to eat and drink –
For vegan restaurants check out Ultimate list of the best vegan restaurants food in Vienna Austria on TheViennaBlog.com
Or have a look on www.tripadvisor.com.
Viennese Coffee Shops
Vienna is famous for it's coffee shops and here are some of the best ones. I have been to the first three in this list, but the other two are also highly recommended. Often in these coffee shops you'll find a large choice of coffee with Melange being the local type, as well as a cake selection.
Cafe Central
With a beautiful design, this coffee shop is probably one of the most famous in the city. They have a large range of delicious cakes you'll see as you walk in and the architecture inside is impressive and beautiful. Inside you'll really feel like you are in Vienna. This coffee shop can get quite busy though so be prepared to queue.
Website: www.cafecentral.wien
Address: Herrengasse 14, 1010
—————————————————————-
Demel
Located along the Kohlmarkt which is one of Vienna's most posh streets is Demel. The front section of the cafe is a shop allowing you to buy sweets, chocolate and more, and the cafe is located towards the back and up the stairs.
Website: www.demel.at
Address: Kohlmarkt 14
—————————————————————-
Sperl
Cafe Sperl is the beautiful Coffee shop that you can see above. It is located just down from Mariahilferstrasse and very close to MuseumsQuartier. I consider this a very typical Viennese and not quite so touristy place to go.
Website: www.cafesperl.at
Address: Gumpendorfer Str. 11, 1060
—————————————————————-
Café Sacher
One of the most famous Coffee shops although I've not made it there yet. It's located right next to the Wiener Staatsoper (Vienna State Opera).
Website: www.sacher.com
Address: Philharmoniker Str. 4, 1010
—————————————————————-
Café Landtmann
This cafe is located close to the Rathaus (Vienna's City Hall). It's another one I haven't been to yet but very popular and classic.
Website: www.landtmann.at
Address: Universitätsring 4, 1010
—————————————————————-
Fore more more ideas head to Best Coffeehouses City Center Vienna Austria on TheViennaBlog.com
Bars
Vienna isn't really the party scene but there are plenty of nice bars and some party places. Here are some of the nicest bars as well as a few places for the younger crowd.
25hours Hotel
The rooftop bar of 25hours Hotel is great fun and has a lively atmosphere. It has a stylish design and from the outside patio you also get views towards the city.
Website: www.25hours-hotels.com
Address: Lerchenfelder Str. 1-3, 1070
—————————————————————-
Chelsea
Chelsea is a somewhat grundy type venue and sometimes has bands playing. It's a cool spot though if you wanted to go have some drinks in a more party atmosphere.
Website: www.chelsea.co.at |
Address: U-Bahnbögen 29-30, 1080
—————————————————————-
Molly Darcy's
This is a typical Irish pub and they sometimes have live music too.
Website: www.mollydarcys.at
Address: Teinfaltstraße 6, 1010
—————————————————————-
Bars along the Danube Canal
All along the Danube canal near Schwedenplatz are lots of outside bars which are great for the summer. Most of them are along Obere Donaustrasse. There is also Strandbar Herrmann which is quite big and on the other side of the canal closest to Schwedenplatz. These are especially great in the summer and many of them have deck chairs so you can relax in the sun with a cold drink.
—————————————————————-
Cafe Bar Bloom
For rooftop views towards Stephansdom Cafe Bar Bloom is fairly good. The rooftop isn't huge though so bare this in mind.
Website: www.cafebarbloom.at
Address: Rotenturmstraße 15, 1010
—————————————————————-
1873 – HalleNsalon
One of the most beautiful bars in the city is 1873 HalleNsalson at Hotel Imperial Vienna. It is more of a calm and luxurious atmosphere as opposed to a party place. Sometimes they have Jazz and other live music on.
Website: www.imperialvienna.com
Address: Kärntner Ring 16, 1015
—————————————————————-
Das Loft
For amazing sunsets and views of the city head to Das Loft which is on the top floor of the Sofitel. It's best to go here for sunset/blue hour before the sun goes down as the glass is very reflective.  You can also eat here too.
Website: restaurants.accorhotels.com
Address: Praterstraße 1, 1020
—————————————————————-
Palmenhaus
A great place for some evening drinks, especially in the summer on the patio facing towards Burgarten.
Website: www.palmenhaus.at
Address: Burggarten 1, 1010
—————————————————————-
For more ideas head to Best Vienna Rooftop Bars with Breathtaking Views on TheViennablog.com.
Accommodation
I'd recommend staying at central as possible. That way you'll easily be able to walk between many of the main attractions and to some of the cafes and restaurants. You can also use the subway to easily get around the city. For more info on locations head to my post Top Tips if you are Visiting Vienna which has more detailed information on various locations.
Have a look on Booking.com for options.
Vienna Photography Tips
Here are some tips for taking photographs in Vienna.
Head up Stephansdom to capture awesome skyline pictures.
Explore the Inner Strasse in the early morning for quieter streets.
Look out the tree tunnel in the Schönbrunn gardens.
Get low to the ground to capture pictures of the cobbled pavements in the Innere Strasse.
Visit Vienna at Christmas for beautiful festive lights.
Explore the ring at night and use a tripod when the buildings are lit up.
When there's no wind head to Belvedere and capture perfect reflections of the Palace in the pond.
For all the best photo spots head to my post: The Best Instagram and Photography Spots in Vienna
Visit my guide for more tips: Ultimate Tips for Travel Photography
Destination Info Box

Destination type:
History, Culture, Architecture, Opera
Currency:
Euro
WiFi:
 Available at most hotels, some restaurants/coffee shops. Also available at main OEBB train stations and some public attractions
Emergency numbers:
Dial 122 for Fire and rescue
Dial 133 for Police
Dial 144 for Medical
Arrive by air:
Vienna International Airport is just outside the city and easily accessible by public train, taxis and Uber.
Arrive by train:
You can book tickets on oebb.at to get around Austria and also between some international cities. It is much cheaper to book in advance by at least two weeks.

Arrive by bus:
You can easily get to Vienna by bus. I often use FlixBus to travel between international cities as they are cheap and provide a good service.
Language:
German (English is good in public places)
Power supply:
 European Type F – Standard Voltage 230V 50hz – A good world travel adapter is Skross PRO World Travel Adapter.
Tourism Websites: 
 www.austria.info | www.wien.info
 Other notes/tips:
Check out my post on Top Tips if you are Visiting Vienna and Top Tips for Travelling in Europe for the First Time
Other Vienna posts you may like
The Best Instagram and Photography Spots in Vienna
The Best Rooftop Patios and Viewpoints in Vienna
<< Pin this

Follow us for updates
Did you like this post? You can receive new posts via BlogLovin' or via our mailing list.
Follow
Disclaimer: All content is believed to be correct at time of publishing. Please check official websites for up to date prices and information. If you spot a mistake please feel to contact me using the menu option above.