Singapore is a city that's bursting with so many fabulous things to see and do, that choosing just a few is not an easy task. Singapore is the best destination for the entire family to enjoy. There's the taller-than-you-can-believe Singapore Flyer, the futuristic Gardens by the Bay, the breathtaking views of the iconic Singapore skyline – it's hard to list our favourites. Everything can be a favourite when it comes to Singapore's attractions. Explore this tiny island of incredible contrasts, with fantastic gastronomic and shopping hubs, and immense ethnic diversity. Here's our list of some of the wonderful things to see and do in Singapore during your visit.
Here are some top tours that you may like for Singapore.
---
1. Visit Singapore Botanic Gardens
The Botanic Gardens open at 5 A.M. and stays open until midnight. You can explore these fabulous gardens whenever you get the chance in your sightseeing. Let the virgin rainforest embrace you with its green bounty. Explore the National Orchid Garden's incredible 1,000+ species of orchids and 2,000 hybrids. The Singapore Botanic Gardens are a bucolic retreat for joggers, dogs and tai-chi practitioners in downtown Singapore.
Read more: sbg.org.sg
ADVERTISEMENT
CONTINUE READING BELOW
2. Explore Gardens by the Bay
The Gardens by the Bay is a massive futuristic park in Singapore's Bay Area. It has actually been crowned the 'World Building of the Year' at the 2012 World Architecture Festival. The most intriguing feature of the Gardens by the Bay is the famous Supertree structures. There's an impressive skywalk that's been built over the gardens, on top of massive seashell-shaped greenhouses that bring chilly mountain climates to life here. And there are hundreds of plants and lush greenery to discover and love. The Gardens by the Bay is a fabulous destination for the entire family, and one of the top things to see in Singapore.
You May Like
3. Enjoy views from Singapore Flyer
The Singapore Flyer is the world's second-largest observation wheel, that's over 165 meters high and offers mind-blowing panoramic views of the city, the seas and neighbouring islands beyond the city. You can get a bird's eye view of Raffles Place, Marina Bay, Singapore River Empress Place, the Padang and even Malaysia and Indonesia on a clear day, a clear day of which Singapore is blessed with many. A ride on the Singapore Flyer alone is well worth your Singapore Tourist Visa!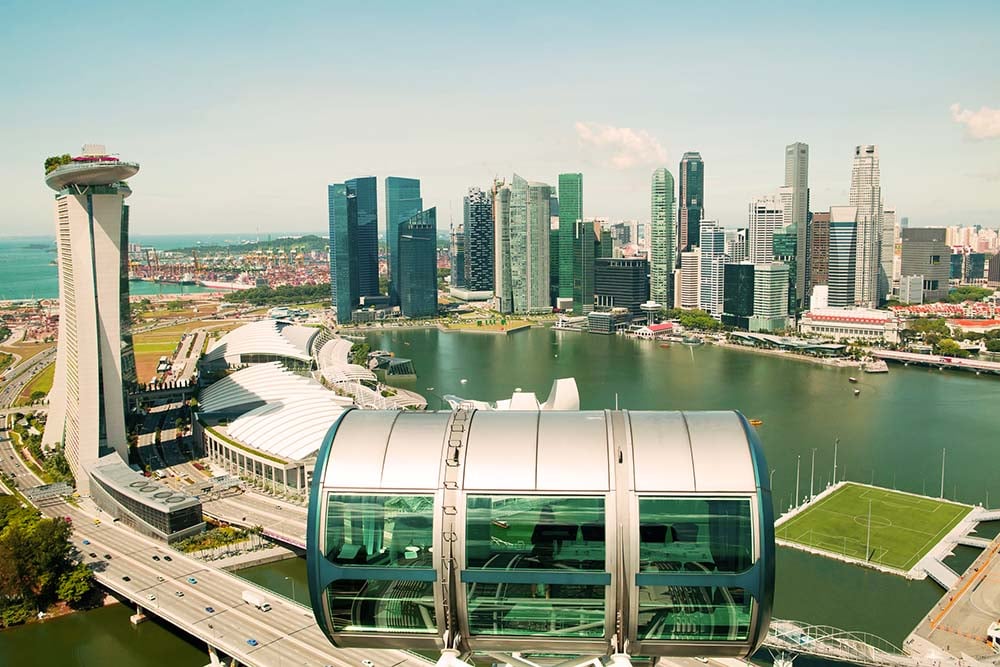 ADVERTISEMENT
CONTINUE READING BELOW
4. Wander around Marina Bay
The Marina Bay Sands complex stands on a beautifully developed multi-million dollar man-made bay. Check out the Science Museum, the Casino and the fabulous dining, nightlife and shopping options at this incredible complex. At 8 P.M. be sure to arrive here to watch the most unbelievable sound and lights digital spectacular, which illuminates the bay water as well as many iconic Singapore landmarks. If you want to experience the most incredible view of the city get to the 57th level; here you can also use the huge telescope to check out the stars.
Read more: marinabaysands.com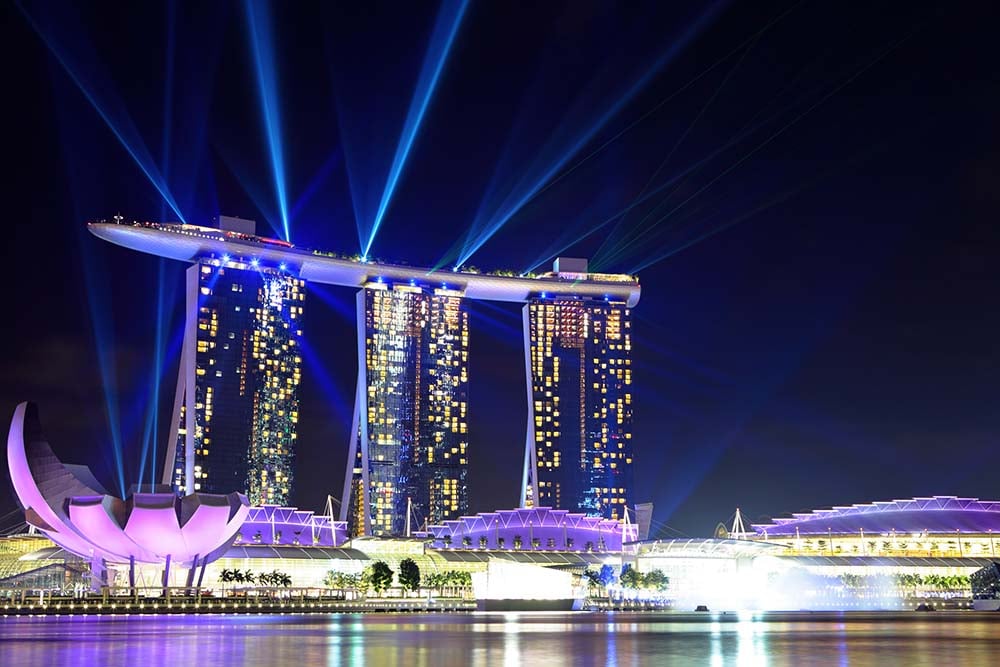 5. See Artwork at the Ritz-Carlton
Is it a hotel or an art gallery? You'll feel quite confused when you get to the Ritz-Carlton and check out the pair of Dale Chihuly crystal glass sculptures that have been built to anchor the building's two wings. Then there's the massive three-ton Frank Stella installation at the very entrance. This hotel has one of Southeast Asia's finest collections of modern and contemporary art, most of which was commissioned specially for the guest rooms and public spaces. Check out Andy Warhol and David Hockney's brilliant colours, Henry Moore's restrained mono-chromatics, Rainer Gross's geometric compositions, and the green landscapes of Robert Zakanitch. You don't have to stay at the hotel; just have a cup of coffee and feast your eyes and soul on the incredible artwork.
Read more: ritzcarlton.com…singapore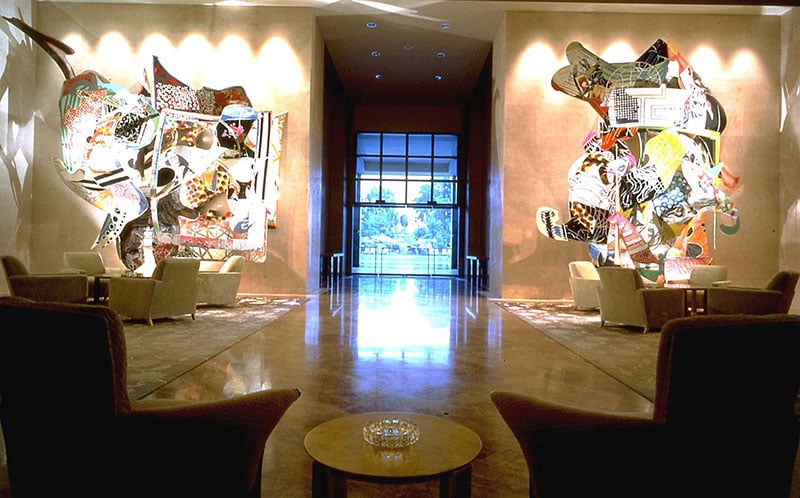 ADVERTISEMENT
CONTINUE READING BELOW
6. Relax at Clarke Quay
Check out the bustling bars, restaurants and the incredible range of boutique shops at this delightful riverside development. Clarke Quay is constructed alongside the picturesque body of water that comes from the city's main river. Go ahead and enjoy the alfresco-style dining at an endless number of eateries around the water's edge. The futuristic, jelly-like roof offers endless delight and the shopping options are so mindblowing that you'll need someone to carry your stuff. The plentiful supply of bars and clubs here makes this the ideal hangout place for most locals and tourists.
Read more: visitsingapore.com…drinking-clarke-quay-boat-quay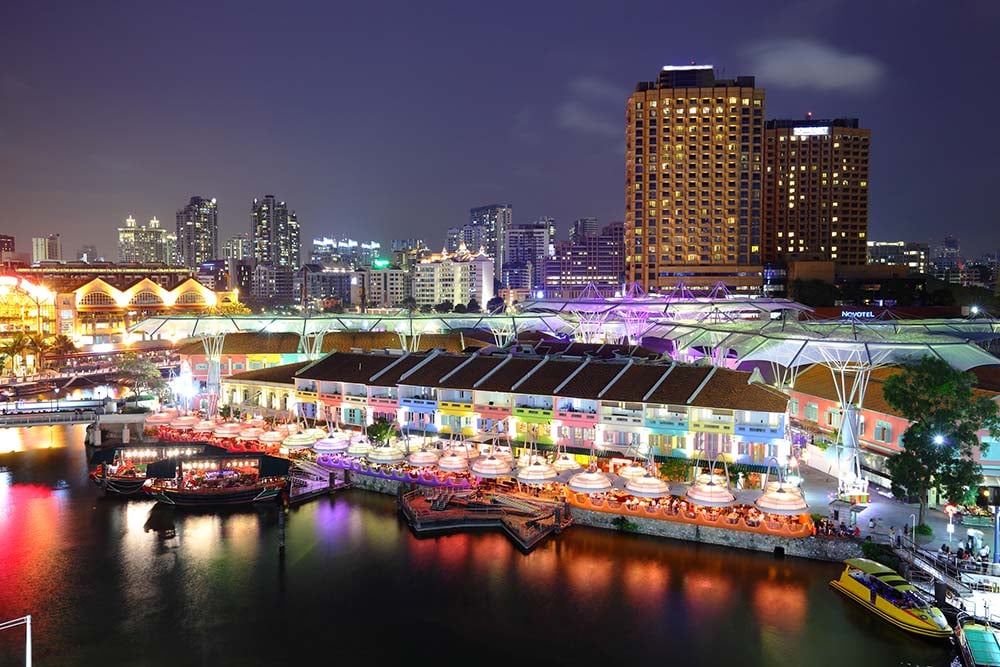 7. Enjoy rides at Universal Studios
Universal Studios is the first theme park of its kind to open in the whole of Southeast Asia. The park has several themed zones such as Madagascar, Far Far Away, Lost World, Ancient Egypt, New York and Hollywood. There are more than 20 attractions spread out among these zones. Two of the rides are water-themed and five are scintillating roller coasters. Two of these are at present considered the world's tallest 'dueling' roller coasters.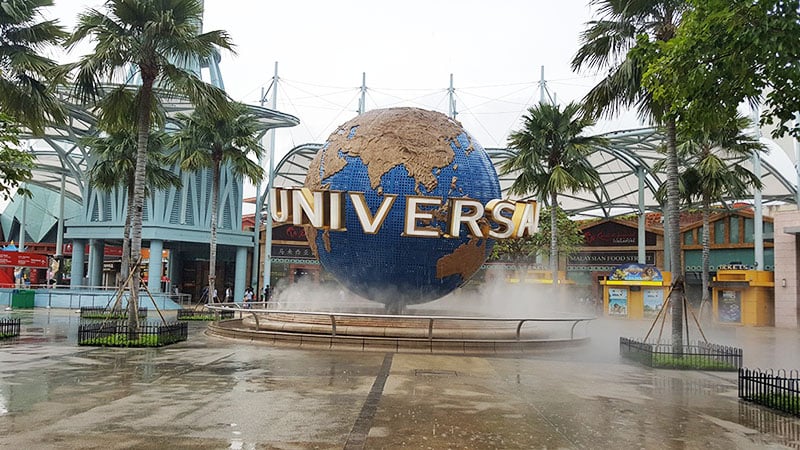 ADVERTISEMENT
CONTINUE READING BELOW
8. Visit Chinatown and Little India
Chinatown and Little India are two Singapore icons that you must get to know. You can buy the cheapest souvenirs here. In Little India, you can buy ethnic Indian wear, gold jewellery and great Indian food. Chinatown offers Chinese herbs, Chinese tea, jade sculptures and authentic Chinese food. Enjoy the many hawker food stalls and restaurants and enjoy some truly exciting mix of authentic and fusion ethnic foods. Visit the Chinatown Heritage Centre on Pagoda Street to learn more about China's heritage. Enjoy admiring the oldest temple in Singapore, the Thian Hock Keng Temple and the Buddha Tooth Relic Temple. Chinatown also has the oldest Hindu temple in town, the Sri. Mariamman Temple.
Location: China Town | Little India
9. See Raffles Hotel Complex
Raffles Hotel is more than just a luxurious colonial-style hotel. Its long history (all the way back to 1887) and the international celebrities that it has hosted makes this one of the most important Singapore landmarks. Elizabeth Taylor has stayed here, and so has Queen Elizabeth II and Michael Jackson. There are tons of luxury suites but what will interest you as a tourist are the 18 restaurants and bars, plus the games arcade and over 40 exclusive boutique stores selling designer clothing and accessories. There's a Louis Vuitton there plus Tiffany & Co., and many other big-name stores. They also make the best Singapore Sling – which they've been making for 100 plus years now, so they're pretty good at it. Sip the Sling and browse the artworks and do some shopping at Raffles and your day is made.
Read more: raffles.com/singapore
ADVERTISEMENT
CONTINUE READING BELOW
10. Explore the Singapore Night Safari
Singapore Night Safari offers the most unusual glimpse into the nocturnal world of animals in their own habitats. There's a 20-minute 'Creatures of the Night' show that offers an excellent overview of the animals in the safari. We recommend you watch it before going on the safari. There's a tram safari and 6 walking trails that go into each geographical animal zone, so you can opt to safari on foot or via tram. Check out the 59 exhibits and over 1,000 animals from around the world categorised according to the geographical zone to which they belong. You can see greater one-horned rhinoceroses, wildebeests, gazelles, lions, tigers, leopards, Himalayan griffon vultures and many more wonderful creatures.
11. Visit Sentosa Island
Sentosa Island is another man-made island off the southern tip of Singapore. It's the ultimate destination for leisure and relaxation in mind, with a bunch of theme parks, beaches, golf courses, eateries, shopping malls and more laid out for your pleasure. The whole island has been constructed out of reclaimed land. You can get here by road, although we recommend that you take the cable car from Faber Peak, one of the best things to do in Singapore.
Read more: sentosa.com.sg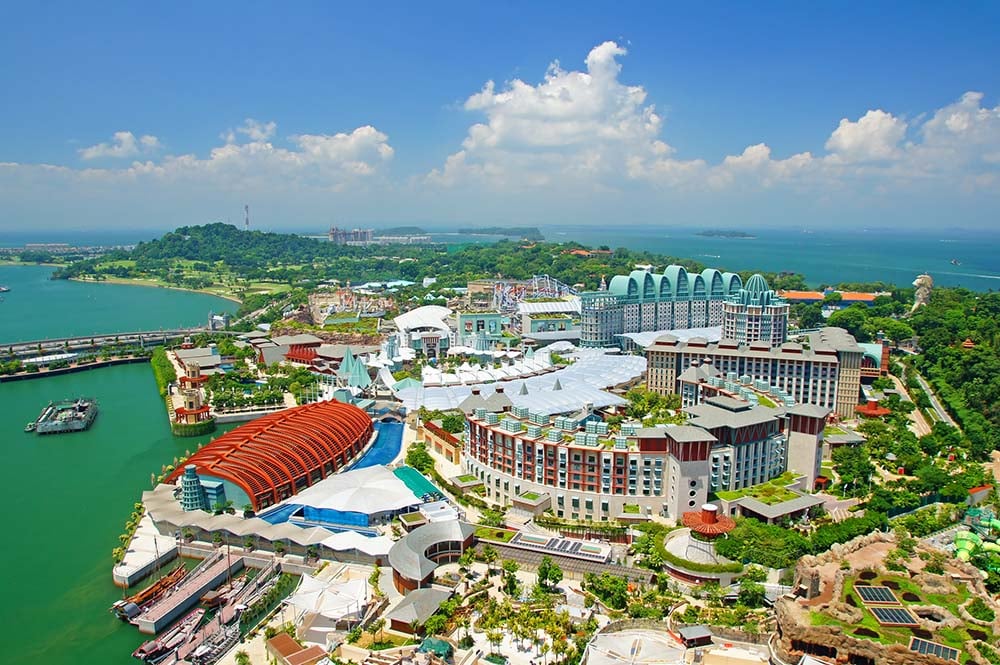 Summary
Singapore is the ideal family vacation destination. You can take your kids and your entire family to this city and never wonder about what to do with them. There are plenty of attractions and historical intrigue to keep the elder ones occupied, while kids have it great, as there are many entertainment options for them throughout the city.
Ready to book? Search for:
---
---
Tours and activities
Post kindly contributed by Aparna
Related Articles