I have been using FastComet to host this site for a while now and have been massively impressed. This site is built using the WordPress blogging software and I run my own installation. I currently have the SpeedUp RocketBooster package which is designed to deliver your content at amazing speeds. So if you are trying to find a good hosting provider for your blog, then keep reading. Here are reasons why you should choose FastComet for your WordPress blog.
1. Excellent Performance and Reliable
Prior to moving over to FastComet I was using Go Daddy and while with them my site was a nightmare. It was often going down, pages would be slow to load and my site was generally unreliable. It even went down when I was working with a client which was extremely embarrassing. But since moving over to FastComet.com my site performance has been fantastic. With pages loading very quickly and I've only ever had minor performance issues, which happens once in a blue moon.
They also provide:
PHP7 – At the time of writing they provide PHP7 which is currently the most up to date version. Having the most up to date version of PHP to run your WordPress blog is very important, as it'll be more secure and faster. Having a secure and fast site is vital to getting good rankings and to improve the experience of visitors to your site.
Backups – They provide regular incremental backups to your site every 24 hours. I have had to recover a file from a backup once when I changed something technical and made my website go down. But by logging into the client area I managed to restore the file to an earlier date with minimal downtime.
cPanel – For those that want advanced control, configuration and stats for their website then they have cPanel built in.
2. Amazing Support and Customer Service
The customer service is simply amazing. Before choosing FastComet I had been in contact to enquire about their service and found the staff very professional, personable and confident in what they offer. They also weren't pushy in their sales tactics which I liked.
After switching to them I have contacted customer support numerous times for help with optimisation, to enquire about SSL setup and various other things, and have always had a great experience. The support staff have quickly responded to emails and often provide solutions and resolved my questions/issues after the first contact. The emails they sent also seem personable rather than an automatic email, which I think is very important.
3. Easy to Setup or Transfer
One of my biggest concerns about switching from my previous service provider (Go Daddy) was whether or not I was going to have downtime, lose any pages, visitor comments etc. But in fact, I had no downtime and FastComet handled the entire transfer for me. If you switching to them they use a full website backup to transfer everything across. If you had some extra comments after the backup has been created then there's a chance you'd lose some, but really transferring to a reliable and high performing hosting provider is probably more important.
As well as moving the actual website and content over to FastComet.com I also moved my domain name registration over to them. This was also very easy and took minimal effort and again no downtime.
4. Great Integration Options for WordPress
As well as helping me set up and migrate my website they also assisted with:
Speed configuration – The support staff told me how to integrate APC caching that works with a performance plugin called W3 Total cache. Using this plugin adds various speed and performance boosting configurations to my site.
SSL integration – They also offer an easy way to set up SSL integration which literally took around 5 minutes. You use a WordPress plugin called Really Simple SSL and get a  free SSL certificate from letsencrypt.org. You can read more about how the setup works in their blog post.
5. Fantastic Price
Finally, the price you pay for FastComet hosting, for a fast and high-quality package is unbelievably good. I pay only $12.95 per month for the SpeedUp RocketBooster package, which I think is amazing for the quality of the service they offer. They also have lots of other pricing options available.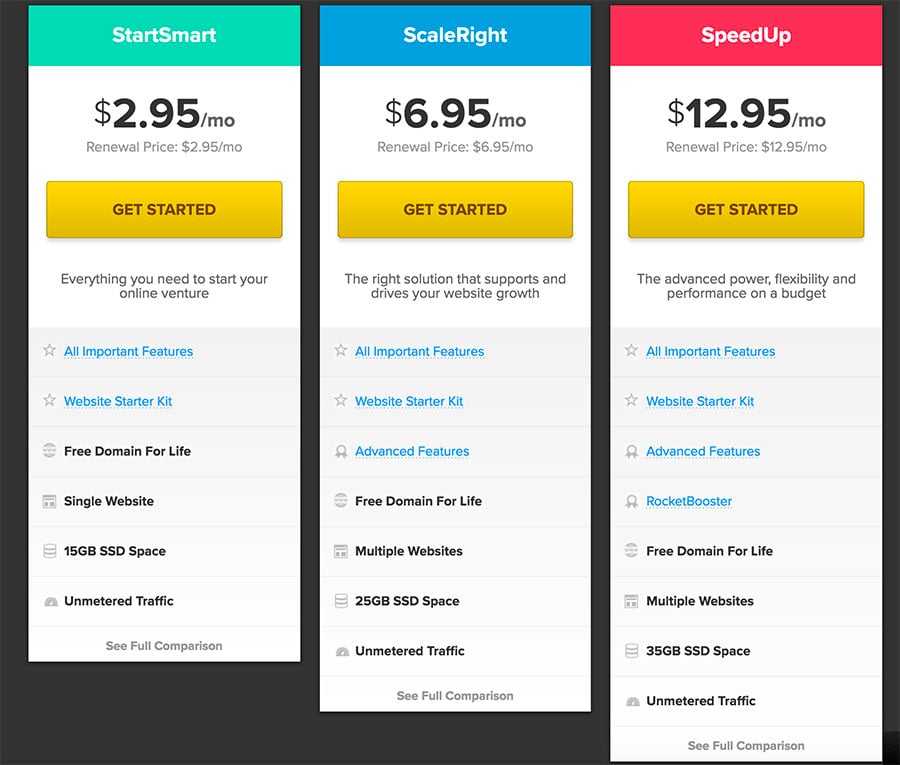 Summary
As you have probably read I am a big fan of FastComet hosting. I therefore think they are definitely a good choice of web hosting providers, especially for WordPress bloggers. Have you had any experience using them and if so what did you think?
Disclaimer: All information above is based on my experience using the SpeedUp RocketBooster package. I've only had a good experience with this package and can't comment on the other products they offer that I haven't used. Prices and service may change since the time of writing so please check their website for the most up to date products and offers.
Related Articles