Having a blog can be a great way to share your experiences and knowledge with other people. But as well as this it can provide a nice side income to complement your main salary. It can provide income so that you have extra financial security, more money to save for holidays, a house deposit and many other benefits. Here are some of the best ways to make money from your travel blog and start your stream of passive income.
1. Ad networks such as Google Adsense
If you have decent traffic then consider joining Google's Adsense program. Once accepted you will then be able to choose a range of ad types, such as automatic ads, and then add them to your blog posts and website. One of the awesome benefits of Adsense is that you generate income not only from clicks but also from impressions. So essentially your blog could be making constant income every time someone views a page. Another feature I really like about Google Adsense is "Matched Content" where you can show ads as well as links to content on your site. So as well as making you money this might get you extra page views as well.
Here are a few tips for Adsense:
Ensure you always follow the rules and never click or encourage your friends and family to click your ads. If you get banned you may never get back on
Although you may not make as much, I would recommend restricting certain ad categories. I personally have restricted gambling, dating and lots of other categories
Test a range of ads options, such as in-content, in the sidebar and other key spots throughout your site. Also remember that a sidebar may not be seen in the mobile view
Don't overdo it with the number of Ads. Add more relative to how much content you have on the page
Verify your address as soon as possible. If you don't you may have your ad units put on hold and may lose some income
ADVERTISEMENT
CONTINUE READING BELOW
2. Affiliate links and partnerships
There are heaps of affiliate websites available and within those a large number of programs for every type of business. A few that I would recommend include:
Here are a few tips for affiliate programs and links:
Only join programmes that are relevant to your blog or website
Ensure all links have rel="nofollow" or rel="sponsored" in the <a> tag. Often when you copy the link from the affiliate site they don't add this, so you will need to do it manually
Test a range of ad types, such as banners, widgets, or links to see what works
Learn from what works and implement more of the same throughout your site
Add a disclosure within your articles stating that you have affiliate links within your articles. This is for trust reasons but also to apply with official legal guidelines.
One way of signing up for affiliate programmes is through TravelPayouts which has the benefit of keeping many of the programmes you join together. This makes it a lot easier to join relevant programmes and look at performance across multiple partnerships. They offer some of the best programmes such as booking.com GetYourGuide, Omio and more.
ADVERTISEMENT
CONTINUE READING BELOW
3. An online store
Something a lot of bloggers do is create an online store within their site, this might be to sell photography filters, guides/e-books, photography prints and a huge range of other items.
If you go this route you'll need to ensure you heavily promote your store such as through social media or an email list. If you're lucky you may get organic traffic, but unless you are selling very unique products this is probably quite unlikely.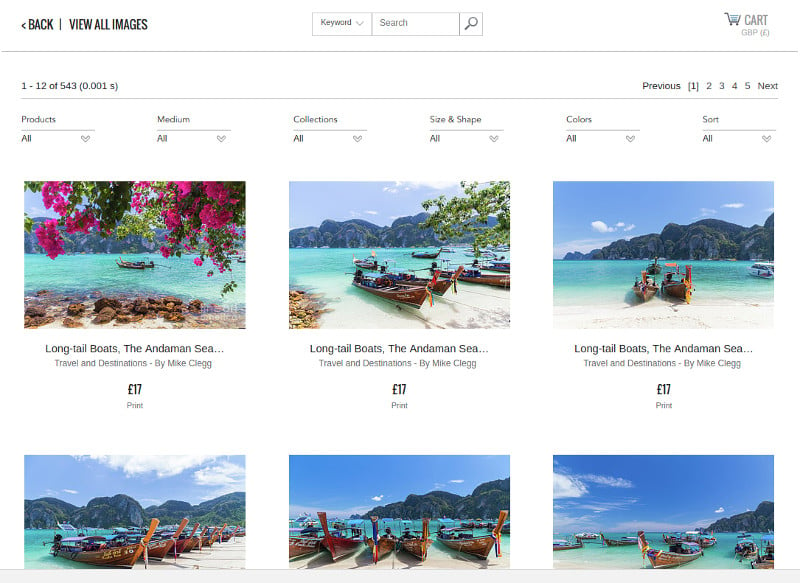 4. Paid banners
Implementing paid banners is a lot harder to get, but once your blog/website is big enough you could reach out to brands that are relevant to your business and agree on paid banners partnerships. These shouldn't be agreed with the intention of giving link authority, so ensure you add a rel="nofollow" tag to those links.
Here are a few tips for paid banners:
Only promote products and services that are high quality and relevant to your audience
Ensure all links have rel="nofollow" or rel="sponsored" in the <a> tag
Be aware of how the banner will appear on mobile, ie will it even show?
Have some way of tracking impressions and clicks as your client will probably want this information
5. Sponsored posts
As you get bigger you'll probably find yourself contacted about sponsored posts. This is where you write/or receive an article to publish on your blog, and then receive compensation for this. Similar to the above you should make the links to the brand that is sponsoring the post a rel="nofollow" or rel="sponsored" so as to meet Google's guidelines.
ADVERTISEMENT
CONTINUE READING BELOW
Summary
So there you have it, five ways to make money from your blog. If you are serious about monetising your blog/website then I would recommend having an idea of how you'd want to do this in advance. And especially when you are new and don't have a lot of posts your first focus should be on creating high-quality content for your site.
Related Articles