Share...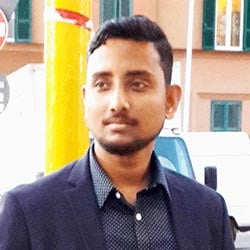 Arunabha is a travel writer and digital marketer located in Kolkata, India. He is passionate about writing and photography and enjoys documenting his wanderlust experiences through his blog, encouraging others to travel and create unforgettable memories. He found a passion in travel writing right after his master's degree.
He loves to travel, eat different foods from various cuisines, experience different cultures, make new friends, and meet other travellers. That is what happiness means to him. His other big passion is astronomy, and also wrote a book on astronomy called 'Mahabiswer Bismay' (mysteries and wonders of the Universe as viewed by Modern Astronomy) in Bengali.
Education and Experience
Arunabha was born and brought up in Kolkata, India. He graduated from University of Rome 'Tor Vergata' with an M.Sc. in Business Administration in 2017. Arunabha has lived and travelled all across India, Italy, Germany, Greece and France. He started his travel writing journey in 2021 through his travel blog 'Wanderlust and City Dust', where he provides travel ideas, budget travel tips and suggestions that make travel experience easier, cheaper and better.
Home country: India
Favourite country: Italy
Favourite cuisine: Italian
Places on his wishlist: Switzerland, Hungary, Sicily, Egypt, Mexico
Website/blog: wanderlustandcitydust.com
Instagram: @arunabha_ronnie
---
Read posts by Arunabha