The capital of Thailand Bangkok is a great place for a city break. It has everything, from culture, historic landmarks, nightlife, good food and so much more! Bangkok is the kind of destination you should visit for at least 48-72 hours, or longer if you have time. In this guide, I will share suggestions on things to do in the city, places to eat, places to stay and how to get around. Towards the end you will also find some photography and destination tips which should help you with your trip.
---
Things to See and Do
Bangkok is big and quite spread out. During a short city break of 48-72 hours, you will only be able to see and do so much. I recommend doing your research and deciding on what to do before your trip. If you have longer such as four or more days you could probably see most of the main attractions.
Below you will find a couple of top things to see. Head to Top Things to See and Do in Bangkok for lots more ideas.
Grand Palace
The Grand Palace should not be missed when visiting Bangkok. The Palace was established in 1782 and is the home of one of the countries most sacred monuments, the Emerald Buddha (Wat Phra Kaew). Also in the Grand Palace are throne rooms, government offices and various museums. Visit close to the opening to avoid large queues. And remember to dress appropriately, so no short skirts/shorts, tight clothing, sandals and sleeveless tops.
Ticketed: 500 baht (adults) – Subject to change
Address: Grand Palace Bangkok, Na Phra Lan Rd,, 10200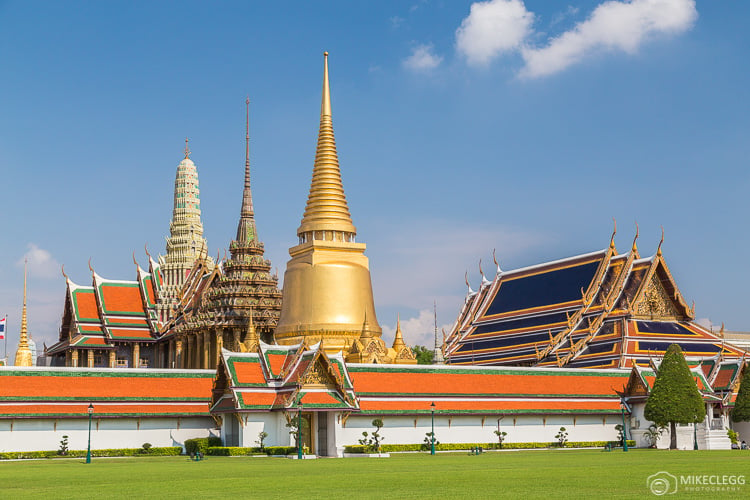 Wat Pho and the Reclining Buda
Wat Pho is a beautiful temple complex that you'll find near the Grand Palace. Around the complex are Prang towers, Stupas and various Buddha statues. The highlight for many will be the Reclining Buddha, which is a stunning 46 meter long gold Buddha statue lying on its side. For those visiting for a short break I would highly recommend this temple.
Cost: Ticketed – Visit website for prices
Address: wat pho,2 Sanamchai Road, 10200
Website: www.watpho.com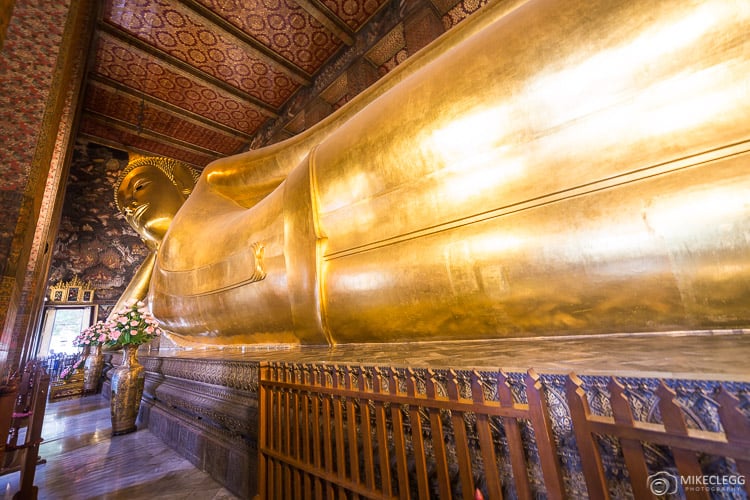 Baiyoke Tower II
For those wanting some fantastic aerial views of the city head up Baiyoke Tower II. This is one of Thailands tallest towers and at the top, you'll find two observation decks on floors 77 and 84. To capture beautiful photographs visit at sunset to capture the best light.
Cost: Ticketed – Visit website for prices
Address: Baiyoke Sky Hotel, 222 Ratchaprarop, 10400
Website:baiyokesky.baiyokehotel.com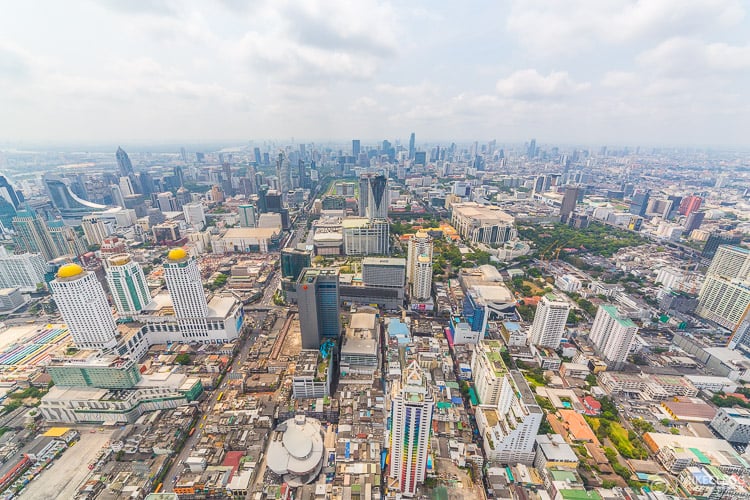 Jim Thompson House
A great attraction is the Jim Thompson House. This house used to belong to an American who moved to Thailand and became a silk trader. The house now serves as a great attraction where you can go on a tour to see various parts of the house, learn about Jim Thompson and how he lived, and also learn about the Silk Trade.
Cost: Ticketed – Visit website for prices
Address: Jim Thompson House, 6 Soi Kasemsan 2, Rama 1 Road, 10330
Website: www.jimthompsonhouse.com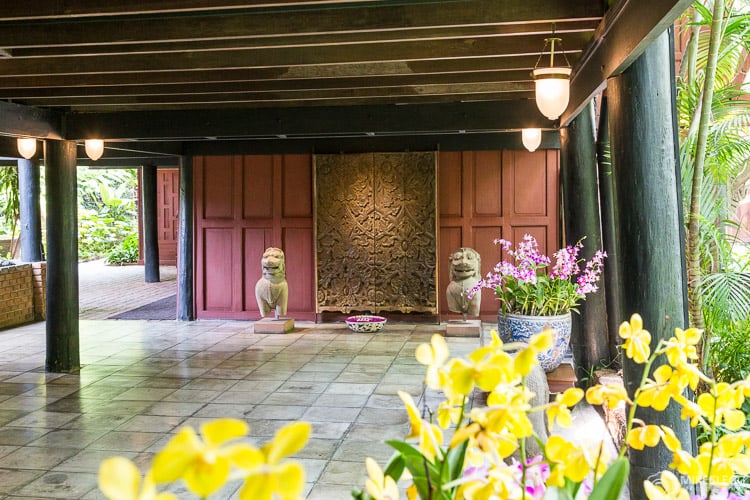 Tours and Activities
More Things To Do
For lots more ideas visit Top Things to See and Do in Bangkok or head to www.tourismthailand.org…Bangkok to discover all the things available in the city.
---
Places to Eat and Drink
Bangkok has food options everywhere, from street food, nice restaurants, rooftop bars and more. You will be spoilt for choice. Food was generally pretty good everywhere I went, and you can easily have a nice dinner at a posh restaurant, or grab cheap dishes from street stalls. For some ideas on food to try head to my post Food and Drinks You Should Try in Thailand.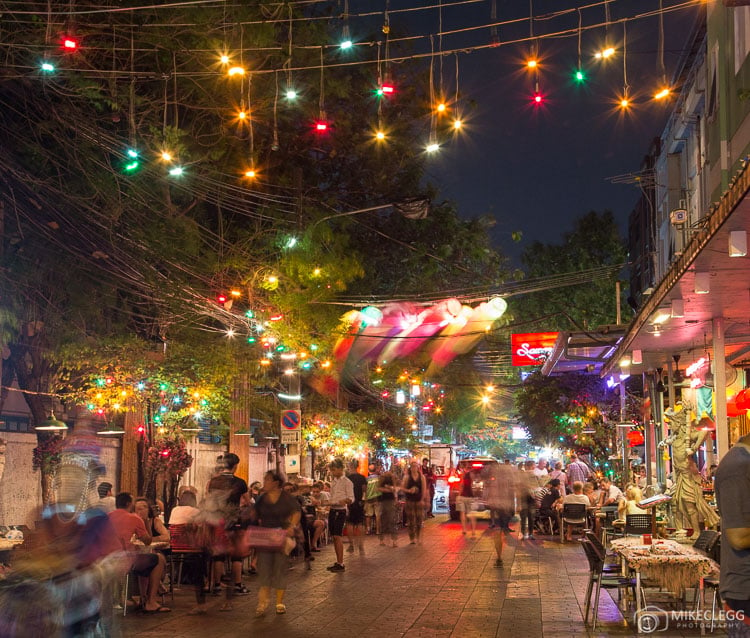 Smooth Curry


Smooth Curry is located in the beautiful Plaza Athénée Hotel and is one of the many restaurants you'll find there. I had a typical Thai curry during my visit which was tasty and full of flavour. Being quite a posh hotel and restaurant I would recommend Smooth Curry for couples and groups, or even for a tasty lunch. It's also a nice restaurant to dine at on your own though.
Website: www.plazaatheneebangkok.com….smoothcurry
Address: 61 Wireless Road (Witthayu), 10330
Recommended for: Lunch/Dinner/Posh/Romantic

Sala Rattanakosin


As well as being one of the best places in the city to capture views of Wat Arun and watch the sunset, this hotel has an incredible in-house restaurant. During my visit I enjoyed a delicious 3-course meal with a delicious tempura crab and mango salad, red chilli seafood curry, and then finished off with mango sticky rice (which is now one of my favourite desserts). I found the food at this hotel absolutely fantastic and would highly recommend it.
Website: salaresorts.com/rattanakosin
Address: 39 Maharat Road Tha Thien, 10200
Recommended for: Lunch/Dinner/Posh/Romantic

Sawasdee House


This restaurant is near Khaosan Road and is a great place to go for evening dinner. This area has a great atmosphere as it's close to bars and clubs. During my visit I had classic Thai spring rolls and green curry which was fantastic. I did find the curry very spicy though and needed a lot of water (and beer) to wash it down.
Website: www.sawasdee-house.com
Address: 147 Soi Rambutree Chakrapong Rd, 10200
Recommended for: Lunch/Dinner/Casual

Yong Seng Li Restaurant


I spontaneously ate at Yong Seng Li on my way to visit the Grand Palace. The restaurant is a street food type place, so you pick a few things that are on display and pay a small price. It isn't a posh restaurant but a good place to experience local culture and have cheap and tasty food.
Address: Yong Seng Li Restaurant, Bangkok, 10200
Recommended for: Snack/Cheap/Casual/Culture

Other places to eat and drink – Have a look on www.tripadvisor.com.
---
Places to Stay
Bangkok has a range of accommodation from cheap budget hostels to the most beautiful luxury hotels. Below you will find some suggestions:
High-End Luxury – Plaza Athénée Bangkok (Personal experience) – The Plaza Athénée has a beautiful design throughout, as well as great restaurants, an outdoor pool and other great facilities. Read more about this hotel in my blog post: Plaza Athénée Bangkok
Luxury Boutique – Sala Rattanakosin (visited) – I visited the rooftop bar of Sala Rattanakosin and it has amazing views of Wat Arun. I also had a quick look at some of the rooms and they had a  bright modern clean style. Some rooms even had views directly over the river and towards the Wat Arun temple. The hotel is also close to many other attractions such as Wat Pho and the Grand Palace.
Backpacker budget – Nappark Hostel Khao San (Personal experience) – This hostel is more for those on a budget and potentially wanting to socialise and party. It is located close to Khaosan Road which is one of the most popular places for partying. The rooms are ok with big lockers, WiFi is included and the hostel can also arrange excursions and cheap airport transfers.
---
Getting Around
To/From the Airport
There are two airports in Bangkok, Suvarnabhumi Airport and Don Mueang International Airport. To get from the Suvarnabhumi Airport airport you can use the Airport Rail Link which takes you to Phaya Thai station. From there you could then transfer to the MRT lines, or use local taxis or Tuk Tuks to continue your journey.
Alternatively, consider arranging a car transfer with your hotel. You may also be able to get super cheap tickets for around 150 baht to/from the airport using a shuttle bus. This might be possible to arrange through your hotel or local travel agencies. This is what I did when I left my hostel near Khaosan Road, but on my way into Bangkok I took the airport express train.
Within the City
To get around Bangkok you can use the MRT metro, taxi's, tuk tuks or Uber. When using taxi's request the meter to be running and when using Tuk Tuks agree a price upfront.
If you use the metro then you pay based on distance. The metro isn't that extensive at present so you won't be able to use it to get everywhere in the city. However it is a good way to skip past traffic during rush hour, and then you could get a taxi/tuk-tuk from a station that is closest to your accommodation for the rest of the way.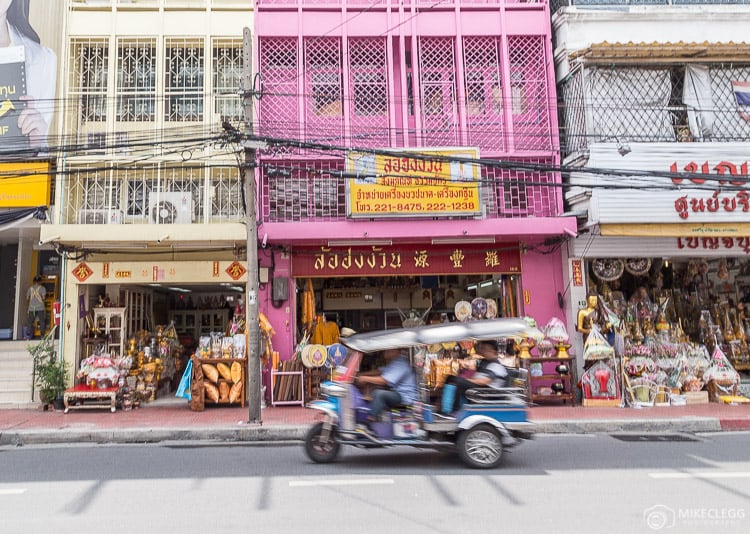 ---
General Destination Info for Bangkok
Destination type: – History, Architecture, City, Culture
Currency: – Thai Baht
WiFi: – Available at hotels and some restaurants and attractions
Emergency numbers:
1155 – Tourist Police
191 – Police
1554 – Ambulance
199 – Fire
Arrive/leave by air:
Suvarnabhumi Airport (BKK)
Don Mueang International Airport (DMK)
Arrive/leave by train: –  If you are arriving to Bangkok by train then it's best to arrange travel through a legit travel agency or through your hotel.
Arrive/leave by bus: – There are many tour agencies selling tickets for buses 

out

of Bangkok, such as to Siem Reap, or places in Thailand. If you are travelling

to

Bangkok from another country or city, then a local agency or your hotel should be able to assist with this.
Language: – Thai – English seemed great everywhere
Power supply: The plug sockets where I stayed in Bangkok took a range of inputs. I found my European plug (Type F) worked fine and it also took my Canadian plug for my camera charger. To ensure your devices work I recommend taking a plug adapter such as Skross PRO World Travel Adapter. Also remember to check the local voltage and frequency as you may need a converter depending on your electronics. A site I use for this is www.power-plugs-sockets.com.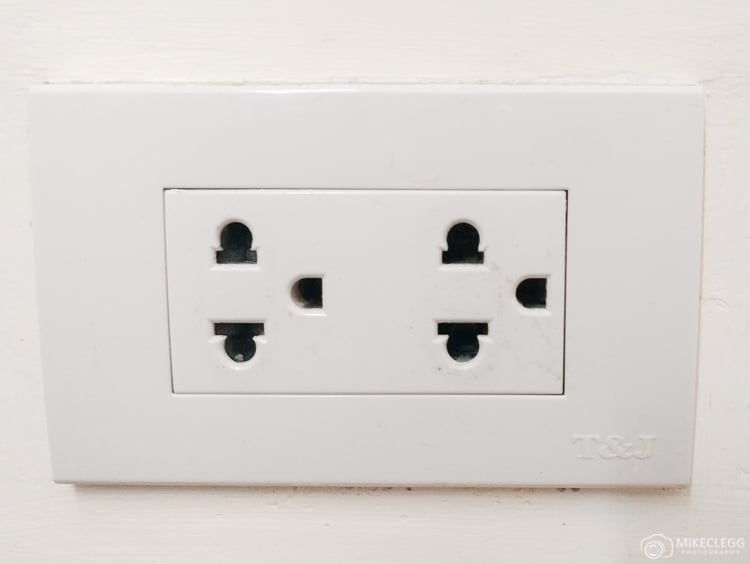 Other notes/tips: – For lots of tips on travelling Asia head to Over 40 Top Tips for Travelling Asia
---
Bangkok Photography Tips
Some of the streets near Khaosan Road are really photogenic. At night streets such as Soi Ram Butri have beautiful coloured lights (seen in my picture above).
Head to Sala Rattanakosin rooftop bar for sunset to capture pictures of Wat Arun and the river
Another good spot for sunset would be Baiyoke Tower II. You could try taking some pictures at night, although you wouldn't be able to use a tripod at the highest viewpoint due to the rotating platform. If you took photographs from the lower viewpoint you will have to shoot through glass so consider using a jacket or lens skirt to prevent reflections.
A good way to capture locals scenes is to find interesting architecture on the streets, and then stand opposite and wait for local traffic such as Tuk Tuk's to go past.
For some photography spots around the city head to: 12 Top Instagram and Photography Spots in Bangkok
More travel photography tips: Ultimate Tips for Travel Photography
---
Bangkok Destination Tips
Always agree prices with Tuk Tuk drivers before getting on the vehicle.
For Taxi's always make sure the meter is being used.
Make sure you dress appropriate for temples such as the Grand Palace. You will need to ensure you have your shoulders covered and long trousers or skirts.
I've been to Bangkok twice and both times it was extremely humid. Make sure you carry bottled water around and stay hydrated during your visit.
Drink lots of tasty smoothies. They are super cheap so make the most of it!
ADVERTISEMENT
CONTINUE READING BELOW
---
More Resources
Sometimes it helps to take a guidebook on your travels. Below you will find a suggestion that is available on Amazon.
Tourism website: www.tourismthailand.org…Bangkok
Related Articles