Berlin, the capital of Germany, comes to life as the sun sets. The city is well-known throughout the world for its nightlife, pub scene, and beer.
Catching a night-time concert in Berlin is a terrific choice because the city offers more than a hundred and fifty theatres. There are also a lot of museums and although they close their doors at roughly 8 o'clock in the evening they frequently stay open longer.
The annual Berlin Illuminated and Festival of Lights is spectacular in October. The city is covered in light installations and light shows on several of the city's iconic buildings.
If you want a calm evening, Berlin has a great selection of restaurants. Expect a wide variety of specialties on the menu in cafés, restaurants, and food booths because the city is the most multicultural in Germany.
It's correct to claim that this unique city has a little something to offer everyone.
Take a look at the top 10 things to do in Berlin during the night and party the night away in your own unique manner!
---
1. Boat tour along the River Spree – See Berlin's famous landmarks
To sum it up, Berlin at night is extremely breathtaking, and a boat trip is probably the most romantic way to take in the views this city has to offer.
The primary river in Berlin is the 400 kilometer-long River Spree which you can take boat tours on. During the ride you'll explore a brief section of this spectacular river that runs through the heart of Berlin. Friedrichstraße is the starting point for Spree River cruises.
During tours (depending on the option you take) an experienced guide will provide information and facts about each attraction as you travel by boat through some of Berlin's most well-known attractions. From the lake, you can view Bellevue Palace, Museum Island, and the government district.
Tour Idea
2. Clärchens Ballhaus – Dine and dance at the Ballhaus
The Charming little place, Clärchens Ballhaus could be the ideal restaurant for you if German cuisines, live music, and the ball tickle your fancy and make you feel like you're a part of it.
Since 1913, Clärchens Ballhaus has provided entertainment for Berliners. Clärchens has provided delectable dinners as well as entertaining live band shows with lots of dancing. During busy times, servers dance through the crowds while carrying trays of food above their heads.
The last surviving ball house from the twentieth century is called Clärchens. Visit their Hall of Mirrors, which has been kept exactly as it was originally.
You and your partner would get to do everything here, from enjoying a romantic dinner to learning a few graceful moves. Without a doubt, this is the best location to experience Berlin's charming side.
ADVERTISEMENT
CONTINUE READING BELOW
3. TV Tower & Bar 203 – Admire the panoramic view of Berlin
If you really want to experience Berlin in a unique way and make an evening of it, get the Window Table Restaurant Ticket and go to the "Sphere" restaurant at Berlin's tallest structure, the TV Tower (Fernsehturm).
For a night out in Berlin, Bar 203, which is located in the tower, is a must-stop. The bar provides a breathtaking bird's-eye view of Berlin and is located below the restaurant at a height of 203 meters (666 feet) above the Panoramastrasse.
Here you can fully take in the rotating views thanks to the building's roomy and contemporary design. Every thirty minutes, the bar rotates 360 degrees, providing a wide view of the city as it comes to life at night.
For the best ambience inside the restaurant and astounding, lit-up views of the city, dine in the evening. They offer seasonal and international specialties in addition to local foods from Berlin and Brandenburg.
After finishing your meal and taking in the city, head to the observation deck or stop by Bar 203, Berlin's highest bar, for a drink.
Tour Ideas
4. Charlottenburg Palace – Enjoy dinner and an evening concert
Charlottenburg Palace, the biggest palace in Berlin is undoubtedly magnificent and a must-see while you're there.
The palace, which was built at the end of the seventeenth century and served as Sophie Charlotte's summer home, is a superb example of the baroque and rococo architectural styles. It has a mausoleum, a theatre, and a pavilion and is surrounded by a sizable garden.
When it comes to visiting Charlottenburg Palace at night you could enjoy a sumptuous three-course candlelit dinner followed by a performance by the Berlin Residence Orchestra in the orangery. The orchestra plays a number of compositions by Handel, Mozart, and Bach. As it is a well-known activity, so guests must reserve tickets in advance.
Tour Ideas
5. Berlin Philharmoniker – Listen to great orchestral concerts
While visiting Berlin, the Berlin Philharmoniker provides a sophisticated and cultural evening.
German architect Hans Scharoun had a vision for the structure in 1920, wanting to design the ideal theatre space. In what was then West Berlin, his vision was discovered in 1963.
The structure was created with an odd tent-like shape and is finished in vivid yellow colour.
The Berlin Philharmoniker hosts a variety of evening performances, such as plays, ballets, operas, and orchestral concerts.
As a result, tickets are likely to sell out fast, so, booking in advance is advised.
ADVERTISEMENT
CONTINUE READING BELOW
6. Pub crawl – An ideal mixture of culture and beer
Berlin is renowned for having a vibrant pub scene. If you're looking for a night filled with culture and beer then pub crawls are a top activity.
Given the countless options, choosing which bars or clubs to go to can be difficult. Don your dancing shoes and join a small group of people on a pub crawl with local guides who are familiar with Berlin at night.
Join like-minded tourists as you visit some of the best local hangouts, sample fine German beer, and regional spirits, and experience the distinct and unique atmosphere in a few of the city's most exciting clubs.
On a tour you could experience various bars and clubs, including a dance club, a secret basement disco, and hip cocktail lounges. Bar will give you free welcome shots as part of the experience, VIP entry, special prices on drinks all night long, and other perks.
The good part is that after the crawl is over, you can still party. With the famous TV tower serving as your backdrop, you can have an unforgettable experience while drinking and dancing for the rest of the night in Berlin.
Tour Ideas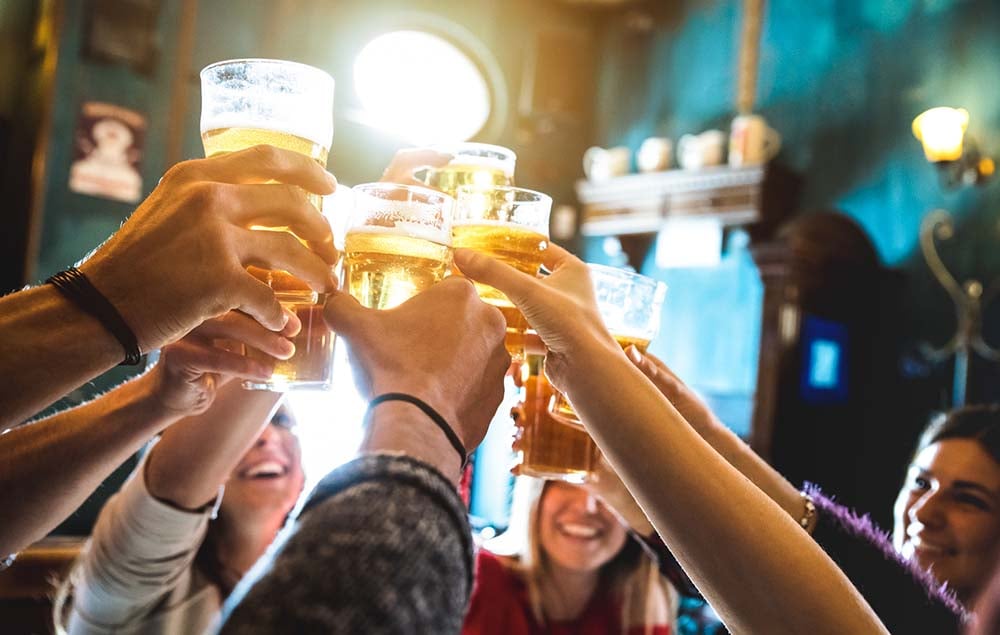 7. Tante Lisbeth – Bowl at a retro-style bowling alley
For a unique and retro-inspired night out then head to Tante Lisbeth.
The bar's name, which translates to 'Aunty Lisbeth', is situated in the hip Kreuzberg neighbourhood. Retro furnishings, cheaper drinks, and two separate bowling alley zones that you may rent by the hour are all features of this Kreuzberg bar.
The earlier pub was transformed to include a bowling alley in the 1970's style, but the bar is scanty and can only accommodate a limited number of people at a time, so making a reservation is mandatory.
The area by the window, which features an incredible furniture and wallpaper ensemble, is especially big. Instead of glass-fronted bottle fridges and illuminated optics, the bar has a huge drinks cabinet with closets and cupboards that makes it look more like the ardent alcoholic's living room.
Make sure you have cash on hand for your drinks and your games of bowling, because they don't accept bank cards here.
ADVERTISEMENT
CONTINUE READING BELOW
8. Brandenburg Gate – See the historic sculpture in all its glory
Brandenburg Gate attracts a lot of visitors during the day because of its open, classical archways, but it is worth going at night to see this marvellous and historic sculpture in its full glory and avoid the crowds.
The Brandenburg Gate is illuminated by strategically placed spotlights. The gate is a 12-column neo-classical structure that drew inspiration from Athens' Acropolis.
The gate was constructed in 1791 by the Prussian Hohenzollern monarchy as a grand and ceremonial entrance to the Kingdom of Prussia.
As you'll see from the tours mentioned below, many of Berlin's night tours include a stop at the Brandenburg Gate.
Tour Ideas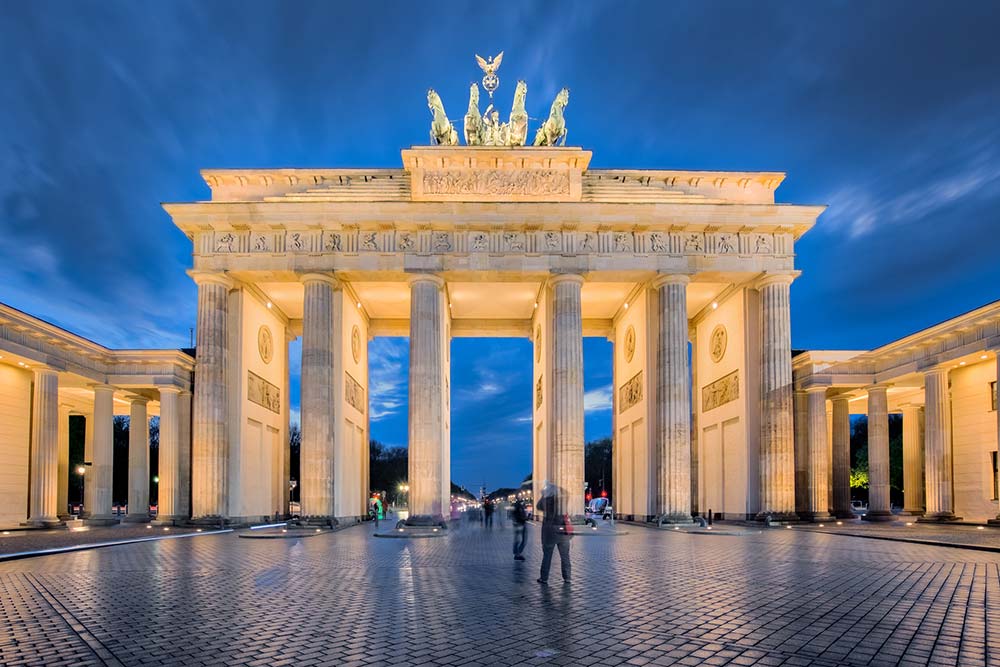 9. Quasimodo – Unwind after a busy day of exploration
Situated in the lively Zoo district, Quasimodo Berlin is just a few minutes' walk away from Zoologischer Garten.
From Wednesday-Sunday at five o'clock in the evening, Quasimodo opens as a cafe selling a variety of drinks. Its wonderful patio offers a peaceful place to rest after a long day of work or city sightseeing. Perfect for an evening beverage on a hot summer day in particular.
The action, however, begins in the cellar, down below. Since 1975, Quasimodo has drawn fans of rock, jazz, blues, soul, funk, and Motown into its cosy basement area, making it one of Berlin's oldest live music venues.
From late evening Quasimodo opens its cellar, where a variety of jazz, funk, blues, soul, disco from the 1970s, and even the occasional indie pop band receives exposure. Drinks are flowing, the music is passable, and the crowd is amiable and lively.
10. Mysterious Dark Ages walking tour – Explore Berlin's medieval history
For those interested in learning more about the city's mysteries, Berlin offers something a little bit different from the standard walking tours or ghost walks.
The 'Mysterious Dark Ages Walking Tour' and 'The Dark Side of The Capital Tour' immerse tourists in the city's Middle Ages past.
Your guide will tell you tales of the major disasters Berlin has survived. You will be steeped in tales of myths and legends, witch hunts, and torture in the manner of the Middle Ages.
Tour around places like Alexanderplatz, also called the Devil's Pleasure Garden, where you may learn about the Germanic method of witch-hunting. Take a stroll through the city's center to discover some of the least-known attractions that even locals are unaware of.
These trips are certainly remarkable if you're seeking a distinctive and creepy experience.
Tour Ideas
Summary
Berlin is a city that's easy to fall in love with, so have an open mind like never before, and want more. The magic of Berlin at night is that!
Visiting Berlin's top attractions at night has a certain charm of its own. Make sure some of these items are on your things to do list when organising a trip to Berlin.
We hope you have fun with these activities!
Viel Spaß im Urlaub!
Ready to book? Search for:
---
---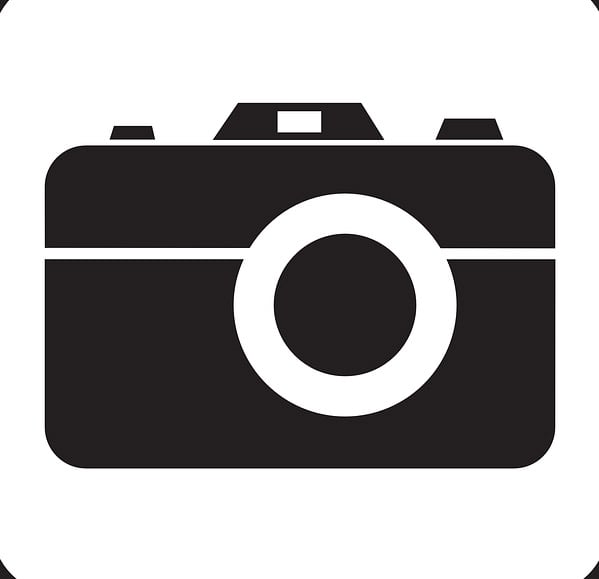 Related Articles