Nowadays with the presence of the web, booking accommodation online is an easy task. You'll find countless providers available offering an easy way to find your accommodation through interactive maps, vast search results and plenty of filters. Whether you're after a beautiful luxury hotel, a quirky gem, an eco-hotel or a cheap dorm in a hostel, there is something for everyone. To help you find a great place to stay when you next travel we have found some of the best providers to consider.
Here are some of the best places to book hotels and other travel accommodations online.
---
Booking.com
Starting with Booking.com which are an online giant for travel accommodation. They offer a vast selection of properties in pretty much every corner of our world (that you can travel to). They list over 6.2 million places including 30 different property types.
A few things we like about Booking.com includes the map view for finding accommodation, the filters that allow you to narrow down your search, the speed of the website and searches and the booking journey once you find a place that you like. They also offer a loyalty programme called Genius which gives you some discounted prices and other benefits.
Benefits and Features
No reservation fees and free cancellation options
Easy to use website with features such as a map view
Helpful filters
A huge 43 languages
24/7 support
Over 189 million customer reviews
Benefits through the 'Genius' reward programme
Vrbo
Vrbo (previously HomeAway) are a top place to find and book self-catered accommodation. They offer 2+ million properties including apartments, houses, cottages, villas and other options. To find a great place to stay they provide a map and tile-based design. This makes it easy to find accommodation in the best areas of your destination. As well as this you'll find filters allowing you to choose your desired property type, filter by price, features and amenities and other useful options.
Benefits and Features
2+ million holiday homes around the world
Map view
Helpful filters to find the perfect property
Part of the Expedia Group
---
ADVERTISEMENT
CONTINUE READING BELOW
---
Hostelworld
If you're looking for low budget accommodation then Hostelworld is a good place to look. Hostels generally offer the cheapest accommodation and these are normally dorm rooms (where you share with others). Launched in 1999, Hostelworld list over 17,000 hostels across 179 countries. When searching for accommodation you'll find nice easy to read property results detailing key features for each place, as well as a map view so you can see if the location suits what you're looking for.
It's worth noting that some hostels offer private rooms as well, and it's not always just shared dormitories.
Read more about features and what hostels are like.
Benefits and Features
17,000+ hostels around the world
Dorm rooms perfect for budget travellers
Various filters that allow you to adjust your requirements
Over 13 million customer reviews
24/7 customer service and in 19 languages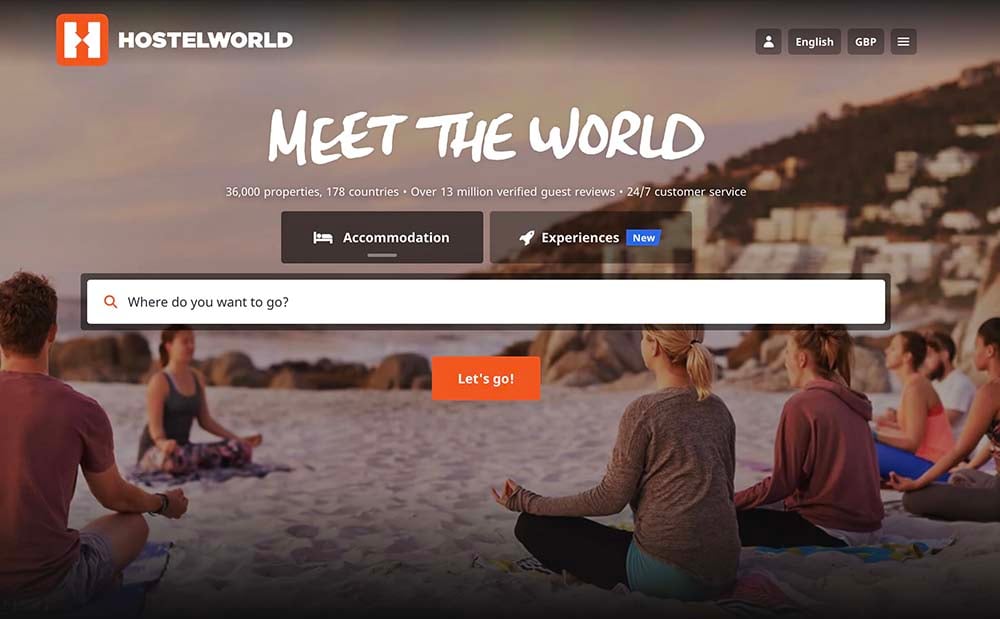 PlumGuide
PlumGuide list some of the most beautiful and highest quality apartments, houses, villas and cottages. They offer quality over quantity and rigorously vet all the properties that they list to make sure that they meet the high expectations of travellers. To be listed on Plum Guide as a minimum the property needs to pass three out of four of the stages of their tests. They also use criteria consisting of over 150 tests. These include such things as the noise in the bedrooms (decibel levels), shower pressure, WiFi speed, design and lots more which would have an impact on the quality and enjoyment of a guest's stay. Read more about their testing and award process.
Some of the things we really like about PlumGuide include the design and user experience of their site, which is visually beautiful, fast and easy to navigate. As well as the property pages which come with great detail on the property as well as plenty of photographs.
Benefits and Features
High-quality properties
Helpful filters for you to narrow down your search
Free cancellation on some properties
ADVERTISEMENT
CONTINUE READING BELOW
Airbnb
Whilst booking.com are the giant of hotels, Airbnb is the giant of self-catered with 5.6+ million listings worldwide, across 100,000+ cities in 220 countries and regions. Airbnb works by allowing property owners to rent out spare rooms or complete properties to travellers. As well as this they now offer more standard accommodation too such as hotels and hostels.
When searching you'll get to enjoy a beautifully designed site with the user experience at the forefront. Once you've started your search you'll find the accommodation listed on the left and a map view on the right (desktop) which helps to find a place to stay in a great location much easier.
Once you've found a place where you'd like to stay you'll then often find detailed information on the property, including its amenities, house rules, cancellation policy and more to help you decide if the property is right for you.
Benefits and Features
Map and property tiles to help you search
Customer reviews
Filters for amenities, facilities and other criteria
Free cancellation options
24/7 customer support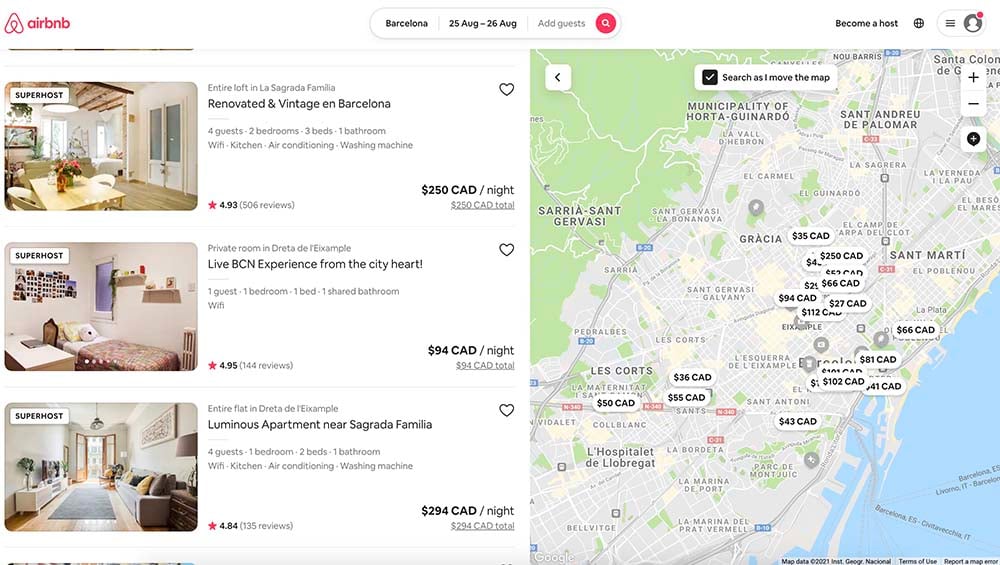 Tripadvisor
Tripadvisor is a well-known brand for being a source where travellers can help each other. This is through forum based user-generated content. As well as this you can now start your search for accommodation, activities and more directly through their website. They serve as an aggregator/metasearch service which means they search across the market and through various suppliers (including booking.com) and then present you with results and filters to help you make your decision.
Benefits and Features
1.4 million places to stay
Filters to narrow down your search
Millions of customer reviews
Also find, compare and book tours and attractions
Trivago
Trivago is a metasearch engine for accommodation. They help you find and compare properties from 300 different booking sites, including providers such as booking.com. Expedia, Vrbo and lots more. They list over 5 million properties across 90 countries meaning they are a great place to start our search for a place to stay.
What we really like about Trivago is the visual experience that is presented. This is in the form of a map view combined with nice property tiles. You can also easily filter down the results by price, property type, rating, location and lots of other helpful options.
Benefits and Features
Compare properties from multiple online providers and booking sites
Over 175 million reviews and ratings aggregated from various sites
Helpful filters to allow you to narrow down your results
Expedia
Expedia is a giant booking service and a bit like a one-stop-shop for finding and booking much of your travel. Including holiday packages, hotels, flights, cars, transfers and activities. Regarding accommodation, you'll find 80,000 options in many destinations around the globe. As well as this you can use filters to help change your criteria and narrow down your search.
Benefits and Features
80,000 accommodation options
Various accommodation types, including hotels, apartments, villas and more
Helpful filters to adjust your search criteria
Map view to help you understand the location
The option to search and book flights, car rentals, activities and more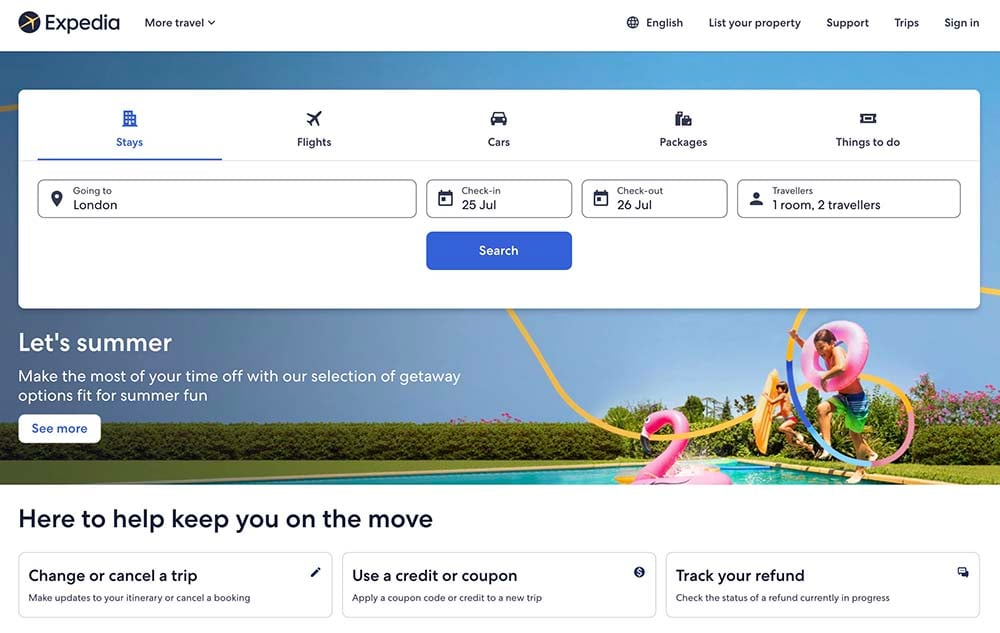 Hotels.com
Hotels.com is a top choice for finding hotels. They list properties around the world and offer both a list view and a map view to search for accommodation. As well as this you'll find all the filters you need to find that perfect property for you. A cool thing about hotels.com is their reward programme which gives you a reward night for every 10 nights you stay, as well as special prices and other perks.
Benefits and Features
Lots of property types including hotels, apartments, guest houses, even houseboats
Useful filters to adjust your search
Customer reviews to help you decide
Free cancellation on many properties
Rewards nights for every 10 nights of stay
90 local websites in 41 languages
HotelsCombined
With HotelsCombined you can search for accommodation in 225 countries. They list over 235,000 hotels and search across various booking websites such as Hotels.com, Expedia, Booking.com, Agoda and more. The site helps you compare prices and property types as well as use filters and a map view to narrow down your results. You'll also be able to see useful information such as whether there is free cancellation, free Wi-Fi and also customer reviews.
Benefits and Features
235,000 hotels across 225 countries
Showing you hotels from lots of top booking websites
Filters and a map to help you find your perfect accommodation
---
Try our interactive map to find travel accommodation
Below you can start your search for accommodation and find places to stay in destinations around the world. You use filters to narrow down your search and you'll see results for both booking.com and Vrbo.
---
---
ADVERTISEMENT
CONTINUE READING BELOW
---
Common Questions
What are important considerations when booking accommodation?
A few things to consider when booking accommodation includes:
Property type
Location
Customer ratings
Facilities and amenities
Check-in and check-out time
Read more How to Choose the Right Accommodation for Your Trip
How important are customer ratings and reviews when booking accommodation?
Customer ratings and reviews are definitely important when choosing your accommodation. This is because you can read about other people's experiences with the property, be it good or bad. On big sites where accommodation has been established, you'll likely find a huge number of reviews and an average rating. This can really help you make an informed decision on where to stay.
Generally, we would look at the number of ratings and would only stay in a property that is 7/10 or higher.
What kind of rooms and properties can you get?
Depending on the type of accommodation you stay in you'll find various room and property types including:
Single/ double/ twin rooms
Suites
Private apartments
Dorms
Villas
Chalets
Cabins
…and much more.
Read more about different types of accommodation.
Do you get free cancellation when booking accommodation?
Many providers offer free cancellation up to a certain time before your arrival. However, this really varies from service to service and also from property to property. We would always recommend checking the cancellation policy when booking your accommodation in the event that your plans change. Should you book a property with a free cancellation policy then make a note and set yourself a reminder close to when it becomes non-refundable so that you cancel without hopefully losing any money.
Should you book accommodation direct?
Absolutely, if you find a property or chain of properties that you really like then definitely consider booking direct. Sometimes they offer additional benefits and rewards by doing this too.
By booking directly with the accommodation provider this would also help them as they won't have to pay commission out to another service. However, you certainly don't need to book direct, and should you prefer then definitely book through your favourite service such as one of those mentioned above. It's up to you and it's all about choice!
---
Summary
We hope that these suggestions help you find a great place to book when travelling. There are lots more great options out there too besides those listed above. A good thing about this large number of online services is that it increases competition and encourages brands to up the quality and standard of their offering and the user experience on their site.
We personally book across different providers depending on which type of accommodation we're looking for. Of course, the location and customer reviews should always be an important factor in your decision on where to stay, as well as the cancellation policy (especially with issues around Covid). Good luck searching and happy travels.