Start booking your trip to the Maldives, a collection of 1192 stunning islands located in the Indian Ocean. The Maldives are the perfect example of paradise with some of the most exotic and beautiful beaches in the world. Serving as a perfect place for a honeymoon, or just those looking to escape normal life, the Maldives would be a top destination choice. Whilst on the Maldives be sure to relax, relax and relax a bit more, but as well as this try snorkelling in the lush clear water and see some of the colourful and exotic fish swimming alongside.
You can start finding accommodation using the interactive map below, or if you prefer then head over to booking.com or VRBO for additional options. Depending on which island you're planning to be based, you may find some great tours and activities available too. Below you will see various options in the Tours and Experiences section.
---
Maldives Accommodation
Find your perfect Maldives accommodation using this interactive map. You can search for both hotels and apartments.
Note: Please wait a moment for the map to load as well as the suggestions of places to stay. Sometimes you may also have to just move the map slightly or zoom into your desired location to see additional properties which are available.
Click the buttons below to visit booking.com or hostelworld.com to find more accommodation options:
---
Accommodation Deal
Here is a deal that you may like:
ADVERTISEMENT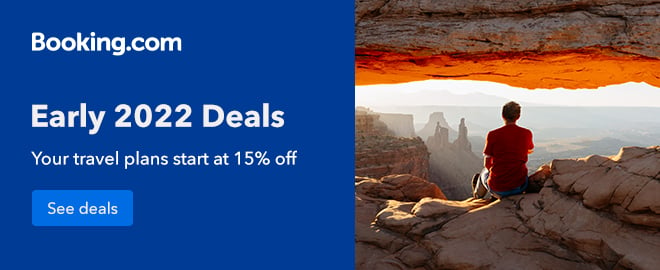 ---
Best Tours and Activities in Maldives
Here are activities that you may like for Maldives. These are provided through our partner Viator. You can also use the blue-button a little below where you can be more specific with your search, including adding your dates, filtering by type of tour and many more options.
---
Maldives Guided and Specialist Tours
For longer and more specialist tours and complete with multi-day itineraries, then consider checking out G Adventures which are highly regarded. With G Adventures you can find small group tours with local guides and the company is based around having a good impact on local communities.
---
Ground Transport
Below are services for finding transport. Head over to their site to start your search.
Note: 12Go aren't available for all countries in Asia.
---
Our Articles on Maldives
Here are some articles about or that include Maldives:
---
ADVERTISEMENT
CONTINUE BELOW
Want to book somewhere else? You can use the button below to find a different region and country.