Book your trip to the beautiful city of Vienna, Austria's capital, and enjoy the grandeur of the city. Explore the imperial Schönbrunn Palace, see views from the Stephansdom, or head out of the city to the vineyards of Kahlenberg where you can hike, enjoy wine and see views of the city. Vienna is full of highlights, both cultural and historical and a visit to the city will be sure to impress. Take your loved one, or even visit alone and discover the variety of attractions on offer.
Here are some booking options. Including hotels, tours and transport. This page is designed to start off your booking journey when planning your travels and provides suggestions of places to stay and tours to book and sometimes transport providers too. These are provided through our recommended partners.
Further down you can also find some of our articles for Vienna.
---
Vienna Accommodation
Find your perfect Vienna accommodation using this interactive map.
You can search for both hotels and apartments through booking.com and VRBO. Use the filters to adjust your search such as dates, number of guests, cost and more. For additional options then click the "More accommodation options" button below the map to head over to booking.com.
Note: Please wait a moment for the map to load as well as the suggestions of places to stay. Sometimes you may also have to just move the map slightly or zoom into your desired location to see additional properties which are available.
Click the buttons below to visit booking.com or hostelworld.com to find more accommodation options:
---
Accommodation Deal
Here is a deal that you may like:
ADVERTISEMENT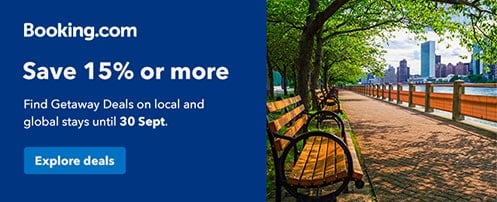 ---
Best Areas in Vienna to Book Accommodation
When visiting Vienna it's best to stay as close to the 1st district as possible. This area includes the Innere Stadt and is where many of Vienna's top sights are such as Stephansdom, the Graben, Rathaus, Volksgarten and many of highlights of the city.
Vienna is also a very walkable city so if you're fairly close to this area then you should be able to walk around and see many of the attractions.
Another area that we like is the 7th district which is just west of the 1st (they circle around the center), and from here you will be within walking distance of Mariahilferstrasse which is a great place to go shopping, as well as a short transit distance to the Schönbrunn Palace (west), or the center of the city (which is east).
---
Tours and Activities for Vienna
Here are activities that you may like for Vienna. These are provided through our partner Viator. You can also use the blue-button a little below where you can be more specific with your search, including adding your dates, filtering by type of tour and many more options.
---
Airport Transfers
For transfers between your accommodation and the airport then have a look on HolidayTaxis for options.
---
Ground Transport
Below are services for finding transport. Head over to their site to start your search.
---
Our Articles on Vienna
Here are some recent articles about or that include Vienna:
---
ADVERTISEMENT
CONTINUE BELOW
5 Top Reasons to Book a Trip to Vienna
Why should you book a trip and visit Vienna? Here are some top reasons:
To wander the beautiful cobbled streets of the Innere Stadt (inner city)
For an experience at a traditional heuriger (wine tavern)
To see the stunning and grand architecture found throughout the city
For an experience in a traditional coffee house complete with a Wiener Melange and delicious cake.
To enjoy the Christmas markets and festive atmosphere (December)
---
Want to book somewhere else in austria? You can use the button below to go back to the list of places.