Start booking your trip to Hong Kong here and discover its highlights. Enjoy epic views over the city from Sky100 Observation Deck or the Sky Terrace 428, or wander up the Ten Thousand Buddhas Monastery. Other great things to do includes taking a cruise on Victoria Harbour or spending the day at Hong Kong Disneyland.
Use the booking options below to find hotels and tours. You can also use the blue button at the end to visit our recommended providers booking.com and Viator to find more options.
If you're looking to book somewhere in particular then use the blue-buttons further below to find hotel and tours and to continue your search.
Further down you can also find some of our recent articles for your destination too.
---
Hong Kong Accommodation
Find your perfect Hong Kong accommodation using this interactive map. You can search for both hotels and apartments through booking.com and VRBO. Click the "More accommodation options" button to head over to booking.com to change or enhance your search.
Note: Please wait a moment for the map to load as well as the suggestions of places to stay. Sometimes you may also have to just move the map slightly or zoom into your desired location to see additional properties which are available.
Click the buttons below to visit booking.com or hostelworld.com to find more accommodation options:
---
Accommodation Deal
Here is a deal that you may like:
ADVERTISEMENT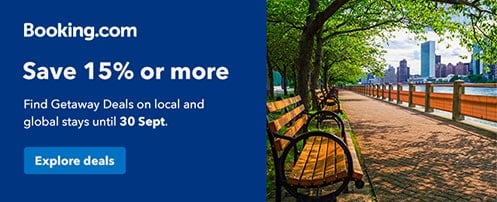 ---
Tours and Activities for Hong Kong
Here are activities that you may like for Hong Kong. These are provided through our partner Viator. You can also head over to their site using the blue-button further down to narrow down your search and add more filters.
---
Hong Kong Guided and Specialist Tours
For longer and more specialist tours and complete with multi-day itineraries, then consider checking out G Adventures which are highly regarded. With G Adventures you can find small group tours with local guides and the company is based around having a good impact on local communities.
---
Ground Transport
Below are services for finding transport. Head over to their site to start your search.
Note: 12Go aren't available for all countries in Asia.
---
Our Articles on Hong Kong
Here are some articles about or that include Hong Kong:
---
ADVERTISEMENT
CONTINUE BELOW
5 Top Reasons to Book a Trip to Hong Kong
Why should you book a trip and visit Hong Kong? Here are some top reasons:
To enjoy a classic boat cruise on Victoria Harbour
For a fun day out at Hong Kong Disneyland
To see Hong Kong from Sky Terrace 428 and capture postcard photographs
For wandering among the streets, experiencing the culture and seeing the classic architecture design
To admire the Tian Tan Buddha (Big Buddha) on Lantau Island
---
Want to book somewhere else? You can use the button below to find a different region and country.