Start booking your trip to the USA here and explore some of its many cities and beautiful national parks. From New York on the east to San Francisco on the west as well as parks such as Yosemite and the Grand Canyon you'll find a whole host of incredible places to visit and things to see.
Pick your destination from the list below where you'll be provided with booking options including hotels and tours. Currently, we're only listing some popular places to visit, but use the blue-button at the end to visit our recommended providers booking.com and Viator to find many more.
Please note that this section is in development so we'll be adding more destinations over time.
---
Where are you visiting in the USA?
More places coming soon…
If you're looking to book somewhere in particular then use the blue-buttons further below to find hotel and tours and to continue your search.
Further down you can also find some of our recent articles for your destination too.
---
USA Accommodation
Find your perfect USA accommodation using this interactive map. You can search for both hotels and apartments through booking.com and VRBO. Click the "More accommodation options" button to head over to booking.com to change or enhance your search.
Note: Please wait a moment for the map to load as well as the suggestions of places to stay. Sometimes you may also have to just move the map slightly or zoom into your desired location to see additional properties which are available.
Click the buttons below to visit booking.com or hostelworld.com to find more accommodation options:
---
Accommodation Deal
Here is a deal that you may like:
ADVERTISEMENT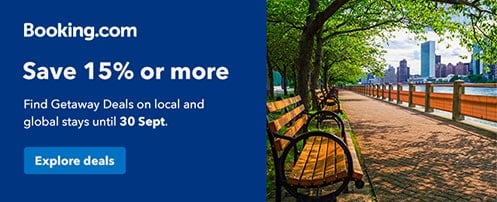 ---
Tours and Activities for the USA
Here are activities that you may like for the USA. These are provided through our partner Viator. You can also head over to their site using the blue-button further down to narrow down your search and add more filters.
---
USA Guided and Specialist Tours
G Adventures are specialists in tours and have some great itineraries such as below. The USA tours will help you see some of the most beautiful spots in the country, including visits to some of the country's most impressive and popular national parks.
Depending on which tour you choose they often include local guides, internal flights, additional transport, hotels, certain meals and more.
---
Ground Transport
Below are services for finding transport. Head over to their site to start your search.
---
Our Articles on the USA
Here are some articles about or that include the USA:
---
ADVERTISEMENT
CONTINUE BELOW
5 Top Reasons to Book a Trip to the USA
Why should you book a trip and visit the USA? Here are some top reasons:
For exploring its incredible cities including New York City and Nashville
To see historic landmarks such as the Statue of Liberty and the Golden Gate Bridge
To explore the incredible national parks throughout the country, such as Yosemite and Grand Canyon National Park (to name just a few)
For nightlife and fun at Las Vegas
For an incredible family experience at the theme parks in Orlando
---
Popular Places to Visit in the USA
Not sure where to go? Here are some of the best places to visit in the USA:
New York
Orlando
Grand Canyon National Park
San Francisco
Yosemite National Park
For lots more ideas and inspiration on where to go in the USA and to learn about each place, then read our articles below:
10 Best Cities to Visit in the USA
---
Useful Information When Visiting the USA
Here is some helpful information when planning a trip and visiting the USA:
Currency: USD
Language(s): English
Entry requirements: A ESTA may be required
Power supply: Type A or Type B plug – normally 100 – 127 Volts
Read the below article for more tips and info:
---
Want to book somewhere else? You can use the button below to find a different region and country.