The Carpathian Mountains are the second largest mountain range in Europe that covers seven countries: the Czech Republic, Hungary, Poland, Romania, Serbia, Slovak Republic, and Ukraine. They are known for being the largest habitat in Europe for animal species including brown bears and wolves. As the Carpathian mountains cover such a large area there are many different activities and hiking trails available. They are also the ideal location for both the summer and the winter.
---
How to get to the Carpathian Mountains
As the mountains cover such a wide range and span over many countries there are multiple ways to access the mountains. Romania, Ukraine and Slovakia offer the most activities. There are many private tours and companies offering trips for specific objectives such as hiking or skiing. Also due to the infrastructure of eastern Europe the best way to travel amongst these mountains is by train. Both overnight trains with cabins and local bus transfers are the favoured way to adventure into the landscape.
---
Activities to enjoy in the mountains
Romania
Romania is one of the most popular destinations due to the legend relating to Dracula of Transylvania. The Carpathian Mountains are even nicknamed the Transylvanian Alps. Hiking, especially in the summer, is one of the most popular hobbies. There are many routes that cover must-see villages such as Sibiu. Wildlife spotting is also very popular in Romania due to its vast quiet landscapes.
Ukraine
Ukraine is also known for many tourists flocking to the mountains and caters to both summer and winter travellers. The winter however is proven more popular with the locals due to places such as Bukovel – the largest ski resort in eastern Europe. Even the prime minister of Ukraine can sometimes be spotted holidaying here over the Christmas period. Due to the popularity of the sport more ski resorts are gradually opening. Dragobrat also caters to many tourists each year, even though it is a smaller ski resort, it does allow you to ski down Ukraine's highest mountain!
Slovakia
Slovakia, despite having fewer activities to offer, is also a popular hiking destination for many locals covering many small villages across the country, especially as there are lots of trail signs for tourists with guides, as well as many campsites.
ADVERTISEMENT
CONTINUE READING BELOW
---
Top ski resorts in the Carpathian Mountains
Poiana Brasov, Romania
Poiana Brasov is located in Romania and is their biggest and most luxurious resort. Not only this but it is also close to the city Brasov, allowing for easy access and travel. It is also only 200 km away from the capital Bucharest. Poiana Brasov has a total length of ski area of 24.5 kilometres. Poiana Brasov is the most popular ski resort in Romania and has 7 slopes for you to enjoy.
You can travel here not only by renting a car but also by public transport. Take a train from Bucharest to Brasov, then take a bus from Brasov to Poiana Brasov. The train takes approximately 2.5 hours and it leaves from Gara de Nord. There are also many private tours which include a visit to the famous Bran Castle.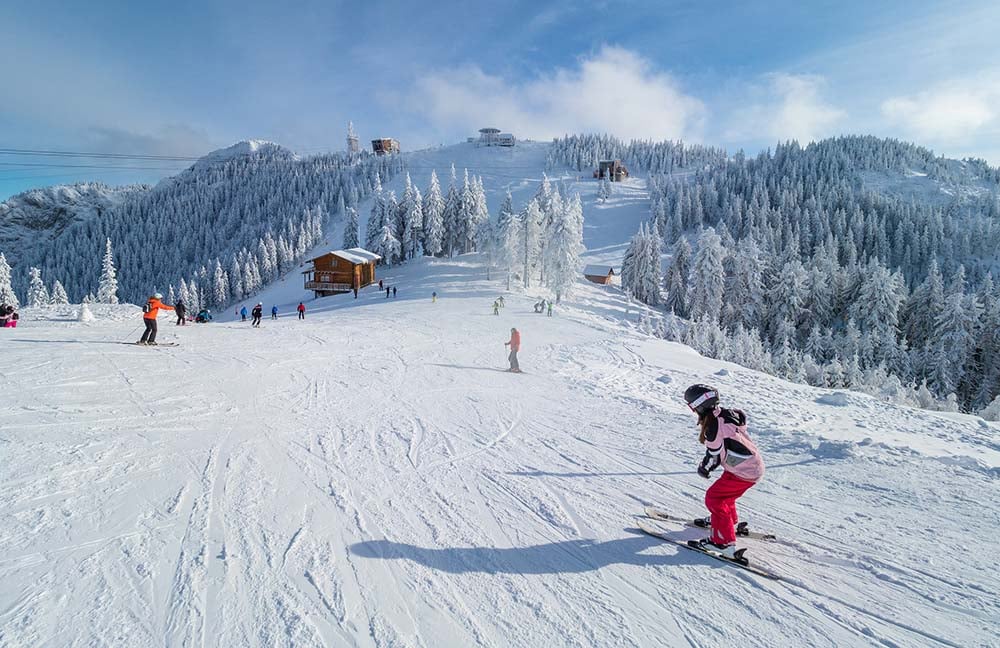 Bukovel, Ukraine
Bukovel, the skiing capital of Ukraine. This huge ski complex is a winter sports powerhouse, with over 60 pistes for all types of skiers. It offers the highest level of facilities and plenty of things to do including skating, snow-tubing and dog-sledge trips. The technical equipment of the Bukovel resort allows its guests to enjoy non-stop skiing with artificial snow. At night, the ski slopes are illuminated, so tourists can ski anytime they want. Due to its popularity, there are direct trains from Kyiv to the closest train station and many companies offer quick and easy transfers. You can also rent a car and drive directly to the resort!
Dragobrat, Ukraine
Dragobrat (or Drahobrat), for the wild and adventurous. Drahobrat is the highest ski resort in Ukraine at 1300 meters, with 10km of tracks. This is known as a paradise for freeriding and snowboarding fans with alpine beauty. Perfect for those looking for adventure, however due to its location and road conditions the best way to access this resort is by train and then local transfer which is highly likely to be a snow truck! Though not as popular as Bukovel, Drahobrat still offers a wide range of hotels and lodges and of course plenty of nightlife.
ADVERTISEMENT
CONTINUE READING BELOW
---
Tips and things to know
The Carpathian Mountains despite being beautiful does require some planning before you travel to your chosen destination. Due to the infrastructure in most of eastern Europe it is unlikely to find regular transport such as trains. Always make sure you plan transfers and travel in advance.
You may find some language barriers as many people amongst the small towns and villages especially will highly likely not speak English. Make sure you bring a very good translator app or have your own tour guide.
All of the ski resorts within eastern Europe are very low priced, so you can have a good adventure at a low cost, so perfect for those on a budget! You can easily rent all of the equipment needed and have private lessons for a very small cost.
When hiking always make sure to plan your routes, even though there will be many signs directing you, make sure you plan your campsites in advance!
---
Summary
There is plenty to do within the Carpathian Mountains and plenty of countries and cities to visit within these vast landscapes. Both summer and winter allow for picture-perfect moments within nature.
Related Articles