Starting a trip in Kuala Lumpur I stayed at the Mandarin Oriental which is a 5-star luxury hotel located in the centre of the city. The hotel is in a perfect location right next to KLCC Park and Suria KLCC Shopping Mall. Because of this prime location from certain rooms and the Club Lounge you get a view of the Petronas Towers or KLCC Park which are some of the cities most famous attractions. Even if you don't have one of those rooms you can pop out of the hotel and be in the park within a few minutes.
The hotel has been well designed and throughout is a beautiful and grand design using warm colours and tones as well as darker colours for a wonderful contrast. The furnishings are also luxurious with detailed designs combined with nice colours and shapes.
Disclosure: My stay at the Mandarin Oriental was complimentary. However, words and opinions about the hotel are my own. Details and facts may have changed since my visit.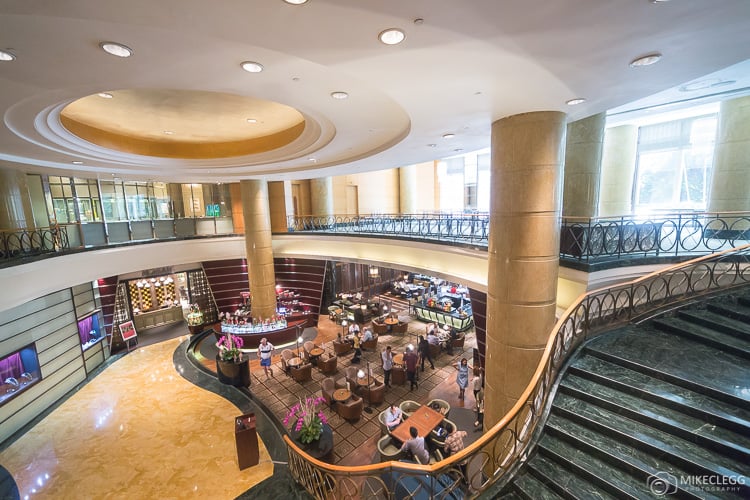 Location
The Mandarin Oriental Kuala Lumpur is located a few minutes walk from the icon Petronas Towers and next to the KLCC Park which is a great place to go and relax, and enjoy views of the tower.
---
---
Rooms
The Mandarin Oriental Kuala Lumpur hotel has an impressive 632 rooms. This includes 21 suites and also 51 apartments. The starting rate for a standard room is MYR 600 per night, and the starting rate for a suite is MYR 2,199 per night. The hotel is currently undergoing a refurbishment which should be completed by the end of 2017, and the rooms will have a brighter more modern look once completed.
Club Deluxe City Room
During my stay I had a Club Deluxe City room. This room is part of the hotels club rooms which means I had some added benefits mentioned further below.
The room design was warm and cosy with rich furnishings and decor. The main room consists of a bedroom with large bed and goose down bedding, spacious and well-equipped desk area, sofa, large flat screen television and iPod dock. There is a minibar, drinks facilities and on check-in, guests get complimentary fruit and juices. During your stay, your room will be made up in the morning and then turned down ready for sleep at night.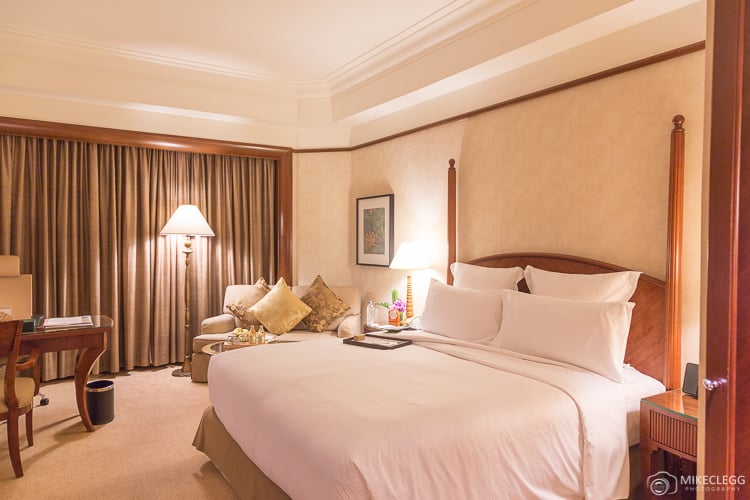 Here are some of the complimentary drinks and fruit on check-in.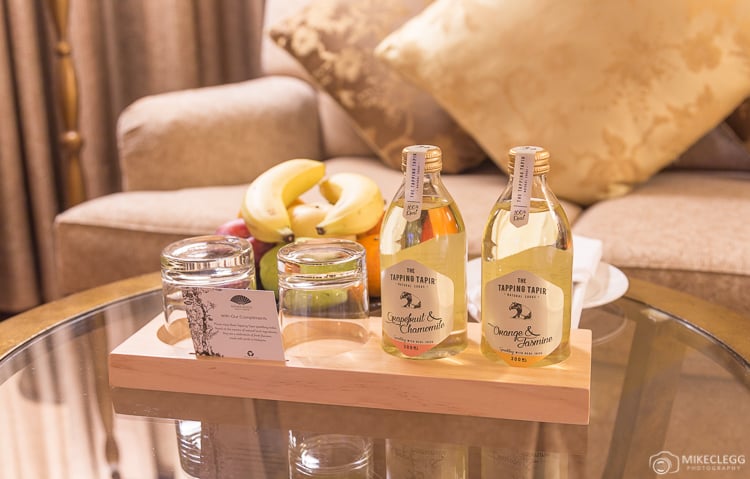 Bathroom – There is a separate bathroom and I really liked the design. It was spacious and had a warm/comfortable feeling. There were lots of toiletries by a brand called Kan which is made exclusively for the Mandarin Oriental, and if you wanted to lounge around the room comes with thick and thin robes.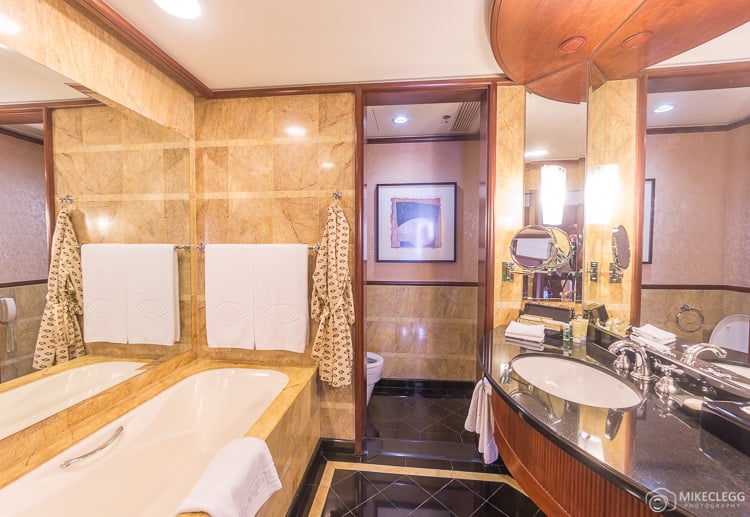 Other rooms
During my stay I went on a tour and saw a few of the other rooms. Here is a little look at some of them:
Park View Room – This Park View Room had a wonderful view across the KLCC park and part of the Kuala Lumpur Skyline.
Twin Towers View Room – This twin room had views of the Petronas Twin Towers from the window.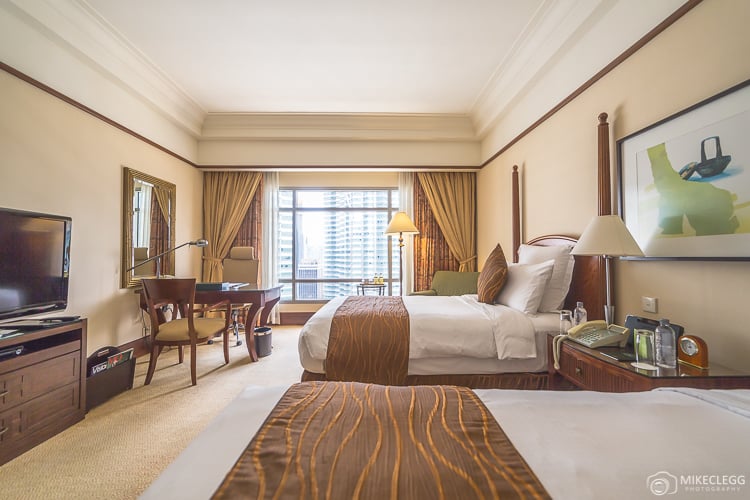 ---
Club benefits
The Mandarin Oriental has seven private floors for club rooms, which include 148 guest rooms, 10 Park Suites, 10 Club suites and a Presidential Suite. Staying in a Club room provides some extra benefits, some of which include:
Complimentary breakfast which can be taken in the Club Lounge or Mosaic restaurant.
A deli lunch.
Evening cocktails, beer and hors d'oeuvres.
5 items of laundry, dry cleaning and pressing per night (non-accumulative).
What's also great about the Club Lounge is the view you get. You can see in various directions including the Petronas Twin Towers and KLCC Park. At night you could even admire the dancing fountain show (although without the music).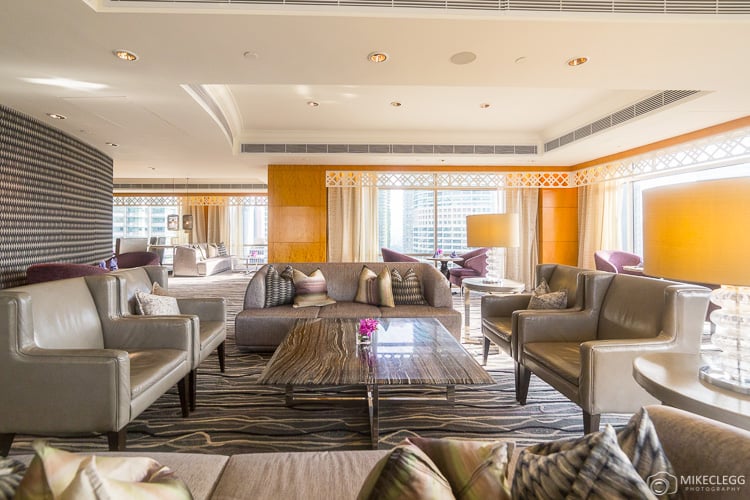 ADVERTISEMENT
CONTINUE READING BELOW
---
Restaurants and bars
The hotel has 10 different restaurants to choose from, including Mosaic which serves international cuisine and is also one of the top-rated restaurants on
Trip Advisor
. A few of the other restaurants in the hotel include AQUA serving pizza, tapas and cocktails, Wasabi Bistro which serves California style Japanese cuisine, Mandarin Grill serving western-style steaks, and Lai Po Heen offering Cantonese dishes.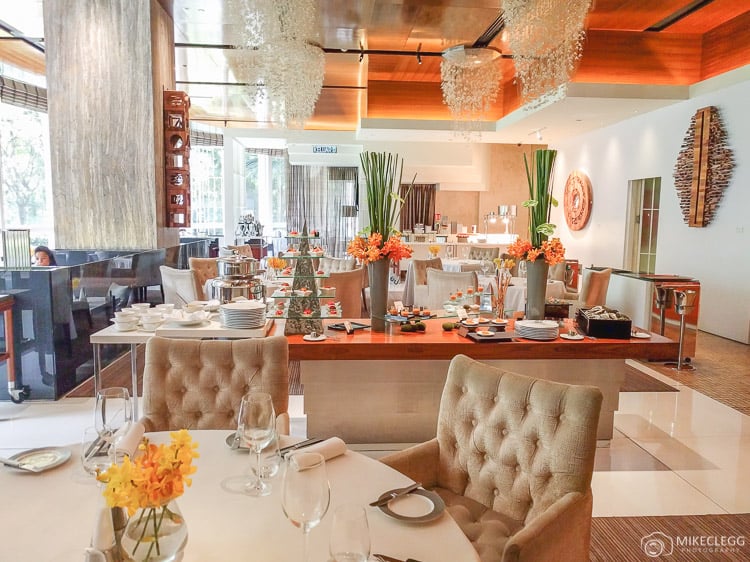 During my stay I enjoyed dinner at the Mandarin Grill restaurant. I ordered the prawn cocktail for starter and the white asparagus for main which can come with Angus beef tenderloin, Norwegian salmon or veal schnitzel, and the food was well presented and very tasty. With my meal I also had a delicious berry mocktail which was one of the tastiest drinks I've ever had! I felt the design of this restaurant would also be particularly nice and romantic in the evening.
Breakfast – For breakfast, I dined at the Club Lounge which is a bit more private and also has amazing views towards the KLCC park and Petronas Towers as mentioned above. The breakfast spread was great with a large selection of options catering for different guest preferences. The coffee was strong and tasty which I consider important to start the day off well.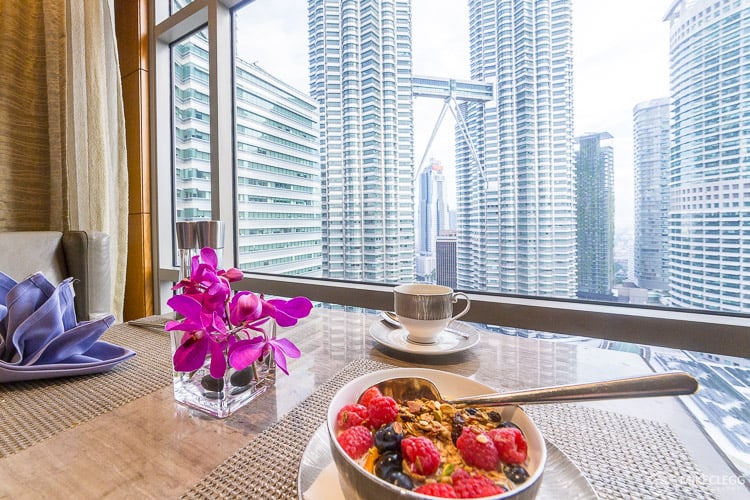 ---
Fitness, pool and spa facilities
The Mandarin Oriental has a large range of fitness and wellbeing facilities available, including a pool, sauna, whirlpool, spa, tennis courts and fitness gym.
Pool
The hotel has a large infinity pool which provides a great view of the cities skyline. Around the pool are deck chairs for relaxing in the sun and a snack bar/ restaurant. Also available is a children's pool, sauna and steam room.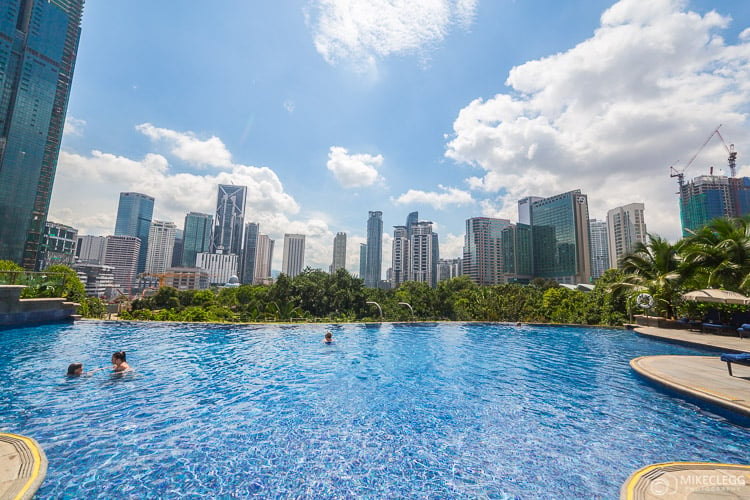 Gym
I was extremely impressed by the gym facilities which were vast with a huge range of machines, free weights, cardio facilities and even a punch bag.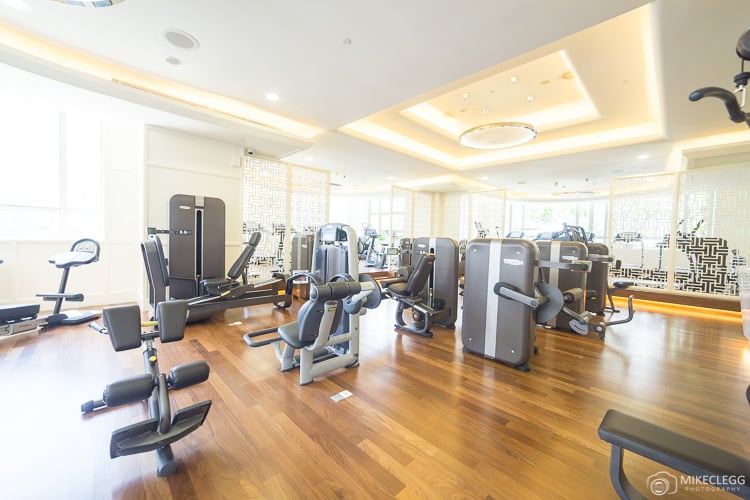 Fitness classes
The Mandarin Oriental Kuala Lumpur even offers fitness classes. This isn't something I've seen offered at any other city-based luxury hotels I've visited so far. Below is a picture showing some of the classes available. They are complimentary for Gold and Platinum hotel members but cost RM 50 for the 60-75 minute classes and RM 25 for the shorter 30-minute classes.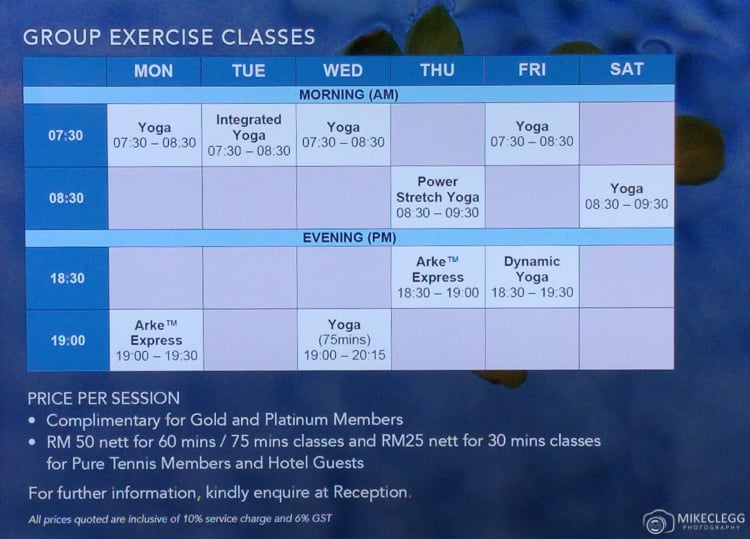 Spa
If you fancied some spa treatments then you'll find a large range of options available such as massages, facials as well as two-person treatments. Read more about the spa treatments available on mandarinoriental.com/kualalumpur/luxury-spa.
If you want to read more about how to stay fit whilst travelling, have a read of my fitness post: Travel Tips: How to Stay Fit Whilst Travelling.
---
Event and meeting rooms
The hotel is well equipped for meetings, conferences and events such as weddings. There are 11 meeting rooms available which come with high tech audio-visual equipment.
For those wanting to hold a large event such as a wedding, the hotel has a gigantic Grand Ballroom which can cater for up to 1,800 people for a sit-down dinner. The hotel also has a smaller Diamond Ballroom which can sit up to 300 guests.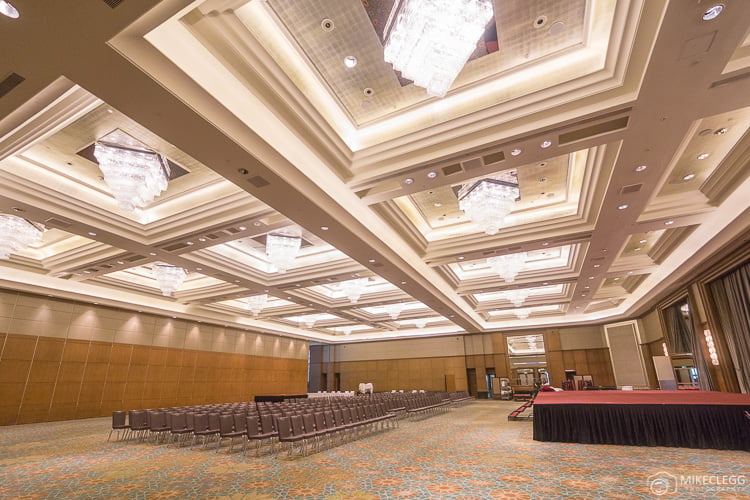 ADVERTISEMENT
CONTINUE READING BELOW
---
Other notes on the hotel
Transfers – The Mandarin Oriental has various transfer options available which range from a Mercedes E Class for 3 people and priced at MYR 375 net, to a Combi Van that could cater for 9 people and is priced at MYR 530 Net. There are various other vehicles available that the hotel can provide on request.
Public transportation – Close to the hotel is KLCC subway station. Although there are lots of subway stops throughout Kuala Lumpur I found that except for KLCC, most attractions were quite a walk away from the stations. For that reason, it may be best to sometimes use taxis or Uber to get around the city.
WiFi – You log in with your last name and room number and the connection was fast and reliable.
Late checkout – For guests wanting late checkout, there is a charge of 50% room rate before 6pm and 100% after 6pm.
Plug socket – The plug sockets in the Mandarin were Type G as seen below. If you are looking for a good adaptor I use the Skross PRO World Travel Adapter which gets me plugged in wherever I go. It's also worth checking online on a site such as power-plugs-sockets.com to ensure your devices will work based on the local voltage and frequency.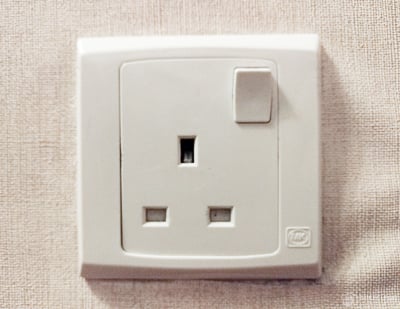 ---
Things to do nearby
Because the Mandarin Oriental Kuala Lumpur is in such a good location you will find some of the main things close by.
Relax in KLCC Park
Right next to the hotel is KLCC park which is great to relax in. At night I recommend watching the Lake Symphony performance directly in front of Suria KLCC and the Petronas Towers. If you have children the park also has a massive playground for kids and a water/splash area.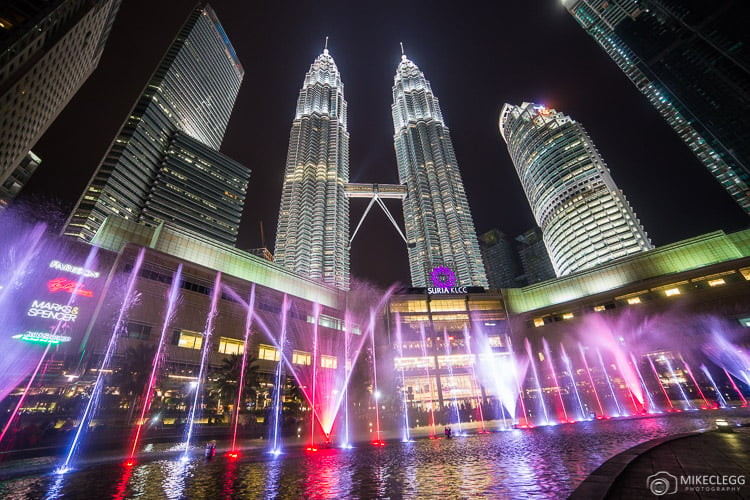 Go shopping at Suria KLCC mall
The KLCC mall is a great place for those wanting to go shopping during their visit! The mall has a large range of retail shops including luxury brands such as Emporio Armani, Gucci and Versace. There is also a food court and restaurants.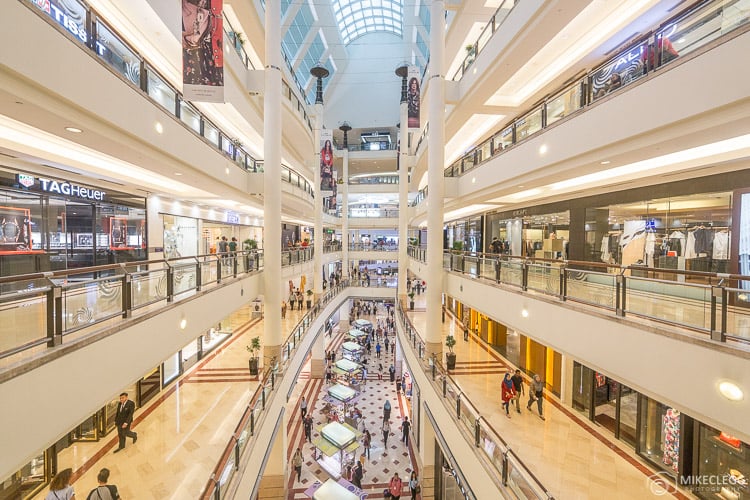 Further afield
For more things to do in Kuala Lumpur head to City Breaks: Kuala Lumpur in 24-48 Hours.
---
Tours and activities for Kuala Lumpur
---
Conclusion
Complete with a grand design, a prime location and excellent facilities which cater for both business and leisure customers, the Mandarin Oriental is a great place to stay during your visit to Kuala Lumpur. I was particularly impressed by the fitness facilities and the beautiful pool and for those wanting to dine here then you are spoilt for choice.
Hotel website: mandarinoriental.com/kualalumpur.
Other booking options:  Book via booking.com.
Related Articles