A trip to Copenhagen, Denmarks capital, makes for a wonderful city break, or a longer visit if you have time. The city has historical castles and palaces, fantastic museums, beautiful canals and so much more. Whilst visiting Copenhagen you will probably receive countless smiles from the friendly and welcoming Danish people. The Danes are in fact often referred to as the World's happiest people and the people I met definitely appeared this way. In this guide I will give you information on getting around, things to see and do, restaurant ideas, accommodation suggestions, photography tips, and some general helpful information on the destination.
Getting Around
To/From the Airport
Getting to and from the airport is easy and takes minimal time. There are options to get the metro, the train, or shuttle bus. On my arrival I took the Metro to Nørreport which is towards the centre of the city, and it took around 15 minutes and only cost 36 DKK. On my return to the airport I took the train from the Central Station, which also took around 15 minutes. I used my Copenhagen Card (more on this card below) for the return so I didn't pay any extra. Of course there are taxi's available if you prefer.
Within the City
Copenhagen felt like a walking city, and if you are intending to explore, then it's likely you will walk most places once you are in the city centre. There is also the subway and bus services available, taxi's and Uber. Currently there isn't that many stops on the subway though.
Alternatively you could consider getting around like a local and hiring a bike. The city has a fantastic bike path network around the city that allows you to get around safely.
Copenhagen Card
When visiting it's worth getting the Copenhagen Card. This card gives you free entry to 79 attractions in the city. If you are like me, then you'll most likely visit an awful lot of things during your visit, which makes it totally worthwhile. On top of the attractions you can use public transport such as buses, trains and the metro within the entire Copenhagen Region as much as you like. This includes areas outside of the city, such as Helsingør, Roskilde, Køge and many more places, many of which have attractions you can visit for free using the card. Head to www.copenhagencard.com to read more about this card and what's included.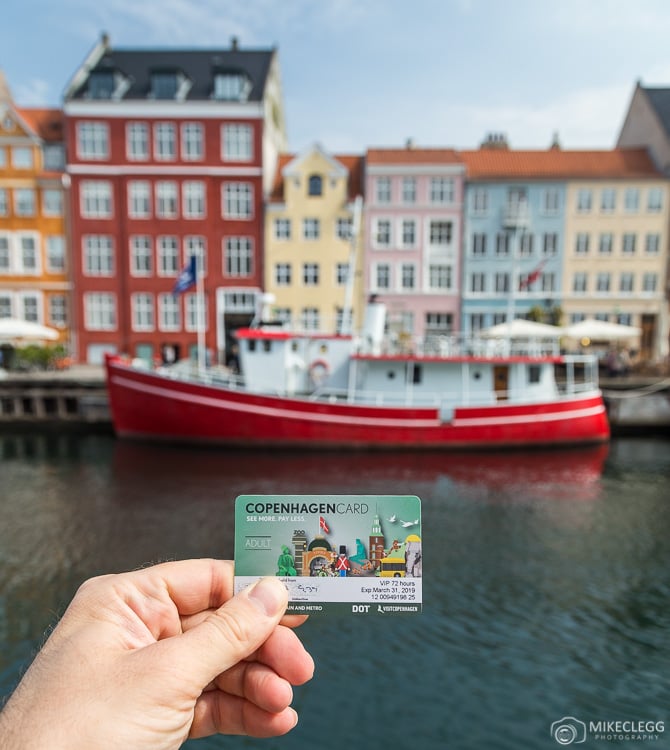 Things to See and Do
Copenhagen has a huge range of things to see and do, both in and outside the city. I found that it's possible to see many of the main attractions during a short stay, such as a couple of days. There is also the option to venture further out of the city to some of the neighbouring towns and cities, where there are many more attractions. I recommend doing your research before you visit and decide on what takes your fancy.
Below are some of the things I did during my visit, which was for three days.
Christiansborg Palace
Christiansborg Palace is a palace and government building, which it is used by the Danish Monarch and also the Danish Government, and has various areas that are available to visit.
During my stay I visited the Royal Reception Rooms, which allows you to explore 19 stunning areas in the palace. A few of the rooms which I particularly liked, include The Throne Room, The Dining Hall, The Queens Library, The Velvet Room and The incredible Great Hall. I found the Great Hall particularly impressive which has tapestries hanging off the walls showing the history of Denmark, as well as stunning chandeliers, and other grand architectural details. The Great Hall is sometimes used for events such as state visits, banquets and receptions. I found the Royal Reception Rooms to be a fantastic attraction and would highly recommend it during your visit.
Also possible to visit is the Royal Kitchen, The Ruins and Royal Stables.
Prices:
Royal Reception Rooms: 90 DKK 
Royal Stables: 50 DKK
The Ruins: 50 DKK
Royal Kitchen: 50 DKK
Combined Ticket: 150 DKK
Or free entry with the Copenhagen Card
Address: Prins Jørgens Gård, 1468 København
Website: www.kongeligeslotte.dk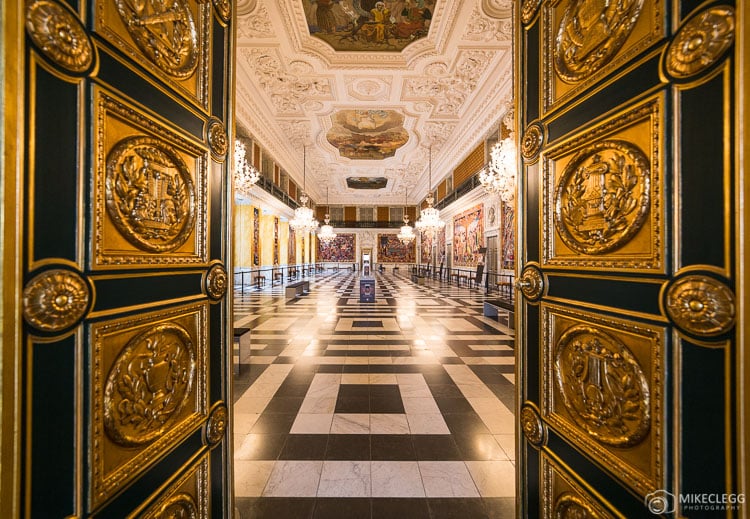 Tivoli Gardens
The Tivoli Gardens is an old and very beautiful amusement park that opened in 1843. The park has been well designed with beautiful gardens, restaurants and a large range of rides throughout the park. The rides in the park looked fantastic and judging by the sounds of the thrill seekers on them they sounded like fun. This park is especially nice at night when it's lit up with wonderful lights and colours. When visiting this attraction you can pay for an entry only price, or a multi ride ticket which gives you access to all the rides. Alternatively you can also just pay for rides individually.
Price:  Starts from 110 DKK for entry and 230 DKK for the Unlimited Ride Ticket. Entry only is free with the Copenhagen Card.
Address: Vesterbrogade 3, 1630 København
Website: www.tivoligardens.com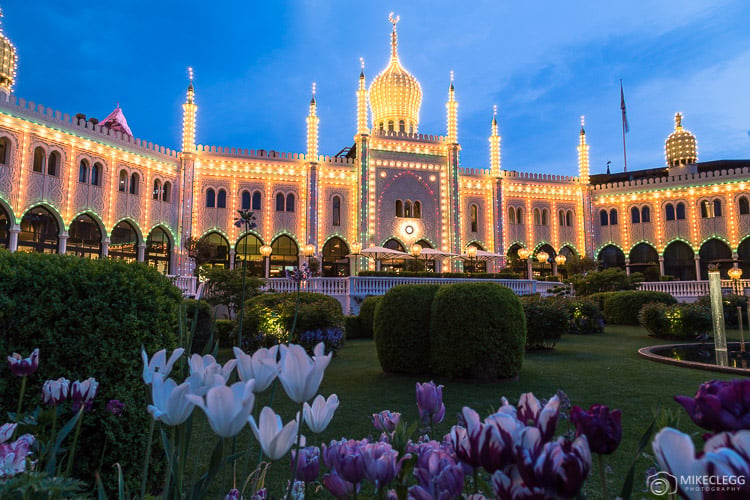 Rosenborg
One of the cities highlights would be Rosenborg Castle, which was built in the 1600s by Christian IV. It was then used as a pleasure palace and was the King's favourite residence. It is no longer used as a residence since the 1700's and opened as a museum in 1838. Available to visit are three floors and the basement, and all the areas have beautiful artwork, treasures, rich furniture and decorations.
A few of the areas I found particularly interesting was the Great Hall, The Marble Chamber, Frederik IV's Hall and seeing the Crown Jewels.  Once you have finished at the museums you could then consider relaxing in the beautiful King's Garden outside.
Price: Adults 110 DKK – Children (0-17 years) Free – There are various other prices available and entry is free with the Copenhagen Card.
Address: Øster Voldgade 4A, 1350 København
Website: www.kongernessamling.dk/rosenborg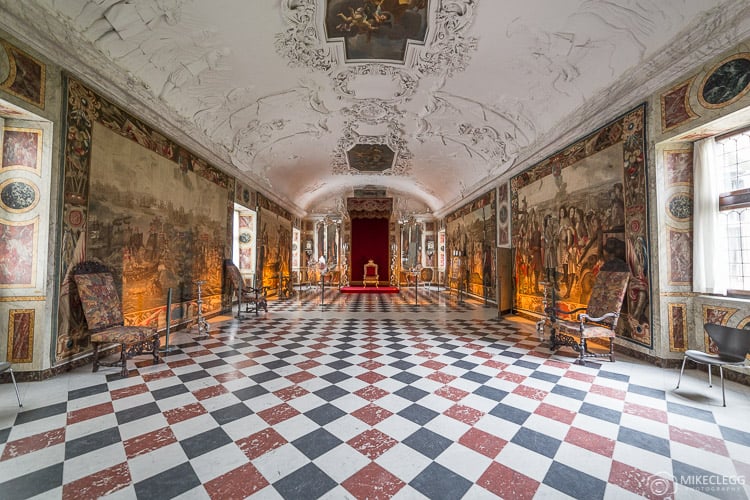 Thorvaldsen Museum
This museum is dedicated to work by famous danish sculptor Bertel Thorvaldsen, who lived from 1770 to 1844. Within the museum which covers several floors, are lots of famous sculptures and drawings by Thorvaldsen, as well as some of his personal possessions and paintings.
Price: Adults 60 DKK, Under 18's Free, various other prices available and free with Copenhagen Card
Address: 2 Bertel Thorvaldsens Plads DK-1213 Copenhagen
Website:  www.thorvaldsensmuseum.dk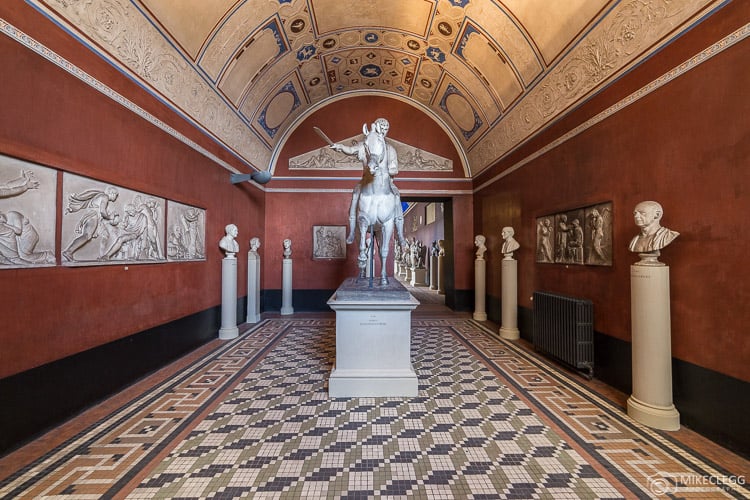 Han Christian Andersen Museum
This cute museum takes you on a journey of the famous poet and fairytale author Hans Christian Andersen, who was born in Denmark in 1805. The museum tells you about his childhood and upbringing, his many travels around the world, and clips from some of his work. Towards the start of the experience there is also a fun multi choice quiz to help you learn. I found this museum very inspirational to visit. I think this museum would be especially good for children, but is also interesting for adults too.
Price: Adult 54 DKK, Child (4-11) 36 DKK or Free with Copenhagen Card
Address: Rådhuspladsen 57 1550 København V (In the Ripleys building).
Website:  www.ripleys.com/copenhagen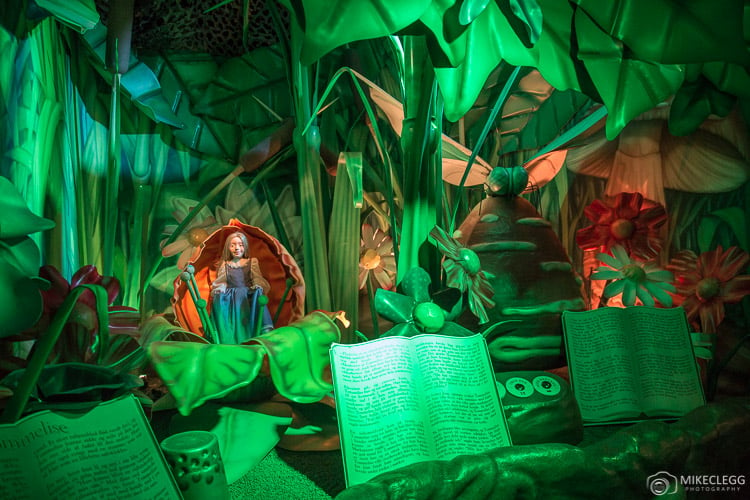 Amalienborg Palace
The current residence of the Danish Royal Family is Amalienborg Palace where there is also a small museum. At this museum you will learn history about the royal families timeline up to the current queen and Crown Prince. 
Price: Adults DKK 95, Children 0-17 Free. Various other prices available and free with Copenhagen Card
Address: Amalienborg, 1257 København K
Website: www.kongernessamling.dk/en/amalienborg
SMK National Gallery
The SMK National Museum has temporary exhibitions as well as permanent displays. The permanent exhibitions include Danish Art from 1750-1900, French Art from 1900-1930, and European from 1300-1800. The work I saw consisted of paintings, sculptures and ceramics. There are also several temporary exhibitions. Head to their website to find out more about what's on.
Price: Adults 110 DKK, Under 18's Free. Other prices available and free with Copenhagen Card
Address: Statens Museum for Kunst, Sølvgade 48-50, DK-1307 København K
Website: www.smk.dk/en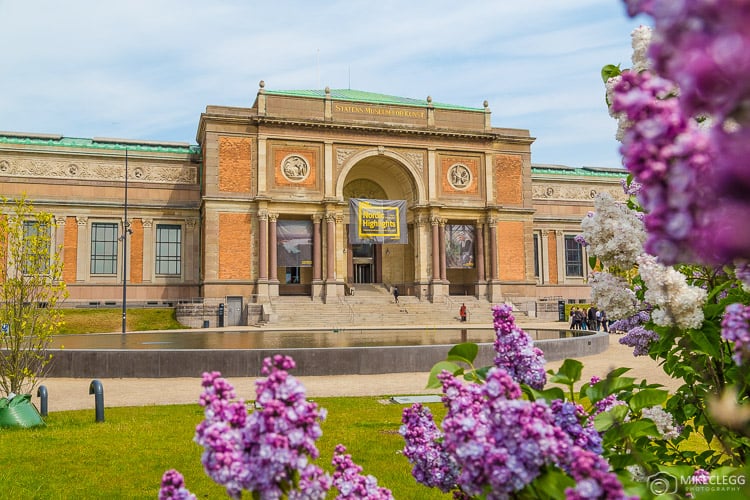 Kastellet
Kastellet is a large star shaped fortresses with a moat surrounding it. Around the fortress are various military buildings, a windmill, church and on the surroundings is a beautiful park and path. I found it very beautiful and I'd definitely recommend heading here during your visit.
Price: Free
Address: Gl. Hovedvagt, Kastellet 1, 2100 København
Website: www.kastellet.dk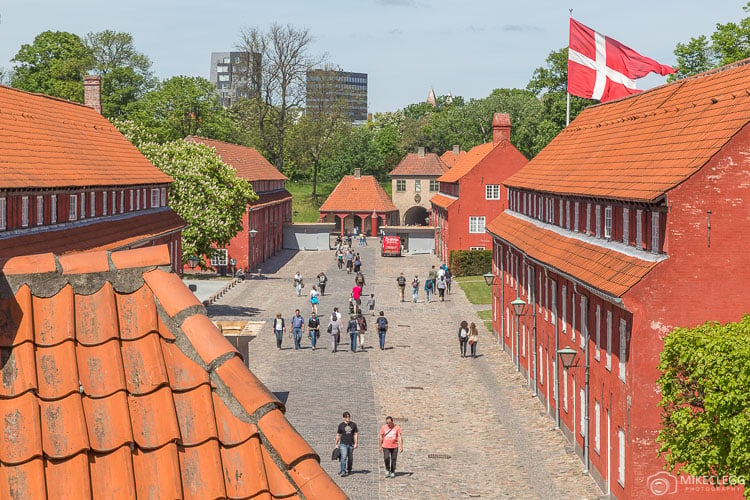 Areas to Visit
Throughout Copenhagen are several beautiful areas that you should visit during your stay, including:
Nyhavn – This old fisherman's neighbourhood is from 17th century and has rows of beautiful and colourful buildings and boats lining a small canal. Along one side of the Nyhavn is large amounts of restaurants which make for a wonderful place to go for lunch, dinner, or just to have a few locals beers. You'll find pictures of Nyhavn is often what you see on postcards.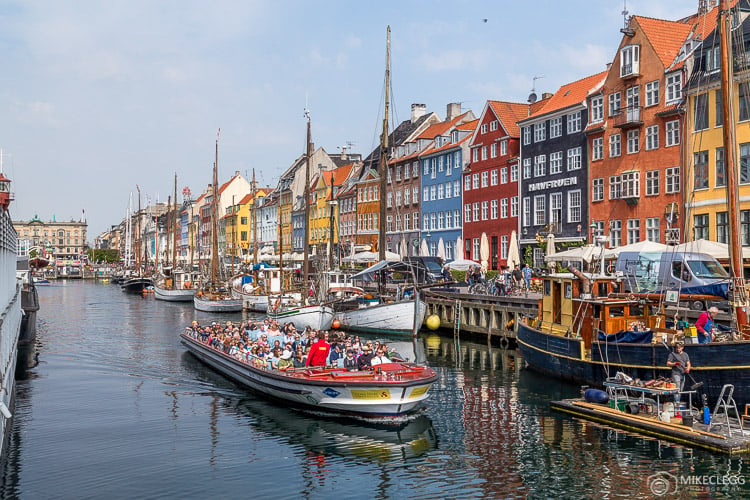 Stroget – The Stroget is one of the cities main high streets. With beautiful architecture, shops, and restaurants it's definitely worth checking out.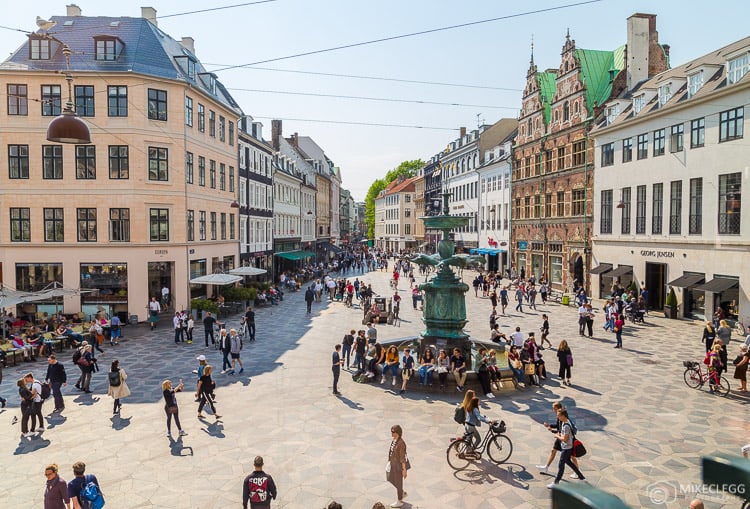 Christianshavn – This cool neighbourhood compromises of several islands with beautiful canals running through it. On some of the islands you'll find restaurants, harbours and colourful architecture. Close by is the fantastic Church of Our Saviour which you can go for amazing views of the city.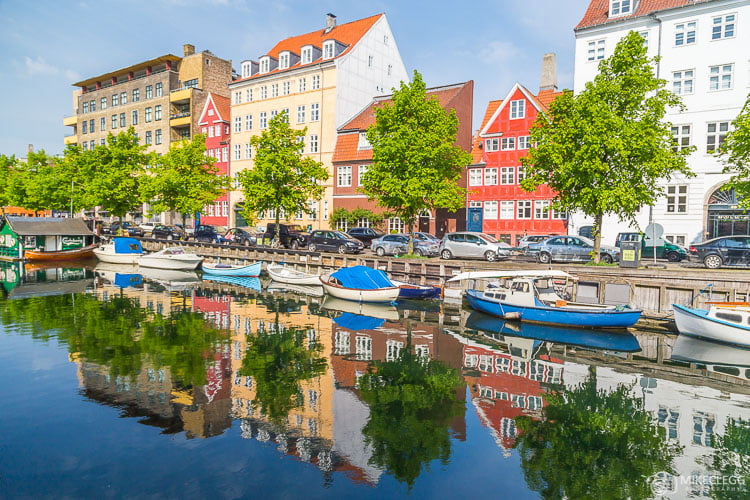 Viewpoints
Within the city are lots of great viewpoints and many of them are free to access with the Copenhagen Card. Head to my post The Best Viewpoints in Copenhagen to see some of the viewpoints I visited during my trip.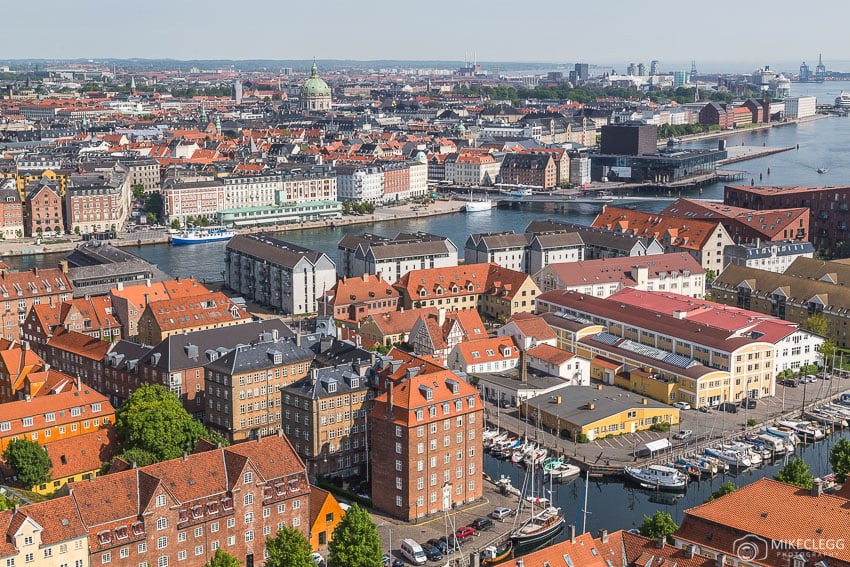 More things to do..
A few things I wanted to do, but I ran out of time, would have included visiting Frederiksborg Castle, The National Aquarium, going on a Canals Boat Tour, visiting The Maritime Museum and the Carlsberg museum. Some of these attractions are out of the city, so you'd probably need half a day with the transportation.
Head to www.visitcopenhagen.com for details of everything to see and do in the city.
Places to Eat and Drink
Throughout the entire city I saw countless restaurants all with tasty menu's. Many of them had outdoor dining tables which are perfect for the warmer months. The price of a meal in Copenhagen can range a lot, from a cheap lunch costing only 70 DKK to upwards of 200 DKK. I found on average during my stay I was spending around 150 DKK on a meal which included a drink.
When visiting Copenhagen you should try Smørrebrød which is a classic Danish dish. This is a delicious open sandwich served with toppings on Rye bread. I enjoyed Smørrebrød at a few places mentioned below and they were very tasty.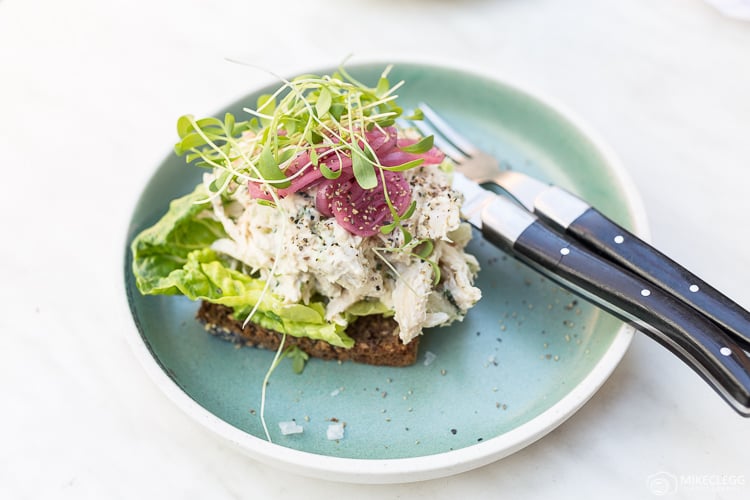 Below are a few places to eat that I went to:
Nyhavn
Lining the canal along Nyhavn is a large range of restaurants serving delicious dishes. I went to Hyttefadet and had a classic fish and chips dish. The atmosphere at night is fantastic and I recommend eating around this area at least once.
Where I went:
Website: www.hyttefadet.dk
Address: Hyttefadet, Nyhavn 25, 1051
Recommended for: Lunch/Dinner/Atmosphere
—————————————————————-
Far's Dreng
Here I had my tastiest Smørrebrød serving with a chicken salad topping. They have a fantastic lunch price of only 70 DKK for many of the sandwich options. The cafe also had a cute decor and a few seats for outdoor dining.
Website: www.farsdreng.com (Non English)
Address: Ny Adelgade 71104 København
Recommended for: Lunch/Snacks/Danish Smørrebrød
—————————————————————-
Katz
Close to Christiansborg Palace is Katz where I had one of my tastiest dishes during my stay. The dish was called Hakkebøf and consisted of a beef patty, potatoes in a delicious sauce. The waiter said it was a very Danish dish, so if you visit I highly recommend it.
Website: katz.dk/en/welcome
Address: Frederiksholms Kanal 1, 1220 København
Recommended for: Breakfast/Brunch/Lunch/Dinner
—————————————————————-
Restaurant Koefoed
I went for lunch at Koefoed and the food was nice, as was the restaurant and ambience. The restaurant is a short walk from Nyhavn and a bit fancy. They serves some traditional Danish food, such as Smørrebrød and also have an evening tasting menu.
Website: www.restaurant-koefoed.dk
Address: Landgreven 3, 1301 København
Recommended for: Lunch/Dinner/Fancy
—————————————————————-
Copenhagen Street Food
A cool and popular place to go and get some food is Copenhagen Street Food, which is an indoor food market on Paper Island. Inside you'll find countless stalls selling cuisines from all over the world, such as Mexican Burritos, India wraps, Sushi, Korean and much more. If it's sunny you could also eat outside by the waterfront.
Website: copenhagenstreetfood.dk
Address: Hal 7 & 8 Papirøen, Trangravsvej 14, 7/8, 1436 København K
Recommended for: Lunch/Dinner/Snacks/Casual
—————————————————————-
Meatpacker District
I didn't end up eating at the Meatpackers district although I had intended to. I did however take a walk around the area which is is full of restaurants.
Website: www.visitcopenhagen.com (VisitCopenhagen's guide to this district
Address: Location on Google
Recommended for:  lunch/dinner/casual
—————————————————————-
Other places to eat and drink – I recommend having a look on Tripadvisor.co.uk for more ideas and also reviews.
Places to Stay
Copenhagen has a good range of accommodation options, from cheap hostels, boutique hotels, Air Bnb's and luxury hotels. Here are some suggestions on places you could stay.
Budget – Generator Copenhagen (Based on reviews) – This hostel is in a great location not far from Nyhavn and close to Amalienborg Palace. The hostel has received an excellent review average of 8.0/10 from over 6,900 reviews.
Mid-Range/Boutique  – Andersen Hotel (Based on personal experience) – During my visit I stayed at Andersen Boutique Hotel, which is a hotel west of the city centre and close to the main train station and Tivoli. The hotel was very cozy and I felt they tried to bring new ideas into the hotel to make your stay special. A few things included free wine between 5-6 every evening and various treats on each floor, such as cookies on one and toffees on another. They also provided Green Park toiletries (A brand by Molton Brown) and the room decor was also great.
Luxury – Nimb Hotel (Based on pictures, location and reviews) – A luxury hotel located in the beautiful Tivoli Gardens. The hotel has a stunning design and has received an average of 9.1/10 for over 200 reviews. The Tivoli Gardens is an old amusement park and makes for one of the cities top attractions.
Something Unique – Central Hotel (Based on uniqueness) – For a really different experience consider staying at the Central Hotel. This hotel is the smallest in the world and consists of one bedroom and a small cafe beneath. The hotel is designed with the 1920's in mind so has an old look. If you are wanting to stay here you should look at booking around six months in advance, as of course they don't have much room! 
Have a look on Booking.com for other options:

Copenhagen Photography Tips
The city is extremely photogenic and you'll probably find yourself constantly snapping away. Here are a few tips:
Tivoli at night – Tivoli at night is fantastic and extremely photogenic. If you are coming at night remember your tripod to get good quality images.
Canal reflections on the Nyhavn – Try and get reflection shots along the Nyhavn. If it's windy then you may have to return another time. If a boat disturbs the water then just wait a while for it to calm down again.
Stroget – Head up to the second floor of Cafe Norden restaurant in Hays House for a great angle over the Stroget
Royal Reception Rooms – Go to the Royal Reception Rooms of Christiansborg Palace and Rosenborg for some stunning architecture and interiors.
Christiashavn – Walk along the Christiashavn for more beautiful canals.
Sunset spots – For the best sunset spots I found head to: The Best Sunset Spots in Copenhagen
Viewpoints – For amazing viewpoints in the city head to : The Best Viewpoints in Copenhagen
For photo spots head to 12 Top Instagram and Photography Spots in Copenhagen.
More travel photography tips: Ultimate Tips for Travel Photography
Destination Tips
Copenhagen felt to me like the kind of city you would mainly walk around. For this reason make sure you bring some comfy footwear.

Consider getting the Copenhagen Card to save on attractions.
Copenhagen isn't the cheapest destination. For that reason consider your budget and use an app such as XE Currency app to see how much you're spending.

For ease of exploring the city, I recommend staying close to the centre, between the Meatpacking district and Kastellet.
Destination Info Box

Destination type:
 City, Architecture, History
Currency:
Danish Krone (DKK) – Euros are often accepted although you get change in Danish Krones
WiFi:

I found the WiFi easy to get hold off and extremely quick when I was connected. Most hotels, the airport and also many restaurants and attractions provided it for free

Emergency numbers:
 Dial 112 for police, fire and medical emergencies
Arrive/leave by air:
 Copenhagen Airport (CPH) is just south of the city and easily reachable via the metro, trains, taxi or Uber
Arrive/leave by train:
 Head to www.dsb.dk to search for tickets, or www.goeuro.com
Arrive/leave by bus:
 I often use FlixBus to travel around Europe who offer cheap tickets and a good quality service
Language:

Danish – English was fantastic

Power supply:
To ensure your devices work I recommend taking a plug adapter such as Skross PRO World Travel Adapter. Also remember to check the local voltage and frequency as you may need a converter depending on your electronics. A site I use for this is www.power-plugs-sockets.com
Tourism Websites: 
 www.visitcopenhagen.com
 Other:
 For Europe tips head to my post: Top Tips for Travelling in Europe for the First Time
Disclaimer: All content is believed to be correct at time of publishing. Please check official websites for up to date prices and information. If you spot a mistake please feel to contact me using the menu option above. 
My trip was in collaboration with Copenhagen Tourism. All thoughts, opinions and photographs are my own.