Instagram serves as a wonderful place for creative people to share their talents. And there are some people on Instagram who take creatively to the next level, resulting in images and videos that are simply breathtaking, or downright super cool. Here you'll find a selection of incredibly talented and creative photographers and digital artists to follow on Instagram. Note that often digital artists create something unique and their own creative vision of a place which isn't necessarily what you would see at the destination. So it's worth bearing that in mind and appreciating their work for the incredible art that it is.
Rich aka Paperboyo has a unique style where he uses paper cutouts in his photography to show you a different perspective to the norm. Through his account, you'll see the Colosseum in Rome taken over by a giant octopus, towers in Dubai transforming into fighting robots and a whole host of other creative work. Rich's feed is actually based on travel, so he explores the world then creates his own way of sharing with you the places he visits.
Read more about @paperboyo in our interview.
A popular account by Robert Jahns who is highly creative and a master of photoshop. His work is digital art, so not meant to be a real perspective. However, you should follow him and appreciate the creativity and skill that goes into his work. Many of his images are travel places blended with other images with stunning colours and lights. Check him out and be prepared to be amazed.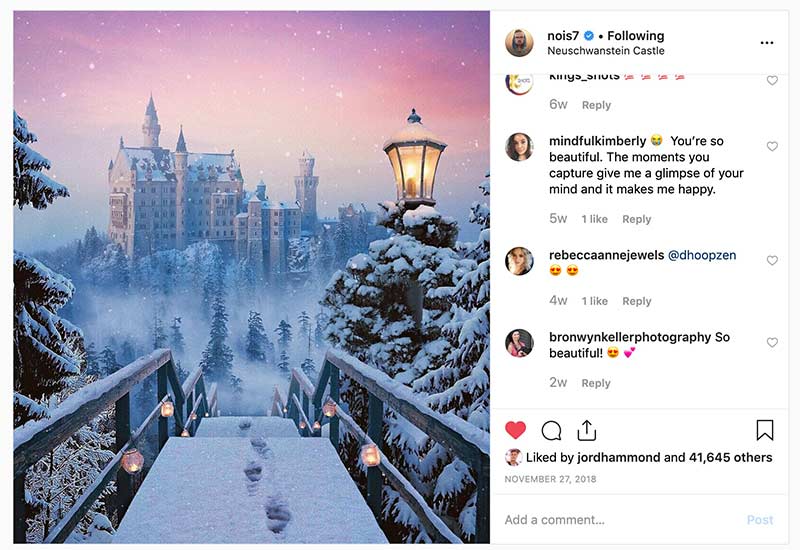 Demas is also a top photoshop editor. His pictures are based around travel destinations around the world, and in them, he uses his skills to create his own unique vision. This might be blending multiple images together, making enhancements to the sky and colour, but the end result is something that'll make you stop and stare.
This account by Darren Pearson creates unique images using light painting techniques. This is where you take pictures at night, using your camera and various lighting equipment. If you've ever tried this technique you'll know just how tricky it is, and yet Darren somehow manages to take this to the next level. Including making moving videos of the things he creates. Definitely, a must follow if you're after mind-boggling creativity. Head to his profile and then watch some of the videos in his feed to really appreciate his special talent.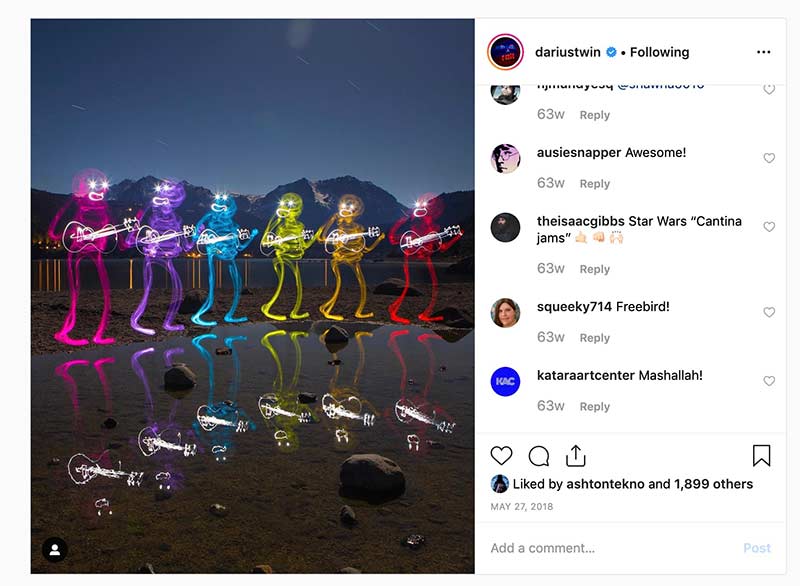 For creative and beautiful people photography then follow @milesofcolor. Through this Instagram account you'll find images that mix people with various digital effects creating a beautiful and unique image. Sometimes in the posts you'll see the before and after photographs. This helps you appreciate the skill that has gone into the final image.
Be prepared to be amazed at the images created by Martin. He is definitely one of the best digital artists on Instagram and through his Instagram feed you'll be presented with image after image of mind-blowing art. Often these are nature scenes blending landscapes with animals. Definitely, a must follow.
Related Articles