Sitting on the equator between Colombia and Peru, Ecuador is often overlooked in favour of its more famous neighbours. Even those visiting the spectacular Galapagos Islands will often skip the mainland altogether, preferring just to fly in and fly out. But that's a big mistake. Ecuador has so much to offer, particularly for outdoor enthusiasts. Its small size and good public transportation system also means the mainland can easily be visited on just a 2 week holiday.
So if your interest is piqued, read on for more reasons to visit Ecuador.
---
1. To climb a volcano
Despite its small size, Ecuador is up there in the list of countries with the most volcanoes in the world, with over 40 spread across the country.
Cotopaxi (seen above), with its perfectly conical shape and high level of activity, is the most famous. It's also one of the few volcanoes of its size (5,897m!) that amateurs are able to climb, although it's certainly not for the faint-hearted. A tough two-day trek for which you'll require a guide who will first teach you basic mountaineering techniques such as using crampons and ice axes, and you'll also have potential altitude sickness to contend with. But if you do make it to the top it'll be one hell of an experience and achievement.
Even if you don't plan on climbing Cotopaxi, it's still worth visiting Cotopaxi National Park. There are plenty of hiking trails here with views of Cotopaxi and the surrounding volcanoes, plus waterfalls and general stunning scenery. Plus it's home to one of the best hostels in Ecuador, Secret Garden Cotopaxi. With a jacuzzi, all-inclusive (and delicious!) meals plus an epic view of the volcano, a stay here should definitely be on your itinerary.
2. For hiking
Ecuador is a natural paradise full of green mountains, rivers, volcanoes, canyons and endlessly beautiful views. One of the best hikes you can do to truly experience it all is the Quilotoa Loop. There are a few different start and endpoints which can vary the length of the hike, but the traditional version is 3 days starting in Sigchos and hiking to Isinlivi, then day 2 to Chugchilan, before the final hike to Quilotoa on day 3. Quilotoa Lake is a 3km wide turquoise crater lake sitting nearly 4,000m above sea level. Formed by a volcano collapse, it's a sight to behold and a worthy ending to the multi-day hike.
Around Banos in particular there are also lots of other hiking opportunities. From the short but steep hikes up to Mirador Bellavista or La Virgen for views over the town and surrounding mountains to the long and tiresome hike to Casa del Arbol (mentioned further below).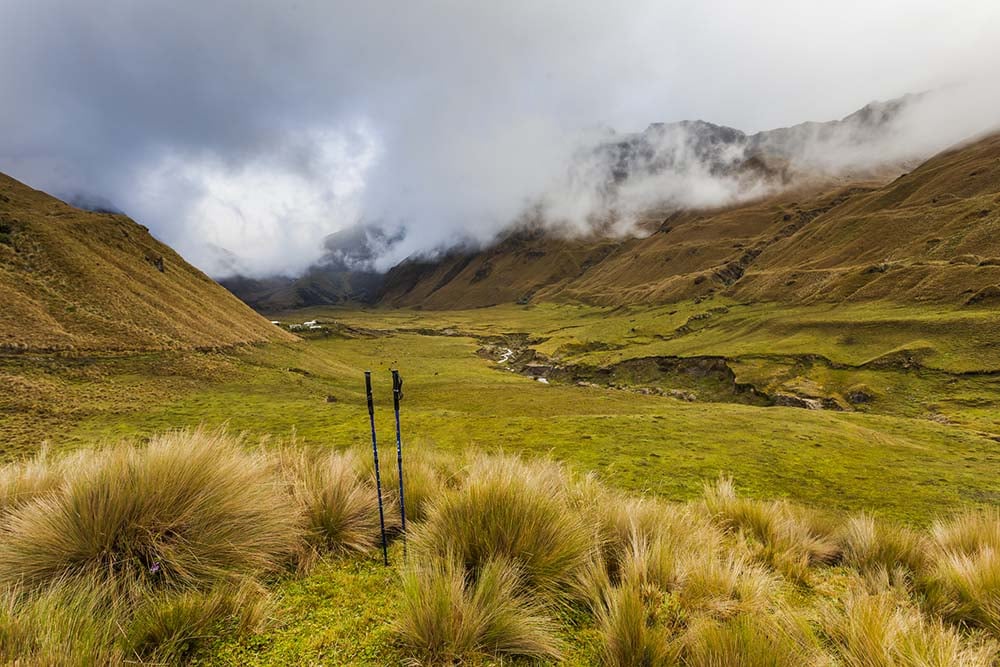 3. To swing at the end of the world
If you follow any travel accounts on Instagram then it's likely you'll have seen photos of people swinging at a seemingly impossible height up over the mountains. Well the location of this iconic photo, known as the swing at the end of the world, is Casa del Arbol, just outside Banos. Take a bus, taxi or even hike here from town, and you'll be greeted with stunning views and the chance to get your very own photo swinging off the side of a mountain.
ADVERTISEMENT
CONTINUE READING BELOW
4. To party by the beach
Montanita is known as being the party beach of Ecuador and is where locals flock at the weekend to relax on the beach all day and party all night. With tons of bars backing onto the beach with all-day drink deals, it's the perfect place to experience an Ecuador fiesta.
If you want to visit the beach but aren't so keen on partying hard, stay in one of the many other beach towns along the coast. Puerto Lopez is a fishing village with a beautiful long beach lying just an hour north of Montanita. It has some great day trips available nearby, including a boat trip to Isla de la Plata. Known as the poor man's Galapagos, this island gives you the chance to spot the iconic Blue Footed Boobies without splashing out on a trip to the Galapagos themselves. Make sure to also pay a visit to Machalilla National Park and hike to Los Frailes beach, considered the most beautiful beaches on mainland Ecuador.
5. To explore the vibrant cities
Whilst Quito isn't known for being the best city in South America, there's still lots to see and do here. One of the best attractions is La Basilica, an old Catholic church in the historic centre of Quito. It is the largest neo-Gothic basilica in the Americas and not only can you enter the inside, but you can also climb up steep steps and ladders to ascend the two towers for stunning views of the entire city.
You should also take a taxi to Mirador del Panecillo and the monument to the Virgin which looms over the city. It provides panoramic 360-degree views of the whole of Quito and there's also a number of stalls up here selling local food and traditional drinks such as Colada Morada, so it's a nice place to hang out and spend an afternoon.
Quito isn't the best city in Ecuador though (in our opinion). This honour goes to Cuenca, a beautiful city lying in the southern half of the country. It has a pretty main square and central church, plus great markets where you must make sure to try Lechon Al Horno, a whole roasted pig and a speciality of the region. But it's Cuenca's tramway, green spaces, rivers, and upmarket cafes, bars and restaurants that really give this city a European feel and sets it apart from other Latin American cities. It really is a must-visit whilst in Ecuador.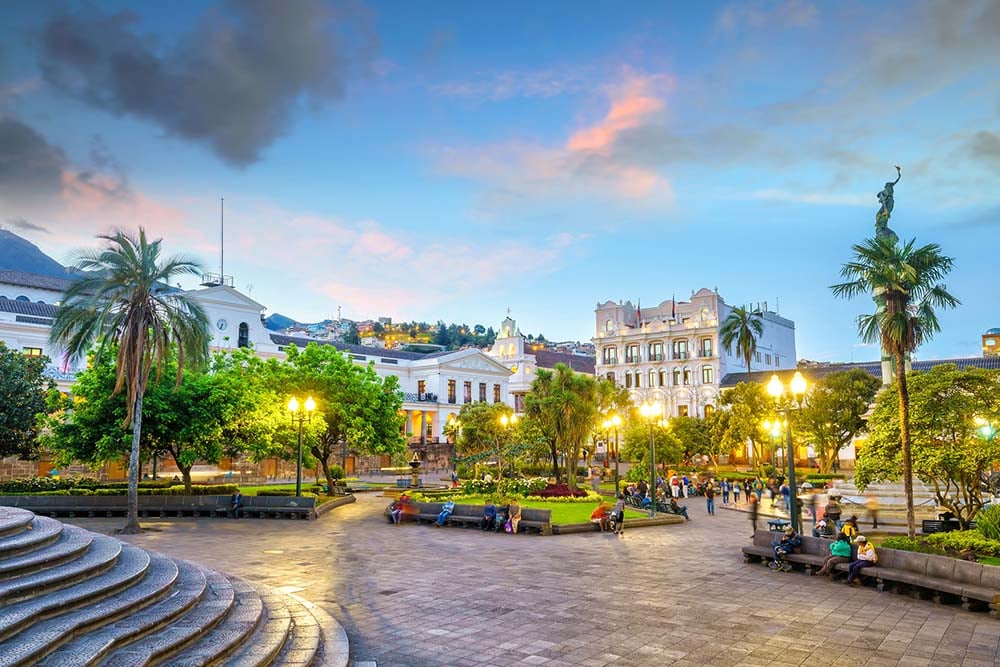 ADVERTISEMENT
CONTINUE READING BELOW
6. To enjoy the chocolate
If you visit Ecuador then you have to try the chocolate. Home to some of the best cacao in the world, just 5% of cacao is given the prestigious Fine Aroma label, with chocolate from Ecuador accounting for 63% of it.
You'll find all manner of delicious chocolate treats here, from the original bars of dark chocolate to hot chocolate, ice cream, desserts and brownies. Some of the best spots to sample the delights are:
Republica Del Cacao, Quito – try their mocha paired with one of their delicious homemade desserts. It's also a great place to buy bars of chocolate to take home with you.
Aromi, Banos – try one of their specialty hot chocolates.
Chocolateria Dos Chorreras, Cuenca – try their brownies and chocolate ice cream.
7. For the outdoor activities
If you're after an adrenaline rush then Ecuador has plenty of activities on offer, particularly from Banos. Go white water rafting on the Rio Pastaza which will take you through class 3 & 4 rapids on a fast and bumpy ride downriver. You can also go zip-lining, either through the trees or for those not afraid of heights, over giant canyons.
Baños is also home to the famous Ruta de las Cascadas, a route through the valley which passes 7 spectacular waterfalls. The final and most stunning is Pailon del Diablo, or Devil's Throat, waterfall. This 80m high waterfall is extremely powerful and a must-visit from Banos.
You May Like
8. To visit the Galapagos Islands
Although not part of mainland Ecuador, no article could be complete without a mention of the spectacular Galapagos Islands.
If you're into wildlife, especially the underwater kind, then you have to visit here as it's considered one of the world's foremost destinations for wildlife viewing.
Most visitors take an organised multi-day cruise around the islands but it's also possible to visit independently, sleeping and taking the public ferries between the three main islands of Santa Cruz, San Cristobal and Isabela. However you choose to visit, one thing that's guaranteed is that you'll see plenty of wildlife as soon as you set foot here.
Sea lions laze about on benches and swim right by the beach, marine iguanas chill on the beach, and turtles swim right by the shore. Add to that the famous blue-footed boobies, giant tortoises, and the chance to dive with hammerhead sharks and you have one hell of a holiday.
A visit to the Galapagos Islands isn't cheap, what with return flights and a $100 national park entry fee, but it certainly is worth it, so if you've made it all the way to Ecuador make sure to set aside at least a week to visit these majestic islands.
Summary
If you love the outdoors then Ecuador is for you. Despite being one of the smaller countries in South America, Ecuador has it all. Mountains, volcanoes, beaches, wildlife, it really is a perfect destination. See some of the incredible places to visit in Ecuador for more inspiration.
Ready to book? Search for:
---
---
Tours and activities
Related Articles