The Ko Phi Phi Islands and Maya Bay are located in southern Thailand in the Andaman Sea. These islands provide some of the most stunning scenery in the world, with huge mountainous rocks covered in lush greenery and pure clear turquoise water that you'll struggle to keep yourself out of. The main islands of Ko Phi Phi Don do have a bit of a reputation for being a party island due to the bars and clubs, but you can easily visit and avoid all of this. I have been to these islands twice now, once which was more of a party trip with friends, and another which was for photography and experiences. In this guide, I'll tell you how you can get to Ko Phi Phi, as well as suggestions on things to do while you are there, suggestions on places to stay, restaurant ideas and various other tips.
---
Getting to/from Ko Phi Phi
To get to/from the islands you take the ferry which takes around 2 hours. I purchased a return ticket from my hotel which cost 700 baht return, including hotel pickup and drop off. When you arrive at Ko Phi Phi Island you have to pay 20 baht entry fee (subject to change) which goes towards island maintenance. Bring cash for this. You can purchase tickets to and from the island from many hotels in Thailand and also from travel agencies, or you can buy at the ferry port in Phuket but it may cost more! You may also be able to book online and I did find some websites, but I decided not to trust them and just do it through my hotel.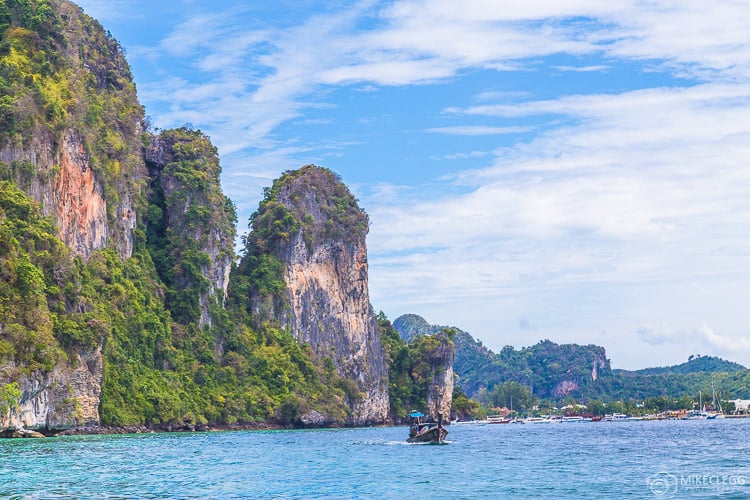 ---
Things to see and do
Ko Phi Phi has a mix of scenic beauty, water sports, relaxing, paradise scenes, as well as a party scene at night. If you're not into partying it's actually easy to avoid, so you could say the island has something for everyone!
Island hopping and tours
You will almost certainly want to go island hopping, where you'll get to see some of the most beautiful and exotic islands and beaches in the world! These tours aren't that cheap and expect to pay between 1000-2000 baht for a good tour. When searching for tours you may see prices which are a lot lower at only 600ish baht, but only to visit Maya Bay and some of the other islands, but there is a national park entry cost on top which is 400 baht, so I actually thought those prices were a little deceiving.
You can also hire longboat drivers to take you to individual beaches and I heard one offering to take people there for only 100 baht (there) so you may be able to find a much cheaper way to see individual places if you wish!
During my trip, I went on a Boat Tour with a service called Arisa which cost me 1600 baht. I did think it was a lot at first but then you get free and unlimited bottled water, cans of coke, lunch and fresh fruit! You also get a great day tour, fins and snorkel provided. I think it was worth the money for sure!
During my tour, I went to several beaches and spots around Ko Phi Phi Ley, including The Pirate Cave, Maya Bay, Monkey Beach, Viking Cave and various other spots.
Maya Bay
One of the most beautiful spots in the world is Maya Bay, also used in the movie "The Beach" starring Leonardo DiCaprio. You'll find endless tours heading to this beach and many of them give you a couple of hours to swim and relax on the beach.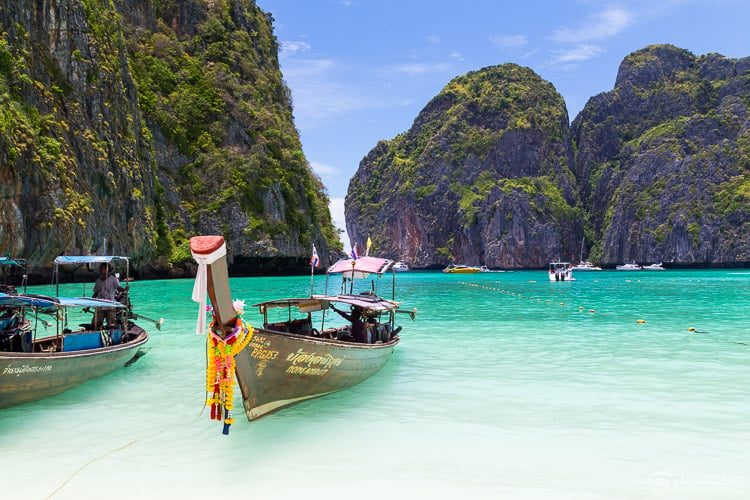 Monkey Beach
There are several "Monkey Beaches" around the islands. The one I went to on my tour was on Ko Phi Phi Don slightly out from the main resort and hotel area. The beach has lots of monkeys and you probably won't spend long there as it's quite hard to relax! When visiting be careful not to get too close to the monkeys or provoke them, as they are wild animals and not trained! You should also watch your belongings, such as cameras, bags and drinks as they may try and steal them!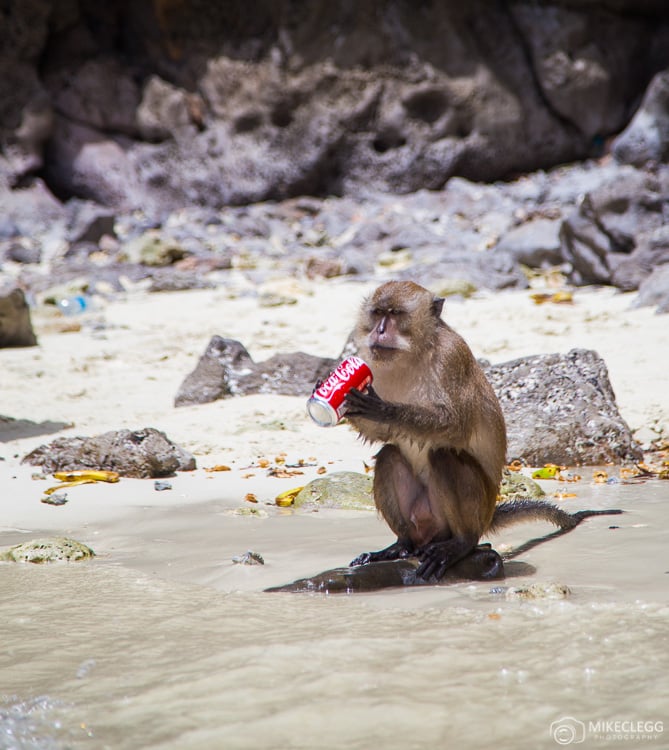 Snorkelling with fish
During my tour we stopped at a few spots and got to go diving with fish and also coral sharks. This as well as visiting Maya Bay is definitely one of the highlights of the tour. You get provided with snorkels and fins to help you in the water.
Bamboo Island
Bamboo Island is paradise and so peaceful! I have been here twice now, and when the sun is out it looks a lot more stunning than the image below, and more like the image at the start of this post with stunning turquoise water. When I went on this recent trip though it was a bit overcast and stormy. However this island is wonderful to relax on and although you will see other tourists and boats, the beaches are large and still felt fairly empty.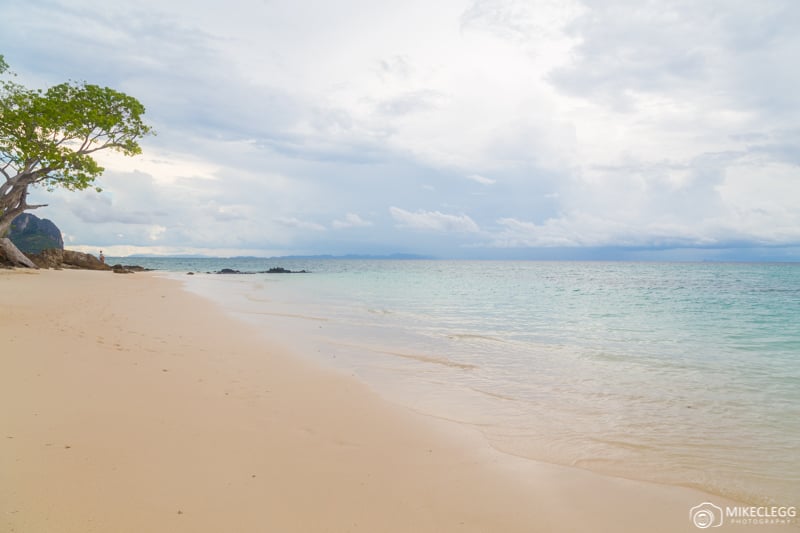 For more information on these tours head to www.arisa-speedboatgroup.com.
There are other tour providers available in Ko Phi Phi such as sunrise and sunset tours, tours that are just for Maya Bay and many more.
ADVERTISEMENT
CONTINUE READING BELOW
Head to the viewpoint
The "Viewpoint" offers some of the best views of Ko Phi Phi Don. The climb to the top is pretty hard work especially if it's hot, but the view is definitely worth it! Once you get close to the top you have to pay 30 baht to enter. You can also buy refreshments from the top and the prices are ok at 25 baht for a 950ml bottle of cold water which I thought was reasonable.
There are actually two viewpoints, Viewpoint 1 and Viewpoint 2. The first one has some beautiful gardens and isn't quite as high but the views are nice, whilst the second is the highest point and where most people will end up. The view is also a bit better from the second viewpoint.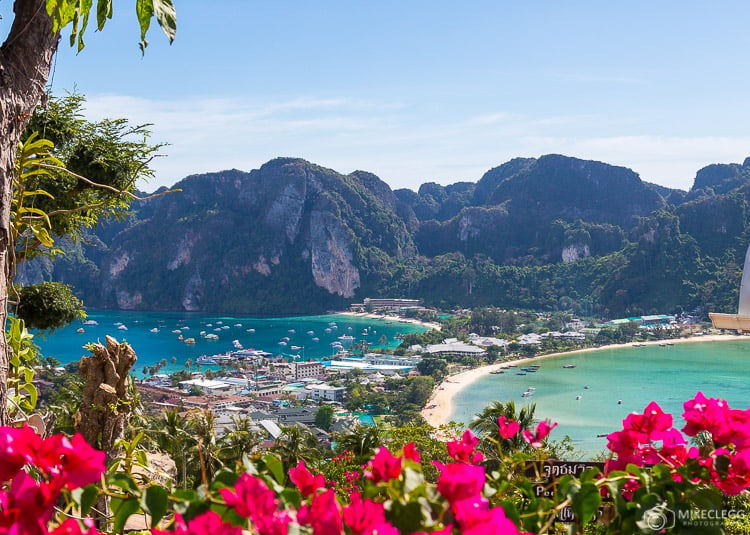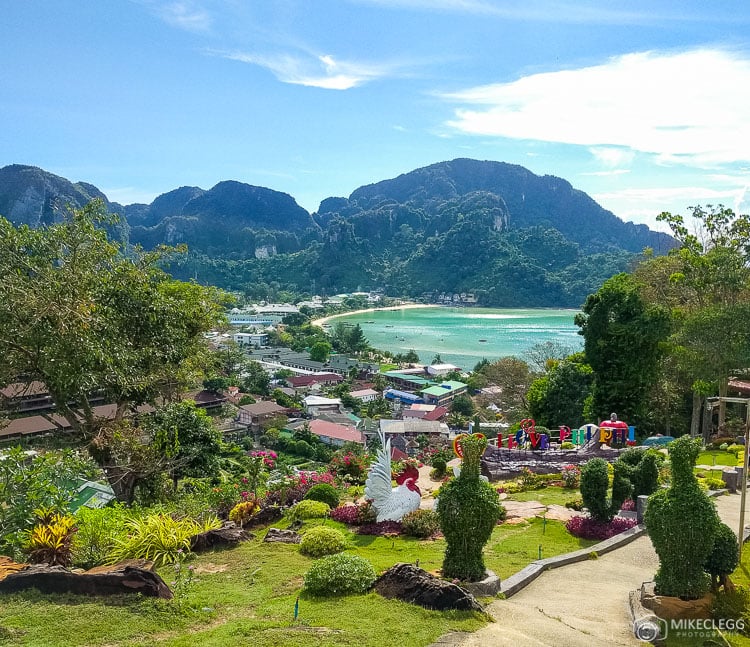 To get to the viewpoint head along the main paths to the point below. You will also see signs to get you there.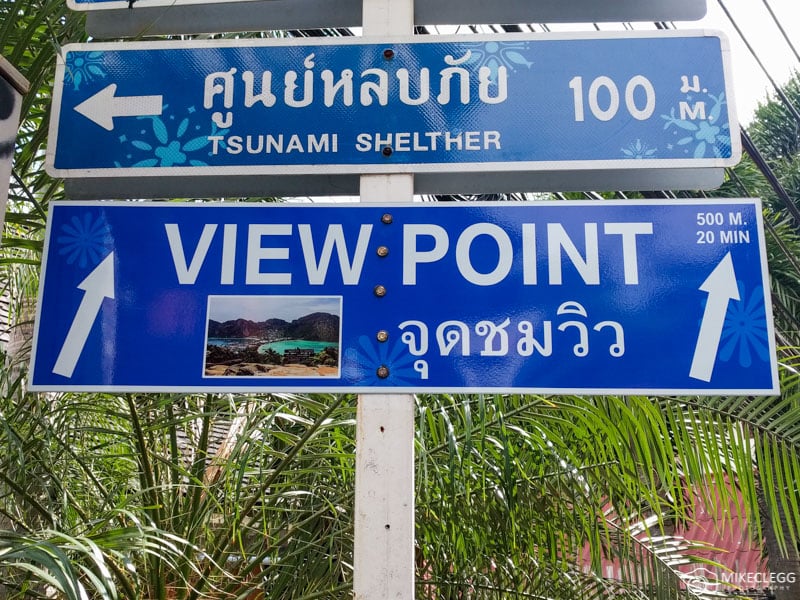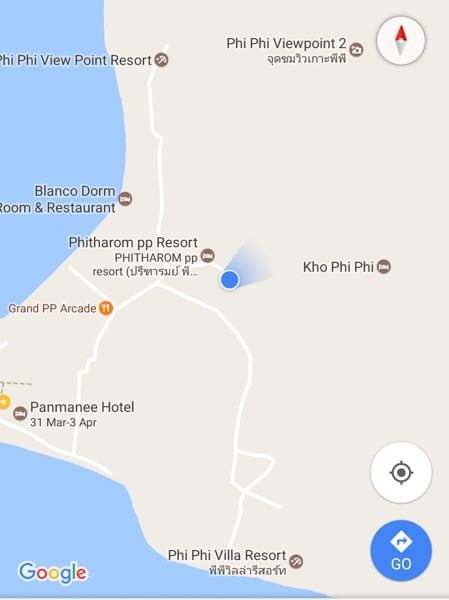 Watch ring fighting at Reggae Bar
At the Reggae Bar around 9.30pm tourists will have the opportunity to get in a ring and fight other tourists or their friends. If you fight you get a free bucket of booze. It's quite entertaining to watch and there are rules, such as no elbows etc, but I have heard of people getting mildly hurt before. Either way if it sounds like your thing check it out.
Party on the beach
Sometimes in the evening on Loh Dalum Beach, you'll find fire dancing and lots of pumping music. It's pretty amazing watching the fire performers and you can easily spend quite a long time just gazing at the blur of fire!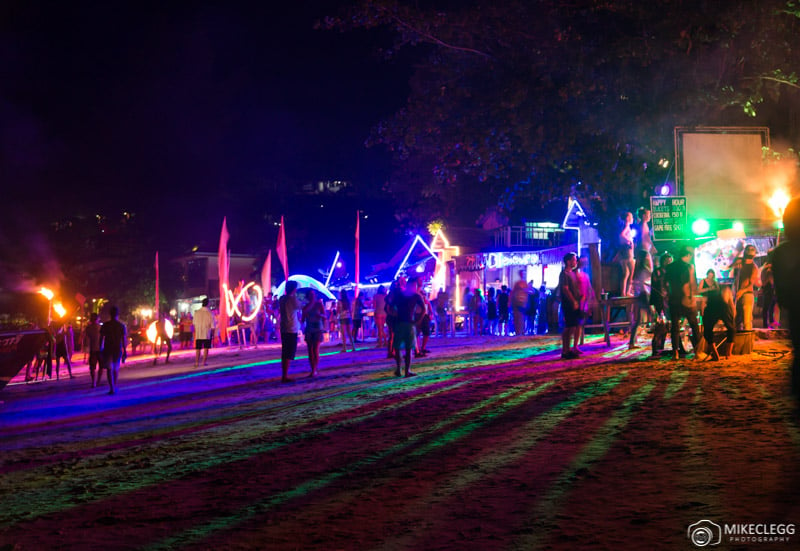 Go diving
Although I didn't dive (however much I'd want to) it's quite popular in Ko Phi Phi. You will find diving schools/shops along many of the streets with sales staff more than happy to provide you with information. I got some prices so I had an idea of what to expect and these are below:
Discover Diving  – Introduction with 2 dives for a half-day – Priced at around 3,400 baht
Adventure night dive – 2,400 baht
Underwater Photography – 2 dives – 9,000 baht
Advanced Open Water Course – 2 1/2 days, 4 open water dives and gives you a lifelong open water license – 12,000 baht
One of the companies whose prices I looked at was www.princessdivers.com and on their website, you can find more information what the prices include.
ADVERTISEMENT
CONTINUE READING BELOW
Enjoy massages and doctor fish
There are quite a lot of massage shops around Ko Phi Phi and now and then I saw the  Doctor Fish shops. I saw massages priced at around 300 baht for a Thai, Oil or foot massage which was for 1 hour. I saw the Doctor Fish experience priced at 200 baht which is normally for an unlimited time.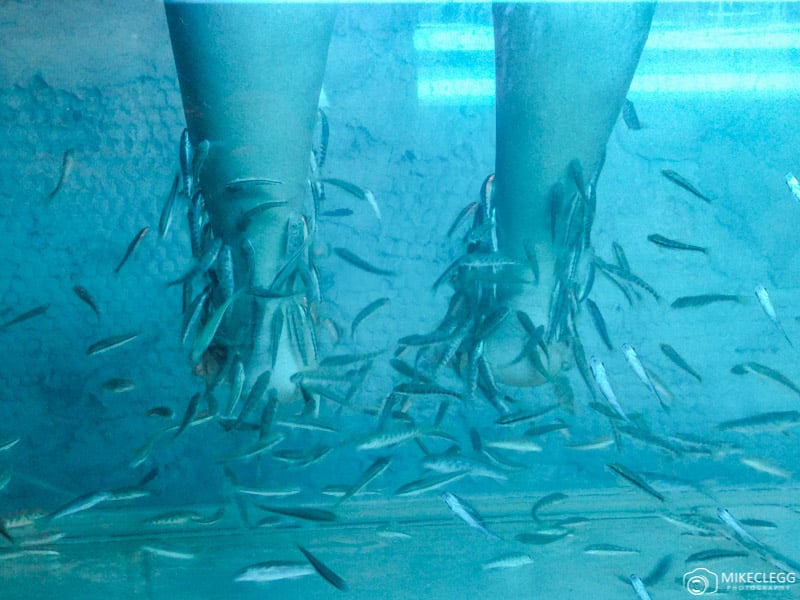 Go kayaking
If you fancy kayaking you can hire them for around 200 baht for the first hour and then 100 baht per hour after that. I saw kayaks available on Loh Dalum Beach.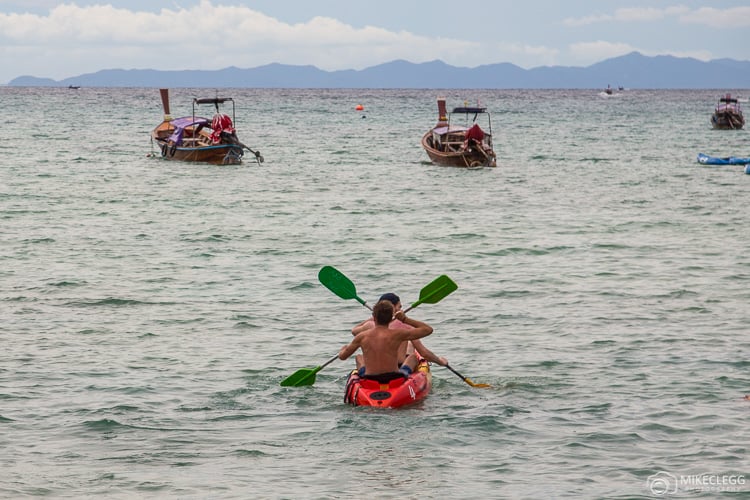 Relax on the beaches
There are lots of nice beaches around Ko Phi Phi Don, and depending on where you go you may find restaurants lining the sides. It would be easy to spend an entire day or afternoon relaxing on these beaches and taking the occasional dip in the sea.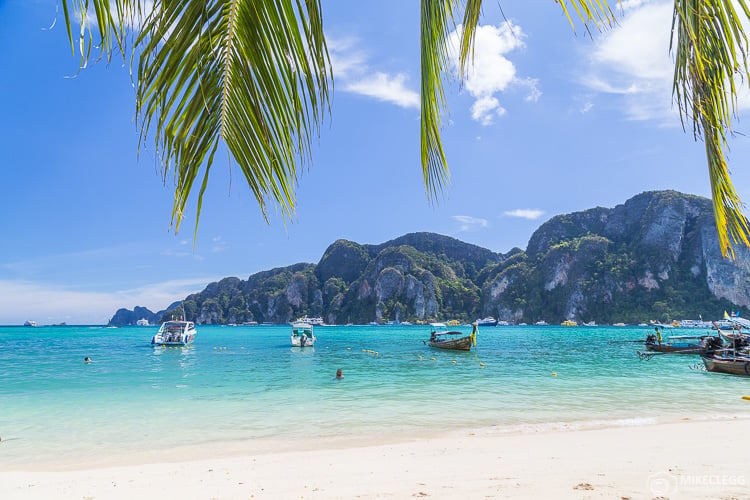 Tours and Activities
Here are some tours and activities for Ko Phi Phi available through our partner GetYourGuide. Click the blue-button to learn more.
---
Places to eat and drink
Food in Thailand is fantastic and you'll find lots of typical dishes on the island, such as Pad Thai, fried rice, spring rolls, curry and delicious mango dishes such as seen below. For some ideas on Thai food head to Food and Drinks You Should Try in Thailand.
Here are some restaurants I tried using my visit:
Arboreal Resort Restaurant
Located close to the entrance to the main Viewpoint (mentioned above), this restaurant actually has a good view too. I had Seafood Pad Thai priced at 140 baht and it was pretty tasty.
Address: Location on Google
Recommended for: Lunch/Dinner/Casual

—————————————————————-
Anna's restaurant
Anna's restaurant has great reviews and after visiting I could understand why. I had the Thai Red Curry and it was delicious. It was priced at 170 baht for the curry and then another 30 baht for rice. I guess you could always get two portions of rice and share the curry too.
Address: Location on Google
Recommended for: Lunch/Dinner/Casual

—————————————————————-
The Mango Garden
I popped here for breakfast and had a mango waffle which comes with syrup and cream. It was pretty cheap at 140baht.
Website: www.facebook.com/themangogarden
Address: Location on Google
Recommended for: Breakfast/Snacks/Casual

—————————————————————-
Breakfast and Friends II
I headed here twice during my stay and had Thai Pancakes with Banana and Honey! They were delicious! They also have cheap Americano which is cheap and tasty.
Address: Location on Google
Recommended for: Breakfast/Snacks/Casual
—————————————————————-
Banana Bar
The food here was nice, and it also has a great atmosphere and view. I did find some of the staff not very friendly, but if you are wanting some tasty food and the atmosphere it's worth checking out.
Address: Location on Google
Recommended for: Lunch/Dinner/Snacks/Casual
—————————————————————-
Matt's Joint
I walked past this restaurant and it looked really good and they offered all you can eat BBQ. It was priced at 389 baht.
Address: Location on Google
Recommended for: Lunch/Dinner/Casual
Other places to eat and drink – Have a look on www.tripadvisor.com.
---
Places to stay
Ko Phi Phi definitely has a party side to it and also quite a lot of young people will be there. If you are not wanting to be around party people then I would recommend not staying in a hostel! Whilst the main area to stay is around the central area between Tonsai Pier and Loh Dalum Beach, you will find some quieter and more secluded areas to the top right of the island. Here there are beautiful resorts worth and beaches.
Budget – Slinky Hostel (based on reviews and location) – This hostel is located right next to the party beach (Loh Dalum Beach), which is quite fun at night. The hostel offers cheap dorm rooms and has received a score of 7.3 out of 160 reviews (at the time of writing).
Mid-range – Panmanee Hotel

(based on personal experience) – During my visit to Ko Phi Phi I stayed at Panmanee and I was very surprised at just how good the property was. It's in a great location close to everything such as the beach and restaurants, but far away from the noisy bars. The room was huge with good decoration and the price was reasonable. They don't have a pool or luxuries like that but I would still highly recommend it.

Resorts – Phi Phi Island Village Beach Resort

(based on reviews and pictures) – This resort is tucked away on the other side of Ko Phi Phi Don and away from the main party area. The resort is located right next to a beach, has beautiful rooms and also its own pool. With a review average of 8.6 from 1915 reviews (at time of writing) this resort should be a good choice. It may be hard to get to the main area though so bear this in mind.
Use this map below to find more options of places to stay.
---
Ko Phi Phi photography tips
The weather can definitely vary from day to day, so if you have good weather, clear blue skies etc, then make the most of it and get your shots (unless you just want to relax of course).
At Maya Bay some of the good spots are about 2/3 to the left (as you face towards the sea) where you'll find some longboats, and almost directly behind there is an elevated spot for getting some higher shots. There are also some nice rocks to the far right of the beach.
The Viewpoint is a popular spot for sunset but also nice during the day. I didn't make it up there for sunset this time as it started raining, but if the weather is looking good it's worth it.
To get awesome colours then consider using a polarizer filter on your camera.
Consider using a GoPro HERO5 or other waterproof camera when snorkelling and for underwater shots.
Dome Casing such as YOEMELY Dome Port with Waterproof Case
 may be a good way to get those awesome half above and half below underwater shots too.

---
Other destination tips
Here are some general destination tips related to Ko Phi Phi.
Be careful around the monkeys on the beach. Don't feed them, get too close or try and touch them. They are unpredictable and can also steel your stuff. During my recent trip I overheard that a lady got bit.
When walking around you'll often see 6x 950ml bottles of water priced at 40baht. This is a pretty good deal, so I recommend getting these to keep you hydrated for cheap.
If you are watching the fire dancers on the beach at night, be careful and stand back, and stay aware. I saw them accidentally almost burn someone when they started throwing the fire stick between two performers.
When diving or snorkelling be careful of sea urchin.
Consider getting a Waterproof Dry Bag when going on boat trips, kayaking etc.
Ko Phi Phi destination info
Destination type – Beach, Scuba Diving, Islands, Exotic, Party
Cost type – Mid-range
Currency – Thai Baht
WiFi – Most restaurants and hotels should provide
Emergency numbers
Police 191
Tourist Police 1699There is a small hospital on the island to the west of Tonsai Pier. Check with your hotel for the most up to date telephone number.
Arrive by air – Closest Airport is Phuket Airport
Language – Thai but English is great everywhere
Power supply – Everywhere I went in Thailand the plug socket looked like the below and accepted my euro plug (Type F) and also a Canadian charger I have for my camera (Type A). According to www.power-plugs-sockets.com Thailand has sockets that accept Type A, B, C, F and O. However I always carry around a Skross PRO World Travel Adapter whenever I travel just in case.
Tourism Websites: 
tourismthailand.org
Other notes/tips:
For more tips on travelling Asia head to Over 40 Top Tips for Travelling Asia
Ready to book? Search for:
---
Related Articles