If you're heading to Georgia and like hiking and spectacular mountain views, then you need to add the hike from Mestia to Ushguli to your itinerary. Taking 4 days, this is the most popular multi-day hike in Georgia, and for good reason. Taking you through traditional Svaneti villages with amazing mountain scenery, it's certainly one of the best things to do in Georgia.
If this sounds like it's for you then read on for all you need to know about preparing for and undertaking the hike.
---
When to visit Georgia
Georgia can be visited year-round with popular ski resorts in winter and Black Sea beach resorts in summer.
However, if hiking is your priority then the hiking season runs between the end of June and the beginning of October when the mountain snow has melted. Although it can still get pretty cold at night and early morning even in the middle of summer, you'll maximise your chances of blue skies and warm weather if you visit during July and August.
ADVERTISEMENT
CONTINUE READING BELOW
---
How fit do you need to be?
Whilst you don't need to be a triathlete or a super avid hiker to complete the trek, you do need a pretty reasonable level of fitness.
The longest day of the Mestia to Ushguli trek is 17km and the shortest day is 12km, which are both doable distances for most active people. But add into that a lot of walking uphill (you'll be ascending over 1000m on day 2) and the fact you'll be hiking every day for 4 days in a row, makes this hike challenging even for regular hikers.
Ultimately, only you can know your own fitness level, but we wouldn't suggest undertaking the hike if you're a totally novice hiker.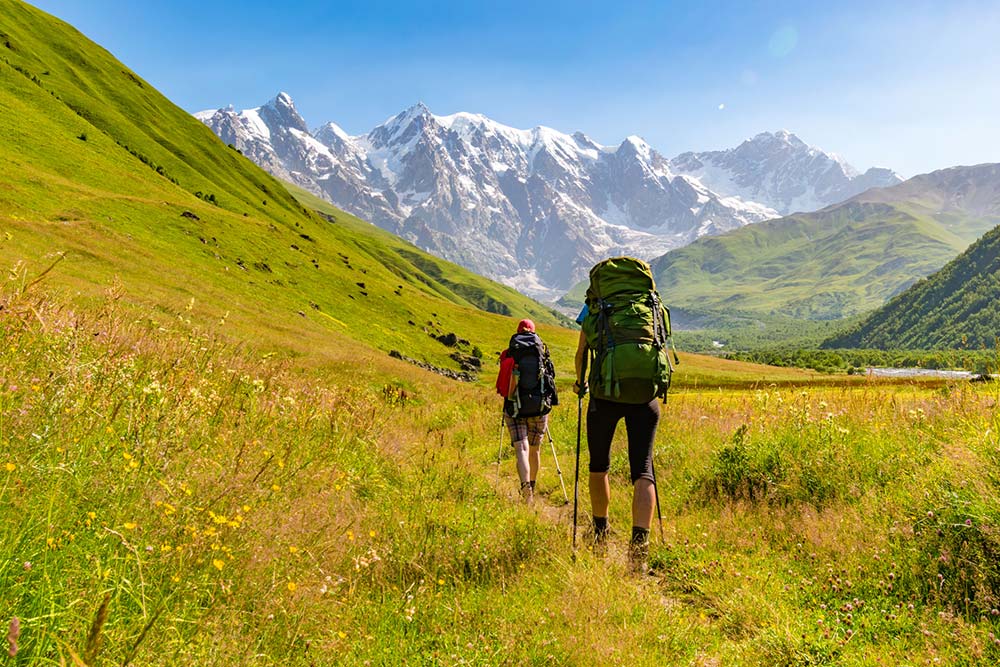 ---
How to get to Mestia
The 4-day hike starts in Mestia, a small town in northwest Georgia. Mestia sits 1,500m above sea level and is a gateway to hiking in the Caucasus mountains.
If you're flying into Georgia with budget airline Wizz Air, then you'll likely be landing in the city of Kutaisi. From here there is one direct bus at 10am which takes 6-7 hours to Mestia and costs 25 GEL.
From Tbilisi there are also direct buses which depart at 7am and 8am and take around 9 hours.
In either case you can also transfer in Zugdidi (the closest city to Mestia, although still 4 hours away) from where there are buses leaving in the morning and in the afternoon. If you're coming from Batumi you'll need to take this option.
Check with your guesthouse for the updated schedule and exact departure points as these are always subject to change.
ADVERTISEMENT
CONTINUE READING BELOW
---
Where to stay in Mestia
There are a lot of accommodation options in Mestia ranging from budget guesthouses where you'll likely have a room in a local family home, to small hotels. Most accommodation is simple but check reviews online and book a couple of days ahead, especially during high season.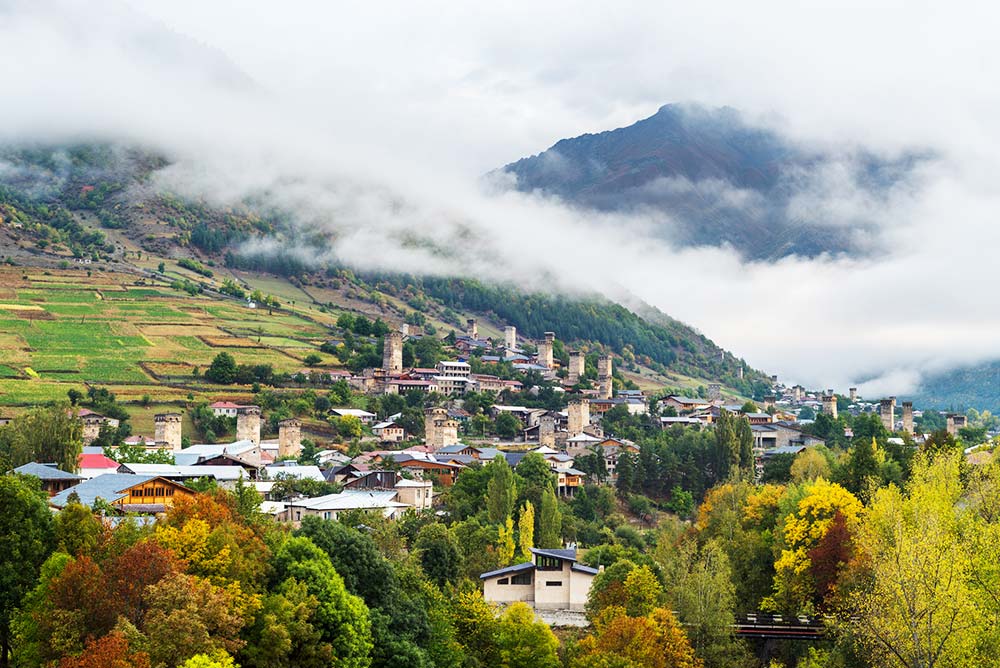 ---
What to pack
The simple answer is, as little as possible!
We highly recommend leaving your big bags at your guesthouse in Mestia (many guesthouses offer free luggage storage) and just taking a small bag with your essentials.
We recommend bringing:
Hiking pants/ shorts
Hiking tops
Hiking shoes (normal trainers or, even better, trail runners, are fine during summer)
Trekking poles (optional)
One set of casual clothes for the evenings at your guesthouse
Toiletries
Flip flops/ slippers – you'll need to remove your hiking shoes at the guesthouses but the floors aren't always the cleanest and bathrooms are shared, so bring something to wear on your feet
Warm jacket – the nights and early mornings can get cold, even in the middle of summer
Cash – there are no ATMs outside of Mestia (see average costs below)
Snacks – While you'll get plenty of food at the guesthouses along the way, bring lots of snacks as there aren't any proper shops outside of Mestia
Tupperware container – optional, but it can be useful if you want to pack any leftovers from dinner or breakfast (portions at the guesthouses are usually very large)
What you don't need to bring: water! Tap water in Georgia is drinkable and the hike is through the mountains so the water here is as fresh as you can get! Bring a large water bottle and refill as you go.
ADVERTISEMENT
CONTINUE READING BELOW
---
Accommodation along the hike
If you don't want to camp then you're in luck, as at each village there are guesthouses where you sleep the night. These usually also offer dinner and breakfast, and sometimes also a packed lunch for you to take with you.
Accommodation is basic with shared bathrooms. But usually relatively clean with hot showers and hot food, so all you need after a long day hiking.
Lots of accommodation can be found on booking websites if you prefer to read reviews and book ahead. However note that Georgia's tourism industry is still recovering post-COVID so booking the day before, or even the day of arrival, might be fine.
Mestia Accommodation | Zhabeshi Accommodation | Iprali Accommodation | Ushguli Accommodation
Some average costs are as follows:
Double room with shared bathroom: 100-120 GEL per night
Dinner: 30 GEL per person
Breakfast: 15 GEL per person
* At time of writing
---
Mestia to Ushguli Hike
The trek from Mestia to Ushguli is typically divided into 4 day sections as follows:
Day 1: Mestia to Zhabeshi 16km, 770m ascent, 500m descent
This day is relatively easy with one pretty steep ascent early on but otherwise mostly flat or downhill. After about an hour you'll reach a grassy area with amazing views which is perfect for a break. You'll then climb uphill and soon after reach the highest point of the day with a beautiful view of the Svaneti Valley dominated by Mount Tetnuldi peak.
There are then two ways to reach Zhabeshi, the classic trail and the upper trail. The upper trail takes you up through the meadows and past more traditional villages. When passing through you'll note that every village has large stone towers. These Svan towers are unique to the Svaneti region and were built between the 9th and 12th centuries as defensive dwellings.
Finally, you'll cross the bridge over the river and walk the final couple of kilometres along the road to Zhabeshi.
Tip: There are a couple of villages before Zhabeshi which are actually closer to the start of the trail on day 2 and cut down on your time walking along the road. We recommend Guesthouse Leno in Tsaldashi.
Day 2: Zhabeshi to Adishi 12km, 1200m ascent, 700m descent
Day 2 starts with a steep ascent which continues for about 8 km, passing under the cable car line belonging to the Tetnuldi Ski Resort, before levelling off.
Like day 1 there is a standard and an upper trail to Adishi. The upper trail heads up a further 200m and transverses the base of Tetnuldi Mountain through open grasslands before beginning a steep descent to Adishi.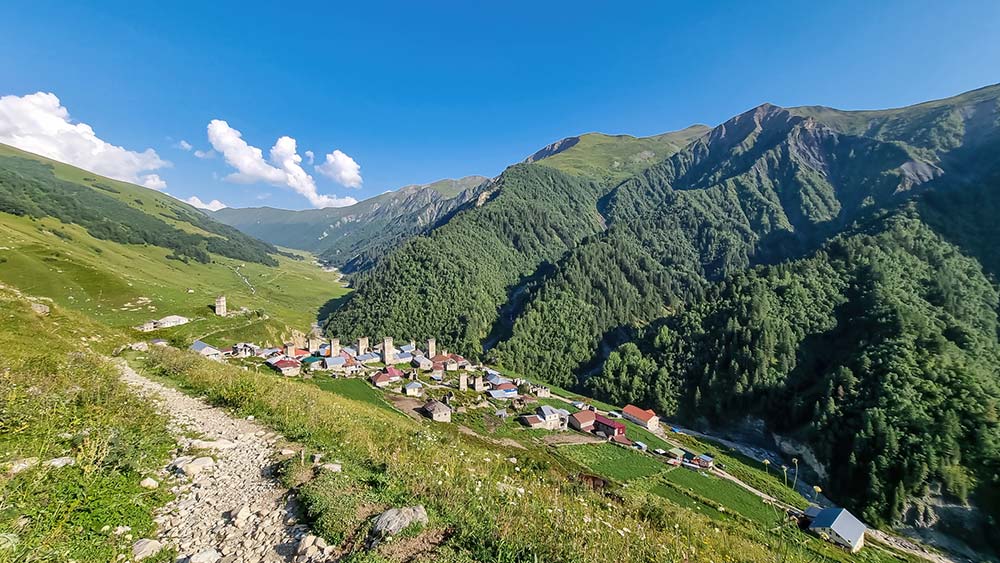 Day 3: Adishi to Iprali 17km, 900m ascent, 1100m descent
Day 3 is considered the hardest day of the hike and at 17 km, is also the longest, so start early.
From Adishi you'll walk along the valley along a flat and easy path for about 1-1.5 hours. Mount Tetnuldi will be directly ahead and the views are spectacular, especially with the early morning light.
Then comes the first hard part of the day: crossing the river. There are two options for crossing – either walk across the river or pay a local to take you across on the back of his horse. Whilst the river isn't that wide and, if you leave Adishi early, shouldn't be that deep (approx knee deep), the water comes straight from Adishi Glacier so is literally freezing! It's also quite fast-moving so it can be hard to cross the stony bottom quickly. Although crossing by horse is expensive at 25 GEL for the 30-second crossing, we'd recommend taking this option unless you have waterproof sandals and hiking sticks to help you cross by foot.
After the river crossing the uphill climb will begin. You'll shortly reach the viewpoint of the Adishi Glacier which is truly awe-inspiring. It's then a steep uphill climb for around 1.5 km to reach the top of the Chkhunderi Pass. This part of the hike is very steep and tiring but the views are some of the best of the whole four days.
Once you reach the top of the Chkhunderi Pass, take the detour to the left for views of Adishi Glacier and make a well-deserved stop for lunch at an altitude of 2722m above sea level.
It's then a steep downhill to the other side of the pass to the bottom of another valley, followed by a 7km mostly flat walk all the way along the river to Iprali.
Day 4: Iprali to Ushguli, 12km, 700m ascent, 500m descent
Day 4 is definitely the least interesting day and a lot of people decide to just take a taxi from Iprali to Ushguli. Most do this also on the basis that they believe that the only other way is to hike along the road.
This isn't actually correct and there is a trail which goes through the forest and avoids the road completely until the final 2km.
From Iprali head down and just after the bridge go between the houses on the left and follow the trail to Davberi, then make a hairpin left turn. Once you make this turn you'll be on the trail and it will be easy to follow. The trail itself isn't easy and consists of a steep uphill through the forest then across the hillside.
Unfortunately, the views are also nothing spectacular (at least not in comparison to the preceding 3 days).
You'll then gradually descend and join the road that leads to Ushguli. Note that as of September 2023, the road to Ushguli is under construction so it is extremely unpleasant to walk along.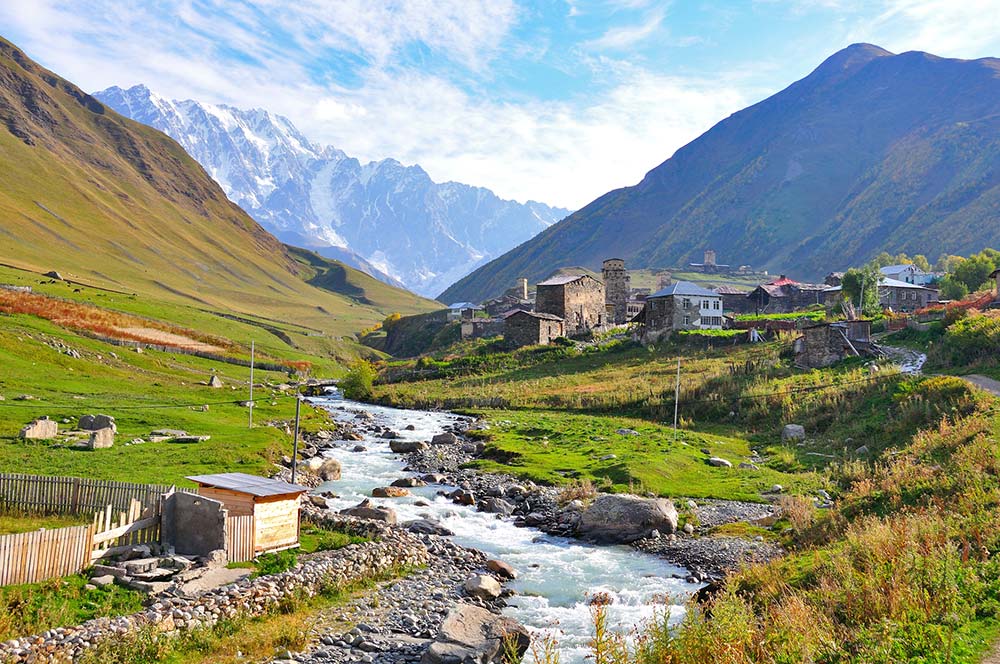 ---
Things to do in Ushguli
Before you leave Ushguli make the short but steep hike up to the fortress for amazing views over the village with the mountains in the background.
If you have the energy for another long hike and want to stay an extra night in Ushguli, then you can hike to the Shkhara glacier. The hike is about 8 km one way making it about 6 hours for the round trip.
---
How to get back to Mestia from Ushguli
Unfortunately, there is no onward travel from Ushguli to Tbilisi or other places in Georgia (unless you take a very expensive private taxi) so you'll need to return to Mestia to connect to public transport.
Despite the popularity of the hike, the transport options back from Ushguli to Mestia are limited to shared taxis which charge 50 GEL per person and leave when they have four people. Taxis wait at the bridge heading out of the village.
---
Other things to do in Mestia
Once back in Mestia you can relax before leaving the next day. But if you want to extend your stay and soak up some more of the spectacular scenery this region has to offer, there are some other day hikes on offer.
A popular day trip from Mestia is to the Koruldi Lakes. These can actually be reached by car but you can also hike there. First, you'll need to walk up to The Cross Over Mestia. At an 800m ascent over just 3km this is certainly not a trek for the fainthearted! The cross is halfway to the lakes, so from here you'll need to walk for another 1.5 hours uphill to the lakes. Whilst Koruldi Lakes themselves aren't anything special, the views of the surrounding mountains are amazing.
Most people stop at Koruldi Lakes but there is the option to continue even further; either to the Cross (3328m) or the viewpoint (2920m) on Koruldi ridge. If you want to reach the cross and back in one day then we'd recommend taking a taxi to either the Mestia cross or the lakes and then starting your hike there. The total hike to the viewpoint and back is doable in one day, but at a total ascent of 1700m and 18 km round trip from Mestia town, you'll need to be a very fit hiker!
Other options for your time in Mestia include visiting Chalaadi Glacier or taking a ride on the cable car.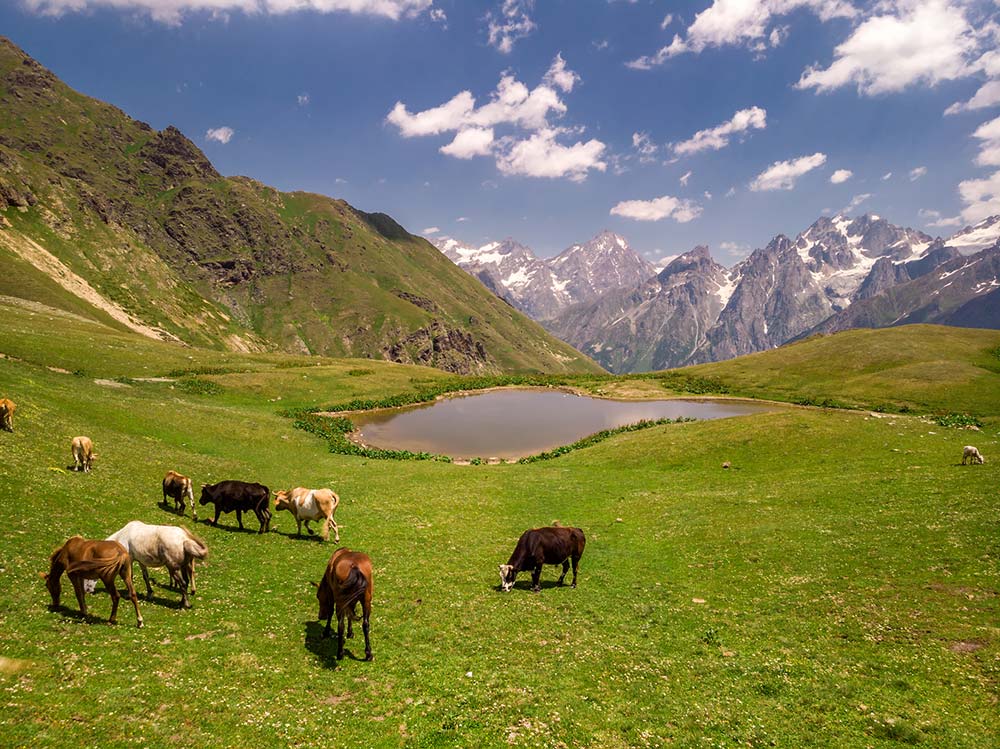 ADVERTISEMENT
CONTINUE READING BELOW
---
Transport from Mestia
There is a direct bus to Tbilisi which departs at 8am, although try to arrive at least 30 minutes before to get a good seat for the 9-hour journey.
There are also direct buses to Kutaisi and Batumi or again, you can connect in Zugdidi.
Wherever you're going we recommend booking your ticket at least a day in advance as the minivans can fill up quickly.
---
Summary
Hiking around the Caucasus Mountains will undoubtedly be the highlight of any trip to Georgia. The scenery is simply stunning and the 4 day hike from Mestia to Ushguli takes you through the best of it. If you enjoy hiking, then don't miss out on this trek while you're in Georgia.
---
Tours and activities
Discover top activities, tours and experiences below: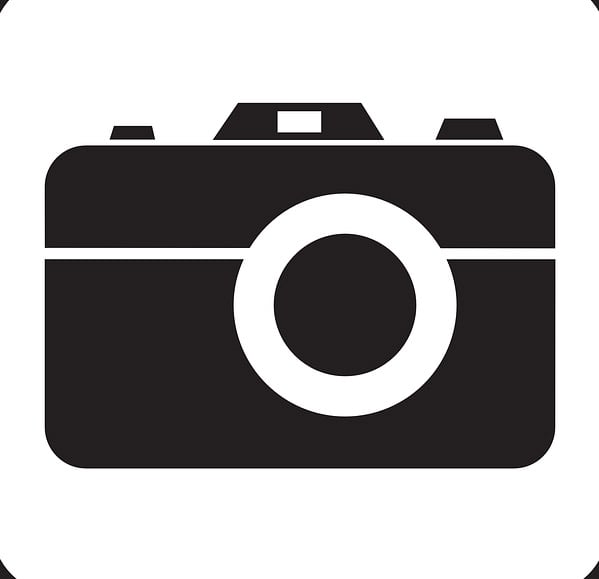 Related Articles