South of London and along the English coast you'll find the Seven Sisters Cliffs. These beautiful white cliffs are located between Seaford and Eastbourne and make for a fantastic hiking day out. Have a read of this guide to learn about the hike and more about this wonderful part of England.
---
About the Seven Sisters Cliffs
The Seven Sisters Cliffs are located in East Sussex along the south coast of England. The cliffs are part of the South Downs National Park and contain 280 hectares of beautiful white chalk cliffs. Along the route, you'll get to enjoy beautiful views out towards the sea, as well as walk along grassland, see lighthouses and enjoy high views of Seaford and Eastbourne.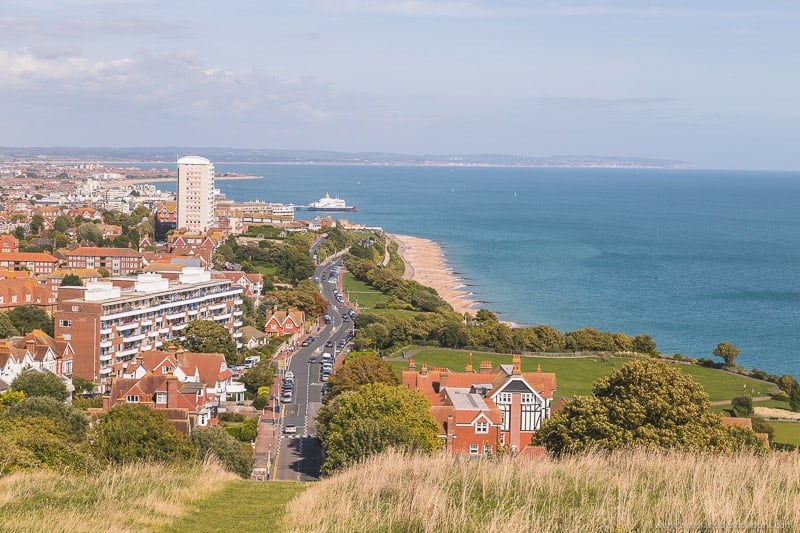 ---
Where to start
To do the full hike you can start at either Eastbourne or Seaford and then walk east or west. If you'd prefer to tackle a smaller section and have a more relaxed visit you'll find car parks along Beachy Head Road which runs close to the cliffs and trails.
Train – Options include getting the train to either Seaford or Eastbourne. When travelling from London it takes roughly 1.30-2 hours. If you wanted to start and return from the same station (ie Eastbourne) then after your hike you could get bus 12, 12A or 12X back to your original starting point.
Driving – When driving park at South Hill Barn Car Park or Exceat close to Seaford, or Beachy Head Main Car Park close to Eastbourne. Alternatively, park within the actual towns. You could then complete the hike and get the bus (12, 12A or 12X) back to your starting point. Remember that depending on where you park you may have a slight walk from the bus stop to the car park.
Tour – You can also visit the Seven Sisters Cliffs by going on a tour. You'll find a tour option through GetYourGuide and Viator. These may include trains tickets from London to Brighton and then mini-bus travel around the South Downs National Park and stops at various places.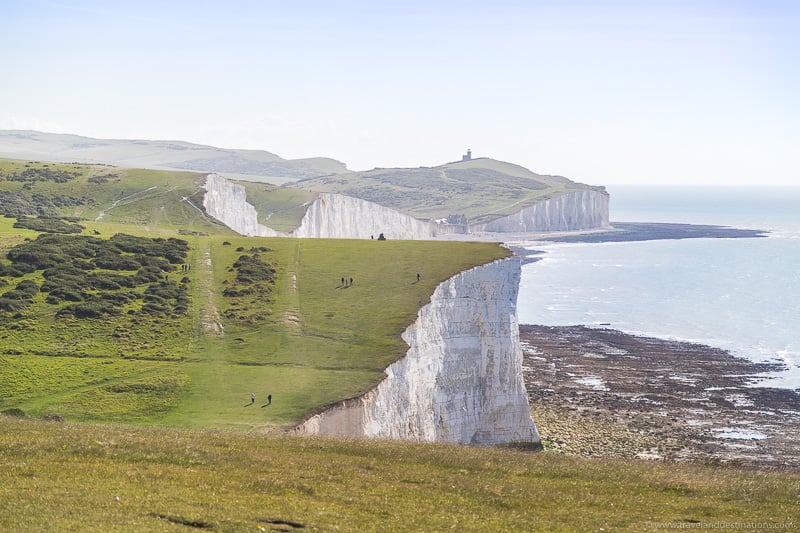 ADVERTISEMENT
CONTINUE READING BELOW
---
The Seven Sisters hike
The full hike is a medium difficulty covering a distance of around 12 miles (Seaford train station to Eastbourne train station). This will take around 4-6 hours depending on how fast you walk and how much you stop (ie for lunch). Throughout the hike you'll be walking up and down hills along the coast. Some sections are fairly steep but the distance for each uphill section isn't too long which makes it easier. It's also best to do this hike when the weather is fairly nice and not wet.
Remember you don't have to cover the entire walk and could instead opt for smaller sections. Such as only to Birling Gap and back.
For those after the ultimate challenge then consider hiking the entire Seven Sisters between Seaford and Eastbourne both there and back.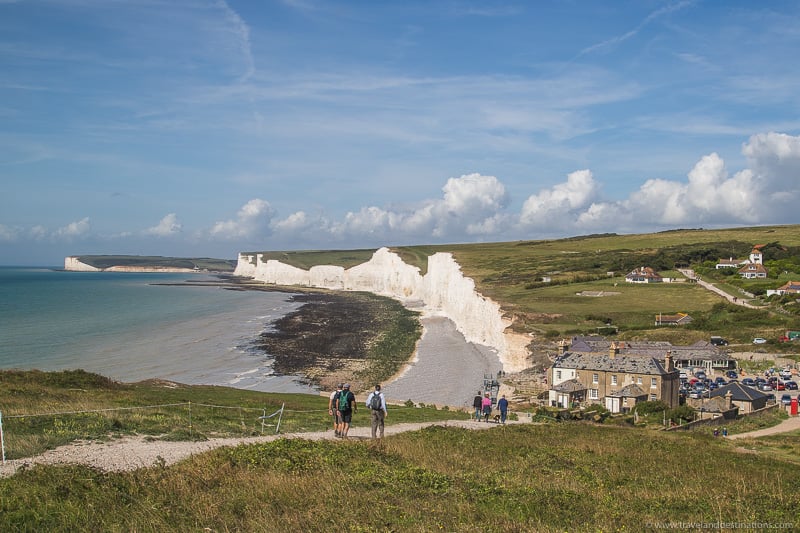 As you walk the route you'll get to enjoy stunning views of the countryside and landscape and out towards the sea, as well as the Beachy Head Lighthouse, beaches, and occasionally local buildings. You'll find various places to stop along the way, be it the cafe at Birling Gap, the Beachy Head Pub and the occasional bench.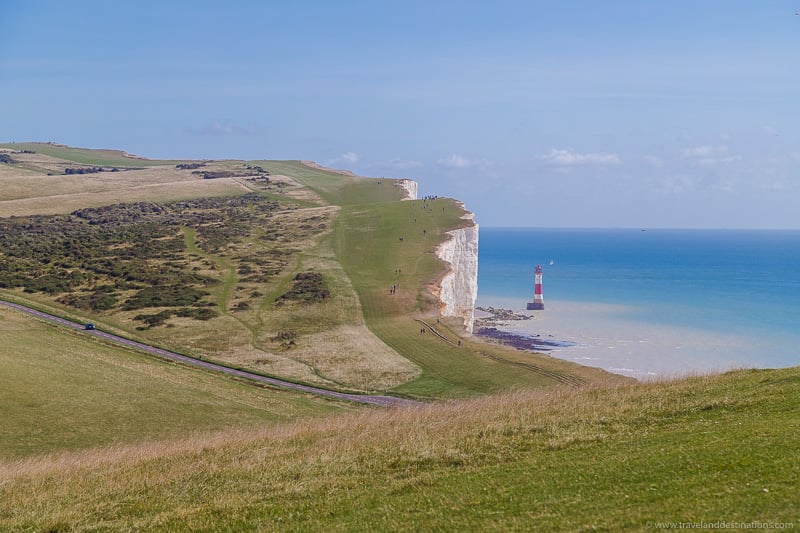 ---
Safety
The Seven Sisters hike can be perfectly safe, but you should remember not to stray too close to the cliff edge. It is a steep drop to a rocky bottom and although you may feel you have good balance, the edge of the cliff may be less stable than you think and even a strong gush of wind could prove fatal.
---
Equipment
Items you may want to remember for your hike depending on the conditions include:
A good pair of hiking boots
Plenty of water
Snacks
Suncream
A windproof coat
Walking poles if required
ADVERTISEMENT
CONTINUE READING BELOW
---
Places to eat
Along the route, you'll find several places to stop off and eat. Including the National Trust café at Birling Gap and The Beachy Head pub. Or you could eat once complete your hike at Seaford or Eastbourne. Alternatively, you could even take food with you and have a picnic, but do remember to respect the environment and leave nothing behind.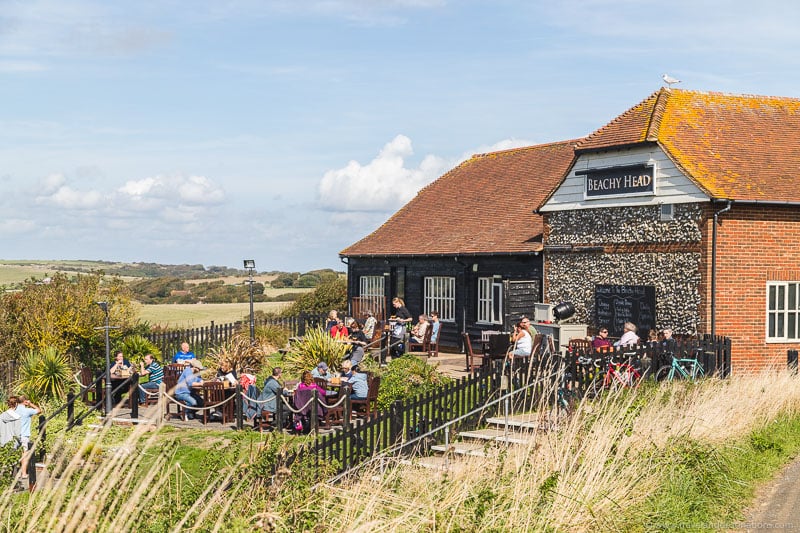 ---
Other things to do
The waterfront at Eastbourne and Seaford is very nice and you can even swim in the sea here. It may prove cold but equally refreshing. If you wanted to extend your trip you could consider staying in Eastbourne.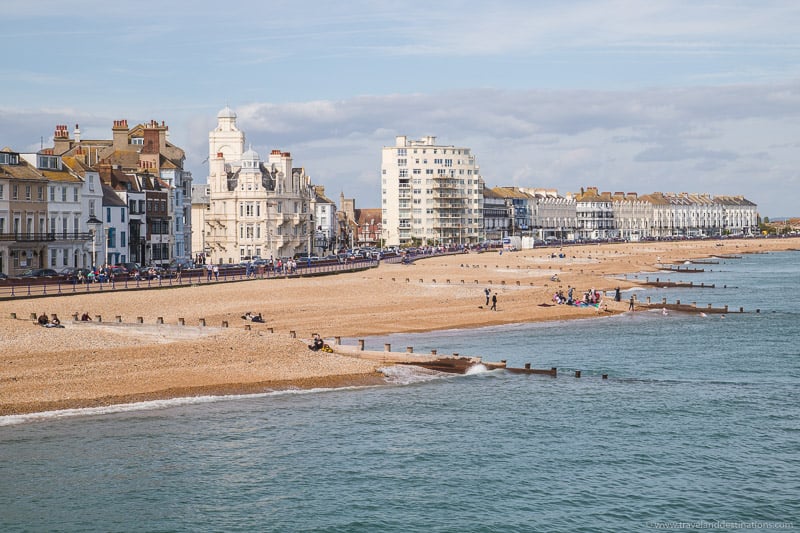 ---
Find places to stay in Eastbourne
To find places to stay consider using our interactive map below.
Or see options on booking.com.
Disclosure: we get a commission if you book via our links.
---
Tour idea
Here is a tour option that you may like through our partner GetYourGuide. You may also find other options available on sites such as Meetup.com.
---
ADVERTISEMENT
CONTINUE READING BELOW
Summary
The Seven Sisters Cliffs is one of the many beautiful places to visit on the English coast and makes for a great day out of hiking and exploring. For more information on visiting the Seven Sisters Cliffs Country Park head over to sevensisters.org.uk.
You may also want to see some of our suggestions of top day trips to take from London and our guide to visiting the Jurassic Coast.
Related Articles