Hamburg, the vibrant port city in northern Germany, is a treasure trove of historical landmarks, modern architecture, and cultural gems.
Hamburg is both a German state and the second-largest city in Germany (after Berlin). It is highly renowned for both its active port, one of the biggest in the world, and its past as a member of the Hanseatic League.
Whether you're on a quick one-day, weekend trip or a longer stay, Hamburg offers a plethora of attractions that are not to be missed. If you're short on time, or visiting Hamburg for the first time you'll need some tips and tricks to get the best out of your experience.
In this article, you'll find five top things that you should not miss when visiting Hamburg for a short trip. These will be perfect for a memorable trip if you've only got 48 or 24 hours in Hamburg.
---
1. Speicherstadt: Discover the city's industrial past
Hamburg boasts the iconic Speicherstadt, a UNESCO World Heritage Site that's a must-visit place. This historic Warehouse District features striking red-brick warehouses, charming bridges, and serene canals, offering a captivating experience.
Originally constructed between 1885 and 1927 on Elbe River islands, Speicherstadt underwent partial reconstruction from 1949 to 1967. It stands as one of the world's largest historic port warehouse complexes, encompassing 300,000 m² with 15 expansive warehouse blocks, six ancillary buildings, and connecting canals.
Central to Hamburg's maritime legacy, Speicherstadt stored vital commodities like coffee, spices, and carpets. As you wander through the cobblestone streets, you'll be transported back in time to the city's industrial past. The Speicherstadt's red-brick facades exude an air of old-world charm, and the interplay of light and shadows on the canals creates a magical atmosphere.
Today, the Speicherstadt houses a range of attractions, including museums, restaurants, and shops. The Miniatur Wunderland, which we mention next, is also located within this fascinating district.
For a unique experience, take a boat tour to fully appreciate the architectural beauty of the Speicherstadt. The reflections of the red-brick buildings on the shimmering water create a mesmerizing sight that's perfect for photo enthusiasts.
How long do you need?
To explore the Speicherstadt thoroughly and enjoy its unique ambience, plan to spend at least 1 to 2 hours wandering through its narrow streets and taking in the architectural wonders. It is also possible to sometimes do a private walking tour which will guide you through the Speicherstadt district and help you to gain insight into its trading heritage.
Closest stations
The closest stations to Speicherstadt are Baumwall and Meßberg U-Bahn (subway) stations. From there, it's just a short walk to the district.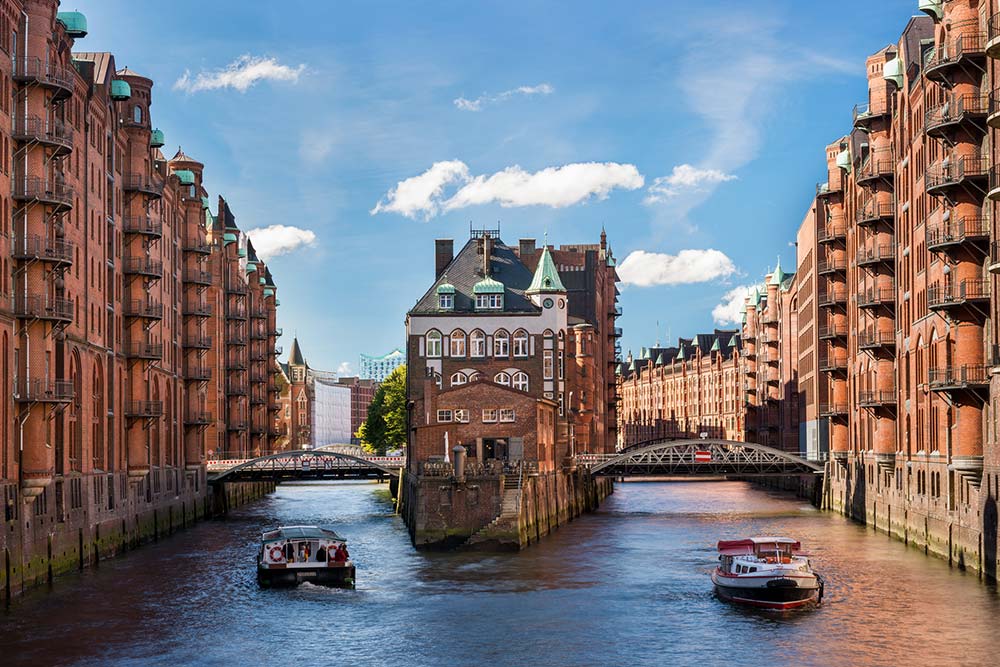 You May Like
2. Miniatur Wunderland – Marvel at the largest model train system in the world
Just a short stroll from the Speicherstadt lies the extraordinary Miniatur Wunderland, a place where the magic of model trains comes to life. This attraction has earned its place as a must-visit spot in Hamburg, delighting visitors of all ages with its intricate and expansive miniature world.
Miniatur Wonderland is one of the most popular paid attractions in Germany – after the popular Sleeping Beauty Castle Neuschwanstein. This is the world's biggest exposition of model railways. Covering a whopping 1,490 m² packed with tiny landscapes, cities, and an airport where those itty-bitty planes actually take off and land. Seriously, it is an engineering marvel!
Both young and elderly will find Miniatur Wunderland in Hamburg to be a fascinating experience. There are mini versions of Hamburg, the Swiss Alps, Tuscan Countryside, Rome, Venice, and even the Grand Canyon. They've gone all out with the details, like seriously, you'll feel like you're peering into a Lilliputian world.
With over 260,000 figurines, this microcosm buzzes with vivid activities, from festivals to emergencies, each crafting intricate stories. Miniatur Wunderland offers a day-night cycle every 15 minutes, bathing the exhibits in LED brilliance, lighting the cities, landscapes, and railway lines, the show, which is already spectacular, gains a magical touch.
Meticulously fashioned details, such as pedestrians and miniature cars, showcase the creators' dedication. It's a mesmerizing experience that will leave you feeling like a giant exploring a tiny world – to be sure of getting in, it's best to book your tickets in advance.
How long do you need?
If you're impressed by the exhibits' complexity and the level of care put into each scenario, a trip to Miniatur Wunderland may easily last 2 to 3 hours. The vastness of the model railway system and the numerous interactive elements will keep you engaged throughout your visit.
Closest stations
The Miniatur Wunderland is conveniently located near the Speicherstadt, and the closest U-Bahn station is Baumwall (U3 line). The attraction is only a short stroll away from there. Alternately, use bus 6 or the S-Bahn lines S1 or S3 to Stadthausbrücke.
ADVERTISEMENT
CONTINUE READING BELOW
3. HafenCity – Hamburg's Most Contemporary Neighborhood
HafenCity, adjacent to Speicherstadt, is a rapidly developing urban district transforming Hamburg's waterfront.
Its modern architecture and vibrant atmosphere contrast beautifully with the old city's charm. As Europe's most ambitious urban project, HafenCity will complete by 2025, marking a global redevelopment milestone.
Stroll along the waterfront promenade, and you'll find a mix of shops, restaurants, and cultural venues. This neighbourhood feels vibrant as you go around. Everywhere you look, people are strolling, talking, laughing, eating, and cycling. It has a wonderful spirit. The International Maritime Museum, with its fascinating exhibits on maritime history, is a highlight for history enthusiasts.
HafenCity's architectural diversity is a testament to the city's commitment to sustainability and innovative urban planning. If you're interested in architecture, make sure to visit the Unilever-Haus and the Marco Polo Tower.
The Unilever-Haus, designed by renowned Behnisch Architects was opened in 2009, and showcases an innovative facade and its architecture has earned it several awards.
For art lovers, the Marco Polo Tower is a sight to behold. Its distinctive sail-shaped facade and luxurious apartments offer a glimpse into modern living in Hamburg.
HafenCity is an ideal place to unwind and enjoy a leisurely lunch at one of the many eateries overlooking the harbour. Take a moment to relax and soak in the modern ambience of this rapidly evolving part of Hamburg.
How long do you need?
Discover HafenCity at your own pace. Engage with waterfront, architecture, and the Maritime Museum (2-3 hours). Immerse in culture for an extended stay. Book a guide tour for insights into the district.
Closest stations
The main U-Bahn station in HafenCity is Überseequartier (U4 line). Additionally, you can access HafenCity from the Baumwall U-Bahn station, which is also near the Speicherstadt. Both stations are conveniently located within the district.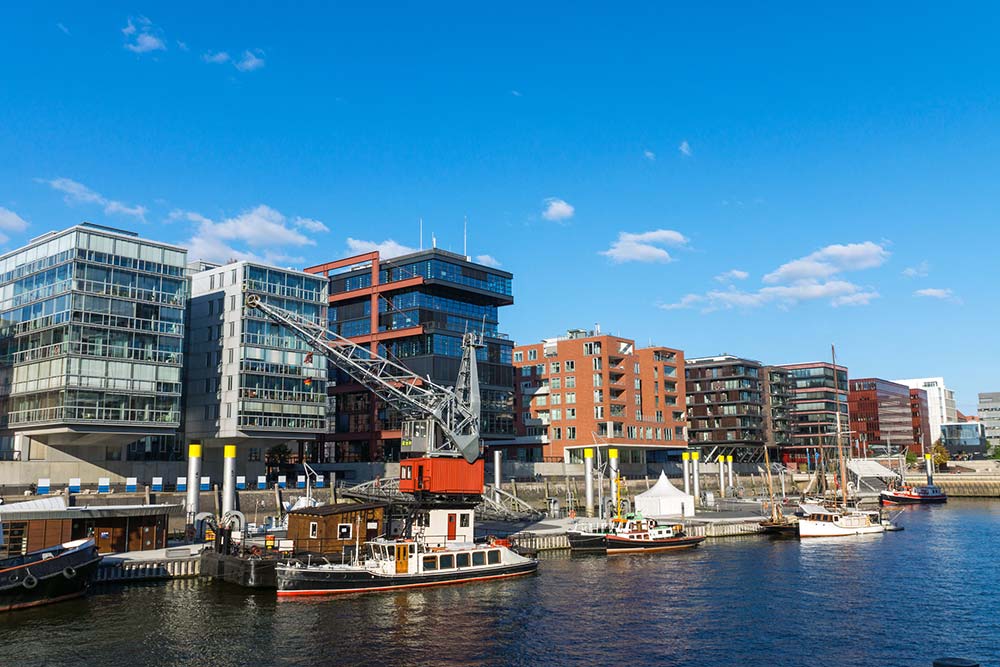 You May Like
4. Elbphilharmonie – Get the Panoramic View of the City and Harbour
Rising majestically at the tip of the HafenCity district, the Elbphilharmonie is an architectural marvel that combines modern design with historic elements. The Elbphilharmonie only opened in January of 2017 and it is already one of Germany's most popular tourist attractions – and the new symbol of Hamburg.
This state-of-the-art concert hall and cultural center is not only renowned for its world-class acoustics but also for its panoramic viewing plaza called the Plaza.
The Plaza offers stunning vistas of the city, Elbe River, and the vibrant harbour. Open to the public, it provides a 360-degree outlook, a unique angle of Hamburg's urban landscape. The Elbphilharmonie's design is striking – a modern glass structure atop an old brick warehouse, symbolizing Hamburg's transition from maritime tradition to cultural innovation. The Plaza, at a height of approximately 37 meters (121 feet), offers unobstructed views of the harbour, allowing you to witness the ebb and flow of the tides as ships sail in and out.
It's recommended to book your ticket for the Plaza in advance to avoid long queues, especially during peak tourist seasons. You can save time and effort by booking an organised tour of Elbphilharmonie. If you're lucky, you might even catch a glimpse of the artists rehearsing for an upcoming concert in the stunning concert hall.
You should put visiting Elbphilharmonie at the top of your list of things to do in Hamburg, Germany, especially if you're only visiting the city for 48 or 24 hours.
How long do you need?
To fully appreciate the breathtaking views from the Plaza, plan to spend at least 1 to 1.5 hours at the Elbphilharmonie. However, if you wish to attend a concert or explore the concert hall's interior, consider adding additional time to your schedule.
Closest stations
The Elbphilharmonie is easily accessible by public transport. The closest U-Bahn station is Baumwall (U3 line), or line U4 to Überseequartier. From both stations, it's a short walk to the concert hall.
You May Like
5. Hamburg's Historic Centre – A Glimpse into The City's Storied Past
Hamburg's historic city center brims with rich history and architectural splendor, providing a captivating journey into the city's past, encompassing its rise, fall, and key monuments.
When you're there, be sure not to miss out on some incredible spots, like grand City Hall (Rathaus), St. Nicholas' Church (Nikolai-Kirche), St. Michael's Church (Michel) and Deichstraße.
The grand Town Hall, also known as Rathaus, is a jaw-dropping masterpiece. It's not just a building – it's a symbol of Hamburg's importance throughout history. This neo-Renaissance beauty houses the city's government and is a hub of all kinds of cultural and political activities. With its ornate façade, intricate sculptures, and grand halls, the Rathaus is a must-see attraction in Hamburg.
Another stop you can't skip is St. Nicholas' Church, or Nikolai-Kirche. It's like a blend of Gothic and Romanesque styles that will transport you back to the twelfth century. The church's spire used to be the tallest in the world back in 1874!
St. Michael's Church, or lovingly called 'Michel' by the locals is Hamburg's iconic masterpiece, dedicated to Archangel Michael – adorned with a statue depicting his triumphant battle against the Devil. You can actually climb the 132-meter copper spire for an unbeatable view of the city.
Deichstraße (lit. Dike Street), a cherished gem within Hamburg's Altstadt (lit. Old City), invites you to step into history. Dating back to the fourteenth century, this cobbled path narrates tales through its stones.
How long do you need?
A visit to Hamburg's historic centre can take anywhere from 4 to 5 hours, depending on whether you're exploring the exterior, the impressive interiors of these landmarks, or taking a guided tour to learn more about its history.
Closest stations:
If you're heading to the Rathaus (Town Hall), you'll find the closest U-Bahn Station is Rathaus on Line U3. And if you're taking the S-Bahn, the nearest stop is Stadthausbrücke served by Lines S1, S2, and S3. Planning a visit to Nicholaikirche or Deichstraße? The handiest U-Bahn Station is Rödingsmarkt along Line U3.
You May Like
ADVERTISEMENT
CONTINUE READING BELOW
---
Summary:
For travellers taking a one or two-day trip, Hamburg provides a wide range of outstanding experiences thanks to its historic maritime past and modern appeal.
The city offers a day full of sights, from touring the ancient Speicherstadt to marvelling at the detailed world of Miniatur Wunderland to taking in the panoramic views from the Elbphilharmonie.
Don't forget to take in HafenCity's cutting-edge architecture and vibrant atmosphere. Or also consider visiting the Fischauktionshalle ('fish auction hall') to extend the Saturday celebration into Sunday morning. Here, you can also indulge in mouthwatering seafood (only on Sundays) and discover the true spirit of Hamburg.
Therefore, whether you're just travelling through Hamburg or are considering a quick city vacation, these top five attractions are sure to leave you with priceless memories of this intriguing Elbe River city.
---
Tours and Activities for Hamburg
Discover top activities, tours and experiences below: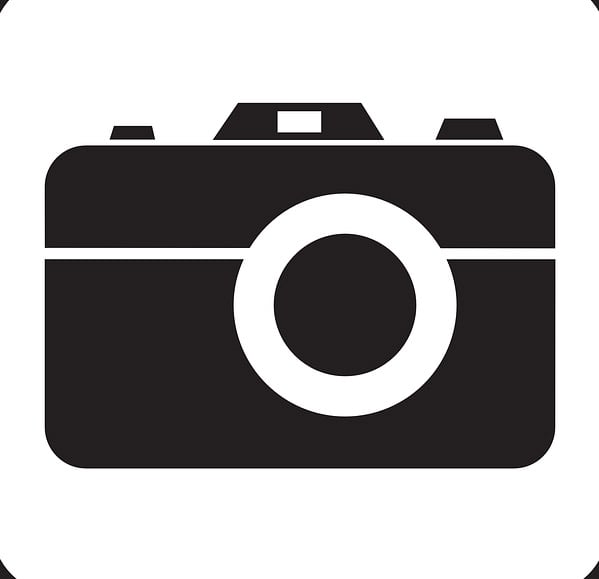 Related Articles