Ben Nevis is the UK's tallest peak and is located near Fort William in Scotland. The mountain reaches up to 1,345 meters and hiking to the top is a popular challenge. If you're thinking of hiking Ben Nevis then read below about what it's like and our experience. We've also included lots of pictures to give you an idea of the terrain. We didn't have the best weather though so we'd also recommend seeing some of the pictures on visitscotland.com which are a bit brighter and nicer.
Disclaimer: This article is based on our own experience during the Autumn months and is by no means official safety advice. Visit the official Ben Nevis visitor website for more information.
---
How long does the Ben Nevis hike take?
You'll be looking at around 4 hours up the mountain and then another 2.5-3 hours down. You may think coming would be much quicker, however, due to the nature of the terrain that is definitely not the case. You'll have to tread carefully especially if it's wet as the path is rocky and would be slippery. More below on this.
---
How fit do you need to be to hike Ben Nevis?
Ben Nevis is definitely not an easy hike and you should have at least a moderate amount of fitness. Such as being able to walk for long periods and at an incline. You will also need the determination to keep going and to get to the top.
During our hike we saw people towards the top that didn't appear super fit, as well as children and some happy dogs too.
ADVERTISEMENT
CONTINUE READING BELOW
---
The Mountain Track
There are two routes up the mountain but this article is based on the Mountain Track or Tourist Route which starts at the Visitor Center at Achintee. The route is 17 km long and has an ascent of 1352m. There are not signs all the way up but the path under normal conditions is pretty easy to follow. Towards the top you'll also find large rock cairns which can also help guide you in bad visibility. Other ways to ensure you stay on the route includes using a GPS based app such as the one on AllTrails, as well as taking a map and compass.
For those interested, the other and more difficult route is Carn Mor Dearg Arête.
The terrain
The route up Ben Nevis zig-zags up the mountain. There isn't particularly any really steep sections although you'll be constantly going upwards. There are even occasionally some flat bits. The path consists of large rocks and sometimes these can be quite uneven, which means you'll have to take your time to stay safe. It also often feels like you are constantly going up steps.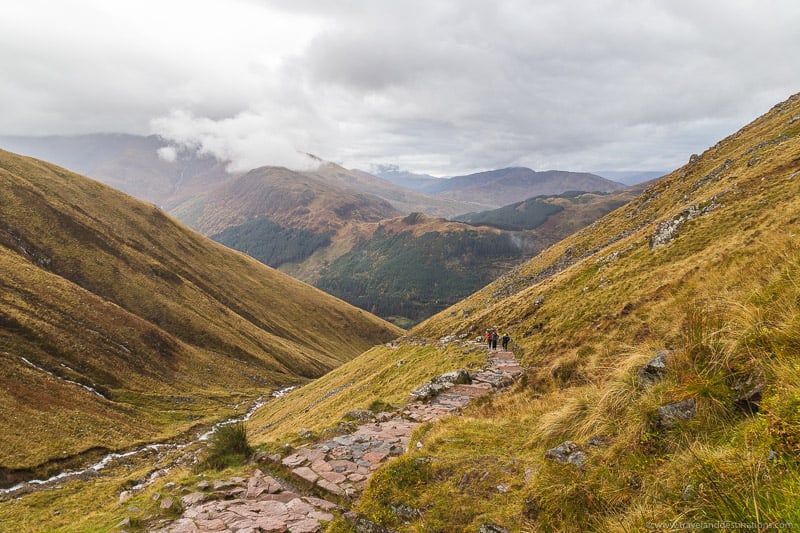 Waterfalls and streams
You'll also be passing over streams and waterfalls during the Ben Nevis hike. We even filled up our water bottles using some of this water, as well as splashed some on our face. As you might expect it was very refreshing*. You will have to walk across some of the waterfalls/streams so we'd recommend wearing waterproof boots. There is also a larger waterfall/stream which appears quite daunting from afar, but once you get to it it's not too bad and easy to cross.
*Disclaimer: we don't know for sure how clean the water is. Your decision to drink the water is your own.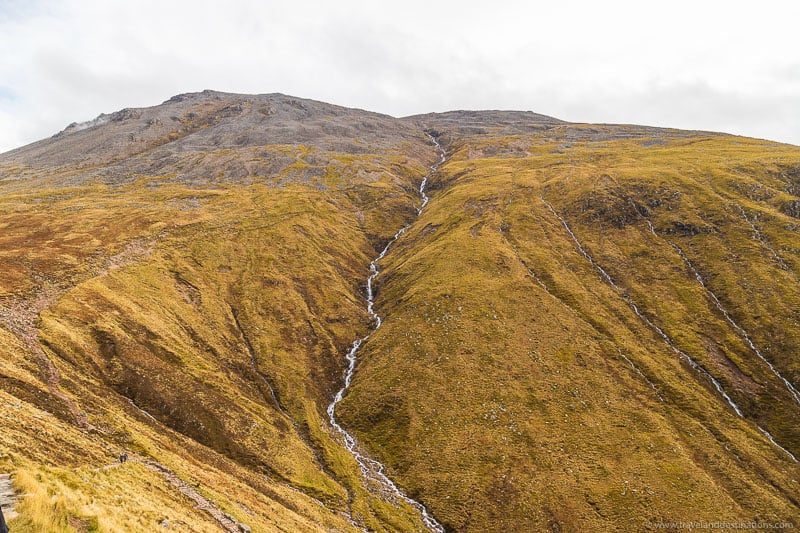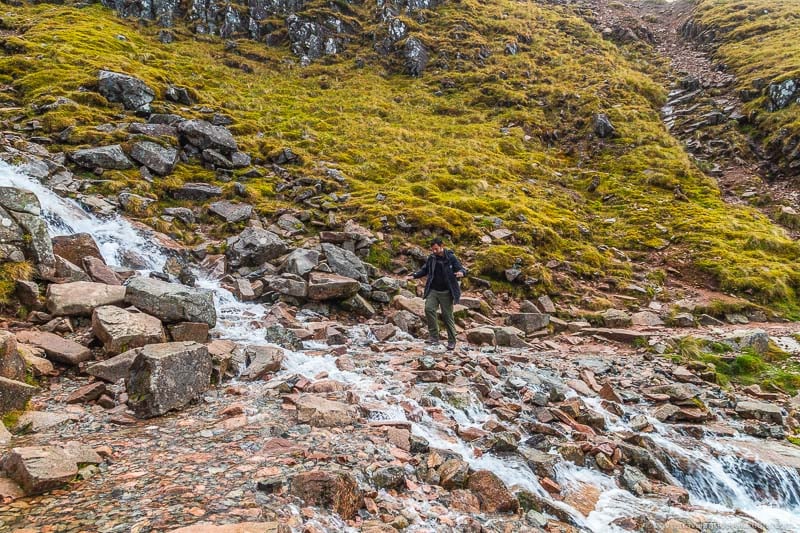 Tough sections
There are some particularly tough sections, more so around an hour from the top, not long after you've passed one of the main streams/waterfalls that flow down the mountain. You may find this part of the track particularly rocky and challenging to walk along.
Range of weather conditions
Being a large mountain you can expect a range of weather conditions. This means you'll want to be well prepared. During our autumn hike we experienced a bit of rain, some sun and even clear views for a large part of the hike. But towards the top we were under a layer of fog and also saw snow. We had to sometimes remove or add layers, as well as hats and gloves. One thing you definitely would want is a waterproof and windproof coat as an absolute minimum.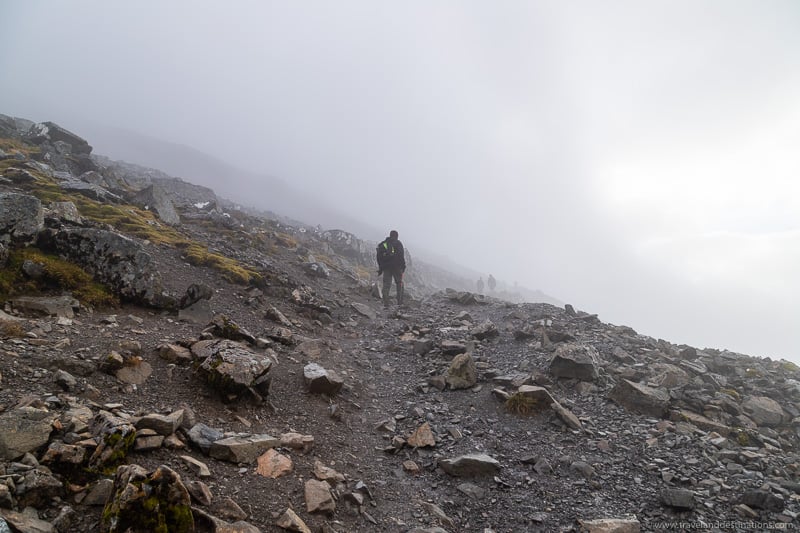 The views
As you hike up Ben Nevis and if you have good conditions then you'll get to enjoy some great views of the surrounding landscape. Including of other mountains (Munros), lakes and nearby towns.
The summit
The summit was a bit of a surprise and you almost don't know you're there as there wasn't a sign with Ben Nevis 1345m or anything. There was a platform with a pointer which appeared to be the finish point. The view wasn't particularly great, but it did feel like we were in the clouds and we made it, so there was definitely satisfaction in that respect.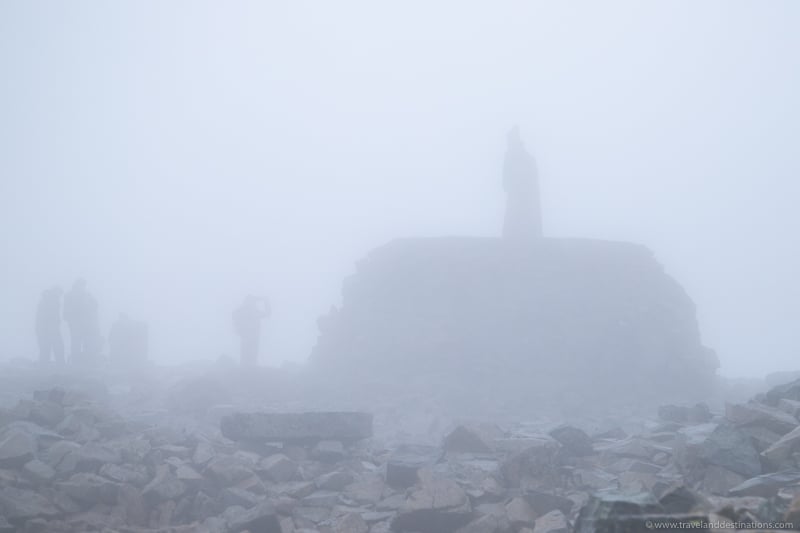 ADVERTISEMENT
CONTINUE READING BELOW
---
Tips and recommendations for Ben Nevis
Pack for varied weather
Bring plenty of snacks
Bring water in a reusable bottle (you can fill up from the waterfalls if you wish)
Consider hiking poles to assist you
Check official safety advice before you start
Use a map and compass and/or a GPS app
---
Hiking Ben Nevis in heavy wind or rain?
We'd suggest avoiding the hike during heavy wind or rain, as some of the sections are very exposed. As well as this there are a lot of rocks which would become extremely slippery and coming down could be a nightmare. Check the local forecasts and also at the Visitor Centre before you start. Also, note that if the conditions are horrendous and it feels unsafe then there's nothing wrong with turning back. The mountain won't be going anywhere and your safety should come first.
---
Recommended kit list for Ben Nevis
Windproof coat
Waterproof trousers (depending on the forecast)
Hat and gloves
Comfortable hiking boots or shoes
Backpack
Extra layers
Water bottle
First aid kit
Fully charged phone
Your camera
Hiking/trekking poles
---
Hotel suggestion
During our visit we stayed in Nevis Bank Inn which is only a 3-5 minute drive from the start point. The room we had was spacious with a large bed. The hotel also offers packed lunches and serves a good evening meal too (paid service). We'd definitely recommend the hotel and would stay there again.
---
Summary
Ben Nevis is a fantastic challenge and we'd definitely recommend doing it at least once if you can. For more information and to plan your hike we'd recommend visiting highlifehighland.com/bennevis and visitscotland.com/see-do/iconic-scotland/ben-nevis.
Related Articles