Bohemian Switzerland is a beautiful destination in Czech Republic and to the north of the country. The region consists of mountains, hills, rock formations, gorges, and amazing foliage. Lots of people get confused thinking it's in Switzerland, but it's not. It has "Switzerland" in its name because in the past two famous Swiss painters Adrian Zingg and Anton Graff, who was studying in Dresden visited the park to paint it, and the park owners at the time gave it that name.
The highlight of this region is the Bohemian Switzerland National Park, which is in the Czech Republic and joins onto Germany's Saxon Switzerland National Park.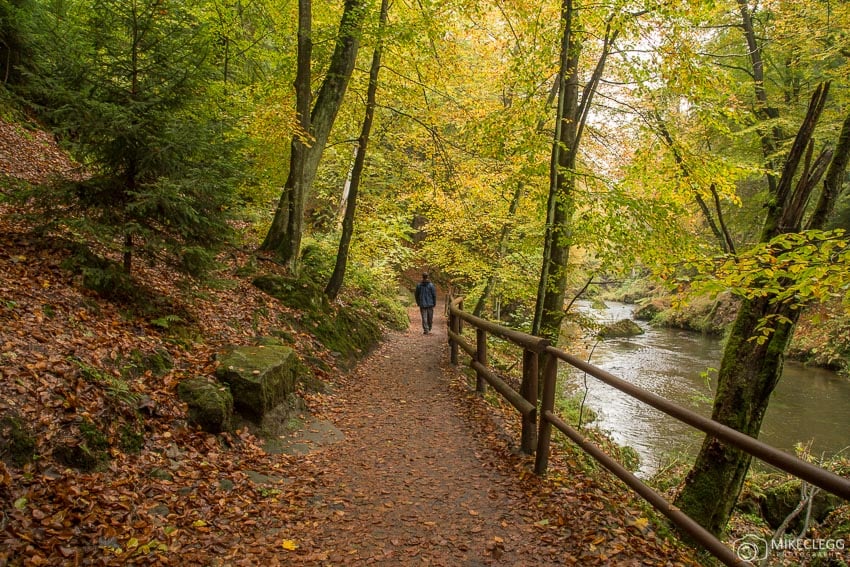 ---
Hiking Tours with Northern Hikes
One of the best and easiest ways to visit Bohemian Switzerland is to go on a hiking tour. Northern Hikes are a company that provides this service and they offer different hikes from a main 16km hike, an easier 7km hike, photography workshop, a helicopter tour and various others.
During my visit, I had tour guide Marek who was showing me around and he was awesome, knowledgeable and very friendly. I also asked what kind of ages ranges they get on these hikes and Marek hold me they've had people as young as 7 and as old as 82, so you could say there are hikes for everyone.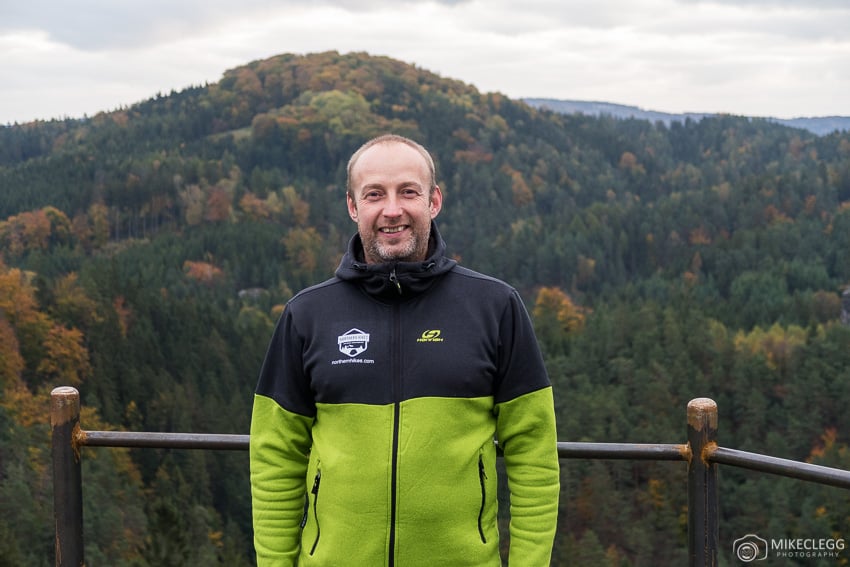 What You Get
The standard options available with Northern Hikes include:
Pickup and drop off from your hotel in Prague. The mini-bus also includes WiFi.
An experienced guide
Entry to the attractions
Water and snack
Lunch which also includes two drinks
Northern Hikes also provide:
Waterproofs should it rain
Hiking sticks
Blankets, hats and gloves if it's cold
Spikes for if there is snow and ice
Standard Hike
This hike consists of a 16km route and would be well suited to those who have at least a medium level of fitness. There are several inclines, especially at the start but after that it's not too bad. As part of the hike you'll be going on scenic walks through woodland areas, get to see breathtaking views across the park from the many viewpoints along the way, and then relax on a beautiful boat ride along the river which weaves through a gorge.
Some of the things this hike includes:
Hiking up to Pravčická Brána (Pravcicka Gate)

Experiencing the First Zone which is only 7% of the National Park
Walking along beautiful tree-lined trails
Lunch at a tasty Czech restaurant.
Taking a boat ride along the River Kamenice and 

Edmund 

Gorge
Read more on this hike: northernhikes.com…bohemian-switzerland-from-prague
Easy Hike
For those who aren't as confident in their fitness, or are new to hiking, you could also consider going on the Easy Tour which is a shorter and easier route with less hiking (7km). You also visit Saxon-Bohemian on the German side, as well as parts of the Bohemian Switzerland Park on the Czech side. This hike would be great for families.
Some of the things this hike includes:
A boat ride along the Kamenice River and Edmund Gorge

Views over Elbe Canyon
Lunch at a delicious Czech restaurant.
Bastei Bridge and the Neurathen Ruins
Read more on this hike: northernhikes.com…easy-tour-with-boat-ride-and-bastei-bridge
---
When to Go
You can go on hikes all year round, even in the winter. Personally, I think the best time to go would be in the autumn, when you'd get those beautiful autumn colours, or in the spring before it gets too hot. If you are visiting and using Northern Hikes during the winter, then keep in mind the hikes do change a little as certain areas may be closed. Visit their website or contact them in advance if you plan to visit during this time.
---
Going Alone
You can visit the parks independently, and if you do then make sure you do your research on routes and also closing times for certain areas. Such as the Pravčická Brána closes around 1800. When I was there some other hikers didn't appear to have checked this, as they were just making it up to the gate and as it was closing they couldn't get in. You would also need to hire a car to get around, although there are parking spots towards the start of the hiking trails.
ADVERTISEMENT
CONTINUE READING BELOW
---
Highlights of Bohemian Switzerland in Czech Republic
There are various areas around the Bohemian Switzerland National Park that are worth visiting. Some of these are included on the standard hikes and some on a special hike called the "Active Hike". Below you'll see some of the places I visited. If there is something you'd want to see, get in touch with Northern Hikes and see what they can do.
Pravčická Brána
One of the highlights in the Bohemiam Switzerland National Park is to visit Pravčická Brána (Pravcicka Gate) which is at around 415-400 meters above sea level. At the top, there is an arch geological feature which has an inside height of 16 meters and also an old chateau built in 1881. This chateau is called Falcon's Nest. Around this area are a few viewpoints that you can climb up to where you'll get the most amazing views of the park, see further below for a picture.
More info: www.pbrana.cz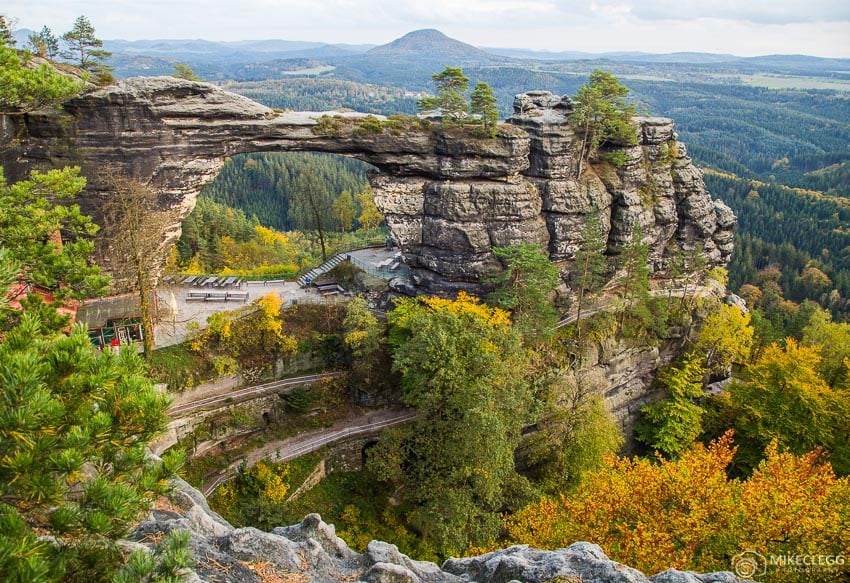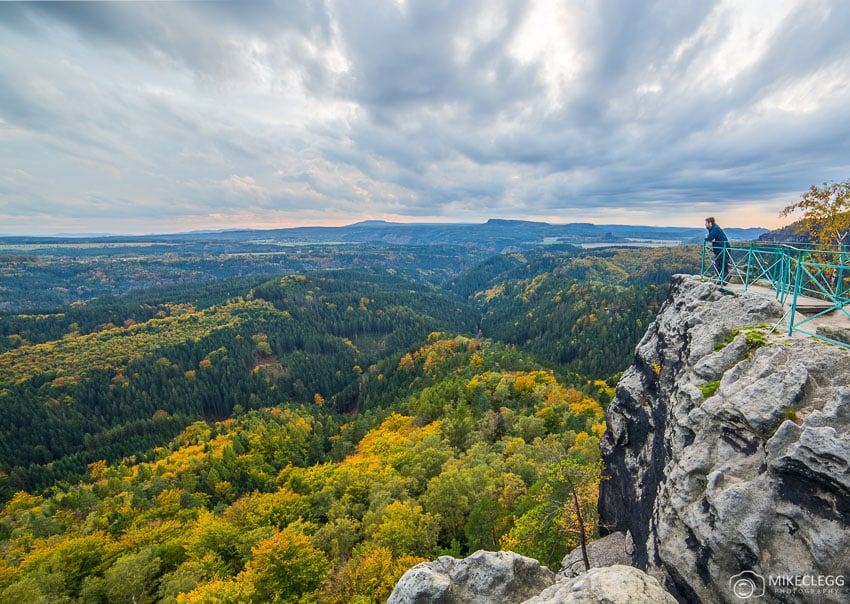 Gabriela's Trail
Leading from Pravcicka Gate is Gabriela's Trail. This is a tree-lined route and as you walk it often opens up to even more amazing views over the park.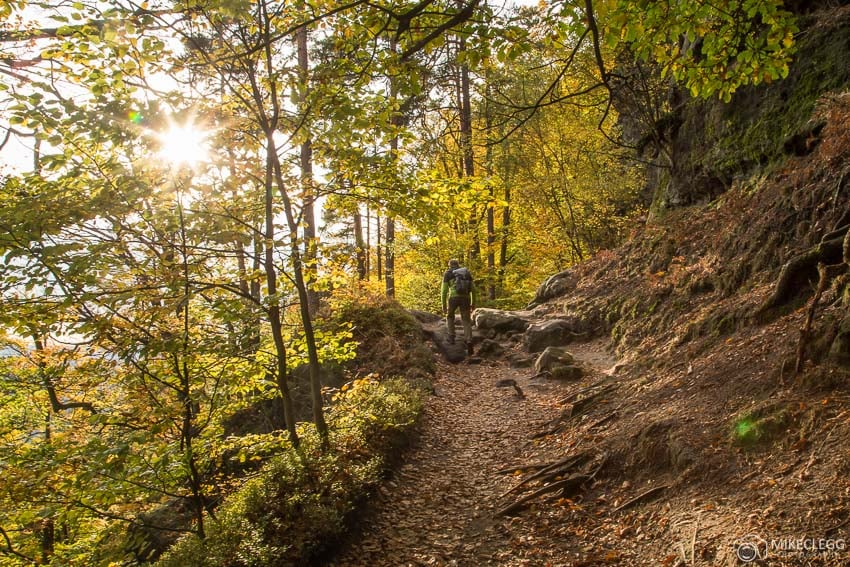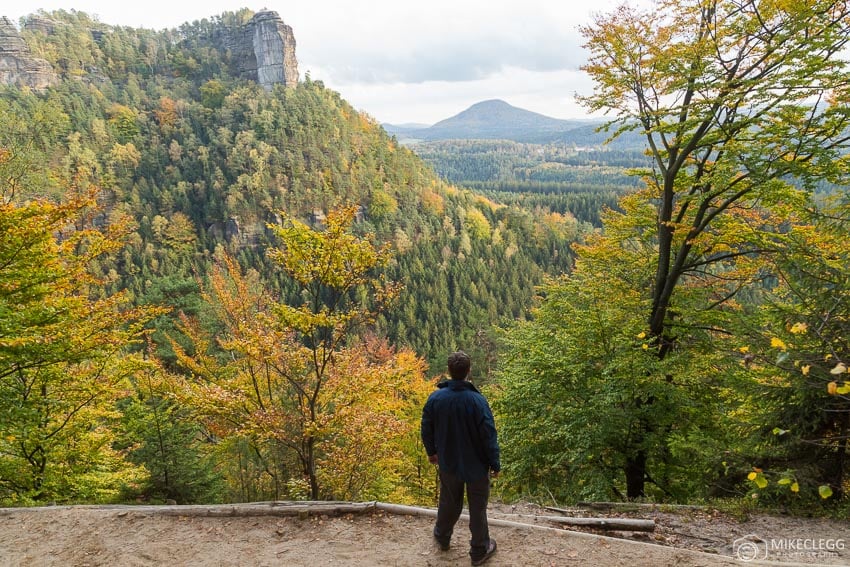 Gorges and the Kamenice River
Lower down in the valley and towards a small town called Hřensko is the Edmund Gorge and river Kamenice. The gorge is made of sandstone and was created over 100 million years ago. Lining the sides of the gorge and river is beautiful and vibrant natural foliage, such as trees, lichen and moss.
One of the must do things in this area is to go along the river on a 20-minute boat tour. This involves being guided along a 960-meter section of the Gorge and River by a gondolier. During the tour, the guide will point out different features on the rocks. Such as there is a "family" which consists of the shapes of a Mother, Father, Four Daughters and a Grandmother. There was also a Zoo, and one of my favourites looked like a Teenage Mutant Ninja Turtle face. You'll see a picture of this below. This tour was actually in Czech and German, but my tour guide Marek translated for me.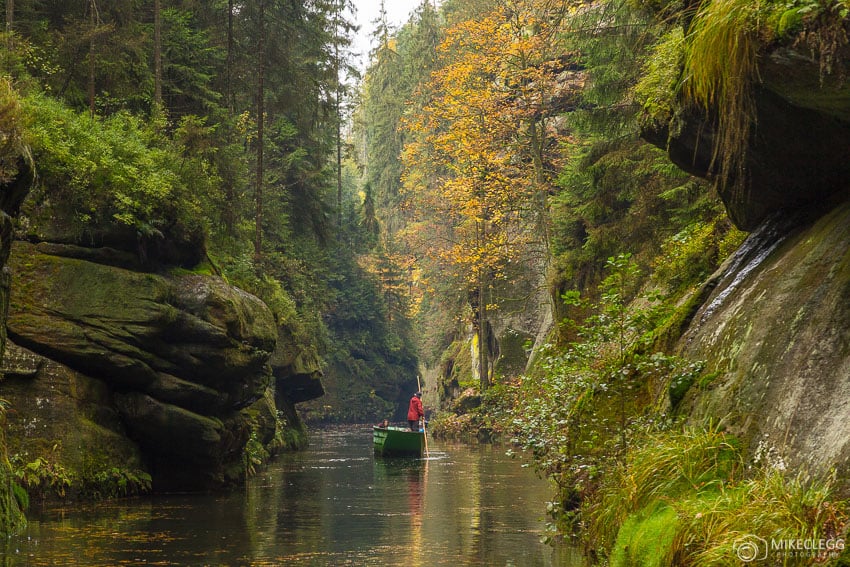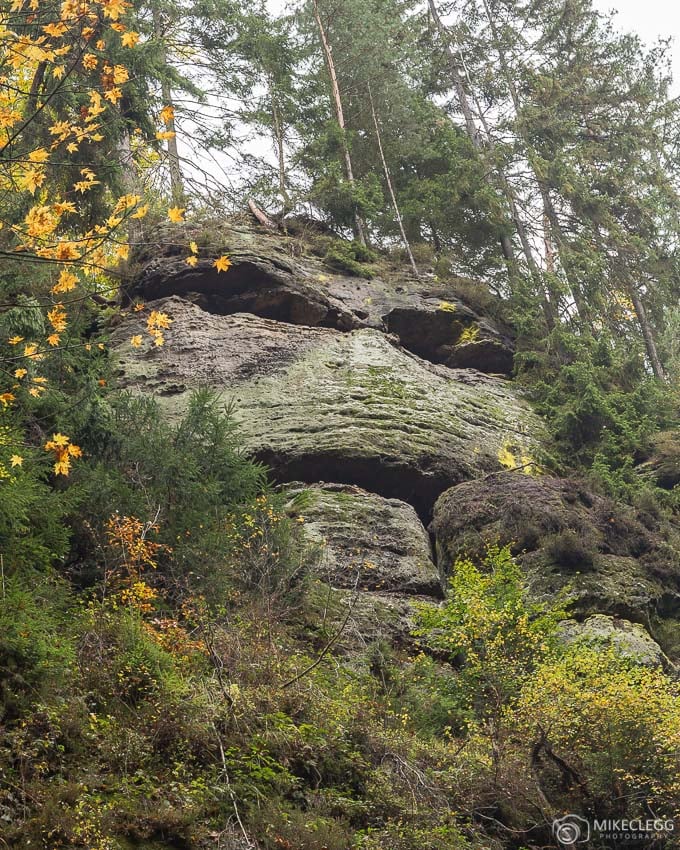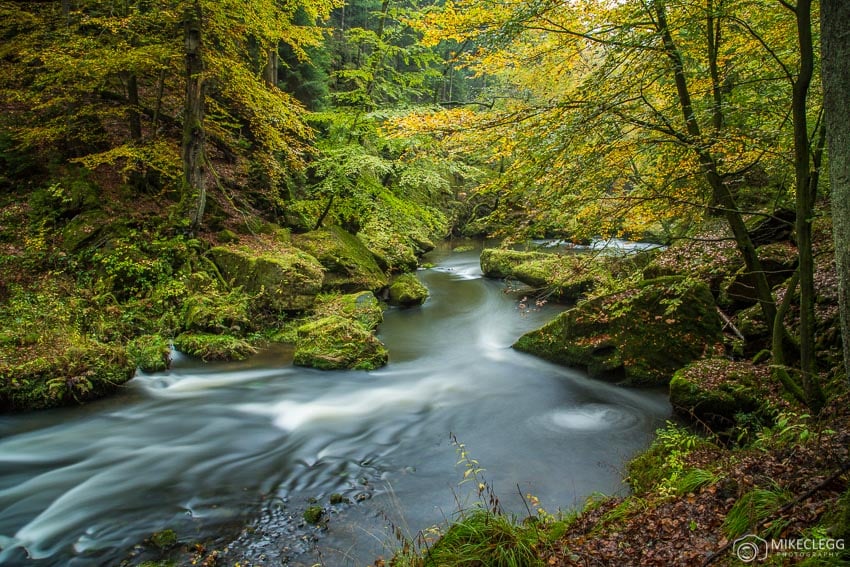 Mary's Rock
A nice place to go for picturesque views and potentially get sunrise pictures is at Mariina Skala (Mary's Rock), which is at an elevation of 428 meters. To get here you would start from near "Jetřichovice".  Climbing up is pretty tough with more than 600 steps on a steep incline, so it's good to be aware of this if your fitness isn't great. Once at the top there is a small hut that was built in 1856 and it is good to sit down and relax there while you catch your breath.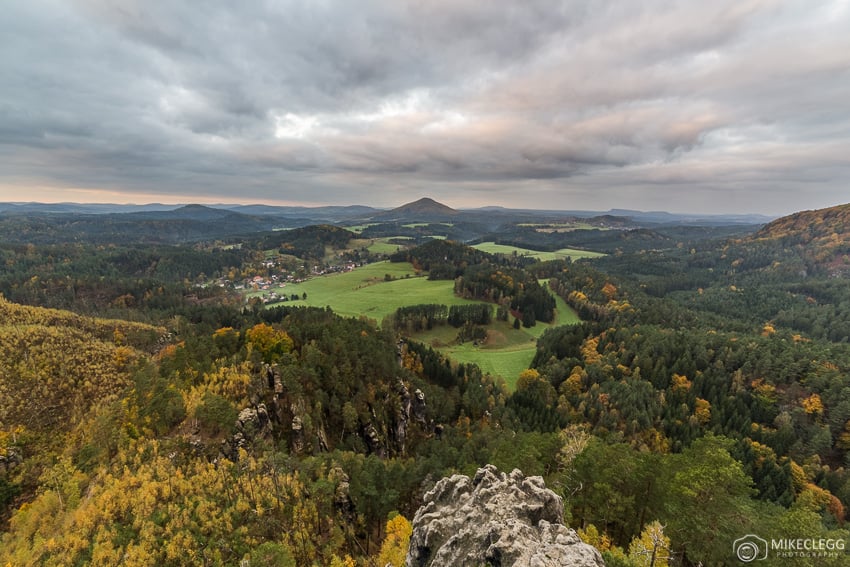 Saunstejn Castle
Saunstejn Castle used to be the place of a small castle in the 14th Century and is at an elevation of 340 meters. Now just the rocks it stood on remain. As you climb up to it you'll be squeezing through rock crevices and going up steep ladders and I found this heaps of fun. If you are visiting then a good place to start is from "Vysoká Lípa" which is a small village nearby.
Tisa Rock Labyrinth
The rock labyrinth in Tiské stěny is pretty spectacular and was one of the filming locations for the Chronicles of Narnia movie. As you walk through the passageways and caves you'll feel small and dainty among the rocks, it's amazing that these were formed naturally over millions of years. As well as exploring from the bottom there are certain sections where you can climb up to the top. Here you'll get incredible views and it's a top spot to visit at sunset. Another popular thing to do in this area is to climb the rocks and I saw several professional climbers with their gear on doing just this.
More info: turistika.ceskesvycarsko.cz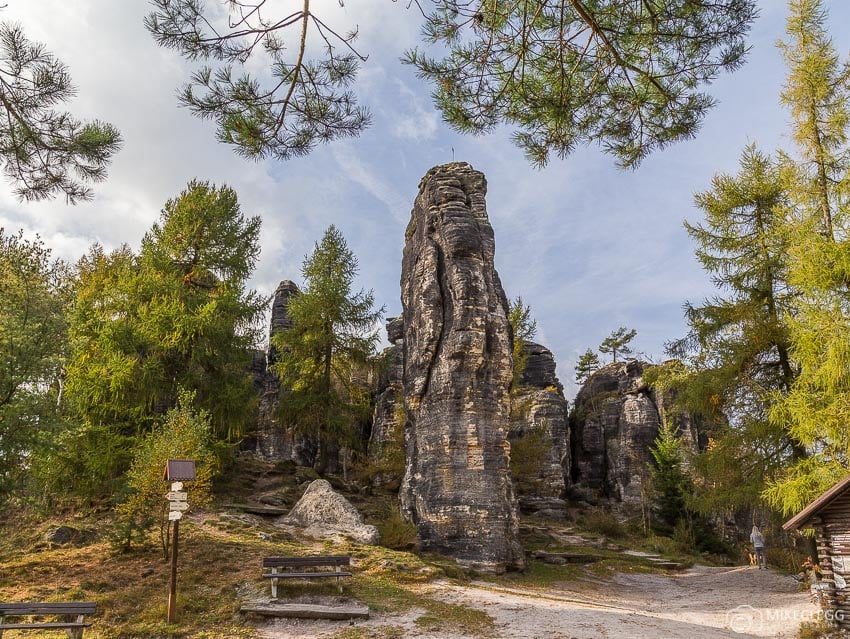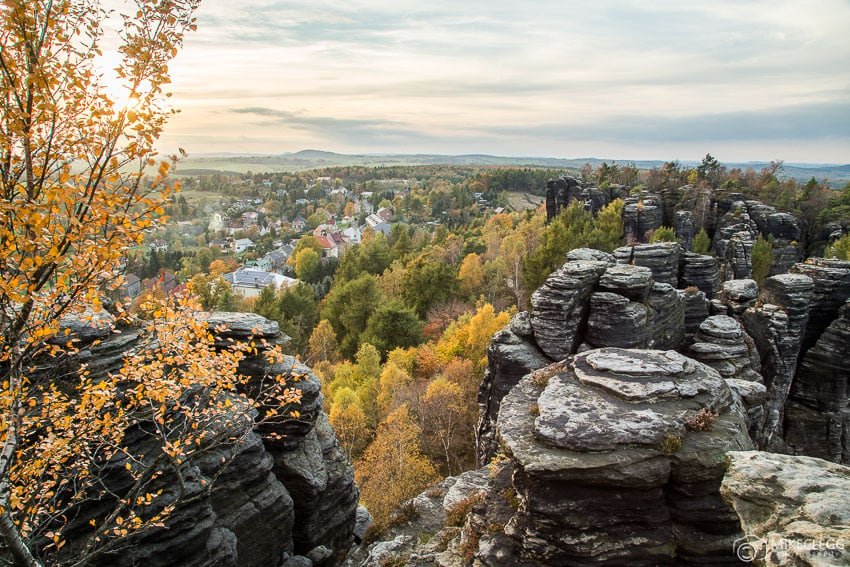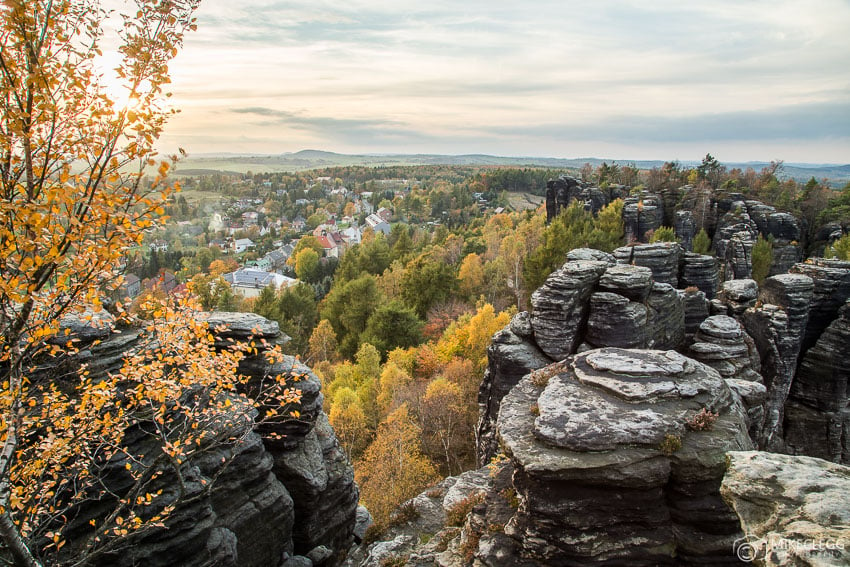 ADVERTISEMENT
CONTINUE READING BELOW
---
Places to Eat
During my visit to Bohemian Switzerland, I ate at one of the locations along the hike and also the hotel I stayed in. You'll find a little more below.
Fořta Restaurant
Along the hiking route that you'd take with Northern Hikes you'd stop at the restaurant Forta, which is in a small village called Mezni Louka. I had the duck confit and some local beer and it was very tasty and filling.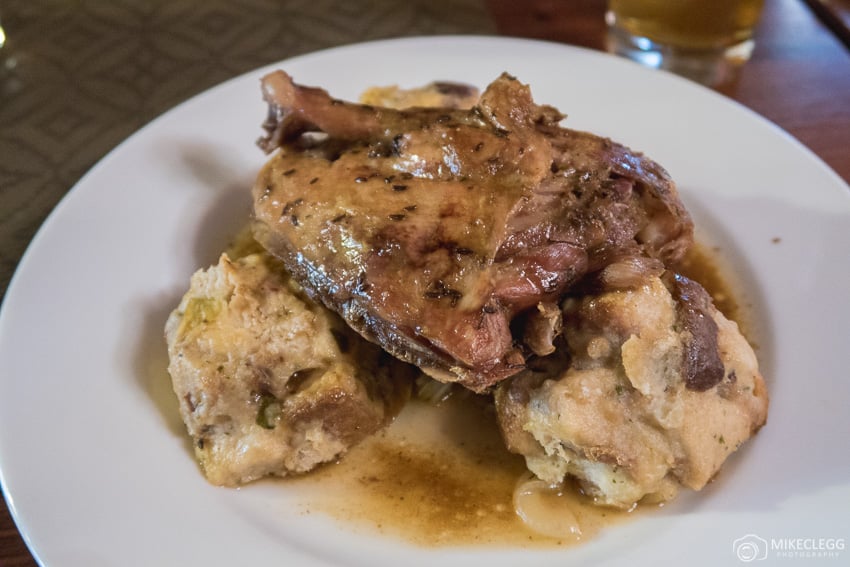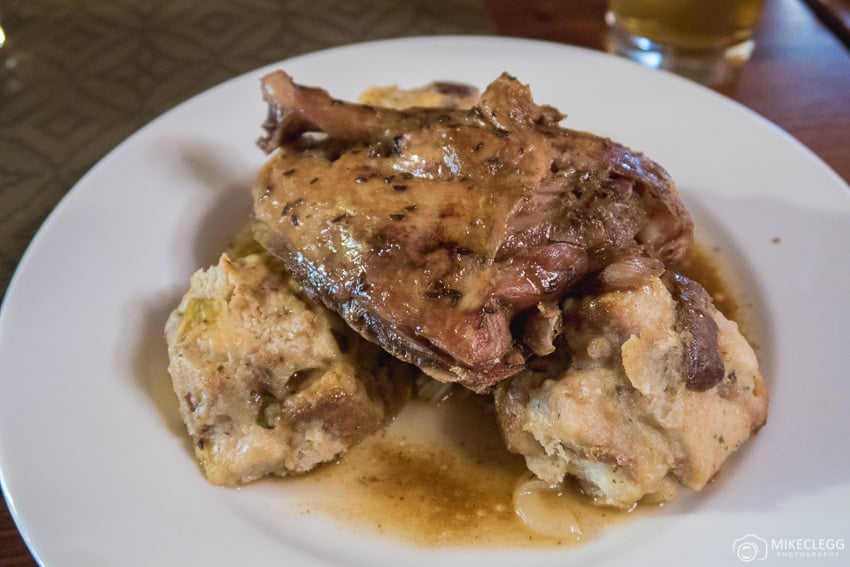 Na Storolci
I also stayed over for the night at Na Storolci (more below). Here I ate my evening dinner and choose a region dish which was oven baked chicken drumsticks and that came with gooseberry sauce and dumplings. I also tried their "Fox" beer which they brew locally and you can only get at that hotel/restaurant. The beer was pretty good and very refreshing.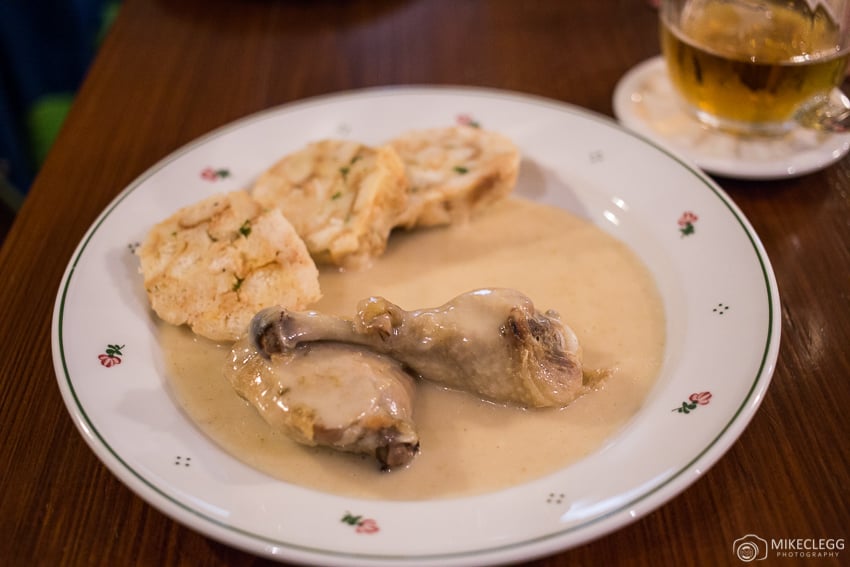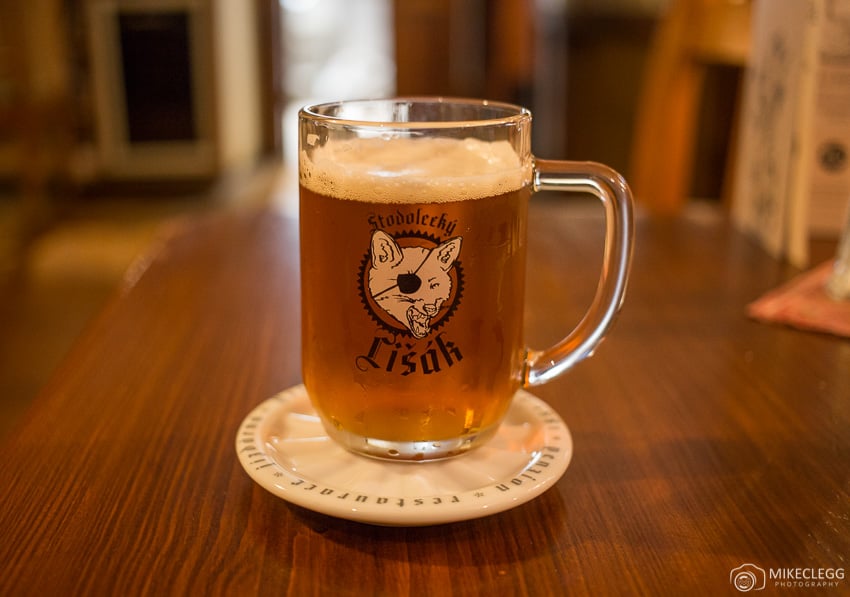 ---
Where to Stay
An amazing place to stay is Na Storolci (also mentioned above) where you'll get to enjoy some of the most delicious food and local beer. It appeared very kid-friendly with an outside playground, a play area near the restaurant and also lots of farm animals outside. Such as ducks, goats and horses. The room I stayed in was also super cute and cosy! I really loved this place and although I only had one night, I wish I could have stayed longer.
Head to: www.nastodolci.cz to read more.
As many tours of Bohemian Switzerland National Park are available from Prague you may also want to stay in the city and travel from there. You can start your search for places to stay via this map: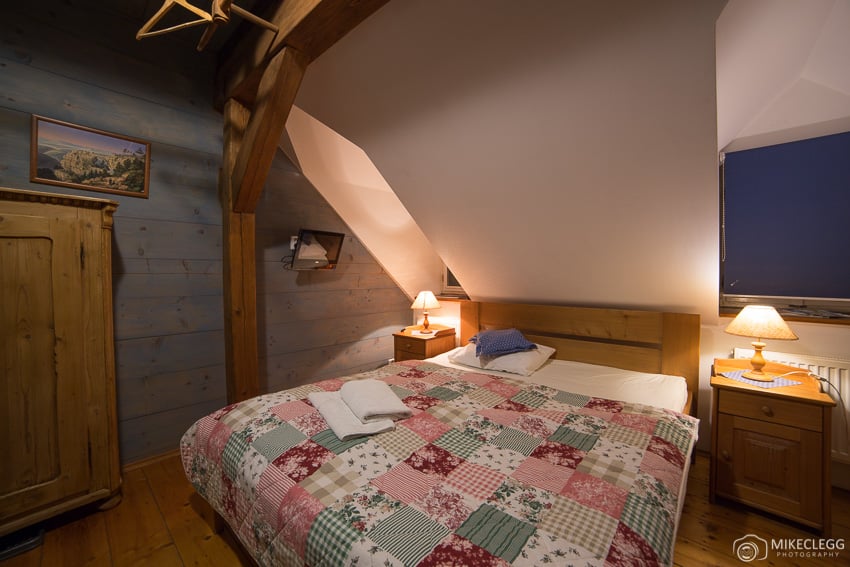 ADVERTISEMENT
CONTINUE READING BELOW
---
Summary
I thoroughly enjoy the hike about Bohemian Switzerland and getting to know more about this area. I would say I was taken aback by just how beautiful and scenic this region of Czech Republic is and it's definitely a place I'd want to revisit. Maybe even in other seasons throughout the year.
More info
Official tourism website: czechtourism.com
To learn more about Bohemian Switzerland head to ceskesvycarsko.cz/en/bohemian-switzerland-national-park.
Disclosure: My visit to Bohemian Switzerland was in partnership with Visit Czech Republic Tourism and Northern Hikes. Opinions based on the experience are my own.
Related Articles