Hong Kong is a large and dense city in East Asia, which you'll find on the Southeast coast of China. The region was previously a British Colony but became a Special Administrative Region of the People's Republic of China in 1997.  It is an autonomous region meaning it runs externally from China, with its own government and many of its own rules and regulations. The region runs under a principle called one country, two systems, and isn't completely independent from China.
The Hong Kong region covers an area of 1,106 square kilometres and is split into three main zones, Hong Kong Island, Kowloon and New Territories. The city is like a concrete jungle and throughout Hong Kong Island and Kowloon you will find tall skyscrapers jutting up all around. Despite how dense the city is, it has been well developed, with plenty of restaurants, accommodation and getting around is extremely easy. The transport system has been designed to cater for a large population and during my visit even when it was busy it felt like everything kept moving smoothly.
Hong Kong is the kind of city that could be visited for a long time, ie over a week, or for shorter periods such as 48-72 hours. In this guide, you will find suggestions on things to do during your visit, suggestions on places to eat, destination photography tips and more.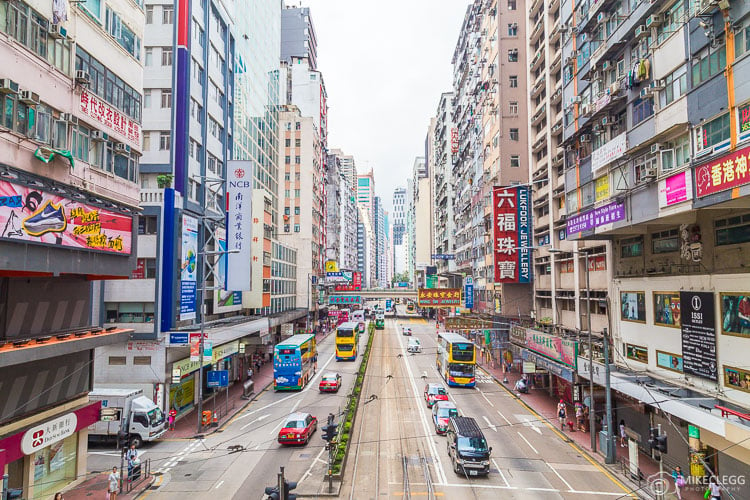 ---
Things to see and do
Hong Kong is pretty big and you may find it hard to get that much in during a short space of time! During my visit which was only a few days, I managed to squeeze a lot of the main attractions in, and also a few of the lesser-known sights. Here are some of my favourite things I did during my visit. Head to my other post Top Things to See and Do in Hong Kong for more ideas.
The Peak Experience
A great place to see the Hong Kong skyline is from the Peak, and a fun way to get up there is to take the Peak Tram. Once you get to the top you should then head to the Sky Terrace 428 where you'll get incredible views and be able to take perfect skyline photographs.
You could visit this viewpoint both at day or night, however seeing it close to sunset may be one of the best times, as you'll then get to experience the city in a different light.
Address: 33 Garden Road, Central, Hong Kong
Website: thepeak.com.hk
Ten

Thousand

Buddha

s Monastery
An incredible temple and must-visit is the Ten Thousand Buddhas Monastery. As you climb up you'll be passing lots of  Buddhas statues in various poses. At the top you will find the main monastery which has 12,800 Buddha statues lining the walls. As well as the impressive temples and pagodas you will be able to enjoy the views out from the monastery.
Price: Free
Address: Lots 358-359, Sha Tin
Website: 10kbuddhas.org (non-english)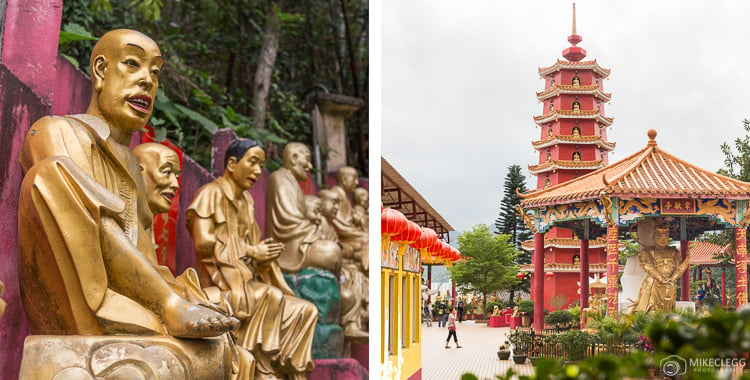 Sky100 Observation Deck
Another great viewpoint in the city is from the Sky100 Observation Deck. This is in the ICC building which is one of the tallest buildings in the city. Consider coming up around sunset to early evening for the best light.
Price: HKD151 (Adults), HKD106 (Children) online price
Address: 100/F, International Commerce Centre, 1 Austin Road West, Kowloon (Enter through Elements Mall)
Website: sky100.com.hk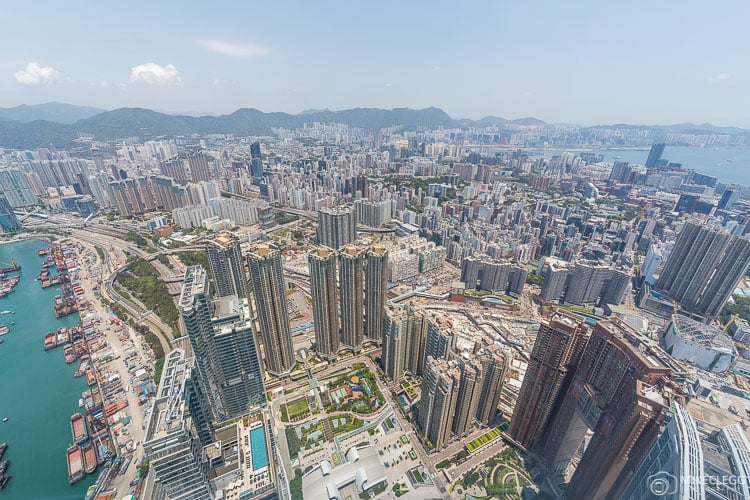 ADVERTISEMENT
CONTINUE READING BELOW
Goldfish Market
There are several cool streets around the city with Goldfish Market being one of them. Along this street you'll find stores selling fish and various other animals to purchase. However, don't buy anything like this if you are a tourist as you'd never be able to take it with you.
Address: Goldfish Market, Mong Kok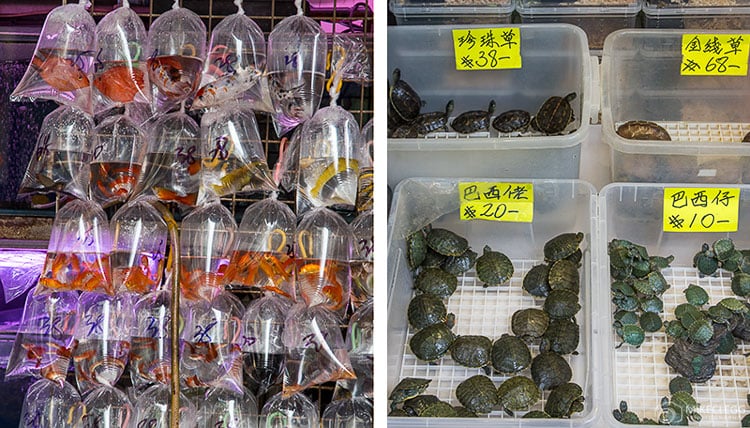 More things to do
For lots more ideas of things to do in Hong Kong visit Top Things to See and Do in Hong Kong or www.discoverhongkong.com.
Tours and activities
Here are some tours and activities for Hong Kong. Click the blue-button to see more options.
---
Places to eat and drink
Food is pretty cheap in Hong Kong and you will find restaurants everywhere. With your meal, you will often get Chinese Tea served automatically for a small fee. Being a big fan of hot drinks and tea I liked this experience. Prices of food can range from around 30 HKD to over 200 HKD for more expensive dishes.
Mak Man Kee Noodle Shop – This noodle shop is quite small and cute and serves delicious soups such as Wonton Noodle. The restaurant has even hosted guests such as Anthony Bourdain. I did find the portion size a little small so I would recommend more a small lunch or snack. Website: mmk.hk | Recommended for: Snacks/lunch/Casual
Wong Chi Kei, Causeway Bay – From the street you take stairs up to the restaurant which is located on the first floor. The restaurant is nicely designed and would make for a nice evening dinner out. The food was great with generous portions and I would highly recommend this restaurant. Address: Wong Chi Kei (黃枝記), Causeway Bay | Recommended for: Lunch/dinner/Casual

Dim Sum Square – For those that love Dim Sum this spot is a great choice. It can get quite busy so you may have to potentially wait for a table. When ordering you select a range of dishes on a list and it comes pretty quick. They also provided regular top-ups of Chinese Tea. The design is very casual so wouldn't suit those wanting a post-dinner out. Address: Dim Sum Square, Sheung Wan, Hong Kong | Recommended for: Lunch/Casual
Ding Dim 1968 – The food at this restaurant was pretty good, with a nice menu selection. The restaurant isn't big and not a posh place, but would be a great good choice for those wanting some tasty Hong Kong food in a typical restaurant. Website: dingdim.com | Recommended for: Snack/Lunch/Dinner/Casual
Various Restaurants at the Islands Shangri-La – The Island Shangri-La has eight restaurants serving a variety of cuisines. Including Summer Palace, a two-star Michelin Restaurant which serves Cantonese, Lobster Bar and Grill serving seafood, and various other restaurants. Head to the link below and then click on the logos to find out more. Being a posh hotel these restaurants would suit those looking for a fancier dinner experience in a beautiful restaurant and with the best service. Website: shangri-la.com/hongkong…dining | Recommended for: Lunch/Dinner/Posh/Romantic
Street food near Temple Street Night Market – I found near Temple Street Night Market (at night) were lots of outdoor street food places to eat. These were serving fresh seafood and many other dishes. I'd already eaten when I discovered this area but it looked really good. Address: Explore the streets around Temple Street, Ning Po Street and Woosung Street | Recommended for: Evening outdoors dinner/Casual
Other places to eat and drink – Have a look on tripadvisor.com.
---
Places to stay
Accommodation in Hong Kong isn't cheap. Even for a bed in a dormitory. For that reason try to book as early as possible. Below are a few places you could stay based on my experience or reviews.
Budget – Hang Ho Hostel (personal experience) – The Hang Ho hostel is located a short walk from Jordan Station on the MTR and I felt was very typical of Hong Kong accommodation. I actually stayed in a twin room which was small and also had a tiny bathroom attached. It was very clean though and I would recommend it if you wanted a low-cost Hong Kong typical place to stay.
Mid-range – Crowne Plaza Hong Kong Kowloon East (Based on reviews) – The Crowne Plaza Hong Kong Kowloon East has reviewed an average score of 8.5/10 for over 2300 reviews. If you look at pictures of the hotel it has a stunning design. The hotel is a little bit out of the central area, but due to being located close to a subway stop it wouldn't take long to get in.
Luxury – Island Shangri-la (personal experience) – For a top luxury experience stay at the Island Shangri-La, which is located on Hong Kong Island. The guest rooms provide you with fantastic views towards the Victoria Peak or Hong Kong Harbour. You'll also be able to eat good food at the in-house restaurants and relax at the outdoor pool. Read more and see pictures in my post here: Island Shangri-La Hong Kong.
You can also use this map to start your search for accommodation:
---
Getting around
Getting around Hong Kong is easy, between the airport and within the city.
From the airport
If you are flying in, a quick and cheap way to get to the city is to use the Airport Express line, which is part of the MTR. There are 3 stops from the airport and the adult prices are 60 HKD to Tsing Yi, 90 HKD to Kowloon, and 100 HKD to Hong Kong. The prices for children are much cheaper at 50HKD to the Hong Kong station. It takes around 24 minutes for the longest leg. Also, a day return was the same price as a single which is handy if you had to go back to the airport, for example to meet someone. I found the express trains very comfortable and the train even comes with WiFi (which was hit and miss) and also some charging ports.
Within the city
To get around the city the MTR (metro) works really well. It is cheap, fast and easy, with plenty of stations throughout the city. You pay as you go for single journeys and prices normally ranged from around 5HKD to 20 HKD. Make sure you have low notes or coins when using the machines, as they don't take more than $20 bills.
A good option for visitors is the tourist day pass which is 65HKD. You can only use the day pass for the main MTR which excludes the Airport Express line, trams, buses and also Lo Wu and Lok Ma Chau stations. When getting to a station there is often lots of exits so make sure you know where to go otherwise you'll easily get lost. For those staying for longer periods, you can also use an Octopus Card.
If you didn't want to use the MTR you could also use Uber or local Taxi's but you'll be paying significantly more.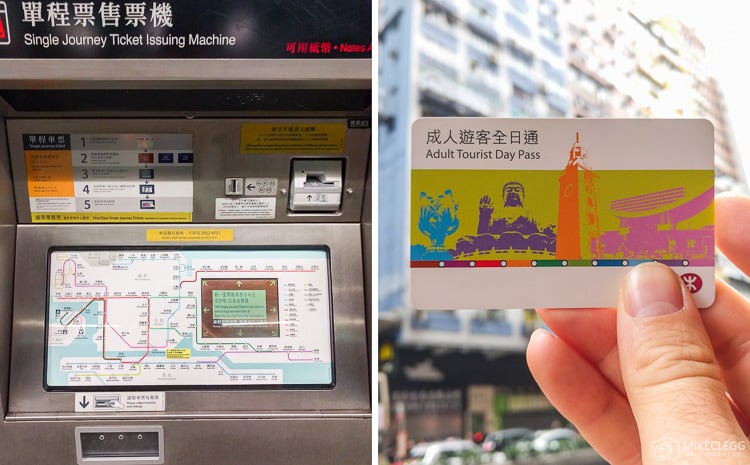 To read more about the MTR head to mtr.com.hk. If you want to see the subway map head to: mtr.com.hk…routemap.pdf
---
Hong Kong destination tips
Use the MTR to get around. It's quick and cheap and consider getting the tourist day pass 65HKD.
Research restaurants prior to visiting as you may be wandering around in circles otherwise.
If using Android download offline maps for Hong Kong to make your life easier.
Have cash available for restaurants as I didn't feel they all took cards.
If you plan on buying single tickets for the MTR, make sure you have small note and coins available which are $20 or less.
---
General destination info
Destination type: – City, Sightseeing
Currency: – Hong Kong dollar (HKD)
WiFi: – Hotels and some restaurants, attractions and bars
Emergency numbers:
Dial 999 for fire, police and medical
Arrive by air: – Hong Kong International Airport (HKG)
Language: – Chinese – English seemed good everywhere
Power supply: – The plug socket in Hong Kong was type G and 220v. When I travel I always take a Skross PRO World Travel Adapter adapter which ensures I can always plug in.

---
Hong Kong photography tips
For the Peak View the best position is actually slightly to the left from the exit where you'll get the curve of the trees around the city. Also, check the clouds aren't too low for visibility before heading up.
Head to the Yick Fat Building for the iconic lookup of the dense accommodation blocks. Here's my picture:
For skyline pictures of Hong Kong Island head to Kowloon Public Pier which is especially nice at night.
To capture typical Hong Kong scenes, head up to some of the bridges that cross the Hong Kong Island tram line, or even get on a tram and go to front of the top deck (if it's not busy).
Try including the typical Hong Kong Taxi's in your pictures too.
For more photography tips head to:
Photography Tips – Techniques for Capturing City Skylines
Ultimate Tips for Travel Photography
---
More resources
Sometimes it helps to take a guidebook on your travels. Below you will find a suggestion that is available on Amazon.
Tourism website: discoverhongkong.com
▶︎ More posts on City Breaks