When travelling to destinations around the world you will often need a travel visa. A visa is an authorisation to enter a country and often allows a visit for up to a maximum number of days. There are also different types of visa, such as for those looking to visit, or for those looking to work. Here are steps for finding and arranging your travel visa.
---
Step 1: Check the entry requirements
One of the first things you should do when planning and booking your travel is to check what the entry requirements are. This can very much vary depending on where you're from, where you're going to, and how long you plan to visit. For example, most nationalities in Europe can travel between other European countries without a travel visa. Even when travelling to some countries in Asia there is often a short term visa-free allowance. This might allow a visit for up to 30-days.
To check what you need if you're from the UK then visit gov.uk/foreign-travel-advice. If you're not from the UK you may find a similar website from your government. Another option is to use a site such as iVisa.com (seen below). This service will tell you for free what you need (if anything), and can often help you apply (for a fee).
Step 2: Check visa processing times
An important consideration before you travel is how long it takes for the visa to be processed. You should ensure you check this information before you book your flights, accommodation and other such things. If you do need a visa it might be that you can apply for an e-Visa online. These can sometimes be very quick to process, such as Canada's eTa visa which might be approved within minutes. However, this won't always be the case hence why it's so important to check.
Step 3: Check your passport
Before you apply for a visa you should check your passport. This means looking at the expiry date and making sure you have plenty of time left on it for when you plan to travel. This is often a minimum of 6 months. The reason you should be checking your passport is that often when applying for visas you will need to enter your passport number. So if you're going to need a new passport for when you travel your visa may only be valid for your old passport.
Step 4: Complete the application form
If you're lucky then you'll be able to travel visa-free to your destination. This means you can just turn up, fill out an immigration card and hand this to border control on your arrival. Should you require a visa then it might require you to complete an online form, or sometimes even a paper version which you will then need to send in the post or take to an embassy.
You can also use a service such as iVisa.com to help you complete your application. Such services do charge a processing fee but can sometimes make the process a lot easier.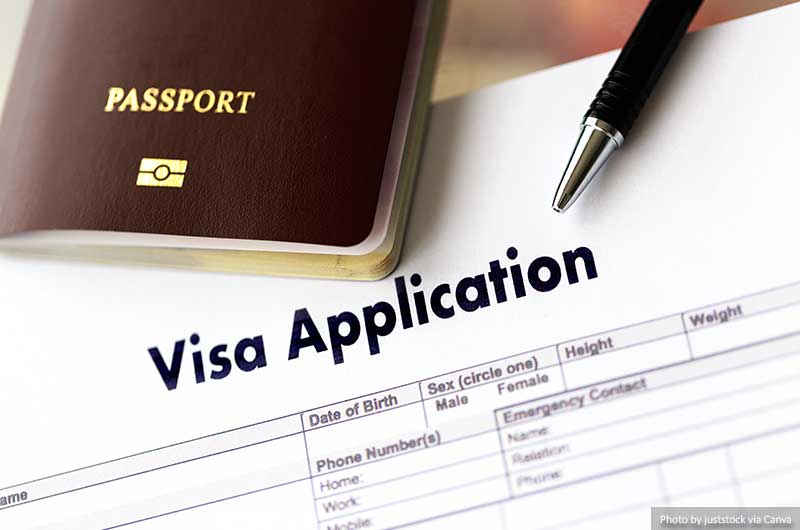 Step 5: Prepare any documents if required
Should you need to send off documents as part of your application, or even have documents that you need when you arrive, then make sure you have this ready. Such as some countries require you to have proof of insurance, income, or departure flights. You may also need a passport photograph and various other items. When checking the entry requirements these are all things you should check.
Step 6: Double-check and travel
The final step before you travel is to check your travel documents and even double-check online that the entry requirements haven't changed. This may be unlikely to happen, but it can avoid a lot of stress if you stay organised. This means that once you leave for the airport, you can just focus on enjoying your trip.
Summary
Travelling and visiting new places has been getting easier. For many countries, you can now apply for visas online and even get an e-Visa. This is a much nicer process than having to visit embassies or even send off your passport and other paperwork. This convenience makes travel much easier and is a huge time saver. By countries making it easier to travel internationally it is also beneficial for the destination, as tourism brings money into the country and helps create jobs.
Related Articles