Have you ever wondered what it's like to be a pilot and what travel opportunities you may get from this career path? In this article we hope to answer those questions with this exclusive interview with pilot and travel photographer Tom de Waart.
Please could you introduce yourself and tell us a bit about what you do?
"My name is Tom Franklin de Waart. I am a semi-professional travel and landscape photographer and a pilot based out of Hong Kong. I try to fly around the world not only for work but also on my time off. This allows me to capture the finest landscapes and those valuable travel moments. Capturing a place and showing its vastness is my goal and therefore sometimes I need multiple tries before getting the required result.
Besides having a stable career in aviation, I would like to achieve a bit more with my photography. For now my photos are more like a personal documentary without me in them. It's the world as I see it and I like to share that with the people that follow me.
Hopefully, I can take you on one of my journeys through social media."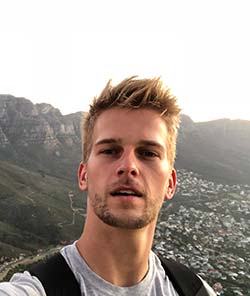 How did you get started in photography and Instagram?
"I started photography with my GoPro. I realised when I was in Hawaii that I lacked a real scale. A GoPro is an amazing gadget but for those unbelievable landscapes you need a DSLR. So I decided to get one. After talking to multiple people I realised getting myself an entry-level camera and eventually upgrading would cost me more money in the long run. Also, I was looking for a hobby which consumed time and needed creativity. So by buying a more expensive camera (D750) I basically forced myself to actually put the time in to get better and really start developing my photography skills."
How would you describe your photography style?
"I go through different phases. When I started the whole moody theme was quite popular. As a result, I developed a pretty moody theme as well.
However, as I progressed and got a bit better at editing and photography I tried to keep my photos a bit more natural. Such as highlighting the real colours and contrast. Therefore I try to use a lot of vivid colours. If you scroll through my Instagram page you can probably tell that for yourself.
I also like to use colour themes, so every now and then I use another colour as a base of my posts."
Why did you become a pilot and what was the process for you to get qualified?
"I became a pilot because I thought the lifestyle and travel looked very attractive. There is not a lot of jobs that require travel for work, but becoming a pilot nowadays is quite risky. This is because you have to pay a lot of money for training with not a lot of jobs prospects lying ahead.
I thought the training itself would be the most difficult thing, not realising that it would take me 2.5 years of networking and working really hard to get that dream job. It also took me two years of intense studies. It's a pretty full on programme, since we probably do as much work as somebody would to get a uni degree. Also, I actually did a university degree during my training as a pilot.
Getting qualified as a pilot takes passion and perseverance. However, if you enjoy what you do, you will get good at what you do, therefore your study/work gets easier as a result.
This job is just perfect for being a semi-pro travel and landscape photographer. Besides flying for work to amazing places, you also get heavy discounts on airline tickets (which is normally a holidays highest cost). As well as other deals, such as on cars and hotels for example."
What is your normal day like as a pilot?
"At this moment of my career, I only do long haul. Which means long flights to Europe, North America and another couple of routes. These normally take around 10 hours up to 16 hours.
Most of my flights depart after midnight which requires me to stay up at the other side of my body clock. Therefore when I am in Hong Kong I am mostly sleeping in quite late and go to bed quite late too. After long flights I normally get multiple days off.
As I am writing this I am actually enjoying 2 full weeks off (let's call it a two-week long weekend). Since I am doing a super compact roster which is when I do 2 return flights back to back. This will give me more days off after the flights but can also be quite tiring.
Normally on these days off I would travel to far exotic places, but I have family visiting in Hong Kong so I decided to show them around instead."
What benefits are there to being a pilot combined with your love for travel and photography?
"I explore a lot in the cities that I go to. Most layovers are quite short, and after a long night up and lack of sleep you have to be able to fight the sleep and to go explore those miraculous cities.
My job is basically all about how well you can manage your own body. It's a luxury to be able to see many great cities and take my camera with me. Before I fly to certain places I research on places to take photos.
When I fly somewhere for work I try not to overload my bag with gear, but instead just take the required lenses and other necessities. If I don't have the required lens with me for example, I know I will be back there on another work trip. However, on any other trip I normally walk around with all my gear. Just to make sure I'm not missing out on photo opportunities.
Sometimes we find ourselves on a long layover, which is normally the time for me to go to places a bit more remote. Actually, photography lets you make a lot of new friends with the same passion. Mostly travel and photography."
Which destinations have you been to that you've really enjoyed photographing?
"If I said some destinations where we fly to for work, then I'd have to say New York and San Francisco. These two cities offer so many cools spots and always the craziest light and weather conditions. Also, the variety of different photo subjects is uncountable therefore I never get bored to revisit.
If I have to say a destination that I have visited on time off, then I would probably say Namibia, Hawaii and Iceland. These places offer such amazing landscape shots and I often get flabbergasted travelling around them."
Which places are high on your list to visit?
"I would really like to visit the Dolomites sometime! Besides that I have a trip to the United States in mind; visiting all the national parks of Arizona, California and Utah. This is a lengthy trip and I'd probably have to split it up into 2 big trips. I also want to see more of Africa in the near future."
Do you have any tips or advice for someone wanting to become a pilot?
"Only do it if you have no other major goal. It's not something you should try to become and not give 110%. It's a risk you have to be willing to take and I do know guys that have never been able to find a job and actually do something else now.
But don't let that put you off. Because you should do what you dream of, and there are multiple paths leading to Rome. In my case, I had to do multiple aviation jobs and network at the same time.
Also, do not be lazy! You can not afford to have the attitude of thinking people will call you to work for them. You are responsible for your own luck.
If you choose to become a pilot it's sometimes better to go for quality training (which is more expensive). It's like a uni degree from Harvard or Cambridge. Aviation is a small world and good airlines definitely put value in well-trained personnel. This is because the basis of your flying career is put together when you start from day one of your course."
Could you share with us some of your best travel photography tips?
"Take a tripod. For lots of my landscapes I use my tripod, a remote shutter and my beloved Lee Filters which will give you that beautifully balanced shot.
Research your photography spots. How do I get there? Do I need to hike there, and if so then dress properly. Also, install the Photographers Ephemeris on your phone which will give you all the times of sunrise and sunset. Arrive an hour early to make sure you can put together your composition and gear.
If you stand next to another photographer, then have a chat! The most interesting people I have met just by that small talk. Also, there are always people out there with more photography skills and knowledge, so try to learn from them.
Take your time for a photo. You often don't get that impactful shot within the first 10 minutes. Sometimes it requires patience. For example, I went to Kyoto not long ago and the street was full of tourists. So by taking multiple shots over time I was able to put them together in post-processing and capture an empty street.
Last but not least, always take lots of batteries and cleaning equipment. Especially when weather conditions are rough. I had to rush multiple times to finish my photos since cold weather was draining my batteries like crazy, or that I stood outside in the rain with my gear. I also carry a raincoat for myself and for the camera."
Finally, can you share with us a few more of your images?
"I will give you all an exclusive preview from my latest trip, where I visited Guam, Palau and Hawaii all in one go. During this trip, I saw some incredible landscapes and wanted to show them to you before I post them on my social media!
The first shot is taken on a beach in Guam, where my girlfriend is playing with some coconuts that we had found on the beach. She is a model in my photo quite often since I like to use a person to show scale. So what better than a beautiful Indonesian lady! I was actually standing in the water on some sharp rocks so was quite worried about hurting myself and dropping my camera in the water. Luckily that didn't happen. But based on that experience I bought myself some water shoes later on that day."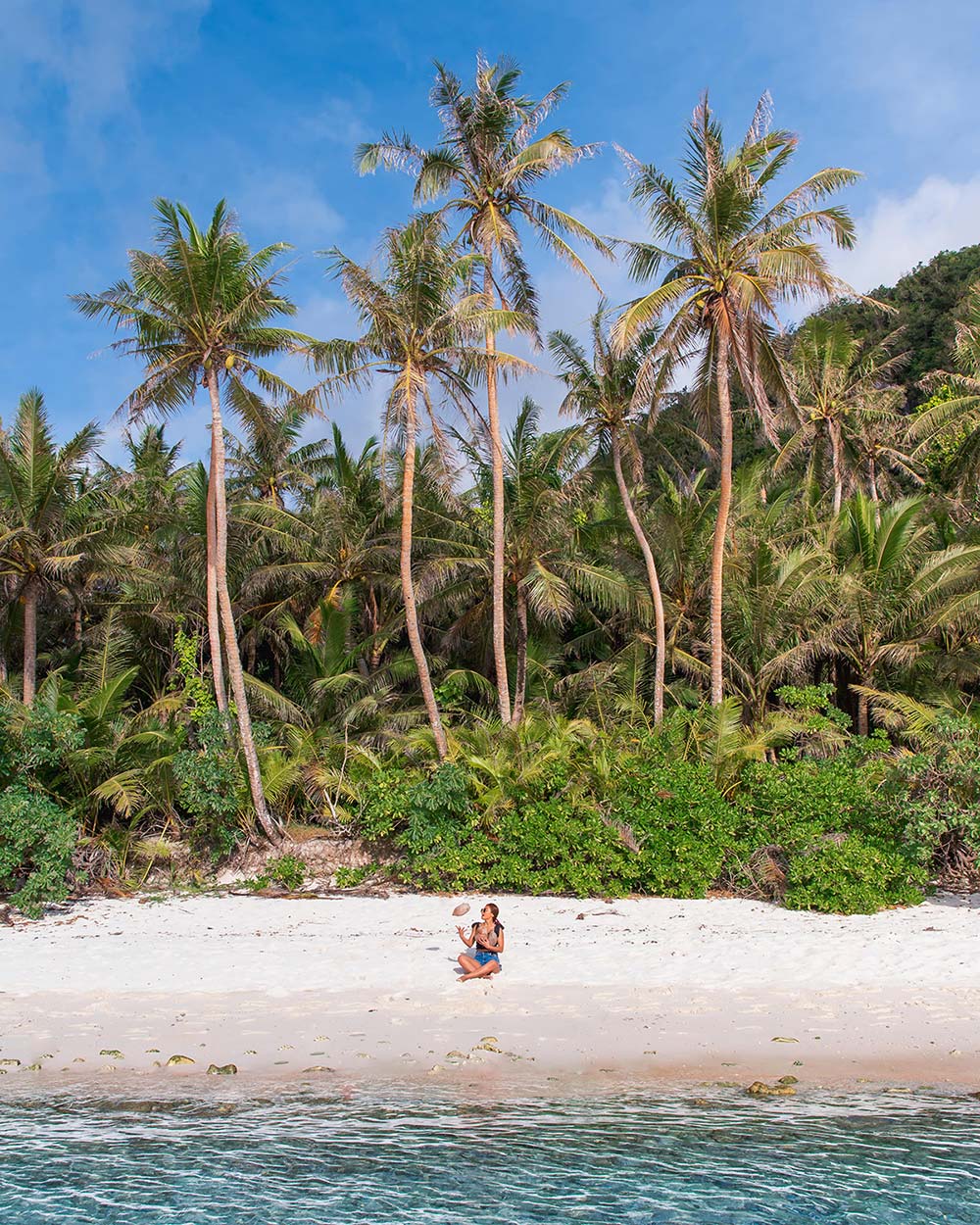 The second shot was taken from an aerial flight where we saw the 70 islands of Palau. Palau is a Micronesian nation located in the western Pacific Ocean. Tourism was becoming an escalating issue with 160,000 visitors flocking to the island each year. They were polluting the area, damaging its coral reefs and poaching tropical wildlife. Now everybody has to pledge to protect the land and waters of Palau. Hopefully, this shows you the beauty we could lose.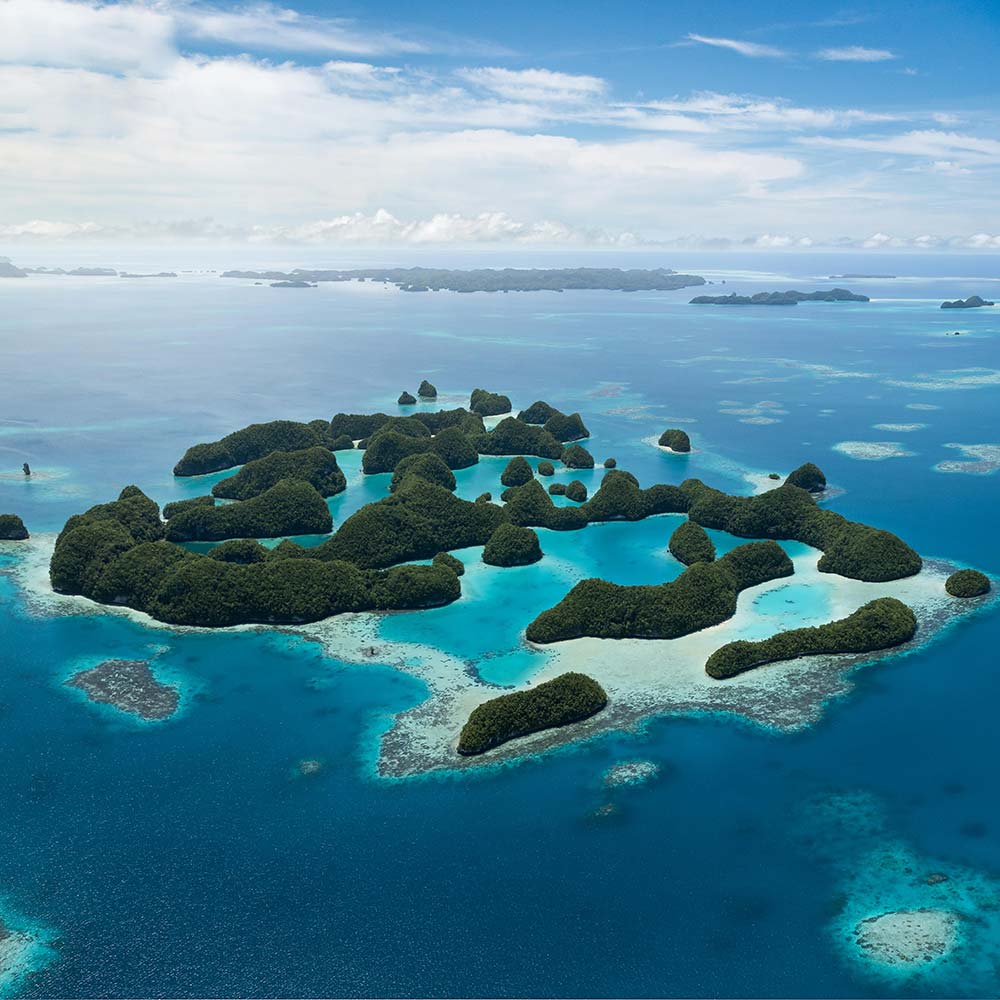 The third shot is taken on an aerial flight on the island of Kaua'i of Hawaii. I had seen many impressive shots from this coast so I wanted to add some of these beautiful pics in my portfolio. After seeing this with my own eyes I now know why they have filmed scenes of Jurassic Park on this island. It really gives you that sense of untouched prehistory nature and I've never seen a more beautiful rocky coast.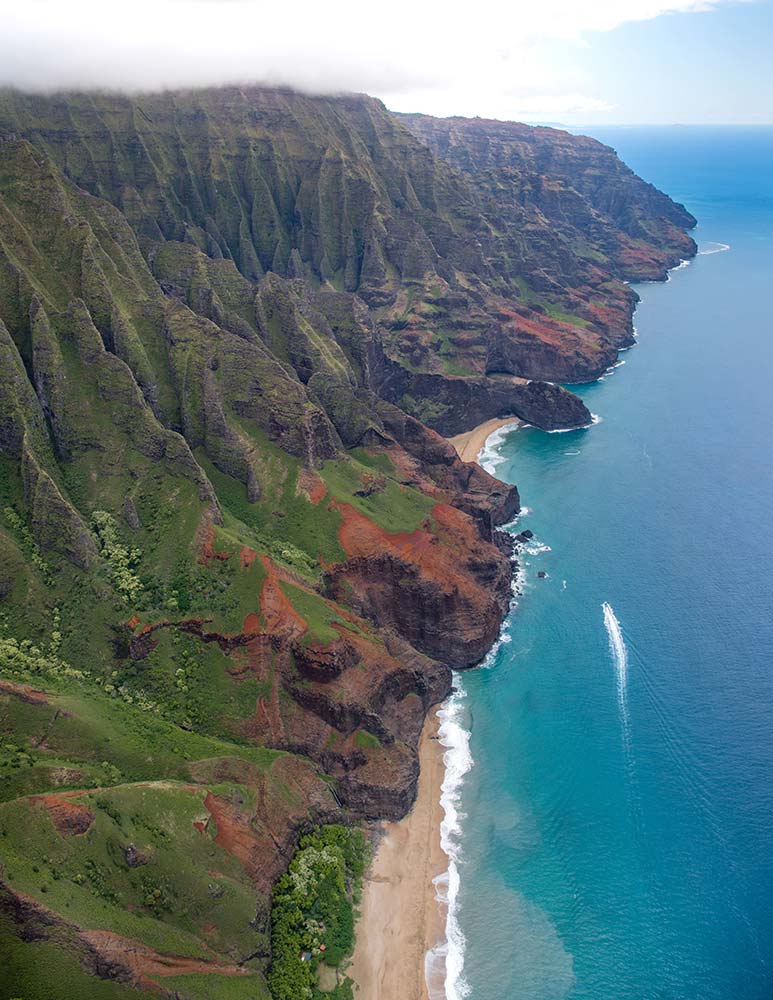 Related Articles