Japan is an island nation in the Pacific Ocean that's known for its distinct culture, stunning nature, and ancient shrines. The variety of sights and landscapes in Japan is enormous, from snow-covered peaks and forests to subtropical islands. The country has excellent transportation, which makes it easy to travel fast and make the most of your journey.
It's hard to pick the top destinations if you have limited time, but we'll try to guide you on your way to plan a couple of weeks trip to this fascinating destination. Here is a Japan travel itinerary for a 2-3 week trip.
Destinations Included: Hokkaido, Tokyo, Kyoto, Kyushu, Okinawa
Where to start?
The majority of travellers enter Japan through Tokyo's airports. From Tokyo, the train network, buses, and domestic flights allow you to explore destinations outside the capital. The airports in Sapporo, Osaka, and Fukuoka are popular arrival points as well. We recommend starting in either the north or south of Japan for the smoothest trip. When travelling from South Korea, travellers can also opt to take the ferry from Busan to Fukuoka.
TIP
When travelling around much of Japan you may find the
JR Pass
a good option as it'll provide unlimited travel across the network. You can also use the trains for a duration of choice (7 days, 14 days, or 21 days).
---
When to go?
Every season in Japan has its perks, and your preferred month depends on the activities you want to do. Winter sports fanatics will feel at home in the mountains of Honshu and Hokkaido from December to March, while plenty of adventurers come to Japan to admire the legendary cherry blossoms from March to May. Summer, from May to September, is generally hot, while autumn is favoured for its vibrant colours.
---
Japan itinerary ideas
Below you'll find a selection of some of the most exciting and interesting places to visit during your holiday in Japan. For more ideas on where to go head to Incredible and Best Places To Visit In Japan.
Hokkaido Island
This island in the north is famous as a winter sports destination, but this alone doesn't do justice to Hokkaido. Nature here is mesmerising, from crater lakes to coastal cliffs. Hokkaido's kitchen is also legendary, and the city of Sapporo is your best bet for a culinary rampage.
Highlights of Hokkaido
Sapporo – Indulge in freshly caught seafood in Nijo Market or feast on ramen in joints near Sapporo Station. Sapporo's food scene is hardly rivalled in Japan.
Shiretoko National Park – Enjoy the mountains, lakes and wildlife (such as brown bears) in this unspoiled park.
Shirogane Blue Pond – The surreal colour of the lake is caused by natural minerals. This colour, together with the white birch trees sticking out of the water, makes for magical scenery.
Mount Hakodate – The views at night from this mountain are no less than spectacular. The city of Hakodate, located on a cape, lies wonderfully illuminated at the foot of Mount Hakodate.
Noboribetsu – Hokkaido has its fair share of hot springs, mainly centralised around the city of Noboribetsu. Walk into Hell Valley with its active volcanoes, or dip in one of the onsens – Japanese hot springs – in downtown Noboribetsu.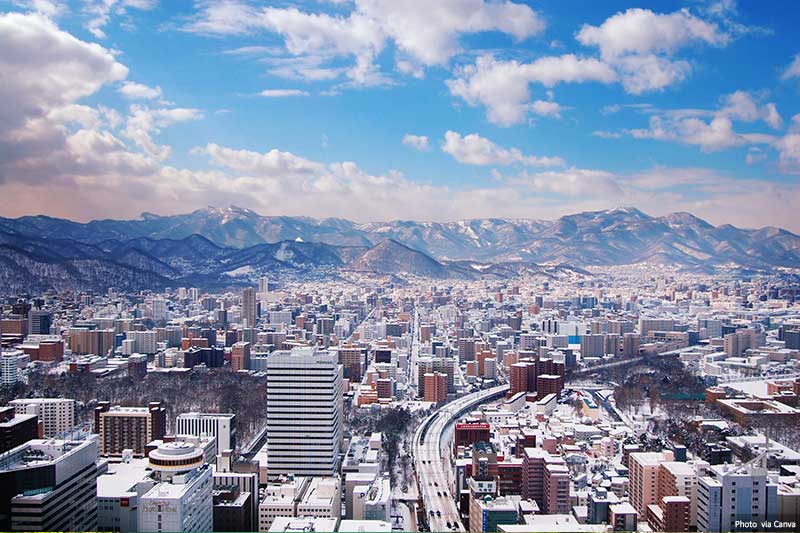 Tour ideas
Here are some tours and activities you might like during your visit. Click the blue-button to see even more via our recommended partner GetYourGuide.
Length of stay
To cover Hokkaido entirely, you could at least spend a week on this island. But by hopping by the highlights, you can see a lot in three days.
Accommodation
Here are some ideas on where to stay:
How to get to Hokkaido?
Sapporo with its international airport is the gateway to Hokkaido. This city can also be reached from Tokyo with a 1 hour and 40-minute flight from either Narita or Haneda Airport.
ADVERTISEMENT
CONTINUE READING BELOW
---
Tokyo
Tokyo is the capital and liveliest city in Japan; this metropolis combines hypermodern architecture with ancient cultural expressions, such as temples and palaces. Wander around the old neighbourhoods, ascend to one of the viewing platforms, and experience the legendary hidden eateries of Tokyo.
Highlights of Tokyo:
Tokyo Skytree – The Tokyo Skytree is a structure that towers over the city. You can take an elevator to the viewing platform at the height of 450 metres for stellar vistas of the capital.
Imperial Palace – Although destroyed during the Second World War, this gorgeous palace is beautifully restored and currently one of the city's most cherished sights.
Tsukiji – This outdoor fish market is the best spot in town to sample fresh sushi and sashimi.
Digital Art Museum – Be enchanted by the art, that is displayed through digital projections. Some of the highlights include Future Park and Forest of Lamps, where you're surrounded by 'floating' lamps.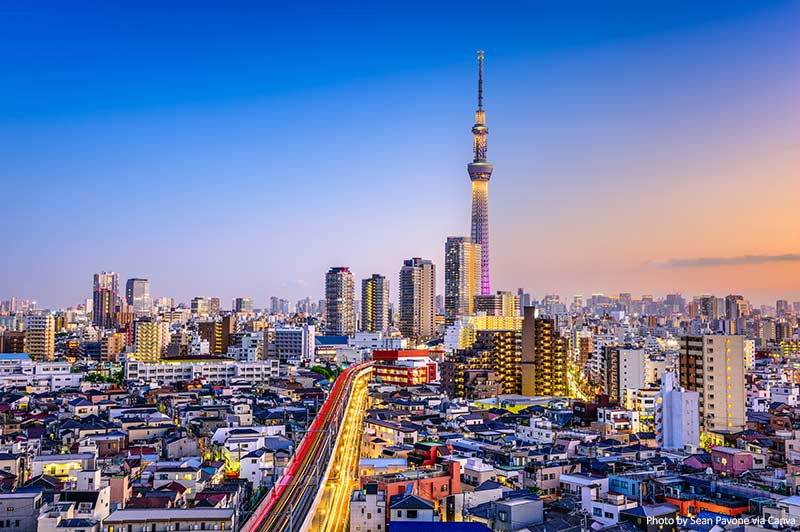 Tour ideas
Below are a few suggestions of tours and activities you might enjoy. Click the blue-button to see more options.
Length of stay
To explore Tokyo properly, you'll need at least three days to see the main sights, discover the food scene and museums. If you're staying longer then also consider some day trips to discover some of the other highlights within reach of the city.
Accommodation
Here are ideas of places you could stay at:
See more booking options for Tokyo
How to get to Tokyo?
Both of Tokyo's airports, Haneda and Narita, receive flights from destinations all over the globe. Within Japan, Tokyo is connected with all major cities thanks to an extensive train network and numerous domestic airports. Ready to book? Search for flight prices here.
ADVERTISEMENT
CONTINUE READING BELOW
---
Kyoto
Being one of Japan's most sacred cities, Kyoto has plenty of spiritual sights to wander around. If you're into age-old castles, temples, and palaces, Kyoto might just be the right city to settle down for a couple of days.
Highlights of Kyoto
The Golden Pavilion – This impressive pagoda wholly covered in gold leaf perhaps is Kyoto's most significant eye-catcher.
Arashiyama Bamboo Forest – Being surrounded by the intense greenery of this bamboo grove is an extraordinary experience.
Honen-In Temple – Although not as exhilarating as the Golden Pavilion, the Honen-In Temple is a charming complex that lies in a beautiful forest. The colours in autumn are merely breathtaking.
Kyoto Imperial Palace – To get a glimpse of the residence of the imperial family until 1868, visit this expansive complex with its mansions and gardens.
Fushimi Inari Shrine – An impressive and iconic path that leads through thousands of torri gates.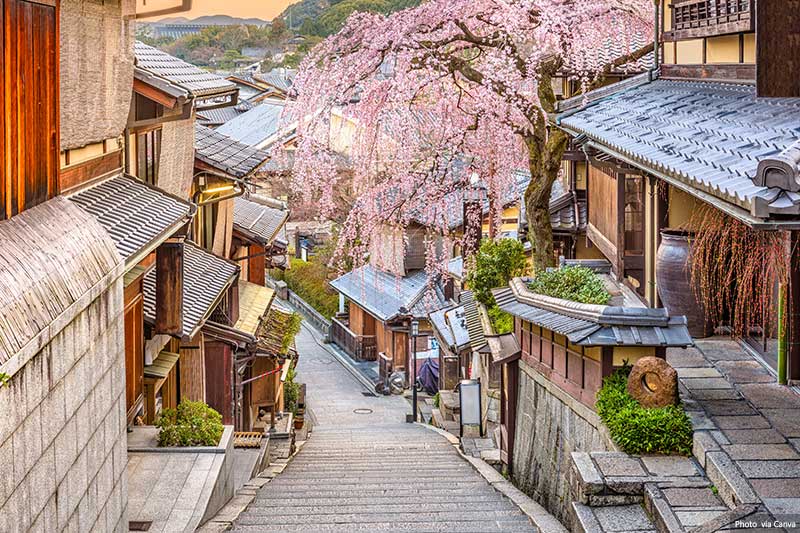 Tour ideas
Here are some tours and activities you might enjoy during your visit. Click the blue-button to see more.
Length of stay
Two days is plenty to see the main attractions of Kyoto. If you're on a tight schedule, you could explore Kyoto in one full day.
Accommodation
There's plenty of fantastic accommodation to choose from. Here are a few suggestions:
See more booking options for Kyoto
How to get to Kyoto?
From Tokyo, take a Shinkansen bullet train, which drops you in the heart of Kyoto in only 2 hours. It's recommended to reserve a seat and choose a spot on the right side of the train, as Mount Fuji is visible on clear days.
ADVERTISEMENT
CONTINUE READING BELOW
---
Kyushu
As the third-largest island of Japan, Kyushu has a remarkable amount of natural highlights and compelling cities. Kyushu is the right archipelago to be at one with nature, see numerous waterfalls, and to learn about Japan's dark past.
Highlights of Kyushu
Fukuoka – This large city is ground zero for ramen lovers; Fukuoka has many joints where you can slurp the soupy noodles to your heart's content.
Takachiho Gorge – This gorge is favoured for its gushing waterfalls and towering volcanic rocks (seen below). You can paddle in a canoe for a close encounter with the basalt cliffs and waterfalls, or watch the spectacle from the viewing point.
Nagasaki – Just like Hiroshima, Nagasaki was bombed with an atomic bomb at the end of the Second World War. The Nagasaki Atomic Bomb Museum shows the devastating aftermath, heartbreaking reports from eyewitnesses and the development of nuclear warfare.
Beppu – Famous for its natural hot springs, Beppu is an excellent town to dip into a traditional Japanese bath. The Hells of Beppu north of the centre consist of colourful mineral lakes, suitable for admiring than for bathing.
Length of stay
For a decent tour of Kyushu, take three days to see both the cities and some of the nature spots.
Accommodation
Here are a few places you could stay:
How to get to Kyushu?
From Kyoto, you have several options. One of them is taking a Shinkansen bullet train to Fukuoka or Kagoshima. Another choice you can make is hopping on a train to Kansai International Airport and fly to Fukuoka, Nagasaki, Miyazaki, or Kagoshima.
---
Okinawa
Based on photos, you might confuse Okinawa with tropical destinations like the Maldives or the Philippines. This archipelago is blessed with photogenic beaches and an abundance of marine life. But there's more to this subtropical paradise, such as the atoll's unique arts, museums, and heritage sites.
Highlights of Okinawa
Yambaru National Park – Find subtropical forests, mangrove swamps and rare animals, such as the flightless bird Okinawa rail.
Furuzamami Beach – The white sand, crystal blue water, and opportunity to snorkel in the coral gardens right off the shore make Furuzamami one of the most attractive beaches in the archipelago.
Shuri Castle – Once an imperial palace, Shuri Castle nowadays is one of the most dazzling pieces of architecture of the island group. The best parts include original gates and bridges from the 16th century.
Diving at Kabira Bay – Legendary for sightings of majestic manta rays, Kabira Bay off Ishigaki Island is dubbed 'Manta City'. It is one of the most splendid dive sites of Okinawa.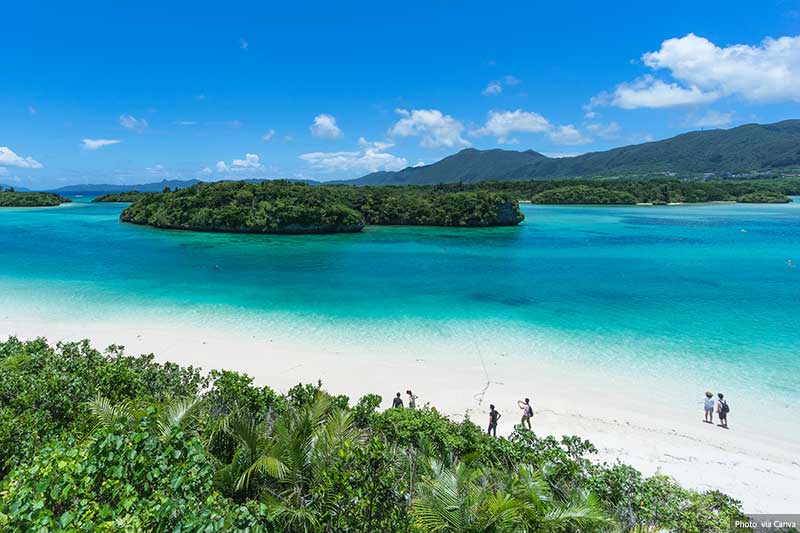 Length of stay
It requires quite a bit of travelling to get around Okinawa. If you wish to see the forests and the underwater world, spend at least three days here.
Accommodation
Below are a few ideas on where to stay:
How to get to Okinawa?
Okinawa Island Airport receives flights from all over the country, including from cities such as Fukuoka and Tokyo. The southern islands Ishigaki and Miyakojima have airports as well, although the latter can only be reached by a direct flight from Tokyo.
---
Summary
The variety of things you can see and do in Japan is quite overwhelming; this Asian nation has a wide array of temples, palaces, and natural treasures. But with proper planning, you can experience many of the country's cool features in two weeks or less.
Want more ideas to add to your Japan itinerary? Check out 10 Incredible and Best Places To Visit In Japan or see some of the tour options below.
Start Booking
Here are some top options to book your hotels, activities, flights and other transport:
---
Please note that we get a small commission if you purchase via our referral links. We use this to invest in new content and improving this website. Thanks so much for your support.
Related Articles