If you enjoy photography, Instagram or run a travel blog, then high-quality Photoshop actions and Lightroom presets will be your best friends. They allow a consistent look with little effort. With presets you can correct the colours and lighting, hide flaws and more – everything is possible in several clicks.
The biggest benefit of such effects and filters is that they are fully compatible with mobile apps – so you can edit images with your phone right on the spot. The options below work perfectly with any version of Lightroom and Photoshop for both computers and mobile devices.
Note: presets and actions can help you achieve certain looks but don't do all the work. Your images might require additional editing/tweaks. Read more about things to know about presets. This article and the presets mentioned are developed and provided through our partner FixThePhoto and contain affiliate links.
1. Sunrise to Sunset Landscape Presets
These five landscape presets are the ultimate kit for correcting any kind of dusk or dawn image. These types of images can be hard to capture perfectly in all its beauty. Alleviate the stress of returning the beautiful colours to the image with these speedy and well-balanced tools. Make sure there are no areas of excessive darkness or lightness, add more volume and texture to the frame.
Number of presets: 5
2. Majestic Landscape Lightroom Presets
With these 30 effects, you can improve any type of landscape photo in Lightroom CC and Lightroom Mobile. Highlight the sea, mountains and other nature elements in the image, and make their colours really pop and improve the incredible landscape shades and tints.
Number of presets: 30
Presets provided through our partner FixThePhoto
3. Santorini Lightroom Presets
Frames containing the seaside always create a more positive response from the viewers and no travel-photographer skips a chance to make them more enchanting. Just add some additional depth to the water colour and sky, a little bit more definition in the texture of the sand and the viewer will start feeling the light breeze.
There are five presets containing interesting effects like a realistic sun glare that instantly brings up the summer vibe or a slight background blur and accent on tanned skin for showing off the model. If you need it, grab the Majestic Landscape Lightroom Presets (Majestic Landscape Lightroom Presets Download) as well, because their aesthetics is similar.
Number of presets: 5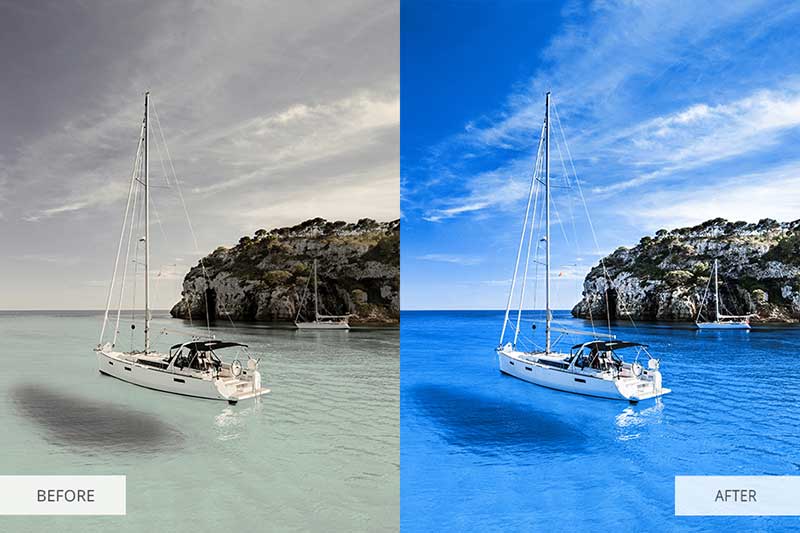 4. Wonderland Lightroom Presets
This bunch of five Lightroom presets for landscapes photographs is great at making the atmosphere somewhat more tender and romantic with the slightest tinge of rose. The freshness will spill over the photo once you apply one of these pro-level effects.
These are a great option when you need something with pastel, softer and lighter colours. The presets can be used outside the landscape genre too, such as for portraits of women and couples.
Number of presets: 5
5. Oahu Travel Collection
Another set of five presets that add a touch of proficiency to the travel images you've taken. When you see those magazine covers, just know that you can achieve the same look in just a click or two. The set is the most beneficial to summer images, especially those with people, as it highlights the bronze skin and adds those streaks of light you expect to see on any bright summer image.
If you're planning a beach photoshoot, maybe you'd like the Underwater Photography Collection of Lightroom Presets (Underwater Photography Collection) to make your images even more beautiful.
Number of presets: 5
6. Forest Presets Bundle
When the greenery of forests is the main subject of your photography it pays a lot to do proper colour correction. You can bring out those countless shades of green and the textures of leaves with this fitting landscape preset. You will get striking and natural effects but if you want more enhancement, also try the bolder HDR Effect Lightroom Presets Collection.
Number of presets: 5
7. Amsterdam Feel Travel Package
This bundle is great for travel photos and can handle landscapes and cityscapes as well. Subtle changes to the light and dark areas or the intensity of specific colours are capable of adding depth and creating a sense of presence for the viewer's mind. The pictures remain the representations of reality, simply better adapted to viewing on screens.
Number of presets: 5
8. Earth Tone Presets Collection
If bright and flashy is not for you, here are five presets beautiful in the muted and blurry spectrum. Keeping everything in the warm tones, each preset creates a rich and spiritual space within an image, helping viewers turn away from the chaotic life and find peace of mind and relaxation.
Number of presets: 5
9. Barcelona Travel Bundle
While soft colours are appealing because they are soothing, these Lightroom presets for landscapes are instead striking with vibrance and energy, dramatically changing the original shot. They give a sense of warmth and if there is a model in the foreground, her/his skin, eyes, and hair will acquire a sun-kissed glow. Nature will also look vibrant and rich.
Number of presets: 5
10. Bounty Lightroom Collection
This is the perfect collection for a complex effect like some romantic atmosphere with prevalent cold blue tones. What the five presets do to the blue spectrum is insane! They bring out and saturate anything from the subtlest azure of the river stream to the rich navy of a dark sky, also influencing the turquoise sea waves. This makes it perfect for any voyages and visits to water sources regardless of the time of day or season.
Number of presets: 5
11. Saint Tropez Presets
It's can be hard to find something to emphasize the overwhelming beauty of the rising or setting sun, and a moment like this can easily become overwhelming. Inappropriate colour correction will only steal from the real beauty of the scene. To prevent this high-quality presets like these are valued by all professionals.
The sharp transitions that cameras tend to create will be smoothed out and glare can be used to conceal minor flaws. They are also great for portrait photos because the rosy golden tones work wonders for the skin.
Number of presets: 5
12. HDR Effect Travelling Collection
This collection is incredible at emphasizing the ordinary elements of a natural shot, giving it a deeper atmosphere. Some work with shadows and lights and an occasional pop of colour will enrich the texture of sand, stone or grass for a more striking effect.
Number of presets: 40
13. Travel Lightroom Presets Collection
If small specifically-aimed packages are not for you, then try this universal collection of presets all targeted at improving nature type images. All of them are equally good at balancing the light and shadows as well as expanding the spectrum of natural colours.
You will find some neutral and bright presets, several interesting effects with great attention to the water hues and tones of skin and with everything kept in balance.
Number of presets: 25
14. Let It Snow Lightroom Presets
Winter landscapes are hard to work with, which is why a selection of 40 well-balanced presets is compiled for helping professionals in various fields. Whether these are calm mountain shots or pictures of some other type, there will be the right effect to make the image striking.
The white colour is really far from being flat and boring and your images will show it after the right preset is applied to them. Counter-intuitively, snow can be very warm and different impressions will be left after a sharpened or softened, vivid or calm effect. This way, you can improve almost anything you shoot in winter.
Number of presets: 40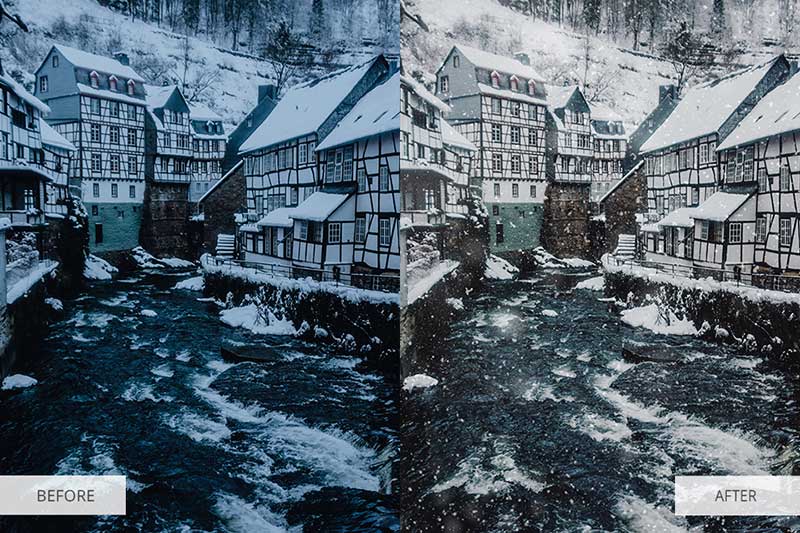 15. Winter Premium Photoshop Actions
If you specialize in taking or correcting winter images, you will need this extended pack of 130 landscape Photoshop actions for this season. You can emphasize the harshness of the freezing winter morning, the warmth, a Christmas family portrait, the fairytale atmosphere of a wedding or just the plain beauty of nature.
Number of presets: 130
16. Colourful Landscape Package
To celebrate the beauty of our planet's nature, you can work with this set of 45 filters to bring out the best in any kind of landscape shot. You can make it bright and contrasting with rich textures and loads of details so that the viewers can't take their eyes away. Those blues and greens will really sing, bringing pleasure each time you look at them.
Number of presets: 45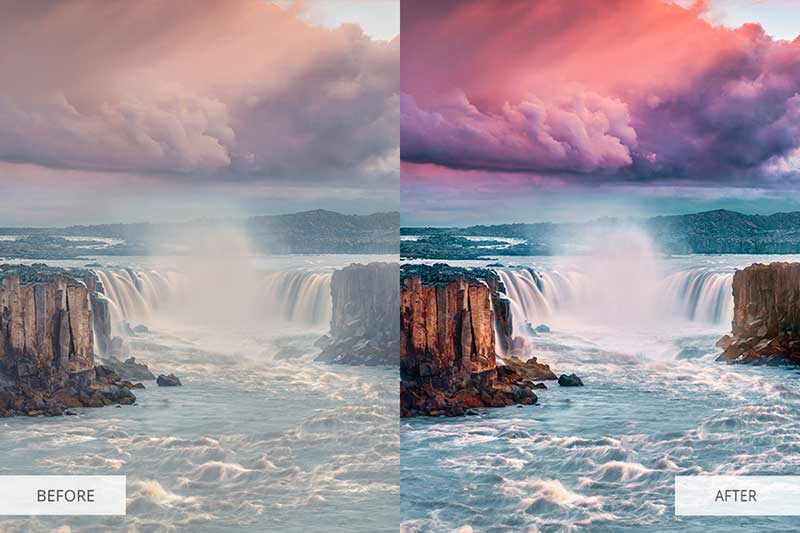 17. Winter Holidays Actions Pack
When your winter images lack that touching warmth, bringing it back won't be a problem with this 40-piece bundle. It is perfect for bringing life and sunshine into those captured moments surrounded by snow. The problem of too much light from its white surface will be tackled for you, so the volume and details will come back in a click.
Number of presets: 40
18. Winter Tale Actions
The thirty landscape Photoshop actions collected in this pack are the best way to deal with flat and washed-out images of winter. Pull the details out of excessive brightness, add some snow that stopped falling just as you were shooting, or cast a frosty pattern or a ray of sun to add more atmosphere.
Any colourful objects, even as small as the model's eyes, will pop beautifully. If you love brightness and vividness in images, download this Colorful Bundle of Landscape Photoshop Actions (Colorful Landscape Collection Download), too.
Number of presets: 30
19. Underwater Photoshop Actions
They are particularly designed for the divers who take pictures. The water in your shot will become more transparent and anything that got into focus, like a fish or some algae, will have more definition and vividness of colour so that the viewers can properly appreciate the beauty.
Number of presets: 30
20. Reflection Photoshop Actions
Although there are only six Reflection Photoshop Actions, each of them is of the highest quality and can do mesmerizing tricks to the surface of water, snow or ice. They will make the texture richer and introduce the reflections that the camera could have wiped off in the process of shooting. For a travel photographer who goes to the most stunning places, it is hard to find a better instrument for showing them off properly in pictures.
Number of presets: 6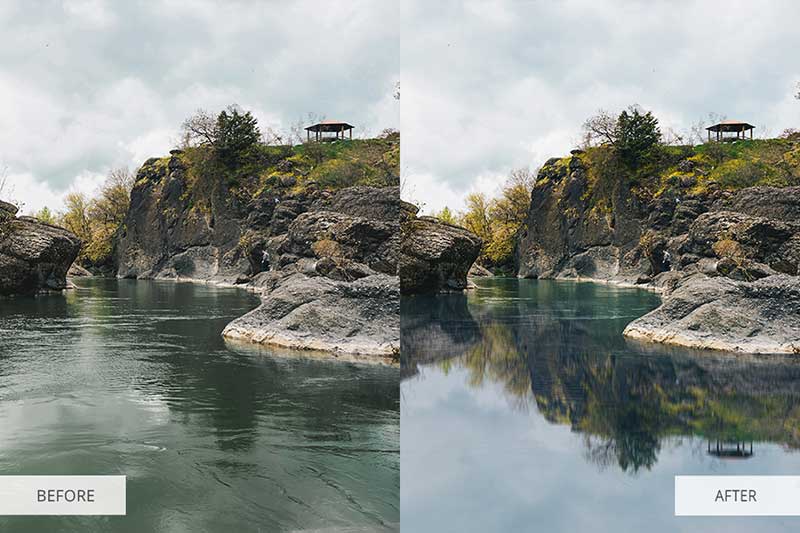 ADVERTISEMENT
CONTINUE READING BELOW
Summary
Lightroom and Photoshop presets can be a fantastic way to enhance your images, as well as create consistently and reduce editing time. We would also recommend you to shoot in RAW format when taking images (if your camera allows), as this allows the camera to capture more information/detail and helps to create a higher quality final image.
As well as the paid presets above, you might also want to see some of the free photography presents that are also available.
Related Articles