It's surprisingly easy to visit multiple countries in South East Asia. Once you get to that part of the world often all you need to do is jump on a plane for a few hours, or get a train or bus (although that takes a lot longer).
If you wanting to visit South East Asia for the first time and visit multiple destinations then keep reading for my guide to visit Thailand, Cambodia, Vietnam, Malaysia and Indonesia. Although these are my suggested countries your trip may be in a different order, you could skip a few places, or end up building a completely different trip.
To visit all five countries ideally you would want six weeks or more. When I did my trip it was only for 40 days and was pretty packed.
Within this post, you'll also find some highlights for each destination, a suggestion on how long you should stay at each place, as well as a hotel suggestion. You could stay for more or less time if you wanted, this post is just to give you an idea of the possibilities. I've also tried not to include too much detail, as I don't want to overload you. However, it should help you get started with booking your trip. There are links to most of the destinations for you to read more.
---
Where to start your trip
When planning a multi-destination trip you first have to decide where to start. In this multi-destination trip, there are five South East Asia countries. These are Thailand, Cambodia, Vietnam, Kuala Lumpur and finishing off with Indonesia. I've put Thailand as a potential starting point as it's got lots of good international connections. If you follow this suggested route you should also be able to get direct flights between each country.
The best way to start planning a trip like this is to jump on a site such as Google Flights, and then look at what flights and connections are available, and also that they are affordable. From there you can start working out the best route for your trip. Another flight service to consider would be Kayak, which will find and compare different airlines for you. What I love about Momondo is that the site is beautiful with great colours, which makes using it really pleasant.
---
When to go
After you've decided on where you want to go, you'll be ready to start planning on when to go. When planning you should look into the weather, peak season, and costs for the time of the year that you're planning to go. When I visited all of these countries it was between March and April, and I found the overall weather conditions pleasant although Bangkok was a bit hot.
---
Getting between destinations
The quickest way to get between these destinations in South East Asia is to fly. If you have time on your side and want a more cultural experience you could instead get a bus/coach or train (between some places), which will take a bit longer but should also be cheaper. During my visits to South East Asia I have done both. I've flown between cities, and I've got night trains and also taken a few buses.
To book:
Flights:
Head to Google Flights, CheapOair, Momondo or KAYAK to start your search and find the cheapest and easiest connection. Booking flights is safe and easy to do online.
Buses and Trains:
You can often book trains and buses through hotels and hostels at the destination or visit one of the many travel agents you will find (they are everywhere in major cities). You could also book on sites such as 12go.asia. When booking online be sure to look at reviews and check the website is legit. However, I've now been to South East Asia numerous times and found the travel agents and the hotels really good and it was easy to book transport through them.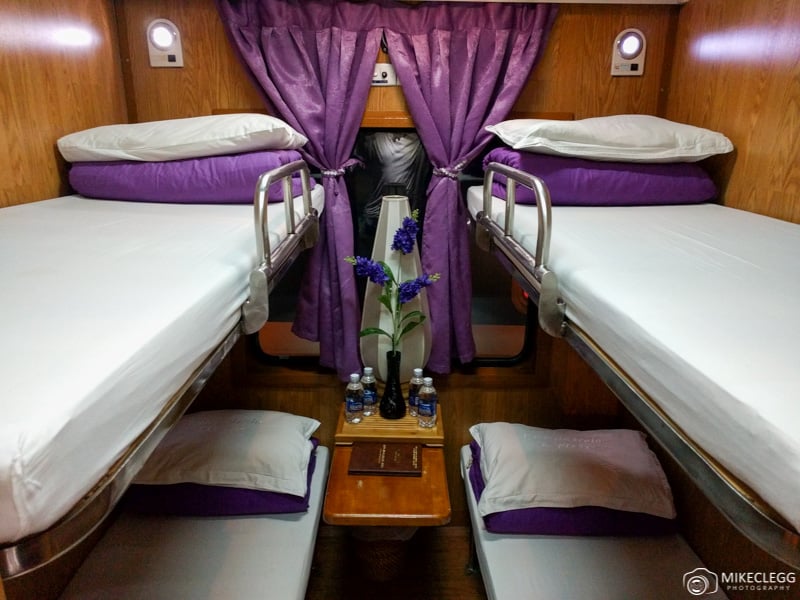 ADVERTISEMENT
CONTINUE READING BELOW
---
Country 1: Thailand
Starting this South East Asia Multi-Destination trip with Thailand, and I would recommend seeing Bangkok and then heading south to some of the Islands. I've been to the islands on the west coast and also on the east coast. Both are incredibly scenic and have fantastic beaches, lots of water activities such as diving and snorkelling, and other things to do. For the purpose of this trip, I have included Ko Phi Phi and you'll find out more below.
Bangkok
Bangkok is a great first destination to start your trip as it has tons of international connections. It's also the perfect city to get a nice first taste of Thailand as it's packed with tons of incredible experiences.
Some highlights of Bangkok
Visit the Grand Palace – The home of the Emerald Buddha and one of the most beautiful temple complexes in the world.
See the Reclining Buda – A stunning 46 meter long Buddha statue that is lying on its side.
Visit the Damnoen Saduak Floating Market – A bit out of the city but an incredible day out.
See the city from Baiyoke Tower II or Octave Rooftop bar – For amazing views of the city.
Party along Khaosan Road – A great place to end the night.
Tours and activities for Bangkok
Length of stay
I would recommend staying in Bangkok for around 3-4 nights. That'll allow you to get a great taste of the city and see lots of the major attractions. Also if you are flying from quite far this will allow you to rest a bit more on your arrival, rather than rushing straight out.
Accommodation
Bangkok has plenty of accommodation options throughout the city, from stunning luxury hotels to fun and lively hostels. I've stayed in both a hostel (Nappark Hostel) and a luxury hotel (Athénée Bangkok)  during my visits, which were both great depending on what you're looking for and what your budget it. You'll find lots more options on booking.com.
Read more
Want to read more about Bangkok such as things to do, getting around and other tips, head to my post Travel guide for visiting Bangkok. For other destination ideas read: 10 Best Places to Visit in Thailand.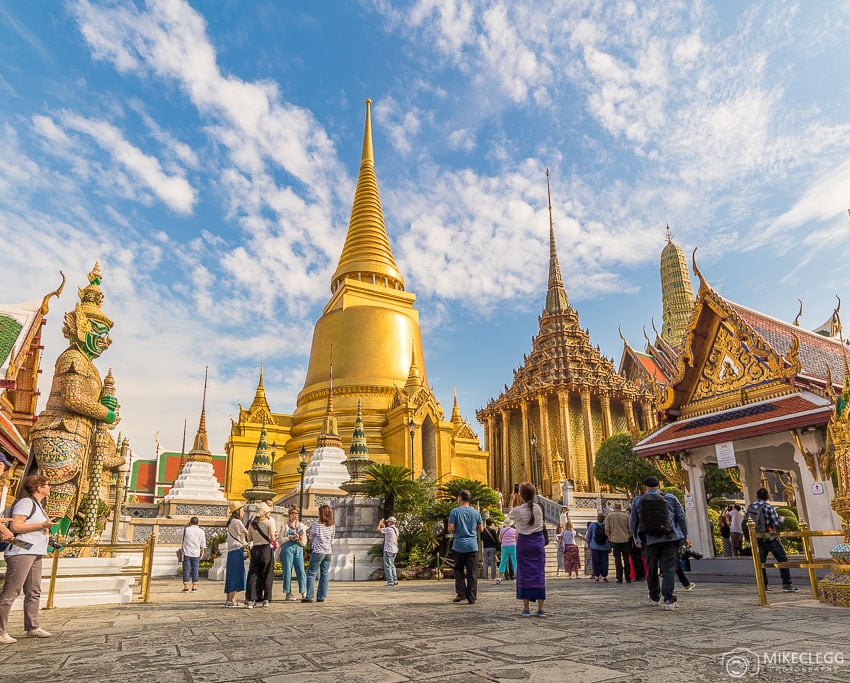 Phuket and Ko Phi Phi
The Islands of South Thailand are like paradise. With crystal clear turquoise water and breathtaking landscapes all around. For me it felt like a perfect escape from the cities, and going on a tour and swimming with fish was one of my favourite experiences of all time.
Some highlights of Ko Phi Phi
Speedboat tours – Go on a speedboat tour to explore the islands and visit places including Monkey Beach, Maya Bay and more.
Long-tail boats – Experience a traditional long-tail boat.
Stunning beaches – Relax on a stunning beach soaking up the sun.
Breathtaking viewpoints – Enjoy views of the islands from the Viewpoints.
Beach parties and fire dancing – See fire performers and party the night away on the beaches.
Tours and activities for Ko Phi Phi
Length of stay
I would recommend staying in Ko Phi Phi for around 3-5 nights to make the most of it. I've now visited the islands on two different occasions and on the second it actually poured down with rain on one of the days. I also had a few days with clear skies.
Accommodation
On my last visit I stayed at Panmanee Hotel. It wasn't luxurious, but was in a good location, affordable and the room was pretty huge. I also liked the staff. You will find various resorts around the island such as Phi Phi Island Village Beach Resort as well as hostels and hotels. Check out booking.com for some deals.
Read more
Want to read more about Ko Phi Phi, such as how to get there, more things to do on the island and other tips, head to my post Exotic Breaks: Guide to Ko Phi Phi Islands & Maya Bay.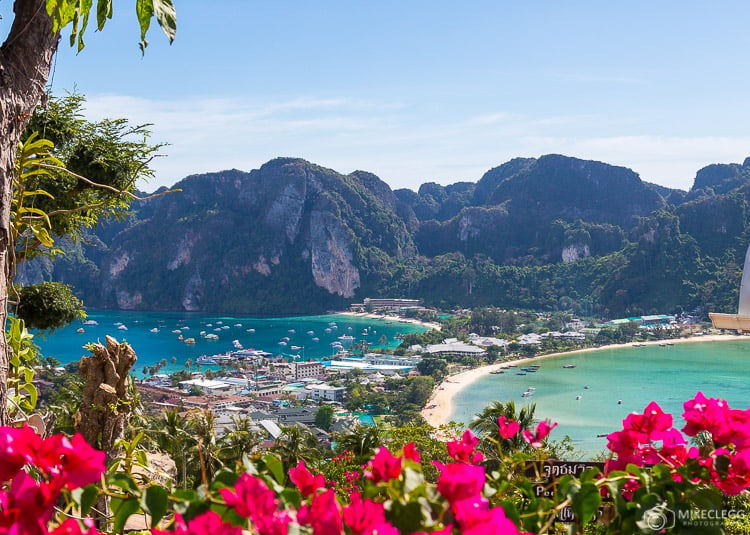 More things to do in Thailand
For tons of things you should do when visiting Thailand from cultural activities, unique experiences and more head to my post Incredible Experiences to Have When Visiting Thailand.
ADVERTISEMENT
CONTINUE READING BELOW
---
Country 2: Cambodia
Siem Reap
Siem Reap is one of the most popular places to visit in Cambodia due to the historic Angkor city being close by. There's a good amount of things to see and do in the city and it's also pretty cheap so your money will go far.
Some highlights of Siem Reap
Angkor Wat Temples – A 400 km2 area with historic temples from the 9th to the 15th century.
Pub Street – A great place to go for cheap beer $0.50 and also enjoy dinner.
Markets – Visit the Old Market or the Night Market to buy lots of trinkets and other items.
Apsara Dancing – A traditional dancing style which can be enjoyed along with a fantastic buffet dinner.
Tours and activities for Cambodia
Length of stay
I would recommend staying in Siem Reap for around 3-4 nights.
Accommodation
The place I stayed in Siem Reap (Phum Khmer Boutique Hotel) was a bitter disappointment so I wouldn't recommend it at all. You'll find lots of other great options that would definitely provide you with an incredible stay such as Park Hyatt Siem Reap or La Rivière d' Angkor Resort. Plus more options on booking.com.
Read more
Want to read more about Siem Reap, head to my post City Breaks: Guide to Siem Reap and Angkor Wat. For other destination ideas read: 10 Most Beautiful Places to Visit in Cambodia.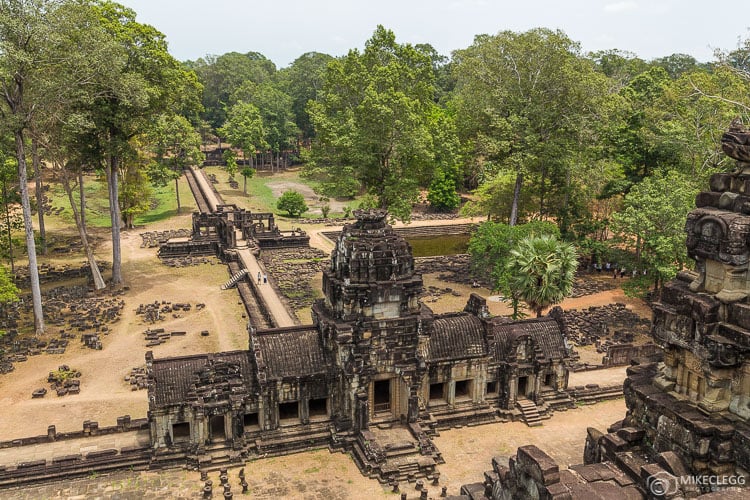 ADVERTISEMENT
CONTINUE READING BELOW
---
Country 3: Vietnam
Vietnam was potentially my favourite destination during my South East Asia trip and I would recommend staying here for a bit longer.
Hanoi
I started in Hanoi and loved everything about it. The food, the people, the architecture and better yet it was incredibly cheap and your money goes really far,
Some highlights of Hanoi
Ho Chi Minh Mausoleum – The final resting place of Vietnams leader Ho Chi Minh and very important to the Vietnamese.
Temple of Literature – A fantastic complex built in 1070. It also has some beautiful and colourful temples.
Hoan Kiem Lake – A lake just below the Old Quarter and great for relaxing, going for a walk, or visiting the Ngoc Son Temple.
Old Quarter – My favourite part of the city with incredible photogenic streets and a great place to see some of the locals going about their lives.
Yên Phụ Mosaic – The Worlds Longest Mosaic at almost 4000 meters long.
Tours and activities for Vietnam
Accommodation
During my visit, I stayed at a family-run hotel/guesthouse (Advisor homestay) located in the Old Quarter which I was really happy with. I found the family incredibly nice and the rooms were also nicely kitted out. There are plenty of other options from hostels to luxury hotels though. Have a look on booking.com for some ideas.
Additional options
During your visit to Hanoi, I would recommend trying to also visit Sapa or Ha Long Bay. If you have plenty of time you could also consider heading south and visit the beautiful city of Hoi An.
Length of stay
I would recommend staying in Vietnam for around 7-10 days and visit Hanoi and either Sapa or Ha Long Bay. You could also try and fly south to Hoi An if you have time but your trip may be a bit more rushed/packed.
Read more
Want to read more about Hanoi or Hoi An, head to my posts Travel Guide to Hanoi and Travel Guide to Hoi An. For other destination ideas read: 10 Most Beautiful Places to Visit in Vietnam.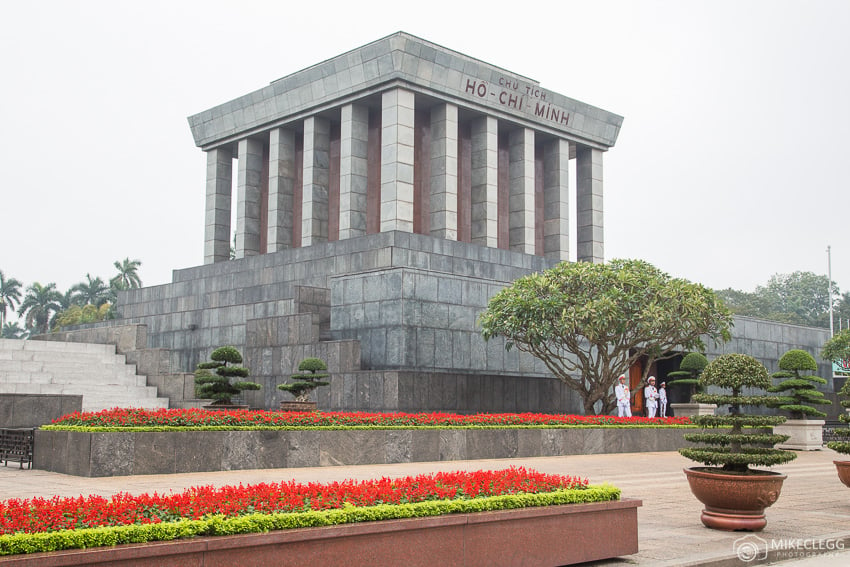 ADVERTISEMENT
CONTINUE READING BELOW
---
Country 4: Malaysia
Kuala Lumpur
Kuala Lumpur is a city full of variety, with modern skyscrapers, more run-down areas, Chinese Temples, Hindu Shrines and is a city with three religions. It is quite cool to visit and there are lots to do. My only beef was that I found getting around a bit of a pain.
Some highlights of Kuala Lumpur
Batu Caves – Caves that were created around 400 million years ago and at the entrance is a huge 42.7 meter high deity statue
Petronas Towers and Lake Symphony Show – A music, water and light performance in front of the Petronas Towers and in KLCC Park.
Bird Sanctuary – A huge 20.9 acre aviary full of exotic birds from around the world.
Thean Hou Temple – A stunning Chinese temple built in 1989 and commemorating the Goddess of Thean Hou.
Tours and activities for Malaysia
Length of stay
I would recommend staying in Kuala Lumpur for around 3-4 nights.
Accommodation
The accommodation is fairly decent in Kuala Lumpur with lots of affordable options. I would recommend staying as central as possible (use KLCC park as a reference point) and also close to a transport connection. During my stay similar to Bangkok I had two very different experiences of staying in a luxury hotel (Mandarin Oriental), as well as a hostel (Residences @ Summer Suites). Both were pretty good and even the hostel had a pool.
Find more deals on booking.com.
Read more
Want to read more about Kuala Lumpur, head to my post Travel Guide to Kuala Lumpur. For other destination ideas read: 10 Best Places to Visit in Malaysia.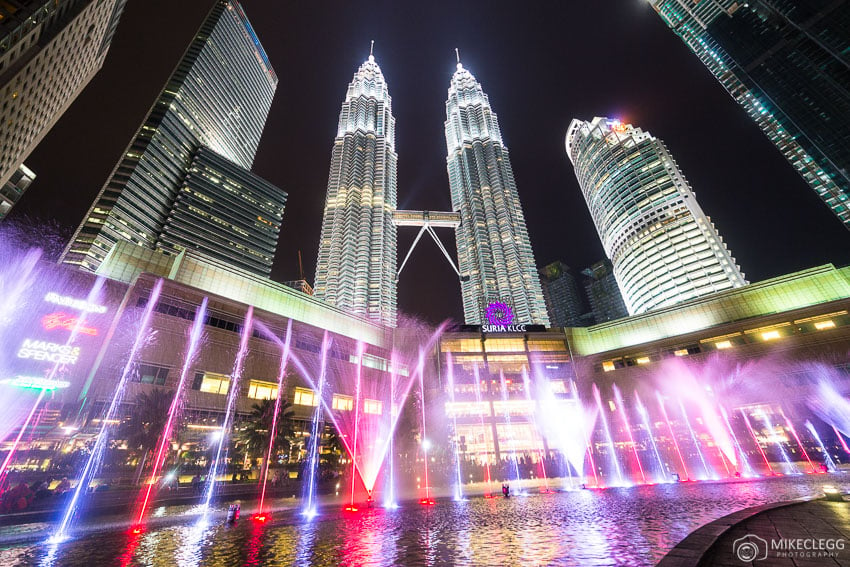 ADVERTISEMENT
CONTINUE READING BELOW
---
Country 5: Indonesia
Bali
Finishing off this South East Asia Multi-Destination trip with Bali. This is the perfect place to end your trip, where you can chill on the beaches, explore the jungles, visit temples or relax by the side of a pool.
Some highlights of Bali
Monkey Temple – Get to walk around in monkey territory. A very enjoyable experience, although a bit scary too. 🙂
Beaches – Relax, swim or surf on the beaches and make sure you head there for beautiful sunsets.
 Tegalalang Rice Terrace – A collection of beautiful rice terraces and extremely photogenic.
Waterbom Bali – A water park which makes for a great day out.
Tours and activities for Indonesia
Length of stay
I would recommend staying in Bali for one week or more. It's the kind of destination where you'd want to spend a decent amount of time, relax and rejuvenate.
Accommodation
Bali is fantastic for hotels and you will easily be able to find luxury properties at a low cost. During my visit, I stayed at Ramayana Resort and Spa in Kuta and Padma Resort and Spa in Ubud. This allowed me to see two different aspects of the island and I felt I had an incredible experience as a result.
Read more
For lots more destination ideas read: 10 Most Beautiful Places in Indonesia.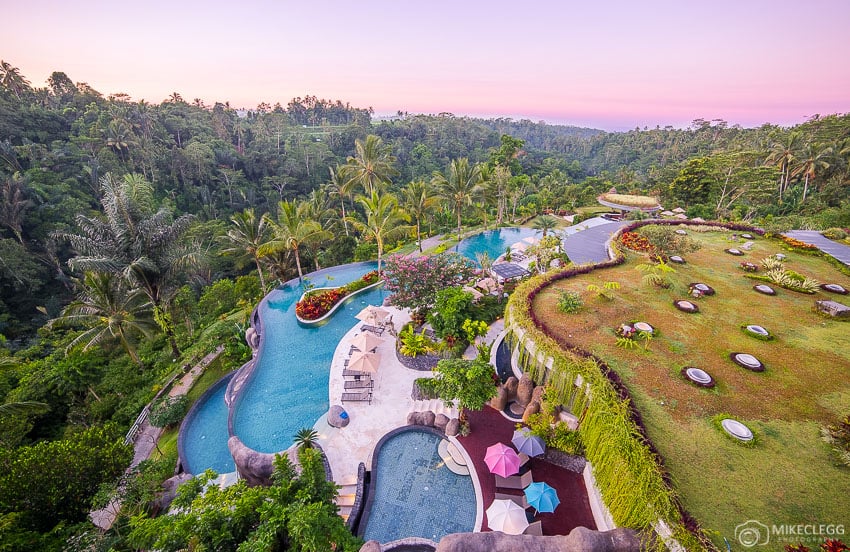 ADVERTISEMENT
CONTINUE READING BELOW
---
General tips for a multi-destination trip to South East Asia
Try not to cram too much into a short space of time and make sure you always have buffer time in case of delays.
If you plan to see a lot and don't have much time, then do as much research as possible before your trip.
Sleep on night buses and trains to save money on accommodation and flights.
Get yourself a Waterproof Dry Bag for the beaches to keep your electronics dry and sand-free.
Takes clothes with you that are suitable for visiting religious places and temples.
Check visa requirements before visiting each country. Some destinations may not require one for short stays, but others might.
For lots, more tips read my post Over 40 Top Tips for Travelling in Asia.
---
Summary
There are plenty of other destinations that you could visit in South East Asia, but this post should give you an idea on a trip that you could do. You could choose bits of it that you like, add or remove destinations or building a completely different trip. Whatever you decide I wish you an incredible time in this amazing part of the world. For flight connections look on Google Flights and for buses, trains and ferries have a look on 12go.asia for options.
Ready to book? Search for:
---
Related Articles