Must-visit lists based not on a single city, but an entire country can seem quite overwhelming, but it is possible. This list for South Korea is perfect for the easy-going backpacker.
When travelling in South Korea no matter how much or little time you have then get the KTX-rail ticket and travel from North to South, West to East of the country. Don't miss any breathtaking experiences and enjoy the country's great food, history, culture and national parks.
Here is a must-visit list of places to see and things to do in South Korea so as to experience as much as possible.
1. See the Demilitarised Zone (DMZ)
The Korean Demilitarized Zone (DMZ) is an area between North and South Korea which divides the two countries and is one of the most heavily guarded places in the world. The DMZ is a must-visit, specifically in combination with one of the four tunnels (discovered thus far!). The tunnels were designed as a surprise attack by North Korea and are now tourist attractions, though heavily and securely guarded by South Korean military. Because photography within the tunnels is prohibited, a personal visit is recommended.
TIP
A good way to experience the Demilitarised Zone is through a
tour
, which will help you learn more about this zone and the conflict.
2. Learn about Seoul's history
When it comes to historic sightseeing in Seoul, the possibilities are endless. Palaces, villages and landmarks are everywhere.
Here are 3 top recommendations on what to see:
Gyeongbokgung 경복궁 – During the Joseon Dynasty, the Gyeongbokgung Palace was not only the largest of the Five Grand Palaces but also the main royal palace. It was built in 1395 and has been rebuilt several times after suffering demolishment during wars. To this day, the palace is being reconditioned to its original form.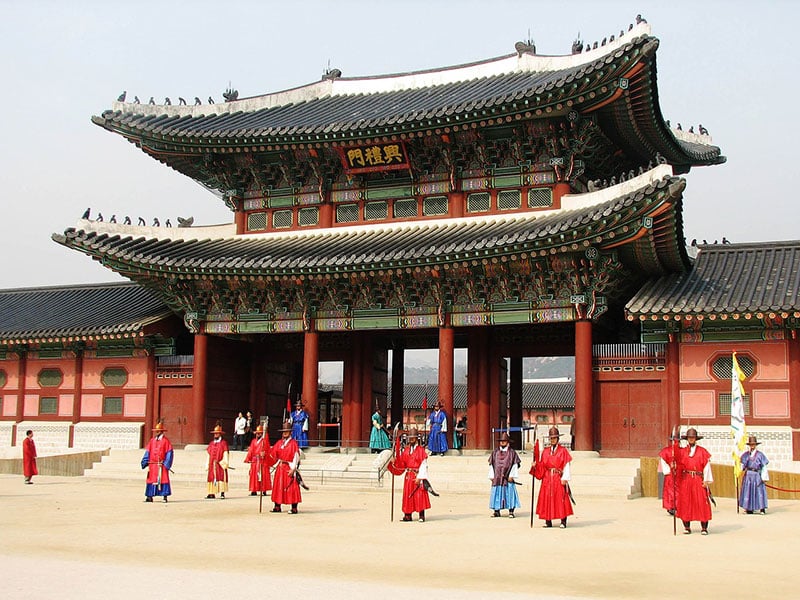 Bukchon Hanok Village 북촌한옥마을  – A collection of traditional houses known in Korean as Hanok (한옥), were utilised as tea houses, restaurants and cultural centres during the Joseon Dynasty. Such houses were mostly founded around palaces and shrines. The Bukchon Hanok Village is at the foot of Namsan Mountain.
The Jongmyo Shrine, 종묘 – Built in 1394, the Jongmyo Shrine is the oldest royal Confucian shrine of great importance in Korean tradition even today. The Confucian shrine was used to hold what was known as the Royal Shrine Ritual (Jongmyo Daeje 종묘대제). A rite held for worshipping deceased royal families with traditional court music, dance and performances of scholars. The traditional court music of Joseon has been revived by the Royal Orchestra and The Royal Shrine Ritual in its entirety is designated as Important Intangible Cultural Property of South Korea. On the first Sunday of May every year, the Jongmyo Daeje is performed. To view the shrine a tour should be booked in advance.
ADVERTISEMENT
CONTINUE READING BELOW
3. Explore South Korea's national parks
South Korea is home to 22 national parks (as of 2016). The Bukhansan National Park in Seoul is very mountainous with its highest peak being at 836,50m (2,744ft). The park contains forested areas, temples and is cherished by hikers and alpinists alike. But soon, the name Bukhansan (Three Peak Mountain) might be reverted to Samgaksan (Three Horn Mountain) which is what the mountain is known and valued by citizens, religious leaders, Korean Mountaineering League and many more.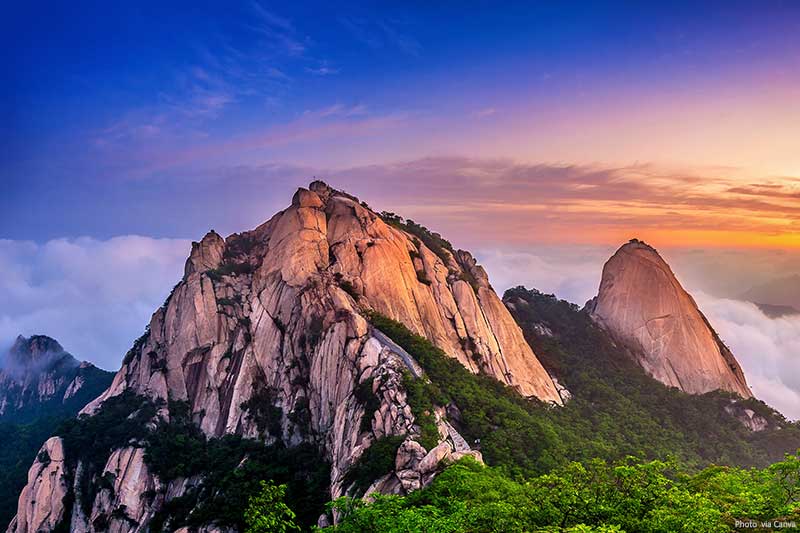 4. Experience Seoul nightlife
Seoul's nightlife is filled with opportunities for foreigners and Koreans to engage. As the evening turns into night, shyness from both parties pretty much dissolves and interactions begin. The two biggest areas for nightlife are Itaewon and Hongdae.
Itaewon, is known for having the most Expats and the U.S. military personnel and has a very western flair. Many shops, cafés, restaurants, bars and clubs cater to English speaking foreigners. One of the oldest rooftop bars in Itaewon is literally translated to "rooftop bar" – 가자장고 (Gacha Changgo), and has kept its cafeteria interior design flair with a self-service concept. In comparison to other bars in Itaewon, it is also relatively cheap.
Hongdae, on the other hand, is very internationally mixed. Also filled to the brim with shops, cafés, restaurants, bars and clubs; the visitors are mostly students. So, finding groups of people mixed with several nationalities is not an uncommon thing. The streets of Hongdae are also filled with buskers, dancers and other artists. The renowned animal cafés are also located here; such as the Meerkat Café, Sheep Café, Raccoon Café, Cat Café, Puppy Café, … the list goes on. Though these special cafés do demand an entrance fee which in some cafés includes one beverage.
Thursday Party is a bar where most students, foreigners and Koreans alike, start their bar-hopping. This bar opens every night of the week. Its dim lighting, seating possibilities and the games they offer (table football, beer pong, darts) are great opportunities for groups and individuals to meet and possibly continue the night together. The music is mostly modern, loud and there's always room to dance.
5. Discover Seoul's nature
Within Seoul you can already experience a lot of Korea's breathtaking nature. Despite being a city with a population of 10 million it is possible to find remote areas for peace and quiet.
Here are 3 top recommendations on what to see:
 A walk along the Han River – Find a lovely spot to sit during the day and enjoy the view of the sky or the city's reflection in the river. A cool thing about Seoul is that when out in public you can even order a takeaway to any public location.
Go hiking – Before visiting the many National Parks across the country, go for a hike in Seoul, such as to Namsan Mountain. This is located in the Jung-gu district south-central of Seoul. The Namsan Mountain has a peak of 262 metres and at the top, you'll find Namsan Tower (Seoul Tower). This is an observation tower also transmitting TV and radio broadcasting in the city. Here you'll also find a plaza, lobby, garden terrace, cafés and restaurants. This spot is especially recommended in the evening for the gorgeous scenery. Another great place to go is Gwanak Mountain which is quieter with less tourists and popular among the locals. Like most hiking trails, Gwanak Mountain has natural water fountains that locals maintain and provide hikers with drinking cups. This area is easily accessible from the metro stations Seoul National University and Sadang.
Non-hikers – For non-hikers there is strolling, cycling, roller-blading or jogging through Seoul Forest. This forest is peaceful and completely flushes out the city noise. The city government created this oasis as a recreational space for people to withdraw from Seoul's otherwise quick paced everyday routine.
Tours and Activities
6. Visit Busan
Busan is South Korea's second-largest city with a population of approximately 3.5 million inhabitants. Some refer to Busan as the smaller version of Seoul, others beg to differ, and the latter is recommended. Also known as the Summer Capital of Korea, the southeastern coast of Busan offers beaches, fresh seafood, landmarks and temples. Compared to Seoul, the hustle and bustle in Busan is toned down, so it's easier for foreigners to grasp cultural aspects. To get here use the Korea Train Express (KTX) which is a highspeed railway line that commutes from Seoul to Busan in around 160 minutes.
Busan is the proud proprietor of…
The Busan International Film Festival – held annually from early until mid-October since 1996.
The world's largest department store – the Shinsegae Centum City.
The largest and most famous beach in Korea – Haeundae (해운대).
The Haedong Yonggung Temple (해동 용궁사)– one of three sacred places related to the Goddess of Buddah.
The Busan Aquarium – the largest aquarium in South Korea.
…and many more.
7. Experience a temple stay
Temple Stays have become more popular for foreign tourists across Asia and South Korea is no exception. Korean Buddhist Culture and History are taught by the monks themselves and it gives participants the opportunity to experience Buddhism in the sense of "learning by doing". A Temple Stay can vary from a one day course to a couple of weeks, depending on the temple and season.
8. Visit Jeju Island
Jeju Province (better known as Jeju-do oder Jeju Island) is one of the nine provinces of South Korea and the nation's largest island. It's located south-west of the mainland and can be travelled to by ship or plane.
Because the island had been quite isolated and under the occupation of other nations during wars, Jeju has developed and maintained their own culture, language and local legends, such as the "stone grandfather" – God's offering for fertility and protection. Because of their reserved demeanour, tourism is one of Jeju's highest income, and the island is a very popular destination for mainland Koreans to travel to for their holiday and honeymoons.
Delicacies mostly found on Jeju include seafood, black pig (their meat differs by its chewy texture) and their very own orange. Driving from town to town, you'll find countless orange farms so consider pulling up and asking if it's okay to pick some. Most farmers already have bags and pruners ready, allowing people to choose and pick their own fruit and charging for each bag filled.
Also on the island is Hallasan, which is the highest mountain not just on Jeju Island, but all of South Korea at 1,947 m (6,388 ft). Hiking to the peak is beautiful in every season.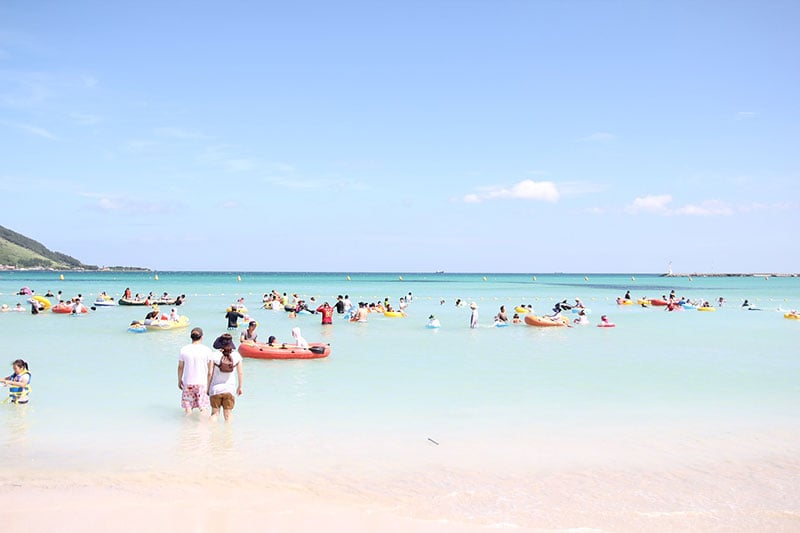 Tours and Activities
Start Booking
We recommend the below options to book your hotels, activities and flights:

Please note that we get a small commission if you purchase via our referral links. We use this to invest in new content and improving this website.
Related Articles