New York is a vibrant and bustling city anytime, but especially at night it oozes out with unlimited energy. It is the city that never sleeps; the streets, restaurants, theatres and even museums have something to keep you awake at night and entertained. You may want to spend it quiet or wild; there are many options to spend a night or two roaming around the city.
Here are some of the best things to do in New York at night. Including shows, tours, viewpoints and more. All perfect for adding to your travel itinerary for incredible nighttime experiences.
---
1. Watch a Broadway show
Broadway is one of the prominent streets across Manhattan. But it majorly refers to the area between 41st and 54th street containing around 40 large theatres, known as the Theatre District. Some of the most iconic theatrical productions in the world make their way to the theatres on Broadway. Whether you love plays or not, watching one here must be included on your to-do list and this is a top experience to enjoy in New York at night.
You will have many options including interactive musicals, historical shows, comedy, as well as kid-friendly performances. Some of the most popular shows are The Lion King, Wicked, The Phantom of Opera and Moulin Rouge.
2. Hang around at Times Square
Whether you want to eat fancy French cuisine or enjoy your favourite cocktail, watch a comedy show or sit quietly and people-watch; Times Square is the place to hang out.
Amidst the flashing billboards and neon lights, the site is an intersection of people and cultures. Times Square becomes liveliest at night when tired tourists or worked-up corporates flock here to unwind and relax.
You might want to stay out until midnight because every night, from 11:57 pm to 12 am, the billboards of Times Square take a break from their regular displays and transform into an outdoor digital gallery. This 3-minute synchronized display of digital art is called the Midnight Moment. It is a one-of-a-kind experience and accessible for everyone to watch. To know what the Midnight Moment is about, watch the following video on YouTube.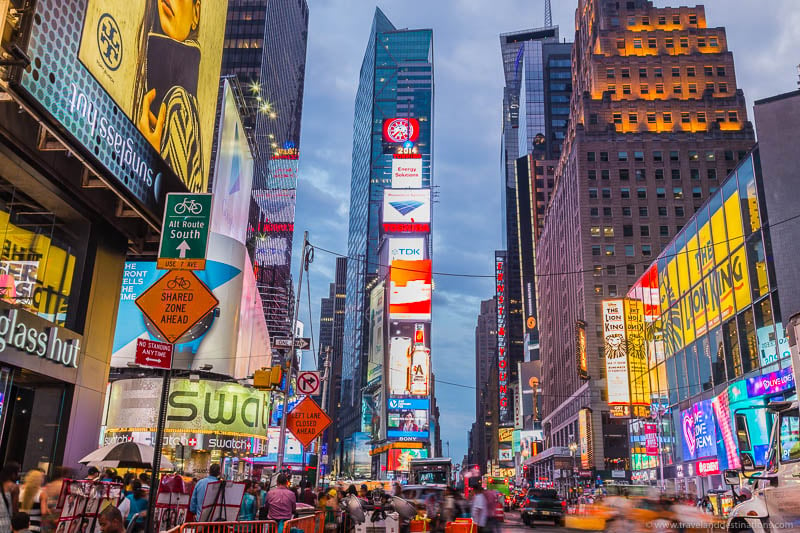 3. Enjoy views from a high-rise observation deck
New York is the city of skyscrapers, and there is no better way to admire the skyline of tall buildings than to climb atop one. Many facilities in the city have an observation deck with some additional experiences on its topmost accessible floor. From these observation decks, you can enjoy the sun go down and the lights come on across New York. It is quite a spectacle and a wonderful thing to do in New York at night.
The Empire State Building is the oldest and most iconic of all the high-rises, and the One World Trade Center is the tallest (at 541 meters). But there are also a few other buildings that can add some adrenaline rush to the experience and can compete with the above two. The Edge offers an opportunity for the highest outdoor skyscraper climb, whilst the Summit One Vanderbilt has the world's largest exterior glass floor elevators, and from the City Climb, you can scale the skyscrapers from its side.
Book your tickets for one of these experiences for the evening, and you are all set to remember NYC from a different perspective.
You May Like
4. Listen to Jazz
New Orleans was the birthplace of jazz, but it was New York where the music flourished and matured. There are plenty of jazz clubs in the city and this would be an enjoyable way to spend the evening. The musical Jazz clubs are the quintessential part of New York's nightlife and an attraction in their own right.
Some of the best clubs are around Greenwich Village and Harlem. Dizzy's s club at the Lincoln Centre enjoys a cult status in the jazz-loving community. This club features some of the most talented artists, a panoramic view of the city and the best cocktails to sip on. Getting a reservation online in advance at these clubs is highly recommended. For more information on the city's best jazz clubs, browse the list at: jazz.org.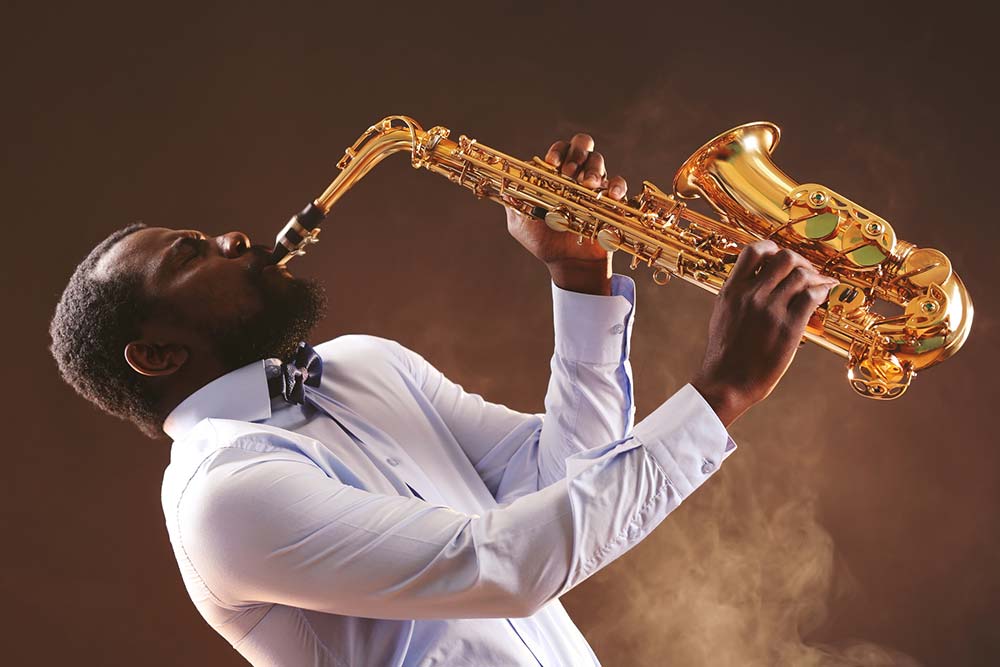 ADVERTISEMENT
CONTINUE READING BELOW
5. Hop on a New York night bus tour
If you are tired after trudging your feet through the busy streets of New York all day, then hop on a night bus tour. Grab a seat on the roof of a double-decker bus and enjoy riding across your favourite illuminated New York spectacles such as Times Square, Grand Central, and the Brooklyn bridge. You can take pictures and listen to GPS guided audio narration of all these places you pass by.
Check out the top view bus tours on topviewnyc.com/packages/package/night-tour to pre-book your bus ride. If you want to elevate your experience and soak in the background, you can choose The Ride. This luxury bus with colosseum-style seats has floor-to-ceiling glass windows and is a great way to experience the city at night.
6. Board a Sunset cruise
Nothing in the world beats the skyline of New York; it awes you from its first glimpse to any point of the day. But looking at the flickering lights of super skyscrapers and all the quintessential sites from a distance in the orange glow of the setting sun is hands down the most incredible experience you will have in the Big Apple. Leave the crowds and queues behind, sit and relax on a yacht's deck or hold a speed boat's handrails. You can see all the city, from the Statue of Liberty to One World Trade Centre, stride in front of you! Perfect for seeing the end of the day in New York into the nighttime.
For more exclusive experiences such as live music, dancing, and open cocktail bars, you can find plenty of options from different cruise companies. Book the one that appeals, and you are all set for an unforgettable evening in New York.
Tour Idea
7. Spend a Night at the museum
New York is a city of museums. These museums are also infamous for the long queues, as a result of which New York is also called "queue york". But there are some museums which are open until late evening.
For history, geography, art and music there are a few museums that you can visit in the city past 5 pm (on select days so check opening times), which include the Guggenheim Museum and Metropolitan Museum (The Met).
The American Museum of Natural History also offers sleepover parties for kids and grown-ups on specific dates. For more information, visit the website amnh.org/plan-your-visit/sleepovers and spend a night surrounded by dinosaurs, whales and African elephants after the lights are out and the gates are closed.
8. Sign up for a pub crawl
In a city that never sleeps, pubs and bars are the places that come to life once the monuments and museums are closed. There are many organized pub crawls that you can sign up for in New York. On these tours, you can hop from one bar to another with a group of like-minded people. There are pub crawls that take you across bars visited by people from the literary world, bars with a historical connection, bars featured in a particular movie, and those for music and theatre fans.
The New York Trolley Company offers its pub crawl tours in a different style. You can choose your bars and pubs, play your music, and dance your way from one bar to another in a trolley without getting off in this mobile party lounge.
ADVERTISEMENT
CONTINUE READING BELOW
Summary
New York is larger than life. It is home to towering skyscrapers, sprawling neighbourhoods and is a top city in the USA that represents the highest cultural diversity. There is history seeped in its Boroughs, greenery squeezed into the concrete jungle and life percolating from its streets.
Take ideas from our favourite tours and activities to enjoy in New York and indulge in a few night-time activities mentioned above. With these you can create a memorable vacation for yourself and your family.
Ready to book? Search for:
---
---
Tours and activities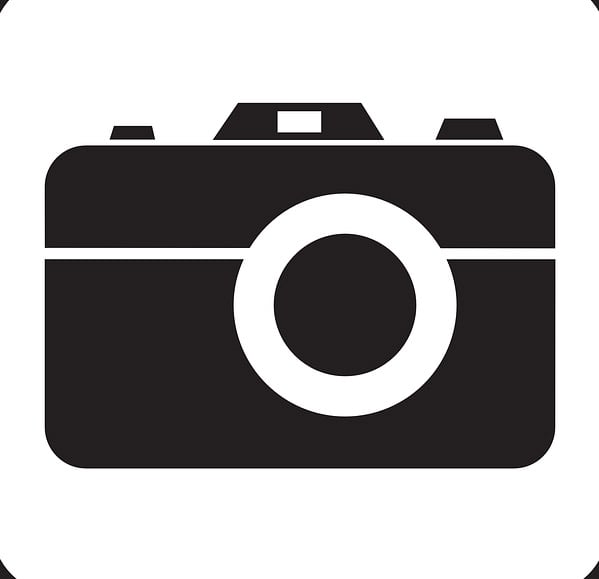 Related Articles