Mexico is a country full of surprises. Whilst it is a popular holiday spot with tons of tourists flocking to the beaches of Cancun every year, few tend to explore the rest of Mexico. But Mexico is huge and there are so many amazing places to visit. Of course there are the beautiful white sand beaches you imagine when you think of Mexico, but there's also cool cities, colourful towns, Mayan ruins and incredible natural sights. Add to this delicious food, friendly locals and cheap prices, and you have one hell of a holiday destination.
So if you're planning a trip to Mexico, here are 15 amazing places that you should consider adding to your itinerary.
1. Mexico City
Mexico City, or CDMX, is a large and vibrant city full of museums and parks, great bars and an amazing food scene. If you're flying here then it's the perfect place to start your journey in Mexico.
Mexico City is made up of a number of different neighbourhoods, all connected by a great public transport system, or if that's not for you then Uber is available. Outside of the central historical area head to La Condesa and Roma. With pretty streets, small parks, street art and tons of cafes, bars and restaurants, these are popular areas for expats. Heading a bit further from the centre, Coyoacan is a great little neighbourhood to visit with lots of traditional cafes and a bustling market. If you're interested in art, it's also home to the Frida Kahlo Museum, though make sure to book your tickets online before you arrive.
There are also plenty of great day trips to do around the city. One popular one is to Xochimilco, which has been described as the Mexican Venice. Jump aboard one of the colourful gondola-type boats and cruise around the canals here, which are remnants of a water transport system built by the Aztecs. There is a party-like atmosphere, especially at weekends, and you'll float past boats selling beers and food and others with mariachi bands to entertain you with live music so you can really get the boat party going.
If you're interested in history, then pay a visit to Teotihuacan. Just outside Mexico City, this is a vast archeological complex which, unlike most such sites in Mexico, isn't a Mayan ruin. It's seriously impressive and you can easily spend most of a day here exploring the ancient structures.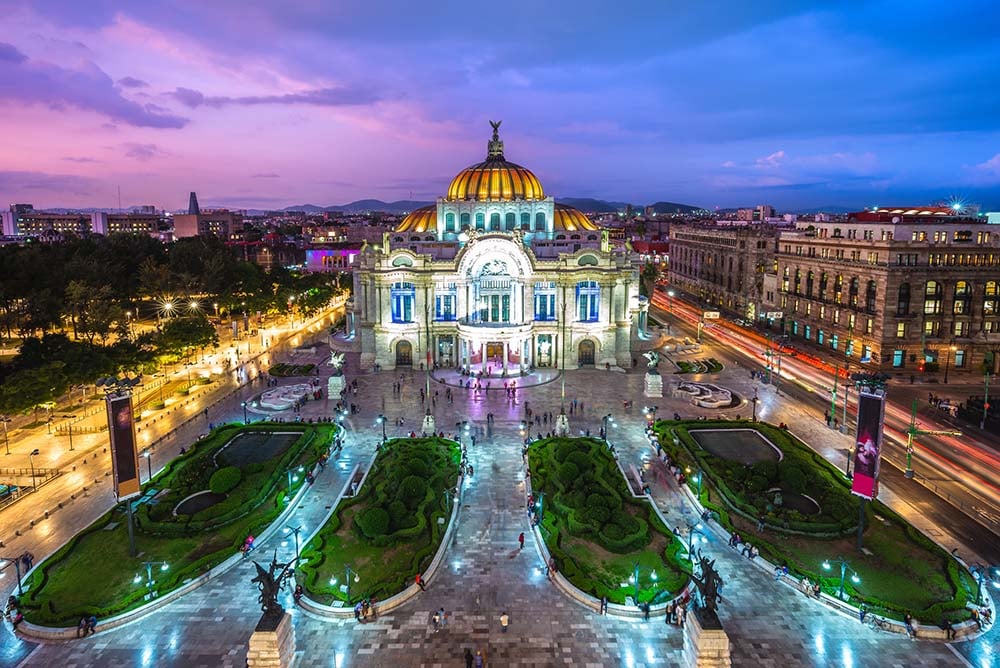 2. Puerto Vallarta
Puerto Vallarta sits on the central west coast of Mexico and is a popular beach holiday destination with Canadian and American travellers. As such, it has a number of large hotels and a stretch of large and somewhat brashy bars along the waterfront. But don't let that put you off. The Zona Romantica area is a much better place to spend an evening with some nice restaurants and craft beer places in amongst a number of lively gay bars. But the real reason Puerto Vallarta is on this list is for the places outside of the centre.
Whilst the beach in Puerto Vallarta is nice and a great place to watch the sunset, the best spots lie to the south of Puerto Vallarta towards Boca de Tomatlan. There are regular local buses heading this way for only 10 pesos (~$0.50), which is great as if you're looking for beautiful beaches then you'll probably find yourself taking this bus a lot!
Mismaloya Beach is a great beach only 20 minutes or so by bus. Or if you take the bus all the way to Boca you can get a taxi boat to Yelapa Beach. Not only is this beach beautiful, the boat ride there is great and gives you the chance to see the whole coastline from the water. Alternatively, from Boca hike to Las Animas Beach. It's an easy but beautiful hike all the way along the coast. From Las Animas you can easily grab a water taxi back to Boca if you don't want to hike back.
Finally, if you're visiting during whale watching season (December – March), then taking a boat trip is a must. This is a main migrating route for humpback whales and you're pretty much guaranteed to see them during this time.
If you want to explore around Puerto Vallarta, then just an hour or so up the coast sits San Pancho, a wide sandy beach by the small hippie town of San Francisco. Consisting of pretty much one main road, it still has pretty much everything you need with nice cafes, bars and restaurants. Alternatively, the town of Sayulita is pretty much the next beach along. Slightly larger and more developed, it's a popular spot with tourists and digital nomads.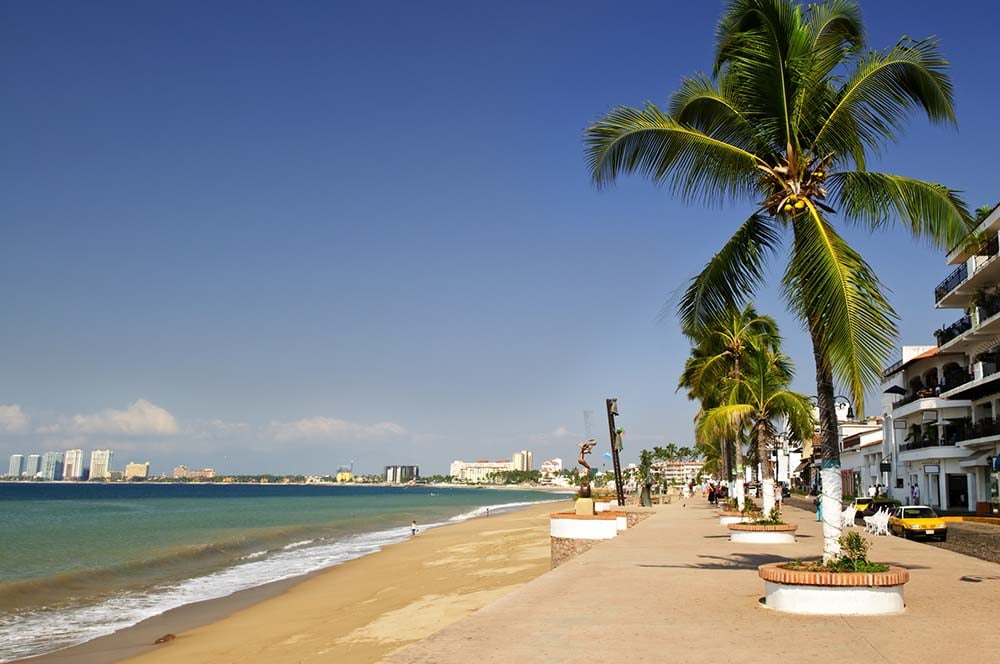 ADVERTISEMENT
CONTINUE READING BELOW
3. Tulum
Tourism has boomed in Tulum in recent years due to it becoming a popular spot for online influencers. There's a good reason for this, Tulum is an Instagrammers heaven with cool beach clubs, beautiful cenotes, a hippie vibe and a great music scene.
The hotel zone is the main place to stay. Sitting along the beach, hotels here are expensive but are connected to beach clubs, so if you're looking for a luxurious and lively beach holiday then this is your spot. However, if this isn't in your budget, then it's easy enough to stay in Downtown Tulum and then walk or cycle down to the beach. There's one road heading from Downtown, and once you hit the sea just turn left (instead of right for the Hotel Zone) and you'll find public beaches where you can just lay down your towel.
Heading this way is where you'll also find one of the top spots in Tulum, the Tulum Ruins. Whilst the ruins themselves may not be anything special (especially in comparison to places like Chichen Itza and Palenque), their location on the cliff overlooking the beach is what makes them a site to behold.
Tulum has tons of cenotes nearby which you should definitely try to visit whilst you're here. Each cenote has its own unique feature – some are deep in caves, others have a large open ceiling, some are better for swimming, etc, so do your research before deciding which to visit. Cenotes like the Gran Cenote and Suytun are also incredibly popular, so if you want to visit these, plan on arriving early.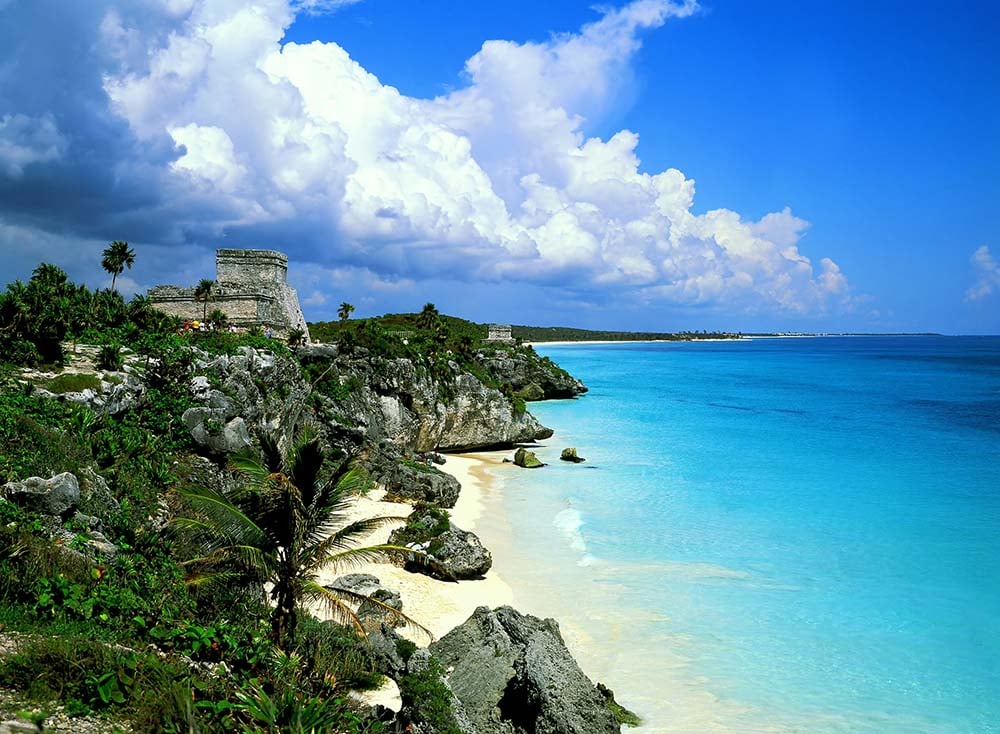 4. Cancun
If you don't fly into Mexico City then you'll probably be arriving directly into Cancun. With a large international airport, Cancun is a very popular spot for foreign tourists. The beaches here are beautiful white sand backed by turquoise blue waters. There is a stretch of large hotels all along the coast with their own private beaches, but if you're staying Downtown then you can easily get the local bus to Playa Delfines, a large public beach which even has free umbrellas for everyone to use.
If you came to Mexico to party then Cancun is the place. The main strip is lined with big clubs pumping out music and offering drink deals to entice you inside. The most famous club is Coco Bongo. A cross between a club and a live music show, this is not your standard night out. There's singers, dance performances, confetti and non-stop partying. The entrance fee is pretty high, but includes an open bar and is definitely worth it for the experience.
But Cancun isn't all about beaches and parties. One of the best day trips you can do here is to Chichen Itza. One of the Wonders of The World and a Unesco World Heritage Site, this is a must visit when in Mexico and can easily be visited from Cancun, either independently or as part of a tour. El Castillo (the Temple of Kukulkan) is the famous pyramid that people associate with a visit here, but Chichen Itza is actually a large archeological site home to a number of other pyramids and temples. It is a magnificent display of Mayan architecture and really shouldn't be missed, though visit early to avoid the crowds.
Another great day trip from Cancun is to the island of Isla Mujeres. It's only a 30-minute ferry ride away and is home to Playa Norte, which is considered one of the best beaches in Mexico. If you have time, stay a night or two here and enjoy the spectacular sunsets and weekend beach parties.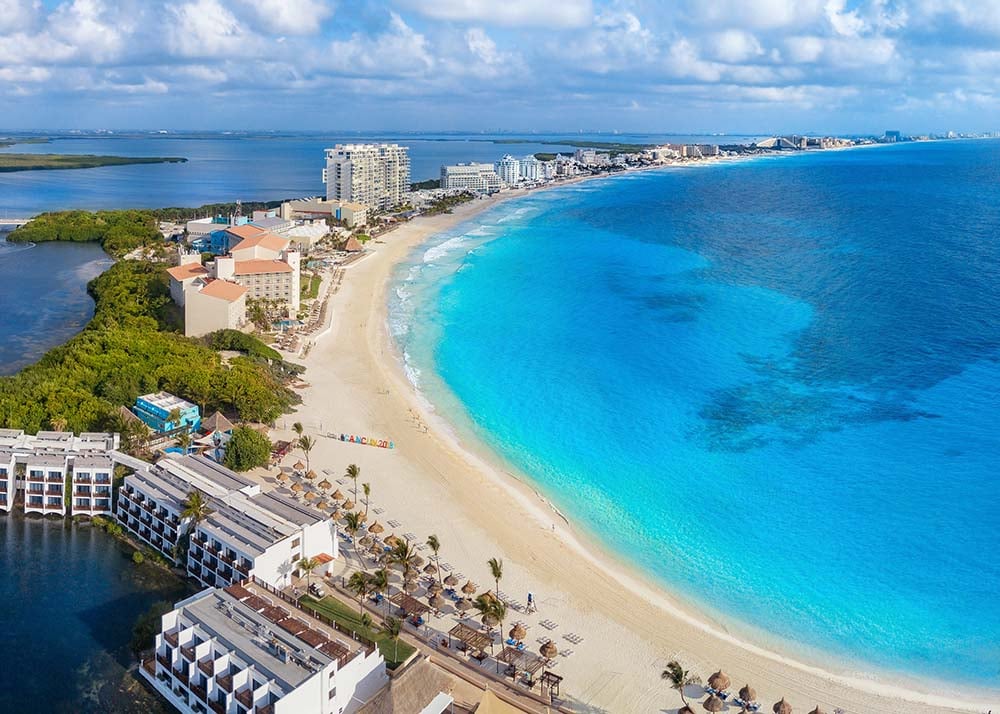 5. Huasteca Potosi
If you're looking for beautiful nature and incredible adventure then Huasteca Potosi is the place for you. Sitting in the state of San Luis Potosi north of Mexico City, this lush region is seldom visited by foreign tourists but offers unparalleled natural environments including rivers, caves and waterfalls that are great for rappelling, kayaking, mountain biking and hiking.
Huasteca Potosi is a large area with lots to discover. Cuidad Valles is probably the best area to base yourself. Whilst the city itself is certainly nothing to write home about, it has all the essentials you need and is central to most of the main sights. It's also the best place for finding public transportation to and from the top destinations, although it's certainly much easier to visit this area if you have your own car. Alternatively, stay in Xilitla. This pueblo magico is a must-visit whilst in La Huasteca Potosina, primarily because it is home to the Edward James Surrealist Garden. Built in the forests outside of Xilitla by the Englishman Edward James, this is one of the most unique places to visit in Mexico.
The main attraction in Huasteca Potosina is its huge amount of waterfalls. There are so many you could easily visit a different one each day. Parque Ecoturistico El Naranjo is about two hours north of Ciudad Valles and is home to a good concentration of waterfalls, including Minas Viejas, El Meco and El Salto, which also has a number of natural pools. Temosopo and Puente de Dios are also stunning waterfalls where you can jump in and swim or just admire from afar. Finally Micos Waterfall is only 30 minutes from Ciudad Valles.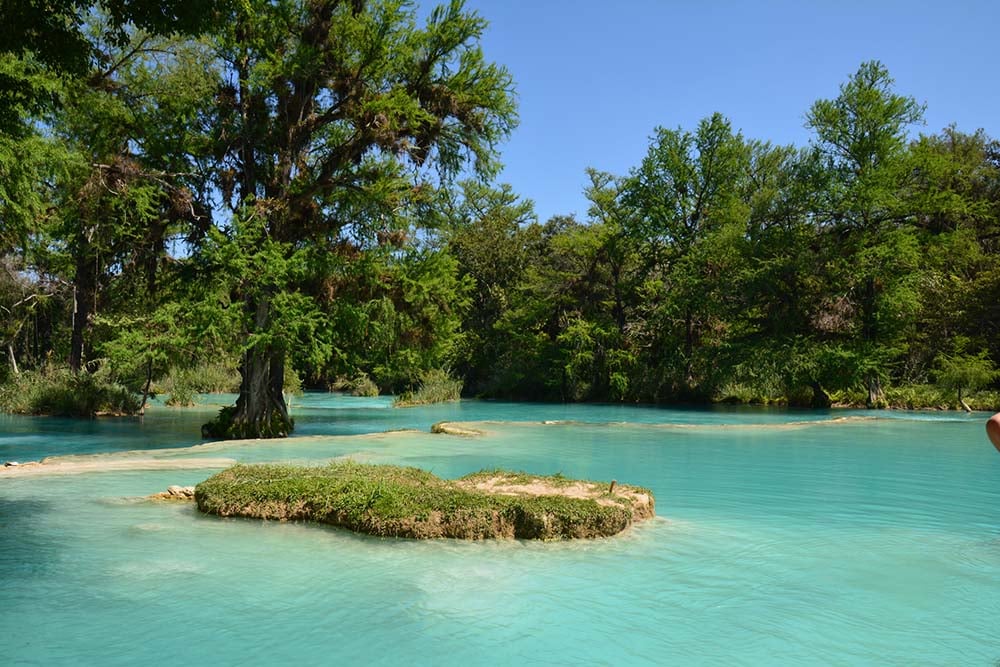 ADVERTISEMENT
CONTINUE READING BELOW
6. Guanajuato
One of the most interesting towns in Mexico, Guanajuato has the unique feature of being built above a series of underground tunnels. This means all the cars and buses drive underground, leaving the city pretty much car-free and walkable.
The town has loads of plazas, including the one outside its famous yellow church, and these are great to sit and chill at a cafe or bar. In the early evening head up to Al Pipila Monument for a great view of the colourful town from above.
Guanajuato is surrounded by hills and so there are lots of hiking opportunities. Walk from town to the Press de la Olla reservoir and from here you can start the short but steep hike up to the top of La Bufa for amazing views of the whole area.
One of the best things about Guanajuato is the lively vibe all over the town. In the evening the streets are filled with traditional mariachi bands each competing for attention. The plaza outside Teatro Principal is the main spot for music, so grab a seat outside one of the many restaurants here and enjoy the show.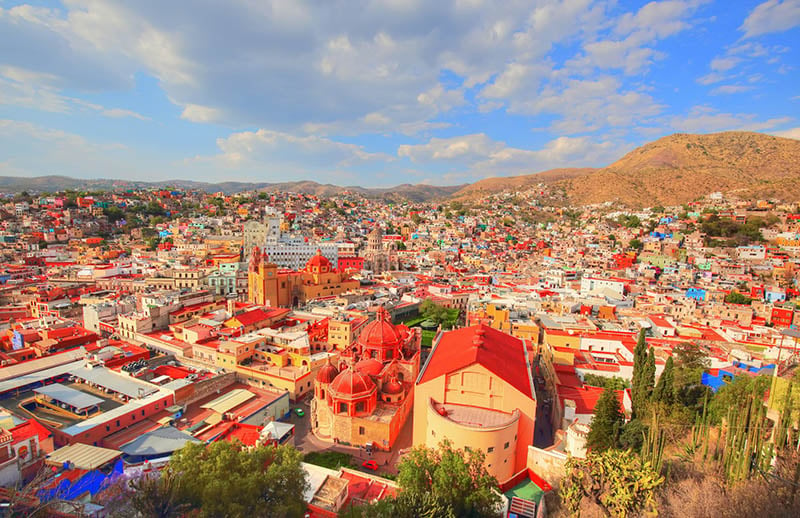 7. Guadalajara
Guadalajara is the second biggest city in Mexico and as such has loads to see and do, including the biggest indoor market in Mexico. Head here to try all the Guadalajara food specialities, including goat stew and torta ahogada (a pork sandwich covered with tomato salsa).
Spend a day walking around the Plaza de Armas and checking out the architecture and churches, particularly Templo Expiatorio del Santisimo which is stunning inside and out and one of the most impressive churches in Mexico. After, head to Chapultepec, which is also the best area to stay. The streets here are lined with bars and restaurants, many offering cheap drink deals, so it's a great place to hang out through the afternoon into the evening.
Although you can explore most of the city by foot, Guadalajara has a great public transport system. Take the tram to Tlaquepaque where you'll find the main street lined with tons of bars and restaurants and the central plaza full of street food. It's a great place to spend a day.
Everyone knows that Mexico is famous for Tequila but did you know that just outside of Guadalajara is Tequila, an actual town that you can visit. Well it is and it's everything you'd imagine, with tequila distilleries, tons of bars selling huge ceramic mugs of tequila, and everyone sitting around drinking! As well as just drinking your way around the town, make sure to actually visit a distillery to learn how tequila is made. Not only will you see the whole process from agave plant to bottle, you'll get to taste all the different types.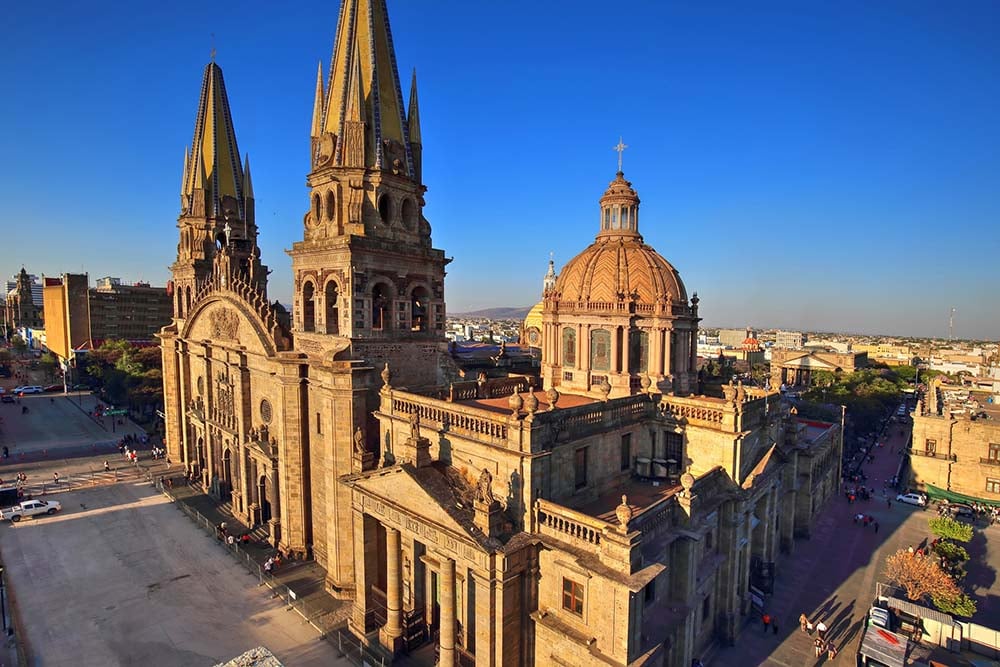 ADVERTISEMENT
CONTINUE READING BELOW
8. Taxco de Alarcon
Sitting a couple of hours outside of Mexico City, Taxco is a popular day trip from the capital, but it's a gorgeous little town and deserves at least a night's stay. Designated a Pueblo Magico by the Mexican Government for its "magical" qualities, with its winding cobblestone alleys, pretty main square and spectacular central church, it's not hard to see why.
Taxco sits nestled among hills, and so you'll find yourself walking up and down a lot of stairs and sloping streets when exploring the town. Although hard work, it will lead to you stumbling across some pretty epic views of the white houses and red roofs with the church spires jutting out. The best vista however is undoubtedly from the Christo Rey statue. From everywhere in the town you can see this statue looming high above, and the walk to get up here (and to get back down) is a steep and tough one requiring a lot of legwork. The view is totally worth it though.
Just outside the centre of Taxco lies the hidden gem of Cascada de Cacalotenango. You'll need to take a taxi or hitchhike here but once you see the huge waterfall in the distance you'll be glad you made the effort. From the road it's about a half an hour easy hike through the forest, with amazing views of the Mexican countryside along the way.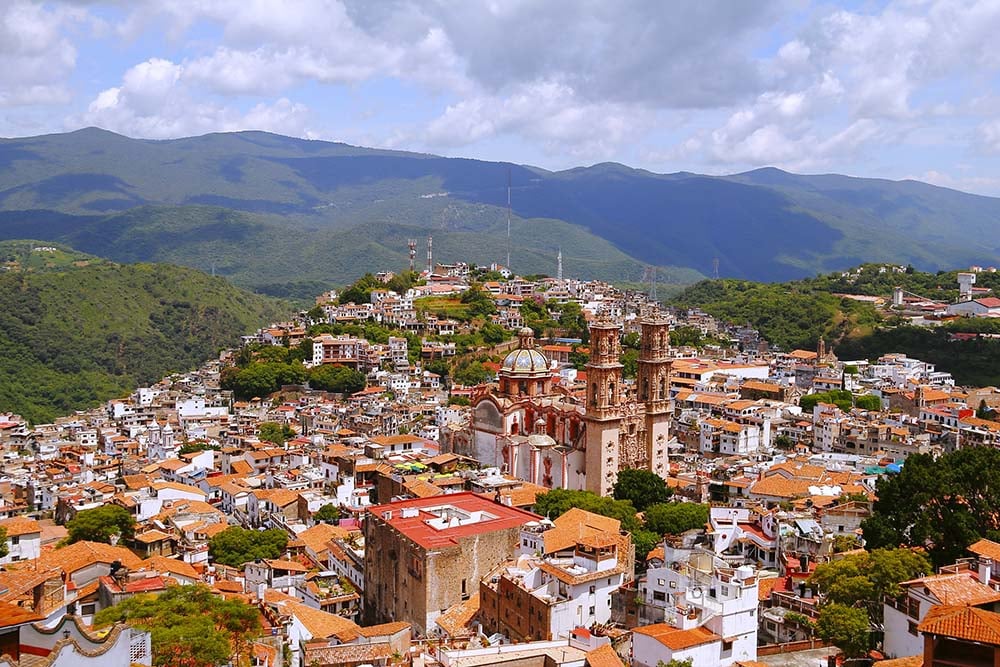 9. Oaxaca
Oaxaca is known as the culinary capital of Mexico which is an achievement in a country known for its food. There are a number of specialities here, but the one thing you must try whilst in Oaxaca is the mole. There are seven different types, and if you want to try them all then pay a visit to Los Pacos which has a mole sampler on their menu and will talk you through the ingredients of each one. Also make sure to try a tlayuda, a Oaxacan speciality that is often referred to as Mexico's version of pizza.
As well as food, Mexicans are also famous for their alcohol. Whilst tequila is the most known worldwide, talk to any local and most will tell you that they prefer mezcal over tequila, and it has even been described as the purest alcoholic beverage in the world. Pay a visit to a mezcaleria in Mazatlan, a small town just outside of Oaxaca and the home of Mezcal, and you'll see that the way of making mezcal retains all the traditional methods, including using horses to crush the agave in a stone mill.
Talking of mezcal, Oaxaca is home to a ton of great bars where you can sample mezcal margaritas and whatever else takes your fancy.
Finally, if you find yourself wanting a break from the endless food and drink, pay a visit to Monte Alban archaeological site. The ruins here are set atop a mountain and are one of the few sets of ruins where you can actually climb the pyramids, giving you amazing 360-degree views of the Oaxaca valley.
Tour idea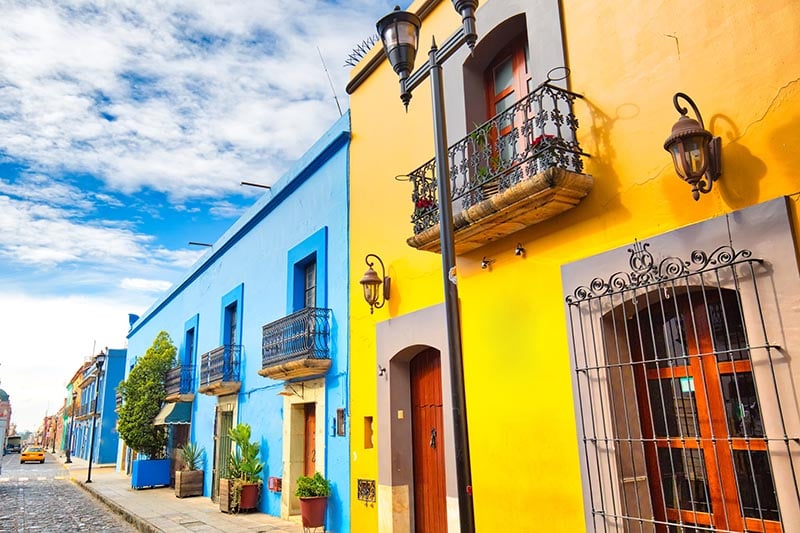 10. Puerto Escondido
On the pacific coast of Mexico lies the surfing hotspot of Puerto Escondido. The main beach, Playa Zicatela, is a 3.5km stretch of wide white sand starting in the main town and ending in La Punta, a popular area with longer stay digital nomads and beginner surfers. It's a great beach to walk along or watch surfers early morning, spend the day sunbathing, and then watch the sunset in the evening.
There are also loads of smaller beaches nearby if you're looking for a change of scenery. Playa Carrizalillo is a beautiful spot popular with beginner surfers, and the two neighbouring beaches of Angelito and Carrizalillo are also worth a visit.
If you're looking for something a bit quieter and more off the beaten track than Puerto Escondido, the small beach towns of Mazunte and Zipolite are just along the coast. Consisting of one main street, Mazunte is a hippy, laid back paradise. Zipolite is equally as small and is famous as a nudist beach for those looking to really hang loose.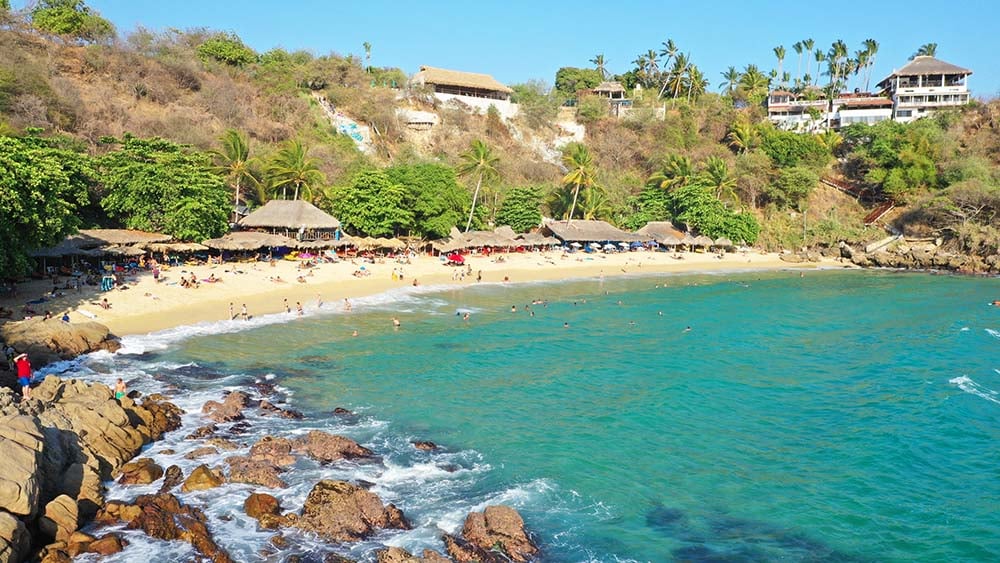 ADVERTISEMENT
CONTINUE READING BELOW
11. San Cristóbal de Las Casas
Sitting in the Chiapas region of Mexico, San Cristobal has a different feel to many other Mexican towns. First, it sits up in the mountains surrounded by green hills, and this elevated position means the nights get pretty cold. Second, you'll really feel like you've entered the real Mexico here, with most locals wearing traditional dress and selling handmade goods.
The town itself is great to wander around, and you'll notice that things here are markedly cheaper than other states of Mexico, meaning you can treat yourself at the numerous bars and restaurants lining the main street.
For a truly unique and interesting experience, take a colectivo to the nearby town of Chamula and visit the church here. In a mixture of catholic and traditional Maya beliefs, worship here includes thousands of candles burning on a floor covered with pine branches, and killing chickens in an offering. It really is a strange experience to witness and so shouldn't be missed if you're in San Cristobal.
Outside of the town there are lots of great day trips on offer. Combine a trip to El Chiflon Waterfall and Lagunas de Montebello. The former is a beautiful set of three waterfalls, the third being 120m high! The latter is a national park comprising 59 different lakes amongst a pine forest. Sitting on the border of Guatemala this is a long day trip but the scenery is incredible and like nothing you would expect to see in Mexico.
Another worthwhile day trip is to Sumidero Canyon. You can view the canyon from a number of viewpoints high above and take a boat trip through it to really appreciate the towering cliff faces, and maybe spot crocodiles and monkeys en route.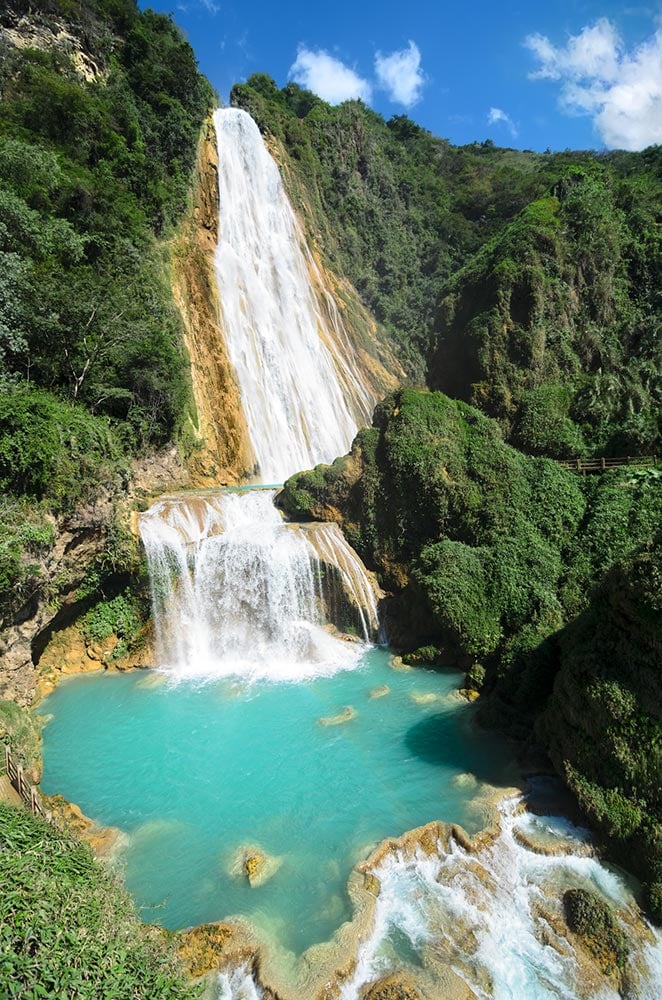 12. Palenque
Palenque is a small town sitting close by two big attractions which make it worth a stop on any Mexico itinerary: Mayan ruins and waterfalls.
The Palenque ruins are some of the most spectacular in Mexico but don't attract the same crowds as flock to the world wonder of Chichen Itza. The ancient pyramids and temples lie in amongst the jungle and so you feel like a real explorer discovering the ruins here.
Palenque is home to three different waterfalls, each well worth a visit. First up is Agua Azul. Undoubtedly the most popular, this waterfall is large and wide and consists of a number of cascades. There are trails and viewpoints around the falls and whilst you can't swim in the main section, there is an area for swimming further up.
On the same road that leads to Agua Azul is Misol Ha Waterfall. Although just a single fall, it's extremely tall and photogenic, and you can walk around behind the falls and swim directly under it.
Finally, there is Roberto Barrios waterfall. Less well known than the former two, this is a true hidden gem that is just, if not more, beautiful than Agua Azul but without the crowds and street vendors trying to sell you souvenirs. There are multiple pools here where you can swim and so you can easily spend a whole day here just hanging out.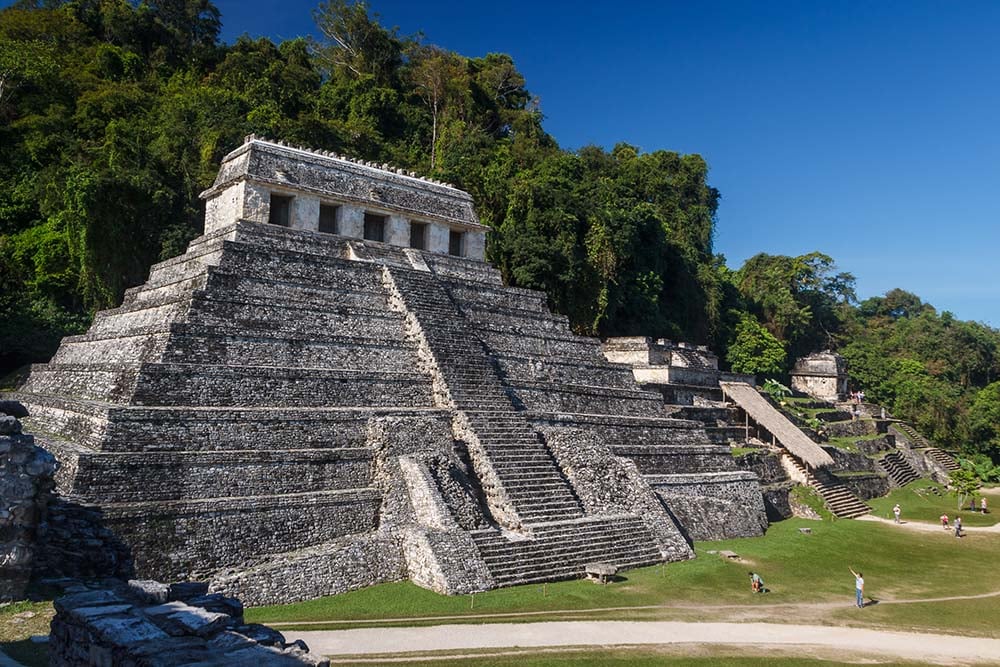 ADVERTISEMENT
CONTINUE READING BELOW
13. Merida
If you're looking to stay in a place in Mexico which has it all then Merida may be for you. As a city it has a lively main square, tons of nice cafes, restaurants and bars, a bustling market and street food galore. There's definitely enough within the city centre so keep you occupied for a few days.
But get out of the city and there's even more. Visit the yellow town of Izamal, so-called because everything is literally painted yellow. At its heart lies a giant yellow convent with its arches and columns creating a great photo opportunity. The town also has its share of Mayan ruins, with several large stone pyramids which you can actually climb up for views of the city.
One natural attraction you must ensure you visit whilst in Mexico is its cenotes. There are tons of cenotes dotted around the Yucatan peninsula, but a lot of people don't know that Merida has its own sets of cenotes not far from the city. There are a few different options, but a favourite is the three cenotes at the nearby town of Cuzama. Grab a colectivo here and then upon entering the cenote area you'll be transported on a horse-drawn cart along an old railway line through the forest, an experience in itself, before drawing up at a hole in the ground. Descend the steep steps down and you'll find magical cenotes of crystal clear blue water, which you might just have all to yourself. See a tour option on Viator.
Finally, if you want a bit of beach time you'll find one of the nicest beaches on mainland Mexico just an hour away. Grab a bus to Progresso and soak in the sun on the long white sand beach here.
Tour Idea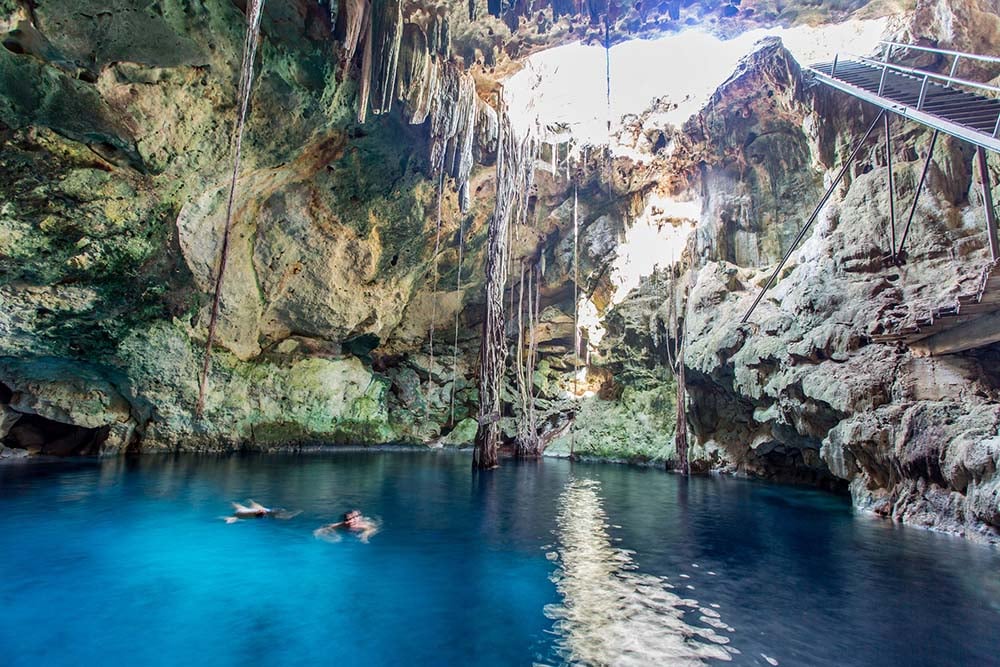 14. Isla Holbox
If you're looking for a paradise island then Isla Holbox is the place. With the beautiful white sand beaches and crystal clear blue water that you dream of when visiting Mexico, Holbox is a beach lovers paradise. With dirt roads and no cars, you can rent a golf cart or bicycle to explore the island if you wish, but really it's small enough to simply walk around. Alternatively, travel on the water by renting a kayak or paddleboard and visiting Punta Mosquito. Located on the northern tip of the island, it's a nature reserve home to different types of birds. You can even spot flamingos here if you're lucky.
There are some tours on offer, including snorkelling tours, visiting the mangroves to spot crocodiles, or nighttime tours to see the bioluminescent plankton. But ultimately, there's not that much to actually do in Holbox, and that's part of the appeal. Life here is tranquil. Spend the days relaxing on the beach and the evenings watching the spectacular sunsets.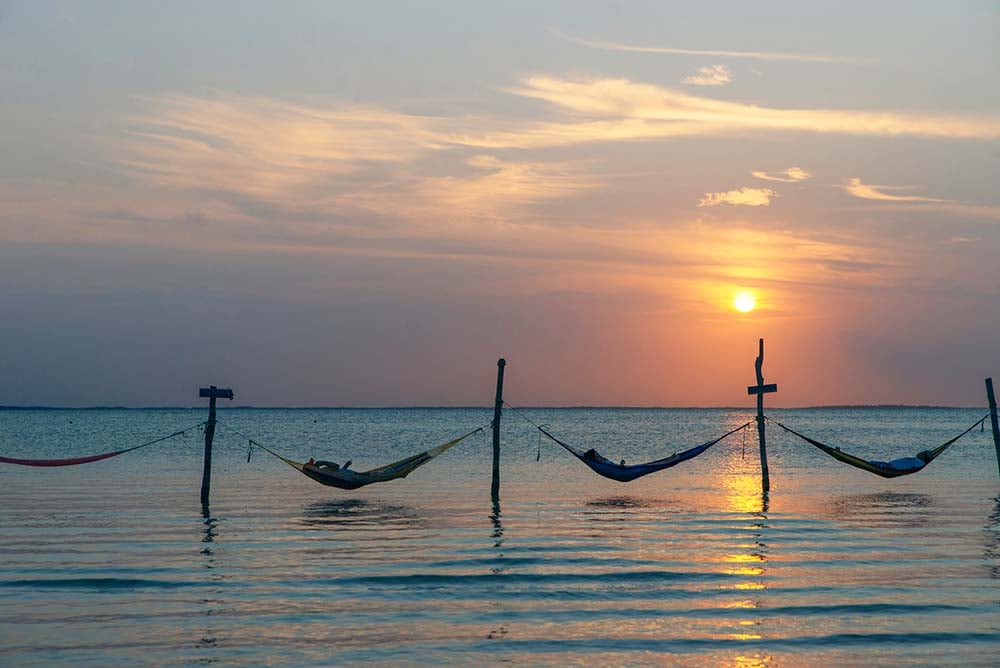 15. Mahahual
Mahahual is a little known beach town sitting in the south of the Yucatan peninsula not too far from Belize. Whilst popular with Mexican holidaymakers, it seems to be relatively unknown amongst foreign tourists which means it retains a lovely local charm.
The town is small, pretty much consisting of one street. This runs along the beach and is lined with restaurants, dive shops and stalls selling souvenirs. If you're looking for a place to relax and take it easy, this is definitely it.
However, that's not to say there's nothing to do here. Mahahual is actually a prime diving destination. The reef just 10 minutes from shore is amazing, but the real draw for divers is Banco Chinchorro. This unspoilt reef atoll is rich in marine life and one of the top diving spots in all of the Caribbean.
Not too far from Mahahual is Bacalar, another great spot to visit whilst in the area. The lake here is known as the lagoon of seven colours, and when you see the multiple hued turquoise blue waters you'll understand why.
Summary
Mexico is way more than just beautiful beaches (though it definitely has those in abundance). It's an amazing and diverse country with something for everyone, and the places on this list are just a taste of what it has to offer.
---
Tours and Activities
Related Articles