Every year since 1947 Edinburgh has been one of the main locations for Fringe Festival. This festival is one of the biggest arts shows in the world, with talent from all over the world coming to perform. I visited Fringe for the first time in August 2017 and absolutely loved the experience. The city felt alive with an incredible atmosphere and there were things happening all over the city. In this guide, I am going to provide some of my tips and advice from my experience at the festival. I expect the tips provided in this post will be most useful to first-timers visiting Fringe.
---
Shows at Fringe Festival
There are a range of shows available during the festival, from comedy performances, musicals, theatre productions, circus and acrobatics, exhibitions and much more. During my visit, I saw a variety of shows including standup comedy, improv-comedy, a musical and a game show. The majority of the shows were pretty awesome, although a couple weren't that good. The shows and events that I particularly liked during my visit (in 2017) was "Brexit the Musical", "All Genius, All Idiot", "Margaret Thatcher Queen of Game Shows", "Guru Dudu's Silent Disco Walking Tour" and "Abnormal Asian". There will most likely be different shows in future festivals, but if you hear of any of these performances in a place near you, then I recommend checking them out.
Finding Shows
To find acts you can look on tickets.edfringe.com, look through the event brochures found in major cities across the UK, use the Fringe App, or you can wait until you get there, where you'll find posters everywhere, as well as tons of people handing out leaflets to promote performances.
I recommend going to a mix of shows when you visit. Such as free and paid, as well as different types of shows. That way you'll probably get to see a large variety of performances and hopefully get the most from your Fringe experience.
When you first start searching for shows you may also find it quite overwhelming as there is just so many. But filter by the dates you are going to be at the Festival and what you want to see and it'll be easier to choose.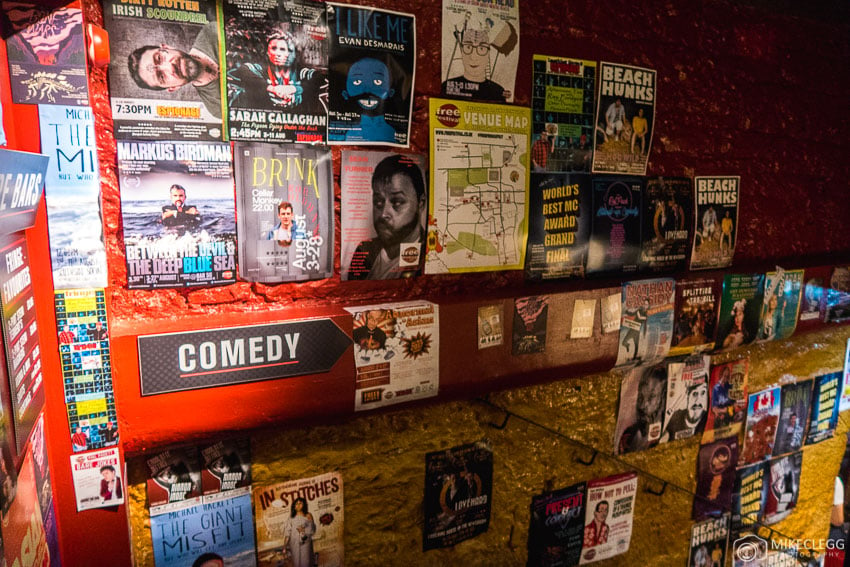 Fringe App
Before you visit Fringe I recommend downloading the Fringe App. With the app you can find shows near you, book tickets, check out the Half Price Hut (mentioned below) and more. The app provides details about what the events are about, genre, location, times and much more. You can also filter by date and time, location and various other attributes.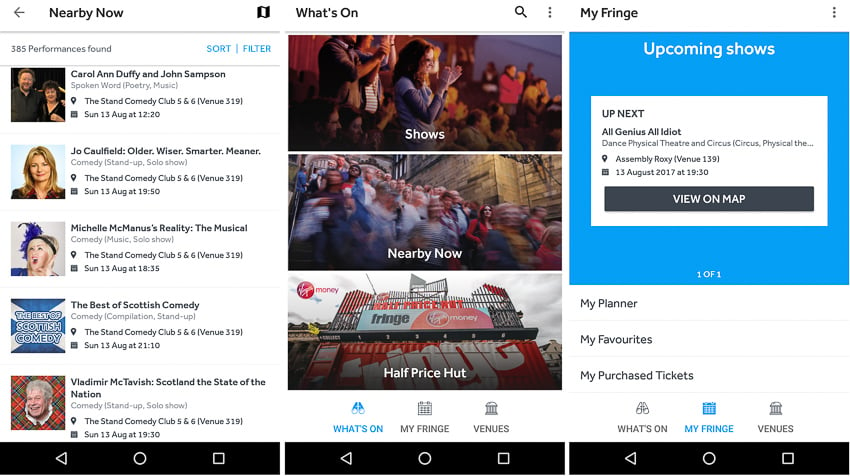 Free Shows
There are tons of free shows throughout the city. These can often be stand-up comedy and low budget performances. Although they are free, the Acts generally ask for a small donation. For that reason, it's a good idea to have some change such as coins or five-pound notes.
The queue for the free shows tended to be quite big especially on a Saturday. As it's pretty much first come, first serve, if there's a free show you desperately want to see you should queue up between 30-45 minutes before it starts.
I did find the free shows hit and miss, and it may be performers trying things out to see if they work. However, not all of them were bad and some of the free shows I saw were quite simply hilarious. For that reason, I recommend heading to quite a few different ones.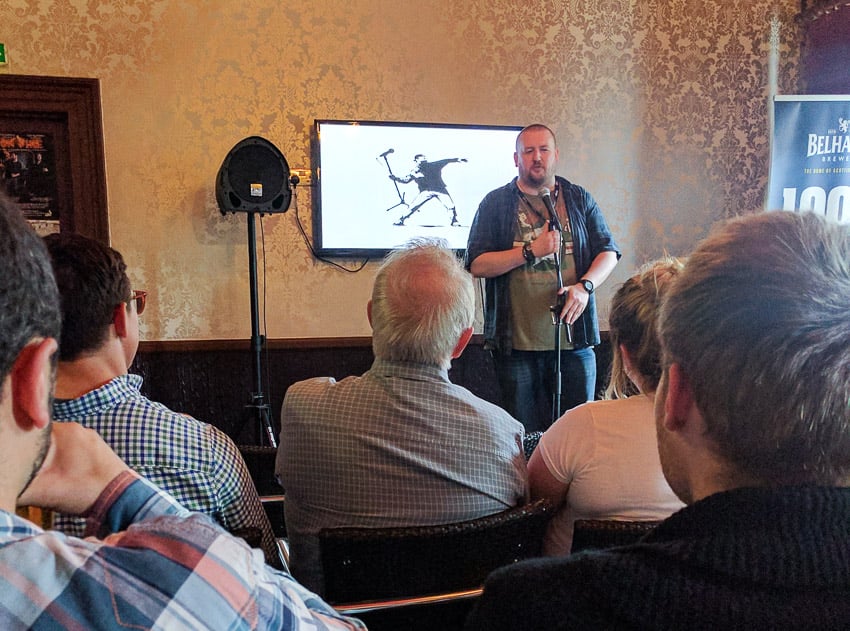 Paid Shows
The paid shows for me appeared to be a lot higher budget, often with lots of lighting, music, props, outfits and other elements. The performance also seemed a lot more complicated and would have taken an awful lot of development and rehearsing before the end result.
The paid shows I visited ranged from £10-£15 although prices may vary a bit more.
Half Price Hut
The Half Price Hut provides the opportunity to buy tickets at a much lower cost. You'll be able to find tickets online using the App and then head to the hut to purchase and collect the tickets. I did find they actually run out of tickets pretty quick, so if you find a show that you really want to see and it's half price, then head to the hut asap to collect them.
Top Tip: I suggest booking around one-two paid shows per day and then heading to a few free shows as well. It's a good idea to book a few shows before you arrive, as some of the more popular shows can sell out.
ADVERTISEMENT
CONTINUE READING BELOW
---
Transportation
To/from Edinburgh
If you are travelling from outside of the UK you can land at Edinburgh Airport (EDI) which is just outside of the city. You can then get a bus, tram, or taxis into the city. You'll find more information on the airport's official website Edinburgh Airport.
If you are travelling from inside the UK, you can get to Edinburgh by train using the National Rail, or using a bus company such as National Express. Flying is also possible from within the UK too.
Within the City
Edinburgh is very walkable and once you get into the centre of the city you will easily be able to avoid paying for transport. If you are staying outside of the centre then you may need to get the bus or tram in. The bus is pretty cheap and only cost £1.60 for a journey, or £4.00 for a day card whilst I was there. This may change over time though so head to lothianbuses.com to check up to date prices.
At night you may find it a bit harder to get the buses, especially if you are staying out late. What me and my friends did was get Uber at night back to where we were staying. This seemed cheap outside of Saturdays and Sundays.
---
Accommodation
If possible I recommend booking accommodation as far in advance as possible, maybe even as early as February/March. This will allow you to have lots more options on where to stay and should hopefully keep costs a bit lower. You may find the price of rooms is higher during the Fringe Festival due to the high demand, but this is somewhat unavoidable. If you are travelling in a large group you could do what we did and stay in an Airbnb apartment. I travelled with six others, stayed for four nights and we only paid around £130 each.
As well as Airbnb you could stay in hotels and hostels in the city. Head to booking.com to start your search.
Finally, another option for accommodation would be to stay at the University which sometimes rent out rooms during the summer months. There are several websites that offer this service and as I didn't do it I can't recommend a particular service. Click google.co.uk to start your search on Google.
---
Food and Drink
I found eating and drinking very affordable in Edinburgh. There are tons of options available from buying cheap sandwiches at grocery stores, eating from food stands, or heading to restaurants. Restaurants were generally pretty good with tasty food and reasonable prices. When visiting I also recommend trying a couple of local Scottish Whiskies, having some fish dishes such as mussels and maybe trying Scottish fudge. Depending on where you are staying a great restaurant is The Ship On The Shore which is in Leith north of the centre. If you are staying away from this area then it may take a while to get there, so bear that in mind.
ADVERTISEMENT
CONTINUE READING BELOW
---
Other Things to Do in Edinburgh
As well as visiting shows in the city, I recommend also visiting some of the museums, many of which are free. You could also visit Edinburgh Castle, the Scott Monument and also the famous viewpoints Calton Hill (seen below) and Arthurs Seat.
For more ideas head to Best Things to See and Do in Edinburgh.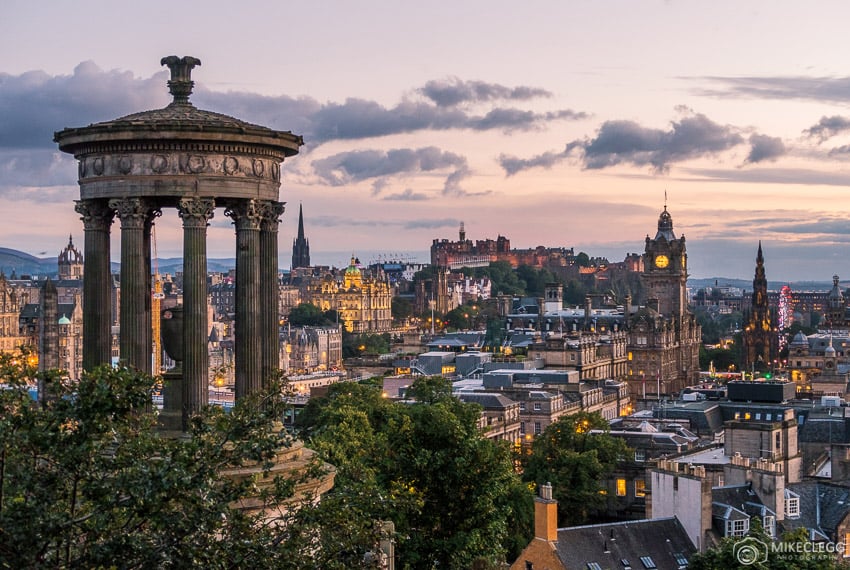 Tours and Excursions
Here are some tours and excursions you may enjoy during your visit:
---
Other Tips for Edinburgh Fringe Festival
What to Wear
In Scotland, the weather can vary from day-to-day.  During my visit, I had rain and sun, and it also got quite cold at night but was also quite hot in some of the event rooms. For that reason make sure you pack a variety of outfits. In particular, remember:
Comfy shoes for walking around
Umbrella or a coat in case it rains
Warm clothes for the evening
Wear something loose and not too hot for smaller venues as it can get very hot
Sunglasses in case it's good weather
Potentially a day bag to carry around the above
WiFi
I found WiFi pretty good throughout the city. I managed to easily get access using the Cloud network, most bars and restaurants, as well as using the Edinburgh Fringe WiFi that was publicly available. Although it was pretty easy to find it did drop out occasionally and would be suitable for basic services, such as browsing the web, using the Fringe App, checking What's App, Facebook, posting to Instagram etc.
Money
The currency in Scotland is British Pounds (GBP), and I found it possible to use cards in most places. As mentioned in some of the other sections above it's worth having change and low notes available for buses, trams and also for free performances.
Power
In Scotland, the plug socket is type G and looked like below.  Whenever I travel I use the Skross PRO World Travel Adapter
. If you are travelling from certain countries you may be a voltage converter. Visit www.worldstandards.eu to see what they suggest.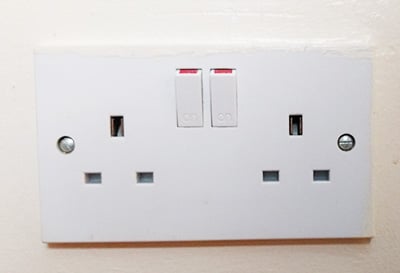 ADVERTISEMENT
CONTINUE READING BELOW
---
Summary
For me the Edinburgh Fringe Festival exceeded all my expectations. Before this experience, I had no idea the performances and atmosphere was going to be quite so incredible!
For more information on visiting Edinburgh head to edinburgh.org.
To find out more information on Fringe Festival visit edfringe.com.
Ready to book? Search for:
---
Related Articles