Riga is the capital of Latvia and part of the Baltic countries. The city is a great place for a city break with plenty of history, things to do, great restaurants and a cute Old Town. During my visit, I spent two nights in the city, so I am going to tell you things you could see and do as well as places you could eat within the same amount of time.
---
Things to See and Do
During a short trip to Riga here are some of the things you could see and do around the city:
Trīs brāļi
Also known as the Three brothers, these three buildings built next to one another are some of the oldest houses in the city. The "Oldest Brother" seen on the right, was built around 1490. The second brother was built in 1646 and is seen in the middle, and the youngest in the 17th century and is seen on the left.
Address: Mazā Pils iela Trīs brāļi, Rīga, LV-1050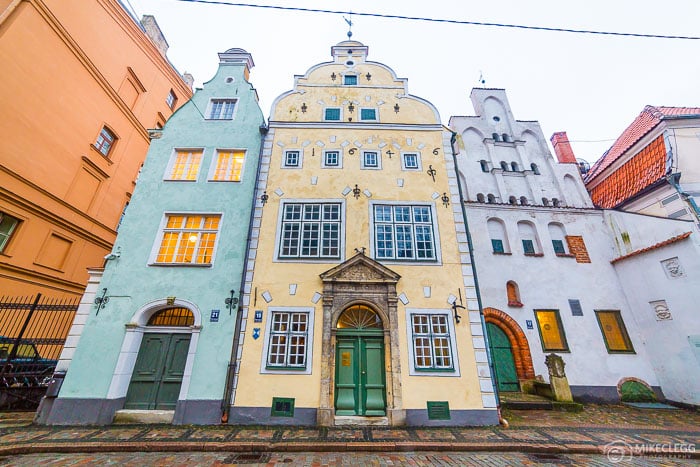 Central Market
The Central Market is located towards the south of the city and is huge with different sections throughout the building with fish counters, spices, vegetables, meat and more. Unless you have cooking facilities during your stay you may not buy anything but it's still nice to walk through and look around.
Address: Nēģu iela 7, Latgales priekšpilsēta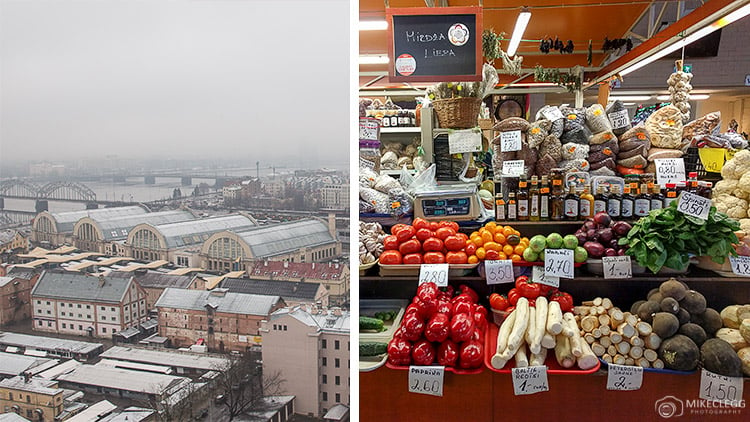 House of Blackheads
The House of the Blackheads is probably one of the most popular and beautiful buildings in the city. The building was originally built in 1334 for the Brotherhood of Blackheads, and during the 17th century, it was a guild for Germany traders. After being destroyed by the Soviets and Germans in World War II it has since been rebuilt and finished in 1999.
Address: Rātslaukums 7, Central District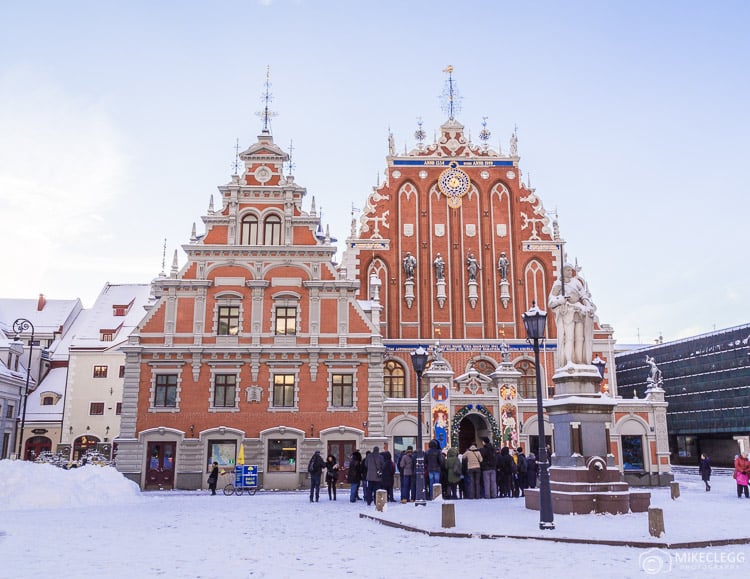 ADVERTISEMENT
CONTINUE READING BELOW
St. Peter's Church
The best view of the city and the Old Town is from St Peter's Church. This church which is the tallest church in the city was built in 1209 and the main hall is often used for exhibitions and concerts. The viewing platform is at 72 meters high and to get there you take a lift that looks extremely old (but adds to the experience) and from the top you'll be greed with fantastic panoramic views in all directions. The fee for the viewpoint is €9. 
Address: Skārņu iela 19, Centra rajons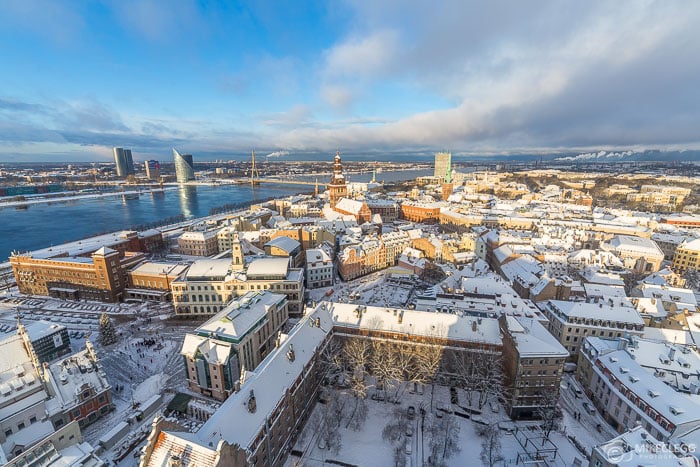 Latvian Academy of Sciences
Another place to go for views of the city is the Latvian Academy of Sciences. It's cheap to get in at €4 which will give you access to the large observation deck. On the deck are lots of plaques providing information about what you can see in various directions.
Address: Akademijas laukums 1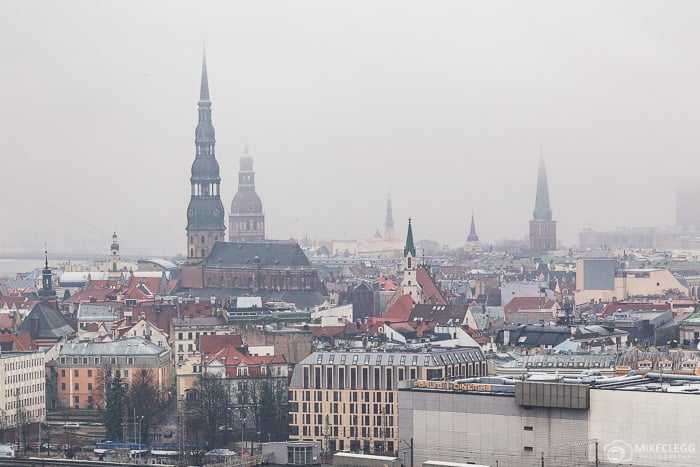 Nativity Cathedral
This beautiful Neo-Byzantine church opened in 1884 and is now an Orthodox Church – You can enter for free although you are not allowed to take pictures of the inside. 
Address: Brīvības bulvāris 23, Centra rajons
Bastejkalna (Bastion Hill)
For a nice walk head along the Bastejkalna Parks or Bastion Hill which stretches along the Pilsetas kanals (City Canal). During the winter this park is particularly nice when there's fresh snow all around and it would make for a romantic walk, especially at night.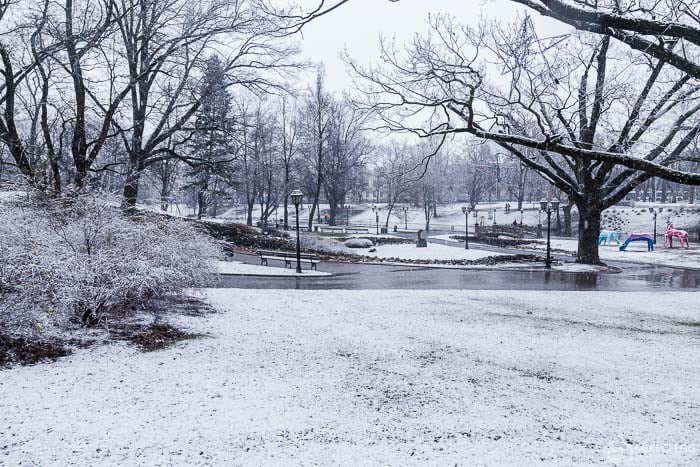 Freedom monument
Towering high near Bastion Park is the Freedom Monument. This tower is 42.7 meters tall and was built in 1935. It acts as a historical symbol representing Latvia's fight for independence and to honour soldiers who lost their lives during the war of independence.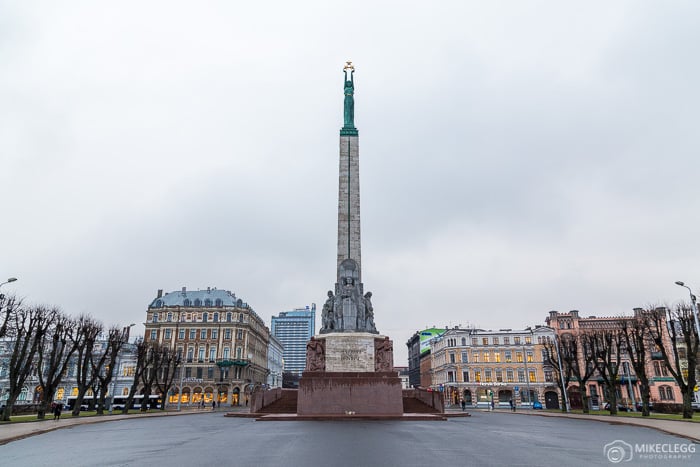 Art Nouvoue architecture
To see some really stunning architecture, go for a walk along Elizabetes iela where you'll find rows of buildings with stunning picturesque facades such as below.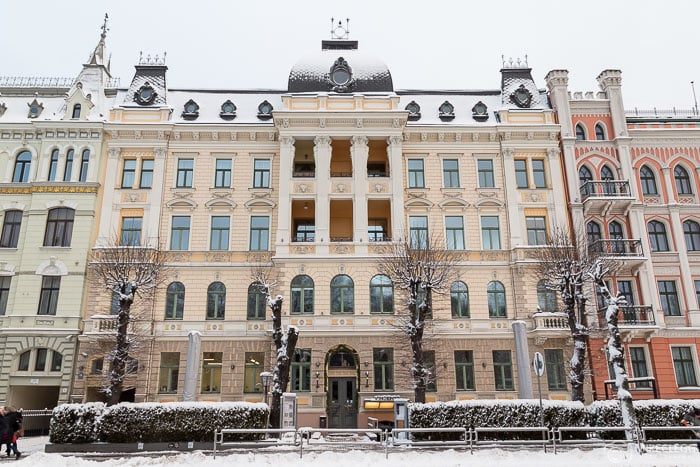 Christmas markets
I visited at the start of the New Year and the Christmas Markets were still up which made it feel like Christmas hadn't finished.
Some of the locations for the Christmas Markets are near the Riga Dome along Donma Laukums and also at Livu Laukums which are public squares. One nice experience I had was listening to typical Christmas songs, such as Jingle Bells but sung in Latvian.
More Things to See and Do
Within the city are lots of museums such as the Museum of the Occupation of Latvia, Latvian War Museum, Museum of the History of Riga and Navigation and more, as well as zoo's, walking tours, lots more parks and other things to do. Head to liveriga.com to discover all the things available in the city.
You can also start booking Riga tours below through Getyourguide.com.
---
Places to Eat and Drink
I enjoyed all the food I had in Riga with my favourite being my meal at Folkklubs ALA pagrabs which was unbelievably good.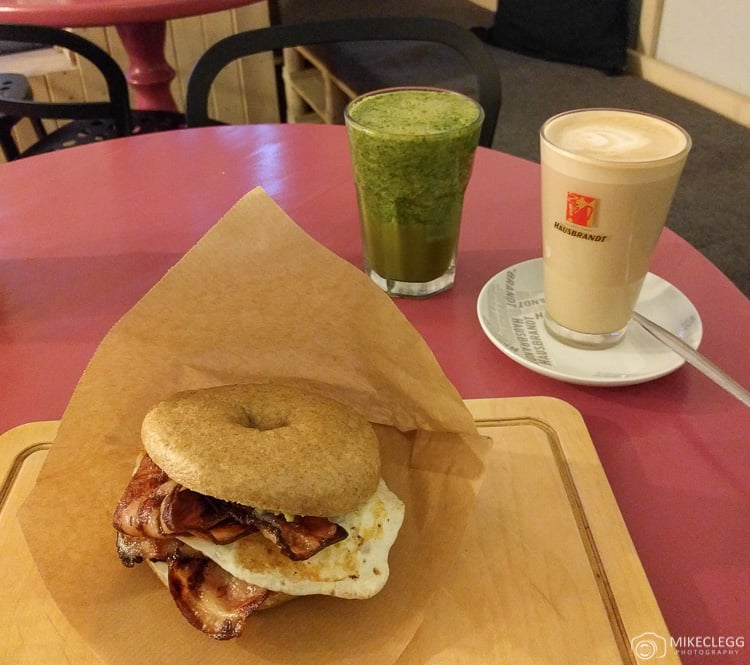 Pētergailis –

The food and atmosphere was great and it's located just around the corner from St Peters Church. During my visit, I had the trout which was very tasty and well presented. Website: petergailis.com


Folkklubs ALA pagrabs –

Everyone raves about Folkklubs ALA pagrabs and to be honest I was very impressed. I had the Dundagas royal stroganoff which was probably one of the tastiest dishes I've had for a while. All the beer they serve is also locally produced. It may be hard to get a table so try and book in advance or go for a late lunch or early dinner. Website: www.folkklubs.lv


Big Bad Bagel –

A great place for breakfast. They have a good choice of options with interesting names. I choose the Bacon in Mexico option. Website: bigbadbagels.lv


Skyline Bar –

Head up to the Skyline bar for views of the city. I found the glass very reflective so it may be best to head up here for sunset and before it gets too dark. Although I only went to take some pictures of the view I did look at the menu at it wasn't priced overly expensive.
Website: www.skylinebar.lv


Double coffee –

For coffee I went into Double Coffee which is more of a chain but I liked the ambience and it was affordable and good.
Other places to eat and drink – Have a look on www.tripadvisor.com.
---
Places to Stay
When staying in Riga it's a good idea to stay close to the Old Town so that you can easily get to places by foot. Here are some ideas of places to stay.
Budget – Tree House – This highly rated hostel is located in the heart of Riga and a short walk from many of the city's main attractions. The hostel has a range of dorms available including mixed and same-sex, as well as private rooms.
Mid-range – Wellton Riverside SPA Hotel – Close to the Daugava River and very close to some of Riga's highlights such as the Dome Cathedral and House of the Blackheads. As well as this you'll find various wellness facilities, including a herbal sauna, hot tub, swimming pool and more.
Luxury – Hotel Grand Hotel Kempinski – For a luxury experience in Riga consider the Grand Hotel Kempinski which offers beautiful and stylish rooms as well as a swimming pool, sauna, steam room and other wellness features. As well as this the hotel is located in a wonderful central location and close to the Freedom Monument and Bastejkalna Parks.
---
Riga General Destination Info
Destination type: – History, Architecture, City
Currency: – Euro
WiFi: – Easy to find everywhere
Emergency numbers: – Dial 112 for fire, police and medical
Arrive by air: – Riga International – You can then easily get to the city by public bus or  Taxi
Arrive by train: – Head to www.ldz.lv to search for international routes
Arrive by bus: – Riga International Coach Terminal located Prāgas iela 1, 1050. For bus companies I found luxexpress.eu cheap and fantastic
Language: – Latvian (English is good everywhere)
Power supply: – 230v- Type F – European – A good plug adapter is the Skross PRO World Travel Adapter. Remember to also check the local voltage and frequency as you may need a converter. A site I use for this is www.power-plugs-sockets.com
---
More Resources
Tourism website: 
www.latvia.travel
| 
www.liveriga.com
Summary
Riga is a great place to go for a city break or include in a Latvian travel itinerary. Offering you opportunities to enjoy the wonderful food, experience the culture, learn about Latvian history in one of the museums or simply enjoy the streets and immerse yourself in the architecture.
Why not consider adding Riga to a Baltic multi-destination trip – see our Baltic travel itinerary for ideas. For more ideas on where to go head over to 10 Best and Most Beautiful Places to Visit in Latvia.
Related Articles