When you think of picture postcard mountains and stunning countryside in Europe, it's likely that countries like Switzerland or maybe Austria are the first countries to come to mind. However, did you know that Slovenia has some of the most incredible natural attractions in Europe? For a small country it offers a lot, with stunning lakes, magnificent mountains and some of the most amazing cave systems in the world.
If you are an outdoor enthusiast who loves natural attractions then Slovenia is the perfect destination. Read on for some of the best and most beautiful sights to see.
Here are some of the best and most beautiful places to visit in Slovenia.
---
1. Predjama Castle
Literally built into the rock at the entrance to a cave, Predjama Castle is a totally unique sight to see whilst in Slovenia.
To understand the interesting history of the castle, take a self-guided audio tour. The castle is bigger than it looks as it extends inside the cave, so with the guide set aside at least 60-90 minutes to walk around the various rooms over multiple levels.
You can buy a combined ticket to visit here and Postojna Cave which is only a 15-minute drive away. And even if you decide not to go inside, it's definitely worth stopping here to take some photos from the outside.
2. Postojna Cave
Slovenia boasts a lot of caves (more than 8000 apparently), so it's no surprise that several have made it on this list.
Postojna Cave is Slovenia's most famous and most visited cave in Europe. It's simply stunning and provides a different experience to Skocjan Cave (further below) so it's worth visiting the two if you can.
Postojna is known for its incredible stalactites and stalagmites and is huge! To give you an idea of how big it is, you actually take a train through the cave to start your tour! After the train ride you'll arrive at the trail, over 2 km deep inside the cave, where you are free to walk through at your own pace and admire the interesting formations. It's a totally unique experience and one of the top things to do whilst in Slovenia.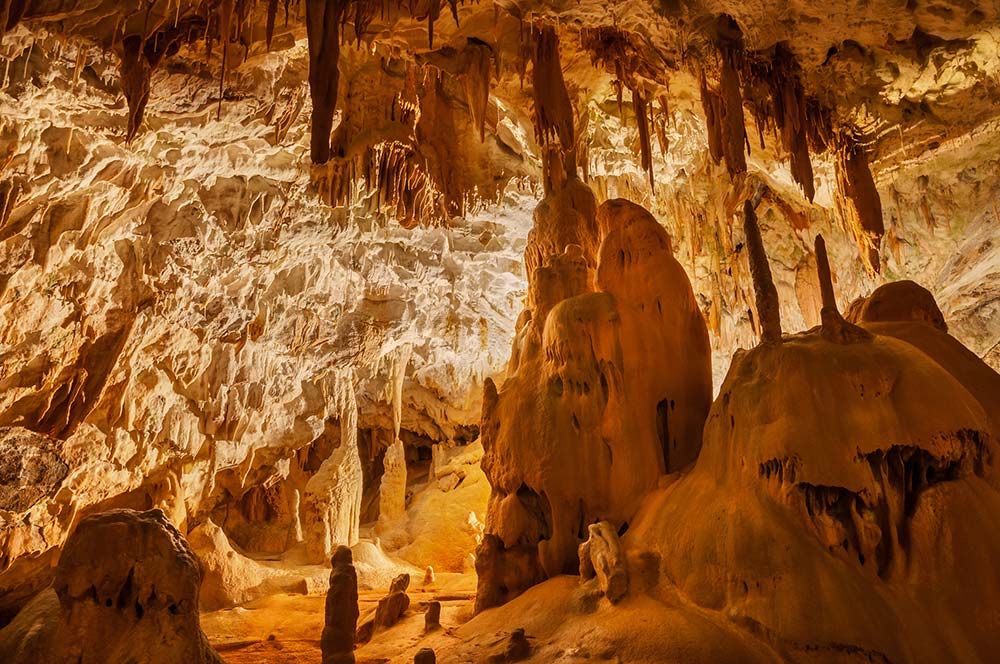 ADVERTISEMENT
CONTINUE READING BELOW
3. Lake Bled
Of course, no list of beautiful places in Slovenia could be complete without mentioning Lake Bled. It's probably the most famous and internationally recognized place in Slovenia and for good reason, it really is beautiful.
The best way to spend the day here is strolling around the lake and taking a boat ride or renting a paddle board or row boat to visit the little island in the centre.
For the best views of the lake head up to the Osojnica viewpoints. They're quite a steep walk up but the views of Lake Bled are totally worth it. Maja Osojnica is the lower viewpoint with a viewing platform, but if you carry on a bit further you can reach Velika Osojnica which is a bit higher and has fewer people.
After all the walking make sure to treat yourself to a slice of Blejska kremšnita, i.e. Bled Cream Cake as it's absolutely delicious.
Also nearby you'll find Vintgar Gorge (mentioned below), which you definitely don't want to miss on your trip to Slovenia.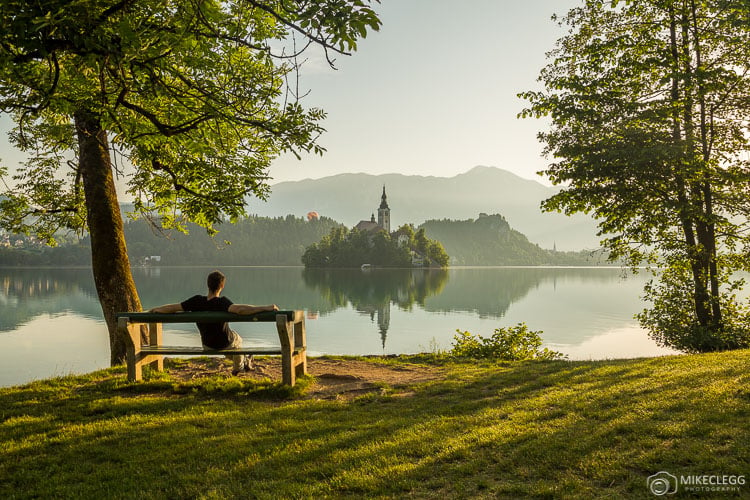 4. Vintgar Gorge
Not far from Lake Bled is Vintgar Gorge which is a beautiful natural attraction in Slovenia and definitely worth a visit.
The gorge runs approximately 1.6km through the rock and now has man-made walkways weaving through. As you explore you'll get to admire the stunning turquoise water and hear the rush of rapids and waterfalls at certain points. It's a very impressive landmark and one that we'd definitely recommend checking out when visiting Slovenia.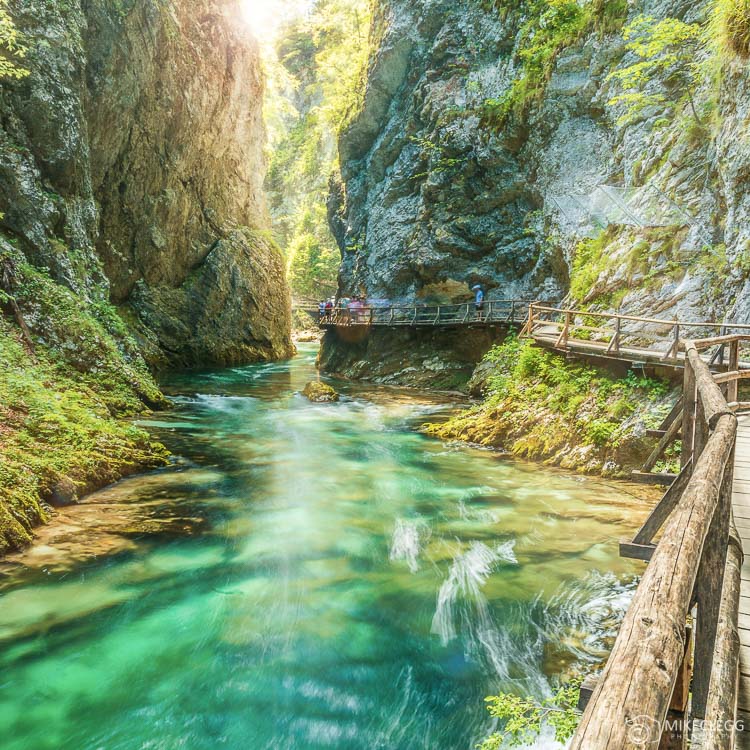 5. Lake Bohinj
Lake Bohinj is the largest natural permanent lake in Slovenia. Although it's only a 30-minute drive from Lake Bled, it doesn't receive as many visitors as its famous neighbour, so it's a less touristy alternative (although you should definitely visit both if you can).
Although the lake itself is very picturesque in its own right, most people treat it as a base whilst they explore the surroundings and the many hiking trails. There's a 12 km long trail all the way around the lake, and at one end is the most popular hike to Savica Waterfall. It costs €3 to enter and takes about 30 minutes of uphill walking from the parking lot to reach here, but it's a nice hike through the forest and the views of the towering waterfall at the end are worth it.
For the best views of Lake Bohinj make the 30-minute uphill hike to Pec Viewpoint. It's a short but tough walk but provides the perfect vantage point of the lake and the surrounding mountains.
If you haven't managed to visit one of the other gorges in Slovenia yet, you can also walk to the pretty Mostnica Gorge from here.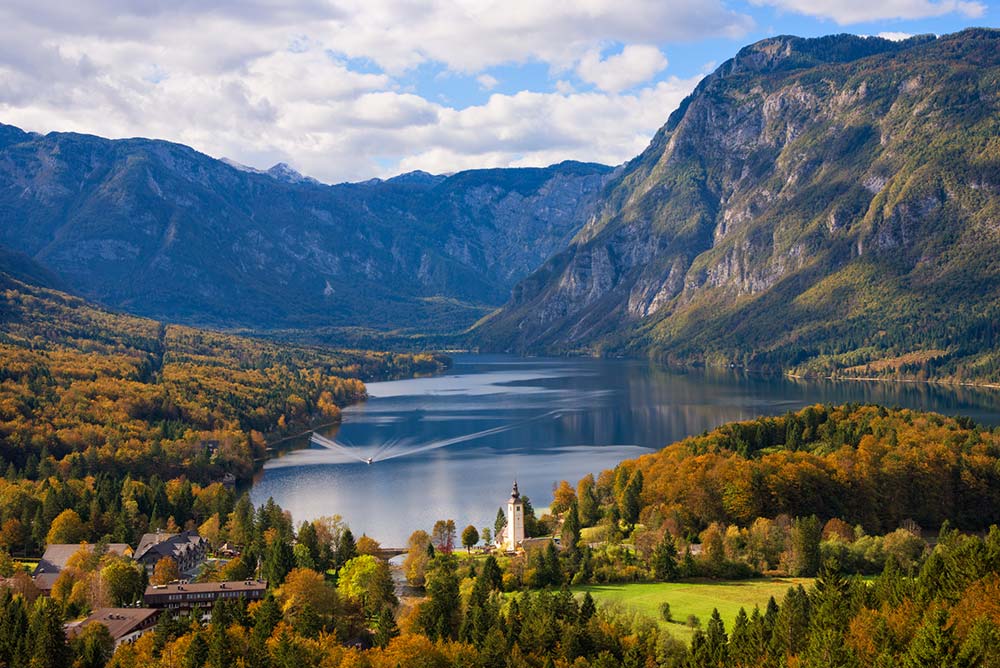 ADVERTISEMENT
CONTINUE READING BELOW
6. Tomlin Gorge
Tolmin Gorge (Tolminska) is one of the many beautiful gorges of Slovenia, boasting turquoise waters between steep canyon walls and small waterfalls.
It costs €10 to visit and takes about 1 hour to walk around. You start at the confluence of the Tolminka and Zadlascica rivers and then walk approximately 2 km around and across the canyon. It's a relatively easy walk and is extremely picturesque.
An alternative to Tomlin Gorge is Vintgar Gorge (mention above). This gorge is only a 10-minute drive from Lake Bled, it's the busier of the two but if you can arrive early before the crowds it's equally as beautiful.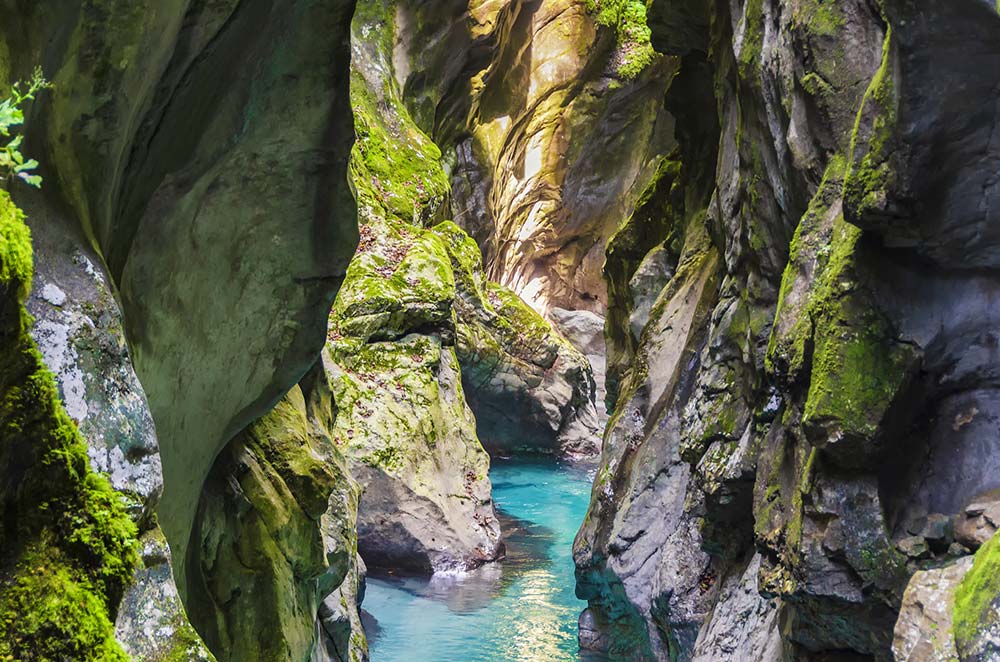 7. Lake Jasna
Lake Jasna isn't as well known as Lake Bled or Lake Bohinj. In fact, you won't find many tourists here at all, despite it being just as picturesque as its counterparts. The water is crystal clear and provides an amazing reflection of the snow-topped mountains just behind.
The lake is split into two by an inlet and a small bridge so you can walk across the middle. In any case, it isn't as large as Lake Bled and Lake Bohinj so it doesn't take more than an hour to stroll around the whole perimeter. Make sure to take a photo of the famous Kozorog statue sitting at the north end of the Lake.
ADVERTISEMENT
CONTINUE READING BELOW
8. Pericnik Waterfall
If you only visit one waterfall whilst in Slovenia then make it Pericnik Waterfall.
From the road you'll need to walk about 20 minutes uphill, before coming out from the trees to the beautiful cascade ahead of you. But what makes this waterfall so epic is that the trail actually goes right behind the waterfall. Standing behind it feeling the full rush of the water falling down in front of you is an amazing experience and one that shouldn't be missed.
Plus, it's totally free to visit! Location on Google Maps.
9. Skocjan Cave
Skocjan Caves is a UNESCO world heritage site with 6km of underground passages and has a total depth of more than 200m. It has many waterfalls and one of the largest known underground canyons in the world. It's simply incredible and a must-visit whilst in Slovenia.
Walkways are built into the cave walls and these are over 50m above the underground river running through the cave. A highlight is a spectacular bridge which connects either side of the underground canyon. The walk-through takes about 2 hours and is breathtaking. You can't take photos inside, which is a shame as you'll be struggling to explain how amazing this place is to all your friends and family afterwards. However, without the urge to take photos you can really enjoy and appreciate just how cool this cave is.
And after you finish the tour through the cave you are free to explore the surrounding area by yourself. You have 3 options to get back to the visitor centre: a 5-minute, 20-minute, or 1-hour-long trail. The longer trail takes you past loads of small waterfalls and along the water walkways. It also takes you through another large, beautiful cave which you can photo, and which you'll likely have all to yourself.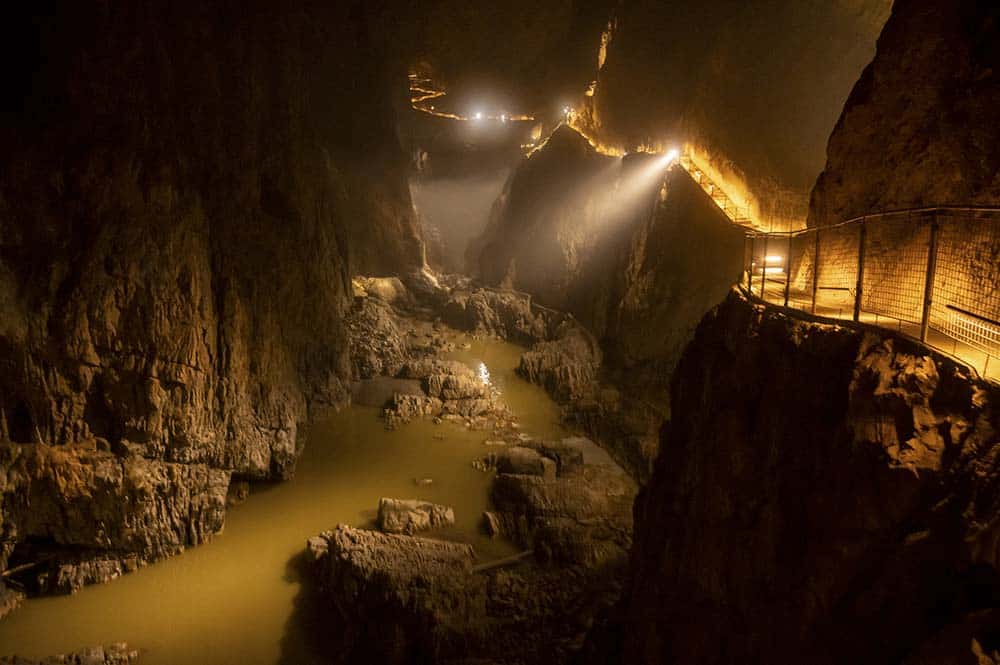 10. Logar Valley
Logar Valley is a hidden gem in Slovenia with not many tourists making their way here. However, they're missing out, as it's one of the most beautiful spots in Slovenia, if not in the whole of Europe.
Logar Valley sits nestled under the Kamnik Alps which mark the border between Slovenia and Austria. There's one road running in and out of the valley and it costs approx €6 for cars to enter or is free if you're on foot or bicycle.
As you enter you'll be simply wowed by the views. With the green valley surrounded on all sides by the dramatic mountains, it's like something from a postcard.
Drive through the valley and at the end of the road it's a short walk to the 100m high Rinka Waterfall. It's impressive, but don't stop here. Beyond the waterfall is an amazing hike leading up and over the water to Okrešelj, with even more amazing views along the way.
Another beautiful hike within the Logar Valley is to the Klemenči Jami Mountain Hut. The trail is less popular than the one beginning at Rinka Waterfall, but the views from the top may be even better! The hike is about an hour and once you reach the Mountain Hut you'll find yourself in a clearing with 360-degree views of the surrounding mountains. It's simply breathtaking. If you have the energy and the weather is clear then you can continue even further to the Strelovec Ridge.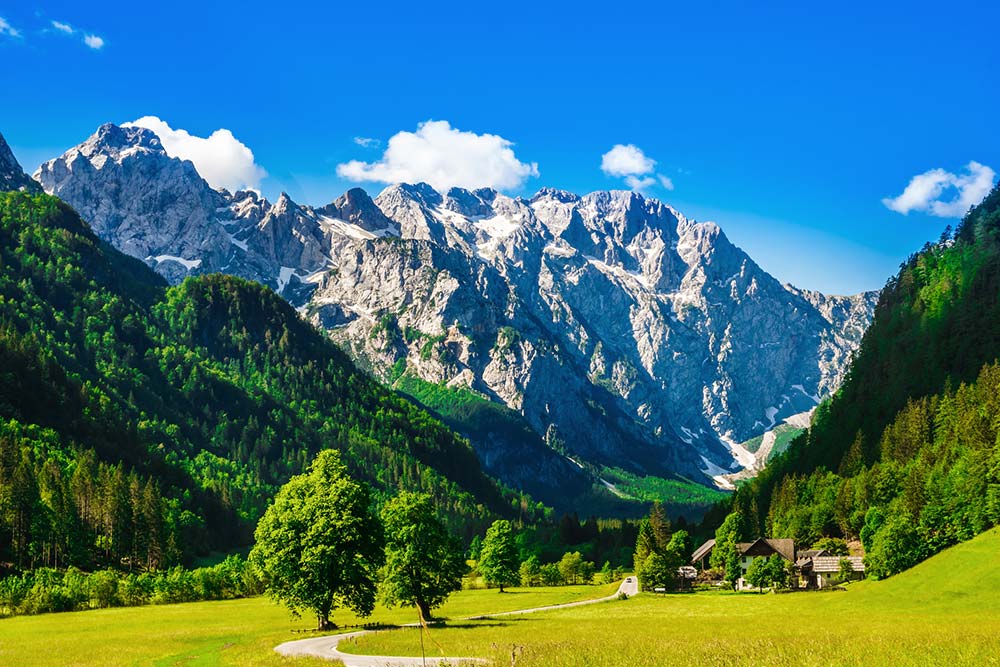 11. Vrsic Pass
The Vrsic Pass is one of the best roads you can drive on whilst in Slovenia. The mountain road starts in Kranjska Gora and goes all the way up across Vršic at 1611m high, before continuing back down to Log v Trenti. The road spans 24 kilometres and contains 50 hairpin bends! It's quite a drive and, as you'd imagine, on a clear day the views are simply incredible. Although talking of weather, note that the road is only open seven months per year on average because in winter it is closed due to snow.
Along the Vrsic Pass there are many viewpoints that you can stop at with amazing views of the mountains and Triglav National Park. One slightly different but very worthwhile stop is the Russian Chapel. This pretty little chapel was built by Russian prisoners of war during WW1 in memory of their comrades who died in an avalanche whilst building the road.
ADVERTISEMENT
CONTINUE READING BELOW
12. Ljubljana
Finally, Ljubljana is another of the best places to visit in Slovenia. Being the capital of the country you'll find many connections to and from the city including through Flixbus, trains and flights. This makes it a good base or starting point before you venture off to other highlights of Slovenia – such as the beautiful Lake Bled mentioned above which isn't too far.
Ljubljana itself is also a great city to visit where you can wander among the cobbled streets of the old town, enjoy food and drink alfresco style alongside the river, admire impressive architecture such as the Triple Bridge and Franciscan Church of the Annunciation church, or gaze admiringly at the city skyline and distant mountains from Nebotičnik Skyscraper or Ljubljana castle.
Summary
Slovenia is an underrated destination with truly spectacular natural sights. It's an amazing country with so many beautiful spots to discover. This list is just the tip of what Slovenia has to offer. Consider adding some of our suggestions above when planning your trip.
---
Tours and activities for Slovenia
Discover top activities, tours and experiences below: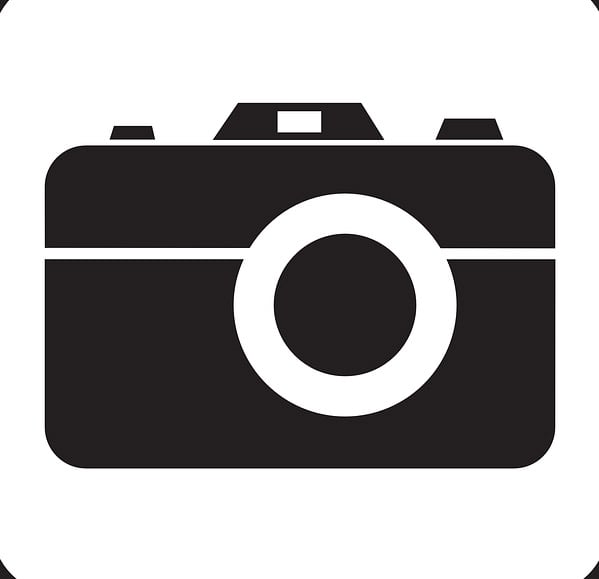 Related Articles