If you enjoy being outdoors exploring natural attractions like mountains and lakes then Slovenia is the perfect destination for you. This underrated European country has beautiful landscapes similar to Switzerland and northern Italy but with fewer people and lower prices.
If you're happy to rent a car then within two weeks you'll be able to see all these highlights of Slovenia using our jam-packed 2 week itinerary. However, if you have more time you could easily take it at a more relaxed pace or fit in even more of the endless hikes and things to do in this spectacular country.
You could also use this as a 7 day Slovenia itinerary if you have less time and then pick and choose the places that you're looking to visit.
---
Day 1: Piran
If you're entering Slovenia overland from neighbouring Italy or Croatia then stop in the pretty little seaside town of Piran and spend the day here. If you've flown into Ljubljana then pick up your rental car and drive southwest. Depending on your arrival time, you may be able to fit in a trip to one of Slovenia's caves on your way to Piran.
ADVERTISEMENT
CONTINUE READING BELOW
Day 2: Piran → Kobarid
This area of the country is home to two of the best natural attractions in Slovenia – Skocjan and Postojna caves.
Fitting both into one day could be a challenge, so either take a day trip to Skocjan from Piran and then see Postojna the next day on your drive, or just pick one to visit (we'd recommend the spectacular Skocjan Cave seen below). Nearby Postojna Cave you'll also find Predjama Castle, which is worth detouring to even if you don't go inside.
If you have time on your journey then stop by Tolmin Gorge. The walk around here only takes an hour but it's a really pretty stop. Alternatively, visit early the next morning from Kobarid.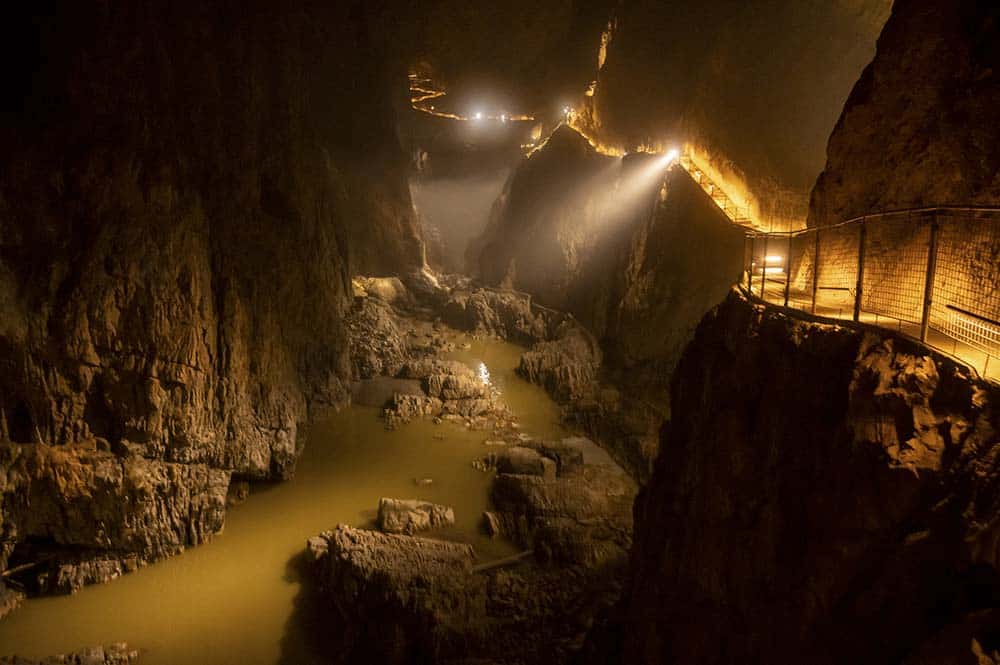 You May Like
Day 3: Kobarid or Bovec or surrounds
Your time in this area is to explore the many attractions of the Soca River which runs through here. Kobarid or Bovec are good big towns to be based in, but anywhere around or between these two areas will be suitable.
If you didn't manage to stop at Tolmin Gorge the day before then head here as soon as it opens to avoid the crowds. Don't also miss the Soca Gorge. Close to Bovec, this area is actually free to visit and you can walk along as much or as little of the gorge and the river as you wish.
There are many waterfalls all around this area. Slap Kozjak Waterfall is a beautiful hidden waterfall which requires a hike to get to. Whereas the mighty Boka Waterfall can be viewed from the road, although it's worth walking the 15-minute trail to the platform to get a clearer view. Finally, there's Virje Waterfall, a short downhill walk from the parking lot.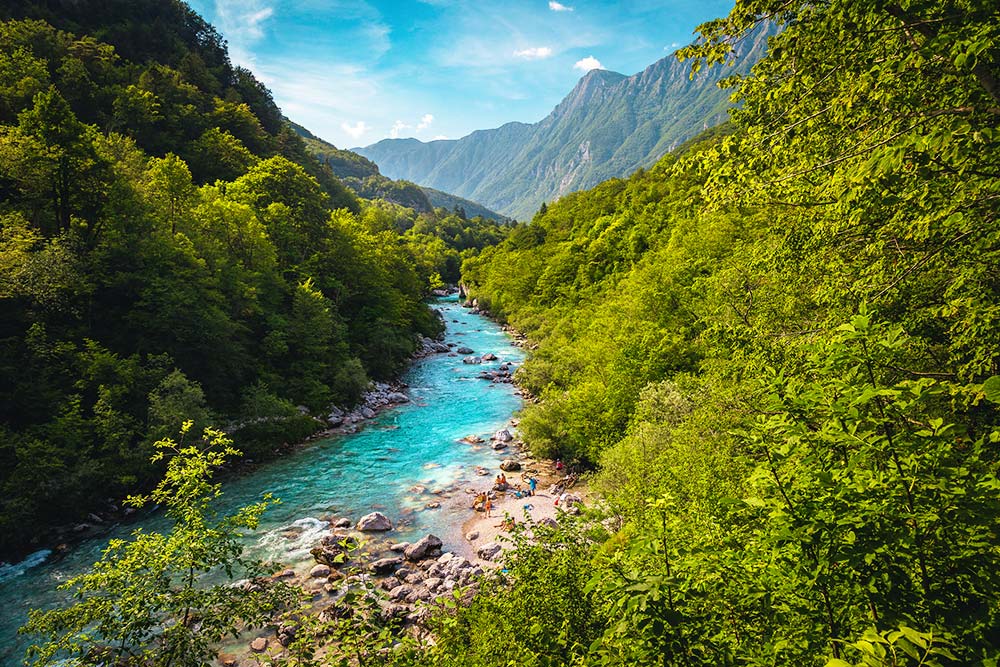 ADVERTISEMENT
CONTINUE READING BELOW
Day 4: Kobarid/Bovec —> Lake Bled
This drive is one of the most beautiful in Slovenia, taking you over the Vršič Pass. This mountain road is 24 km long and contains 50 hairpin bends! It goes up across Vršic at 1611m high so has some amazing viewpoints to stop at with incredible views of the mountains.
After the pass make sure to stop at Lake Jasna. Smaller and less well-known than Lake Bled or Lake Bohinj, the clear water provides an amazing reflection of the snow-topped mountains just behind.
Before you reach Lake Bled make one final stop at Waterfall Pericnik. Not only is the waterfall itself stunning but the trail even goes behind the falling water which is pretty epic.
Days 5 & 6: Lake Bled
Lake Bled is the most famous spot in Slovenia and for good reason, it's stunning. Therefore take two days to really enjoy this area and have some downtime relaxing by the lake.
The best thing to do whilst here is walk the entire path all the way around the lake. Along the way, detour up to the Ojstrica and Osojnica viewpoints for amazing views of Lake Bled.
If the weather is nice then take a swim in the lake or rent a paddle board or row boat to visit the little island in the centre.
Nearby Lake Bled you'll also find Vintgar Gorge which is worth a half-day trip, especially if you didn't manage to fit in a visit to Tolmin Gorge.
Finally make sure you have a bit of Bled Cake whilst you are here as it's simply delicious.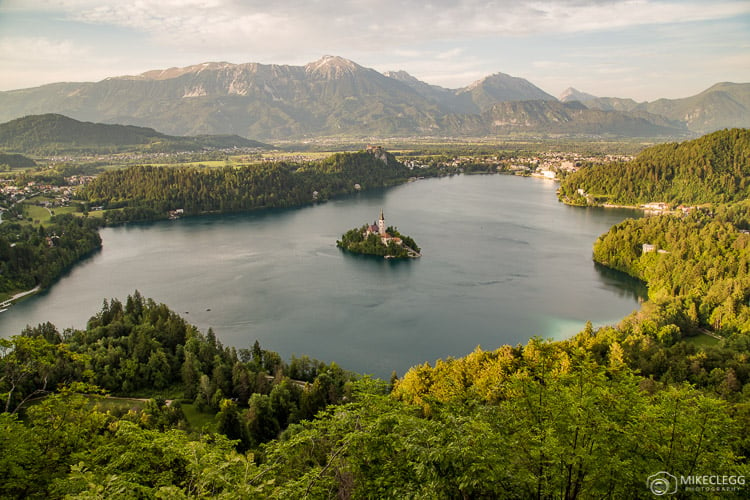 Day 7: Lake Bled —> Lake Bohinj
On your way to Lake Bohinj make sure to stop off at Vodnikov Lookout Point. It's only a short walk from the road but it provides amazing views of the mountains with Lake Bohinj in the distance.
The drive today is short so spend your afternoon doing one of the many activities on offer in Lake Bohinj.
ADVERTISEMENT
CONTINUE READING BELOW
Days 8 & 9: Lake Bohinj
Lake Bohinj is the perfect place to base yourself for hikes around Triglav National Park. Triglav is the only national park in Slovenia and that's basically because it's so big that it takes up a large area of the country!
There are many areas of the park that you can enjoy from waterfalls and lakes to gorges and mountain trails.
From Lake Bohinj you can take the cable car up to the ski village of Vogel where you'll not only be greeted with amazing views but will have many hiking trails for you to discover.
The most popular hike is to Savica Waterfall. Starting from the western tip of Lake Bohinj, a 30-minute uphill hike will bring you to this gorgeous 78 m high waterfall.
For stunning views of Lake Bohinj itself, head up to Pec Viewpoint. Although this viewpoint isn't marked on any online maps, ask your guesthouse where to find it. It's a short but steep 30-minute hike but the views at the end are amazing.
Finally, If you haven't seen enough gorges by now, Mostnica Gorge sits a short walk away from Lake Bohinj. It's only €3 to enter and a lot less busy than Tomlin or Vingter Gorge, so worth a visit if you have the time.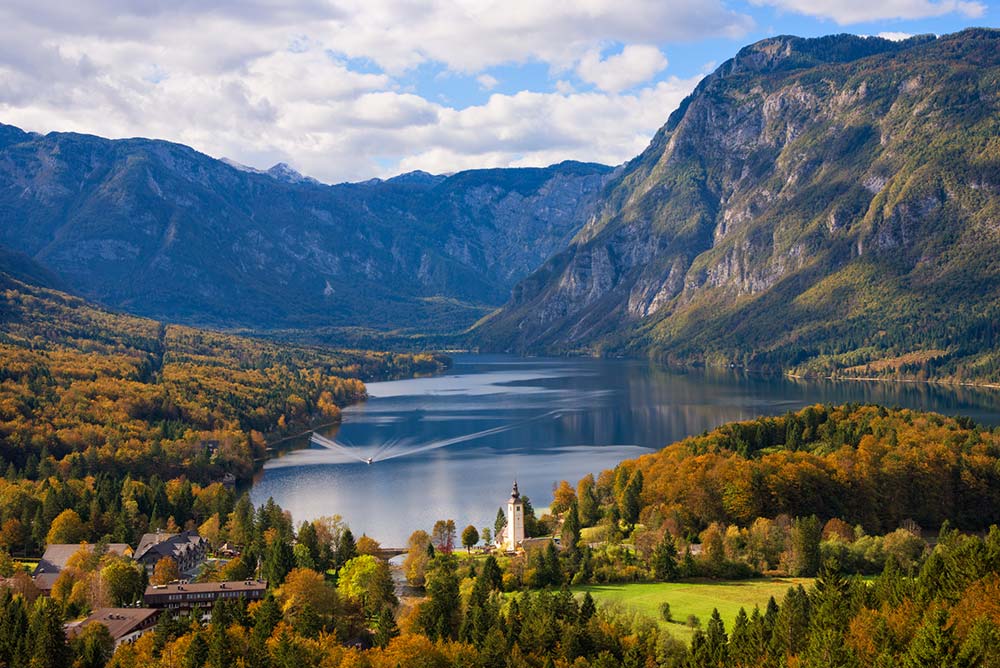 Day 10: Lake Bohinj —> Ljubljana
You'll need to pass back past Lake Bled on your way to the capital, so take the chance to snap some more photos of this beautiful lake.
If you want to fit in one final hike before you reach Ljubljana, stop at Smarna Gora, a small mountain popular with locals. There are a few different trails up to the top and it provides pretty nice views of the distant mountains behind the city.
Arrive in Ljubljana in time for a nice dinner in the city.
ADVERTISEMENT
CONTINUE READING BELOW
Day 11: Ljubljana
Ljubljana is an underrated European city which provides a good alternative to more popular European cities like Budapest or Prague.
The Old Town is centred around the canal which has loads of cafes, restaurants and bars along either side. It's really nice to walk around and very picturesque with a lively vibe.
In the middle of the city up on the hill you'll find Ljubljana Castle. Walk up here and climb to the top of the watchtower from where you'll have amazing views of the city with the mountains in the background.
Of course, being the capital city, Ljubljana is the best place to enjoy some good food while you're in Slovenia. If you happen to be visiting on a Friday then you're in luck, as every Friday the open kitchen food market is held in the Old Town just across the Triple Bridge. At this market, you'll find stalls set up by some of the best restaurants in the country, so it's the perfect place to sample the best food that Slovenia has to offer.
One dish that you should try whilst here is Struklji, a traditional Slovenian dish of rolled dough filled with different ingredients, and there's no better place to try it than Moji Štruklji Slovenije. Here you can sample the traditional version filled with cottage cheese, but also one of their other varieties, including sweet versions like pistachio and raspberry, which is absolutely delicious.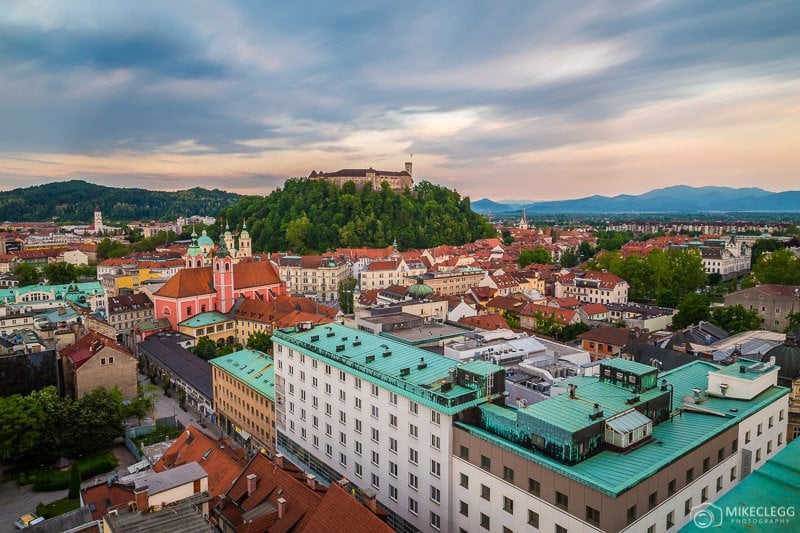 Day 12: Ljubljana —> Logar Valley
Set off early so you can reach the Logar Valley by mid-morning and have time to fit in a visit to the valley that afternoon.
ADVERTISEMENT
CONTINUE READING BELOW
Day 13: Logar Valley
The Logar Valley is somewhat of a hidden gem in Slovenia. Not many visitors have heard of it but it may be the most beautiful, scenic place in the whole country!
There's one road running in and out of the valley and it costs €6 for cars to enter or is free if you're on foot or bicycle. You can actually stay inside the valley, although there are more accommodation options at more reasonable prices in the small villages surrounding it.
Once inside the valley you'll be wowed by the scenery just driving through, but of course, there are plenty of hiking trails around for even more spectacular views.
A popular short hike is to Rinka waterfall, just a 10-minute walk from the very end of the road. For something more challenging, continue past the waterfall to Okrešelj Mountain Hut. Another great mountain hut to hike to is Klemenči jami, which has gorgeous mountain views.
Not far from the entrance to the Logar Valley, you'll find the Solčava Panoramic Road, a scenic road along the border between Slovenia and Austria. From up here you'll have amazing views of the valley down below nestled between the surrounding mountains.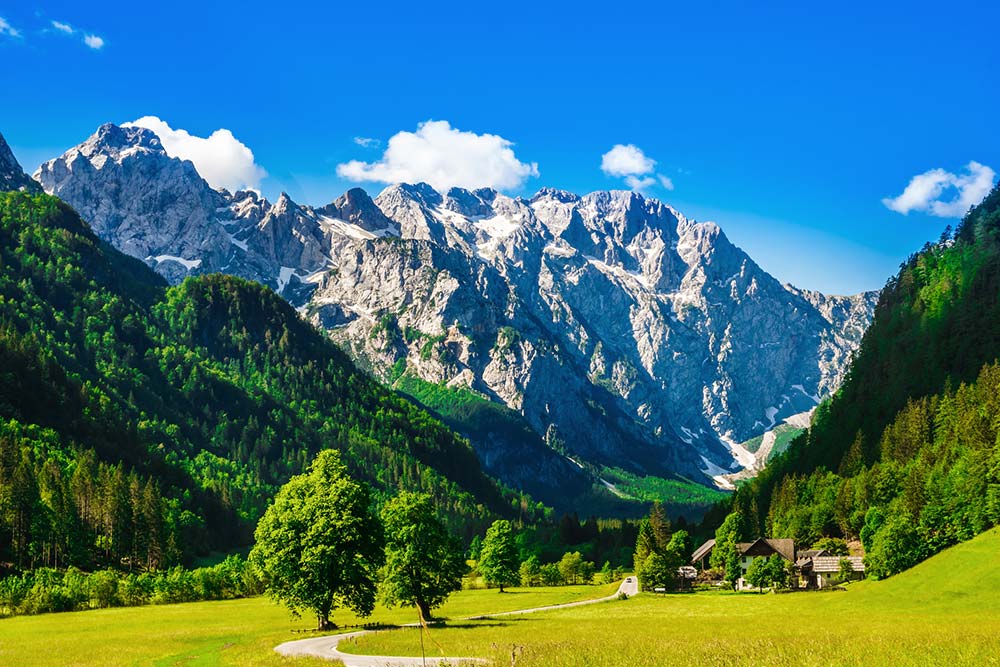 Day 14: End of your time in Slovenia
From the Logar Valley, you can continue your trip by driving just 30 minutes to cross the border into the south of Austria, or return to Ljubljana to take your flight home.
---
Summary
Discover some of the best places throughout Slovenia by following the itinerary above. Or pick and choose places that you fancy. Slovenia is packed with beautiful places to visit, including top cities and impressive landscapes and gorges. When visiting you'll be sure to return with incredible memories from your time there.
---
Tours and activities for Slovenia
Discover top activities, tours and experiences below: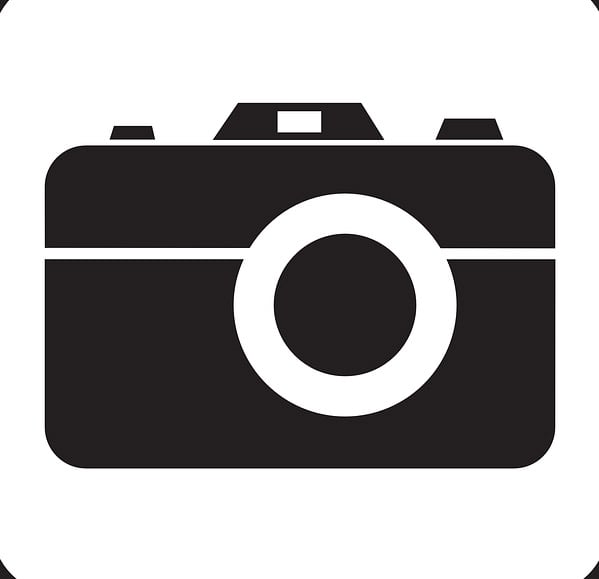 Related Articles