We do work with select brands and offer sponsored posts. We will only do so if we feel the article would provide value to our readers and fits our website style. We will also be following any regulatory guidelines on disclosure, including mentioning that the article is sponsored and also adding rel="sponsored nofollow" to the links. We will not be accepting sponsored articles without acceptance of these terms.
Please get in touch using the form further below.
---
How it works?
The process for us publishing a sponsored post is as followed:
We agree on a topic and price.
You then send us a draft of the article.
We set the article up and then send you a preview of what it will look like.
If you're happy, you then transfer the agreed fee via Paypal or by bank transfer.
We publish the article and send you a link.
Quality guidelines and standards
Solid knowledge of subject matter, ie travel advice, specific destination, product, service, photography etc.
Good English writing skills with

accurate grammar and spelling

.
Articles must be 600+ words. This is for quality and ranking.
All content should be unique and not copied from another blog post or shared on other blogs or websites. We will check this using various online tools.
We prefer content to be written in a more active and/or third-person voice. So no "I", "my" etc.
Tips and recommendations for article success
We can't guarantee that your article will be a success, but we have previously published guest articles that have received tens of thousands of organic views over time. Here are some tips and recommendations for the success of your article:
Try and write about a topic that people are searching for and which isn't too difficult to rank for.
Include your keywords 1-2.5% throughout the article.
Use related and similar words throughout the article.
Make your article detailed and comprehensive. Better than other competing articles.
We'd recommend a word count of at least 1000+.
Links policy
Any links to external websites/sources should be relevant and natural.
There should be no links to websites with gambling, political, controversial or sensitive topics.
Sponsored links will have rel="sponsored nofollow" as per Google and other search engine guidelines. We will also add a line at the start of the article letting our readers know the article is sponsored for transparency and trust and to comply with government guidelines.
All other (helpful) external links will be "nofollow" by default and are subject to approval. If the link isn't relevant enough or we don't think is good quality enough to the article it will be removed. Please note that we are very strict with links to external sites and will often remove them if there is any doubt.
Pictures
Images should be added to the article. We can source these or feel free to provide them yourselves.
If you are providing images they should be high quality and you should have the right to use them. Ie they should have been taken/created/owned by you or licenced through a stock agency.
We will also add a credit to the source of the images – so please provide this too.
Editing/pre-publishing
Once we have received the article we may:
Add relevant internal links to build site structure.
Make slight tweaks and changes to the text to match the website style and for readability. This won't change what you are saying and is very minor.
Potentially re-order the headings and content slightly based on the pictures. Ie we don't like two-night pictures or two similar shots below each other.
Add the article to any relevant categories. This may increase traffic to the article by creating automatic links.
Other Notes
Please note that we also have dynamic advertisements which are served through Adsense and other partners. These are added automatically in our sidebar, header and also at the end of an article.
Disclosure
When publishing a sponsored article we will give full disclosure, so as to comply with regulatory/government guidelines and for transparency to our readers. This will be in the form of a box at the top of the article mentioning the article is sponsored, the brand that the article is in collaboration with or that the content relates to. We will also mention in the box that the comments and opinions are those of the author, not necessarily those of TravelAndDestinations.
These disclosures are subject to change with any new rules and legislation, so should we need to add additional clarifications in the future so as to comply, then we will do this and without notice to the sponsoring brand.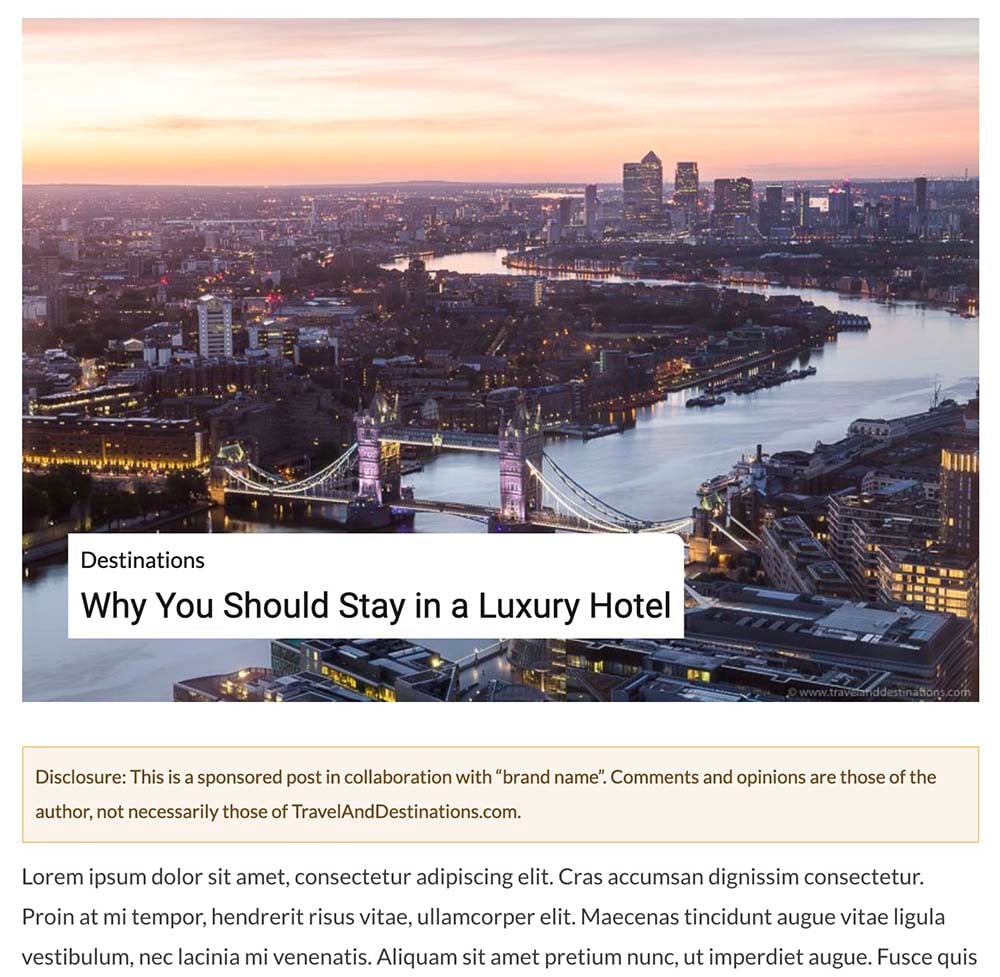 Note the colour of the note to the user is subject to change, such as if we make tweaks to our website design.
Author Bio/Credit
At the bottom of the article, we would also like to put a bio. This is yours or the brand logo as well as a little bit about you. We add this to try and add authority to the articles. You can also have a link in the bio although it will be rel="nofollow". The bio might look like below. Note that the example below was not a sponsored post and is just an example.
Post-publishing
We will intend to leave the article up for an indefinite or agreed duration, but should we be notified of an issue that may cause legal problems then the article may be removed either temporarily or permanently whilst we come to a conclusion.
Visibility and extras
When we publish an article it will appear in the following sections:
Homepage in "Recent Articles" (until 9 more articles are published).
Sidebar (desktop) in "Recent Posts" (until 5 more articles are published).
"Related Articles" section at the end of articles (specific to category).
As well as posting the article we can offer the following to enhance the visibility of the article (for a fee).
On the homepage in the top three featured articles.
In an Instagram Story on @travelanddestinations (over 600K followers).
On our Facebook page(4.8k followers).
2 extra internal links within existing articles (subject to article quality).
---
Sound Good? Get in Touch
If this sounds good please send an email using the form below:
Note: Please ensure you have read our guidelines above on sponsored articles and agree to the terms regarding disclosure and rel="sponsored nofollow" on any brand links. We also cannot guarantee your sponsored posts will be successful and we'd recommend you read our tips and recommendations above for the best results.