Sydney is a destination that has many fantastic attractions surrounding the city – ranging from the Hunter Valley Region to the breath-taking views of the Blue Mountains. These exclusive spots are merely a handful of areas that make a visit to Sydney all the more memorable. With a vast list of things to do at these destinations, a tour can help ensure you see so much more.
Here are the 10 best tours and activities worth checking out when visiting Sydney.
Please note that if you book using our links we get a small commission at no cost to you. This helps us keep this site running and create new content. As sometimes tours and activities do change please remember to check the details when booking.
---
1. Blue Mountains Group Tour
Home to towering mountains, lush landscapes, and deep valleys, the Blue Mountains is a must-see natural escape from Sydney – and this small-group tour is the perfect way to experience it.
The first stop on the tour delivers panoramic views over Jamison Valley, followed by a visit to Scenic World. Here, you can look forward to a ride on the Scenic Railway, Skyway, and Cableway. Next, you'll head to Echo Point to see the famed Three Sisters – these are three giant, rugged rock formations. Lunch is then served in a historic hotel at the heart of the Blue Mountains.
After lunch, you'll have the perfect opportunity to interact with some Aussie creatures at the Featherdale Wildlife Park, including kangaroos, koalas, and more. The day is then finished off with a peaceful ferry ride along the Parramatta River, cruising past the Harbour Bridge to deliver you at Circular Quay.
2. Port Stephens Dolphins and Dunes
The "Port Stephens Dolphins And Dunes" tour is the perfect way to experience this part of New South Wales. The tour will guide you to the pristine beaches and natural treasures the area is praised for.
The tour starts with a visit to the Australian Reptile Park, where you'll see plenty of unique creatures – such as wombats, platypus, kangaroos, koalas, and more. Then after lunch, you'll embark on a cruise from the Nelson Bay Marina to spot bottlenose dolphins.
To round off the day is an exciting 4WD tour of the nearby sand dunes, which may also entail sandboarding.
3. Walking with Wombats Experience
The "Walking with Wombats Experience" is much more than a visit to see these iconic Australian critters. Following your departure from Sydney Central Station, you can enjoy a visit to a lush rainforest where you'll spot waterfalls, blowholes, and water holes. This is followed by a twilight dinner amongst the bare-nosed wombats, as well as a few kangaroos.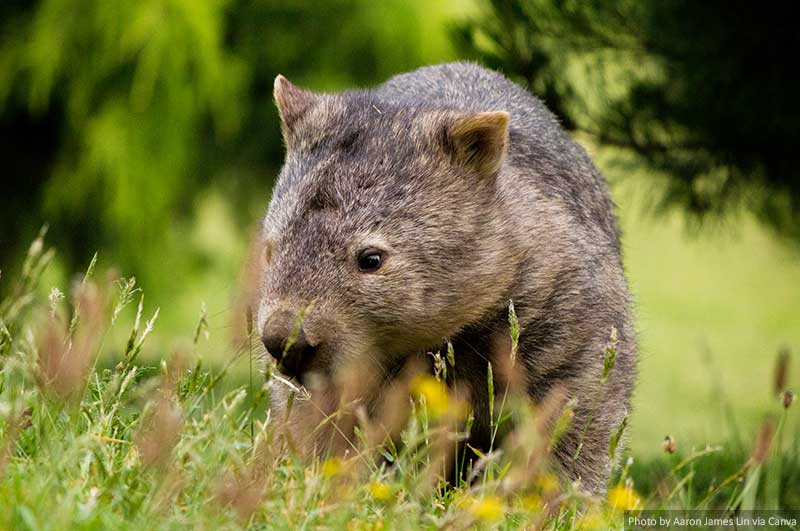 4. Kiama Coast, Nature, Beaches & BBQ Small Group Tour
This tour offers you the chance to escape the hustle and bustle of Sydney and explore the many natural playgrounds surrounding the city.
There's plenty of action-packed into a full day of activities, including cliff-top views over the Pacific Ocean, a visit to the powerful Kiama Blowhole, and a drive through the farmland Jamberoo, Saddleback Mountain, Royal National Park, and more. There's also a BBQ lunch for you to refuel for the rest of the tour.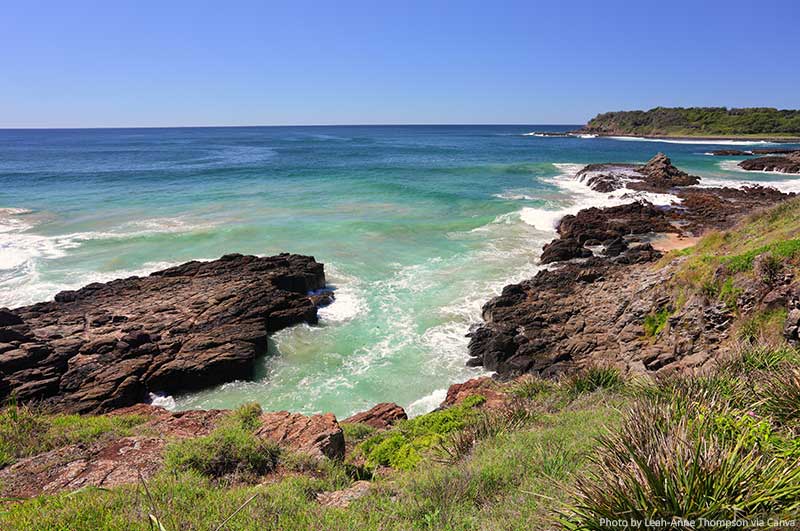 5. Full-Day Tour 0f Canberra
With the capital of Australia only 3 hours away from Sydney, how could you resist a visit to Canberra? The "Full-Day Coach Tour Of Canberra" is a great way to taste what the city has to offer in 1 day.
After travelling in a comfortable coach, your first visit will be the top of Mt Ainslie. Here, you'll admire the stretching views over Canberra city and its surrounding suburbs. Next up will be a visit to the Canberra War Memorial, followed by a guided tour of the National Museum of Australia and Parliament House.
The afternoon entails a trip to Lake Burley Griffin, where you'll see the Captain Cook Memorial Fountain and capture views of the National Library, High Court, and National Carillon bell tower.
6. Hunter Valley: Wineries, Vodka, Cheese, Chocolate
Wine, Vodka, Cheese, and Chocolate – this is what the Hunter Valley is praised for. While exploring Sydney, be sure to take the day to experience this treasure with this exciting tour.
On this small-group tour, you can expect to experience 3 wine tastings with local guides, followed by mouth-watering cheeses and chocolates. A visit to the Hunter Distillery is next, where you will enjoy organic vodka, schnapps and more.
With all this luxury rolled into one day, this tour is one of the best ways to experience the Hunter Valley region.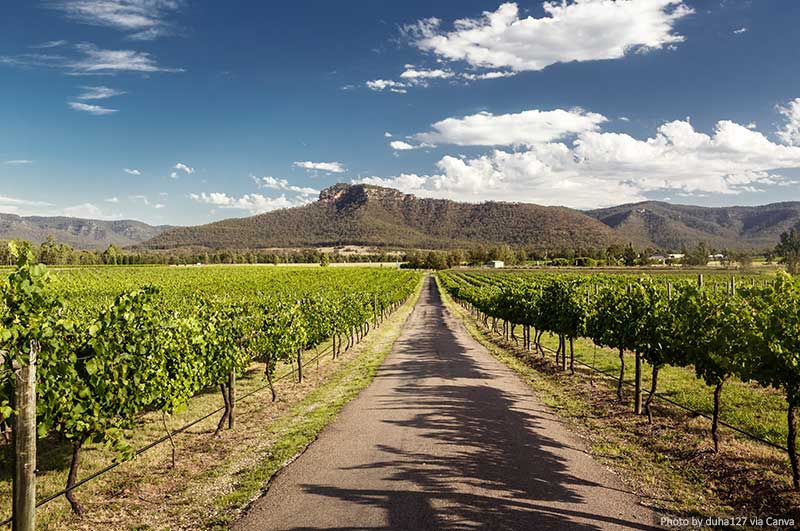 7. Wildlife, Waterfalls, and Wine Small-Group Tour
The "Wildlife, Waterfalls, and Wine Small-Group Tour" includes a variety of essential Aussie experiences all in one day.
After driving amongst Botany Bay and Royal National Park, stop by the Symbio Wildlife Park where you'll see koalas, wallabies, kangaroos, and more. After lunch overlooking the coast at Bulli Beach, you'll make your way over to a tropical rainforest in the Southern Highlands to see flowing waterfalls and sweeping views from lookouts.
Before heading back to Sydney, the tour will make its last stop at a boutique winery to taste delicious, locally made wine.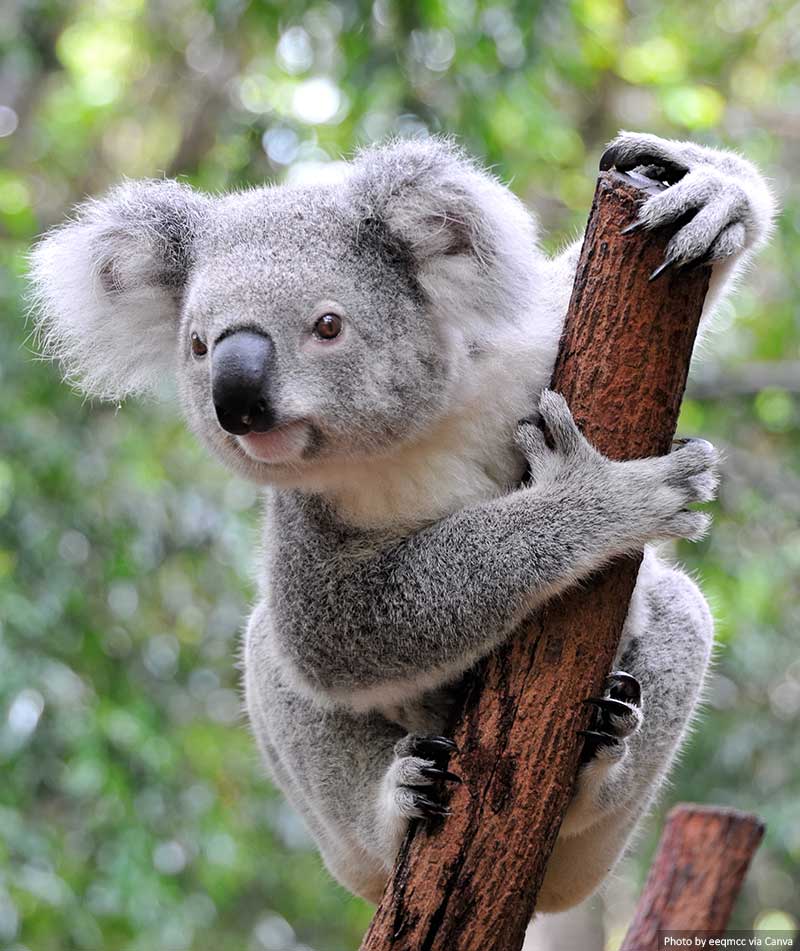 8. Two Day Combo: Blue Mountains & Sydney with Bondi or Manly
This tour spans over 2 days, including many of Sydney's beloved attractions: the Blue Mountains, and the choice of Bondi or Manly.
With an afternoon pickup, you'll enjoy the many regions of Sydney, including the Rocks, Bondi, and more. Otherwise, choose the Manly option to see and explore the suburbs throughout the morning.
The second day of this tour is packed with an assortment of exciting experiences – such as a visit to Scenic World, Featherdale Wildlife Park, and a variety of spots in the Blue Mountains while finishing off with a cruise along the Parramatta River.
9. Northern Beaches and Ku-Ring-Gai National Park
This tour of the northern beaches and Ku-Ring-Gai starts in a comfortable coach, driving towards the National Park to learn more about aboriginal culture. Next, Manly beach will provide stunning views, while you look forward to visiting the Spit, Barrenjoey Lighthouse, North Head Palm Beach, Summer Bay, and more.
After lunch, you'll make your way to one of the best surfing spots in Sydney: Narrabeen Beach, followed by a clifftop walk at the Curl Curl coastal walk. The tour then finishes with a cruise, offering views of the Harbour Bridge and Opera House.
10. Boutique Full-Day Wildlife Tour
If you're eager to spend your time in New South Wales spotting some beautiful Aussie creatures, then the "Boutique Full-Day Wildlife Tour" may be worth your time.
Starting at noon and running till late, this tour involves spotting wildlife animals from an off-road vehicle and strolling through Grey Gum trees to see koalas, kangaroos, emus, and platypuses.
After dinner, you can catch a glimpse of Australia's nocturnal creatures, like wombats and possums.
---
More Tours and activities for Sydney
Related Articles