Sydney is a must-visit city for those on an Aussie getaway. The city is bursting at the seams with activities, offering visitors delicious dishes, unique culture, and unmissable attractions. Whether you've only got a few days up your sleeve or a few weeks, the city of Sydney can deliver an endless stream of experiences that can make a visit to Australia truly memorable.
Heading down under in the near future? Here is your city guide to visiting Sydney, including what to do, where to stay, getting around, and other helpful tips.
---
About Sydney
Sydney is one of Australia's largest cities with a population of approximately 5.5 million. There are countless must-have Aussie experiences in Sydney and some top sites including the famous Sydney Opera House and Harbour Bridge. Throughout the city you'll stumble across impressive shopping streets, towering observatories, botanical gardens, and waterside cafes. A ferry ride in the city's harbour is a must-have experience when visiting.
ADVERTISEMENT
CONTINUE READING BELOW
---
What to see and do
Here are some of the highlights and things to see and do in Sydney.
Stop by Darling Harbour: Darling Harbour provides an abundance of unmissable Sydney experiences. Aside from embracing views of the Sydney Harbour Bridge and the Opera House, check out the Sea-life Aquarium, embark on a cruise, or head to Taronga Zoo.
Wander through the Royal Botanic Gardens: Located in the heart of Sydney is the vibrant Royal Botanic Gardens. Originally opening in 1816, the gardens have become the oldest scientific institution in Australia. Walk along the colourful path, take in the diverse aromas and enjoy the serenity this location exudes. Visit the botanic gardens for an excellent morning venture.
Take a dip at Bondi Beach: Sydney's famous Bondi Beach is a lively destination from day to night. Here you can engage in activities such as whale watching on the Bondi to Coogee Coastal Walk, learning to surf, or merely lounging on the beach and watching the waves roll in. Bondi Beach is located only 8km from Sydney's heart.
Catch a show at the Enmore Theatre: Sydney is home to an extensive arts and culture world and the Enmore Theatre is the perfect place to catch a glimpse. The theatre houses everything from musicians to stand-up comedy, making it simple to find something to suit you. After the show, patrons often head out onto Enmore Road to grab a bite to eat.
Visit Taronga Zoo: Home to not only an impressive range of animals but the Taronga Zoo also houses extraordinary views of Sydney's harbour. Walk the winding path, spotting majestic creatures while admiring views of the Opera House and Harbour Bridge along the way.
Tours and activities
See our suggestions of 10 top day tours to go on from Sydney. Below are also a few ideas that you may be interested in.
---
Where to stay
From lavish hotels to basic hostels, Sydney contains a great range of accommodations to suit any budget. Here are a few spots to consider for your next visit.
Budget – Sydney Harbour YHA – Located in a great location close to Sydney Opera House, the Royal Botanic Gardens and other great attractions, this hostel is a great choice for budget travellers. What's more, you'll find top staff and free WiFi.
Mid-range – Veriu Central – Veriu Central is acclaimed for its location. The hotel is situated only 600m from the central train station and 5 minutes from Sydney's China Town and Hyde Park. All of the air-conditioned rooms come with a flat screen, free Netflix, tea and coffee-making facilities, and to top it off, the beds are said to be extremely comfortable.
Luxury – Hyatt Regency Sydney – This boutique-styled hotel is one of the most extravagant in the heart of Sydney. All guests are offered either picture-perfect city views or iconic sights of the harbour. Visitors of the hotel can also head up to the beautiful roof-top bar.
ADVERTISEMENT
CONTINUE READING BELOW
---
When to go
Sydney is a destination that can be enjoyed all year round. However, visiting at specific times of the year can make the experience all the more memorable. The best time to visit is between September and November as well as March to May. This time frame offers smaller crowds and comfortable temperatures. Also, as these dates don't fall into Sydney's peak season for travel, airline prices can also be slightly cheaper. If you're chasing even cheaper prices, the city's low season for travel is between May and August. Although, these months can bring along temperatures as low as 9°C, so be sure to pack some warm clothes.
---
Getting around Sydney
Arriving to the city
Sydney airport is located only 13 minutes from the city via train, making the journey effortless and cost-effective. Trains run every 10 minutes and an Opal Card will need to be purchased. Taxis are also available, however, this option will be much more expensive and will take longer.
Within the city
The public transport system in Sydney is cost-effective and easy to use. The train system is called 'The City Circle', and it runs a loop around the city. This option is easy for anyone making their way around the city centre. If you're heading to the Convention Centre, China Town, or the Powerhouse Museum, the light rail network is the best method.
Sydney also has an extensive bus network, offering rides from the city to the surrounding suburbs, and there is also the option of taxis or Uber.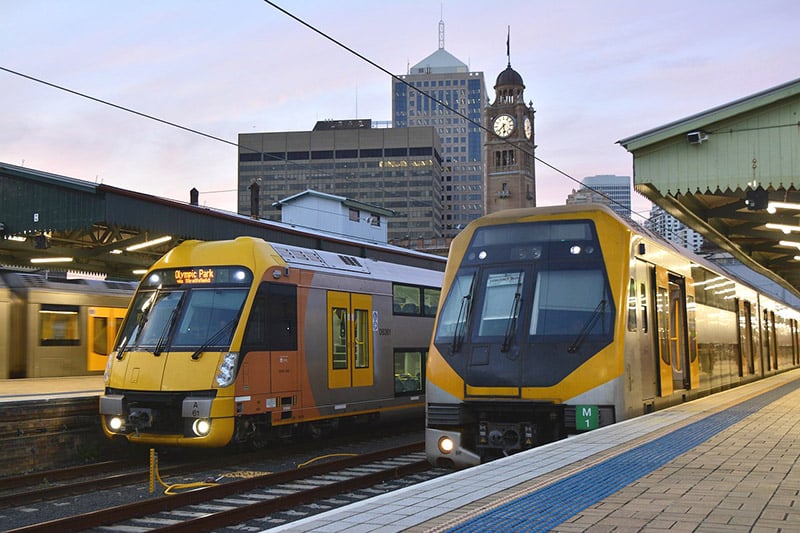 ---
General tips and info for visiting Sydney
Grab yourself an Opal Card: An Opal Card is a must when it comes to getting around the city. These cards allow access to trains, buses, and ferries. After loading it up with money to cover your fares, you'll be good to go. Opal Cards can be attained and topped up at most train stations and convenience stores.
Visit the Opera House at sunset: Each night, the Sydney Opera house is lit with a vibrant projection called 'Badu Gili'. These lights showcase the work of five Australian and Torres Strait Islander artists and offer tourists a different perspective of the Opera House to appreciate.
People drive on the left: Unlike other destinations, Australians drive on the left-hand side. Be sure to keep this in mind when crossing the road.
There's plenty to do outside the city: Sydney is surrounded by a natural playground waiting to be uncovered. For example, Western Sydney provides tourists with the opportunity to explore the beautiful Blue Mountains. Marvel at sweeping views of lush greenery from above or stop by to see The Three Sisters or The Jenolan Caves.
The shops close early: Compared to other locations, the shops close a bit earlier in Australia. Shopping centres in Sydney typically close around 6pm. Although, this can merely be seen as an opportunity to explore the city's vast collection of restaurants and bars.
Read about things to know when visiting Australia.
ADVERTISEMENT
CONTINUE READING BELOW
---
Further reading and resources
If you're looking for more reading for your visit to Sydney, consider getting a copy of Lonely Planet's guide:
For other up to date info consider visiting the Australian national tourism website: australia.com
Ready to book? Search for:
---
Related Articles