There are quite a few things that annoy me about hotels. Things that I just wish they would do better. In this post I will share some of those things and will probably add to this post over time! Feel free to tell me anything that annoys you about hotels in the comments.
Ridiculous check-in and check-out times
I find the check-in and check-out times of hotels can sometimes be ridiculous. Such as checking out by 10am, or not being able to check-in until 4-5pm. I do find that many luxury hotels have a 12-noon checkout which is definitely a good benefit.
What hotels could do better: I think a check-out time of around 11am-12noon would be ideal. Whilst a check-in time should be no later than 3pm.
WiFi that is hard to connect to/drops out, or slow
As a travel photographer and blogger staying in a place that has bad WiFi, or a connection that constantly drops in and out can be very frustrating! Obviously, this can be expected in developing countries, or places that are in very rural areas, but when you stay in a major city, such as London, then the Internet should always be good for guests.
What hotels could do better: WiFi is now crucial to many peoples lifestyles. Many people rely on WiFi to communicate with friends and family, for research during their trip, to book transportation, and even to use internet their banking. I think hotels should always invest in good WiFi, and the only hotels where it may be acceptable to have bad connections should only be in destinations where WiFi is not that great, ie a developing country.
Badly placed plug sockets
During my trip to Thailand I stayed in a hotel that had hardly any plug sockets, and yet they had a lamp on the side table, but the cable couldn't reach the socket, so I couldn't plug it in! I have stayed in many places that have failed in this sense.
What hotels should do: Especially new hotels should consider the placement of sockets and furniture during the designing stage. For hotels already built, then consider ways to improve the placement of sockets.
Complicated TVs, or TVs that don't work properly
How many of you have stayed in a hotel which had a television that has been so darn complicated that you can never find a decent channel, and then have to give up? This has happened to me many times and I often get very frustrated by over-complicated television setups, or where half the channels just don't work!
What hotels should do: Spend more time in ensuring the TV system is well designed for the end user.  
Dirty remote controls
A pet hate of mine is a dirty remote control for the TV. You look at it and it's covered in grime and has probably been touched by god knows who. It's not just budget hotels that are bad for this. I often find hotels of all levels mess up by having dirty controls.
What hotels should do: Start cleaning the remotes during the room changeover. Also when the buttons start to fade or the control becomes to old to clean, then change it.
Complicated light switches
Sometimes when I stay in hotels, there are so many light switches, that I spend half my time fiddling around trying to work out what each one does. This actually is something that I think luxury hotels fail on, as they sometimes provide so many controls it just gets confusing.
What hotels should do: Install easy to use lighting systems, and when there are lots of controls, then make it clear what each button does.
Heating and temperature
Recently I stayed in a hotel in London and it was exceedingly hot despite it not being that hot outside. As a result we had to leave the door open to the hallway and open the window wide to try and make it cool down. The room still didn't cool down that much and it therefore made it hard to sleep. I have travelled in India in 40+ temperatures during the day and the apartments I stayed in were cool and comfortable, so I find it strange and frustrating when a hotel can't get this right, especially a hotel in a city that generally never gets that hot.
What hotels should do: Ensure rooms all have adequate ventilation systems and air conditioners.
Wet rooms
Another pet hate of mine is staying in a place that has a wet room for a bathroom! Even more so if it's been badly designed so that the water just stays on the floor of the bathroom and doesn't wash away.
What hotels should do: Avoid installing wet rooms if possible, and if the shower is in the same room as the toilet and sink, at least provide a curtain and something to capture the falling water so it doesn't go everywhere.
Unnecessary changing of the sheets and towels
How many people really need to sleep in a bed with new sheets every single night?! Most people at home would use the same sheets for a week or more before changing. This goes for towels too. As well as being bad for the environment to do this much washing it's in my opinion completely unnecessary.
Hotels are picking up on this and in many hotels you can now put something on your door or let reception now, but maybe hotels should be doing more to encourage guests to not request unnecessary changing of the sheets and towels. What do you think?
What hotels should do: I think a nice easy thing to do would be to have a simple device in the room near the door with four buttons saying something like: "Towels Ok, Please leave", "Sheets Ok, Please leave" and "Please change towels", "Please change sheets".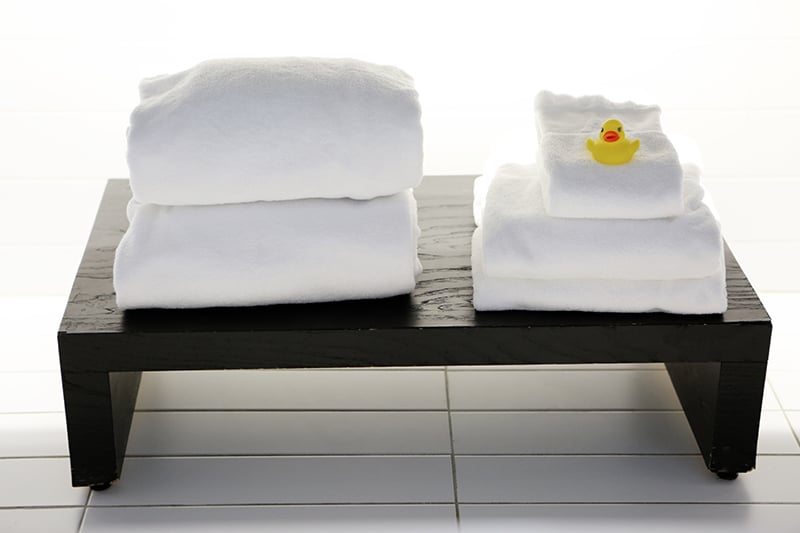 Nowhere to hang towels to dry
Quite a few hotels provide plenty of towels, but no hooks or drying rails to hang them! That seems pointless to me! Every bathroom should have a good drying rack.
What hotels should do: Add appropriate drying wracks in bathrooms. Simple!
Overcomplicated air conditioning unit
I've stayed in so many hotels where the Air Con is a disaster and so difficult to use. Where you spend ages trying to get the desired temperature and it still doesn't work. Or it ends up being too cold. Being someone who is actually quite tech-savvy I can't imagine how some people cope, I imagine they just give up.
What hotels should do: Invest in an easy system that is uncomplicated for anybody to use, from young people to old.
Keycards not working
How many of you have stayed in a hotel where you get to your room and the electronic keycard doesn't work? I'd say around 20% of the hotels I've stayed in have had keycard problems. However I do like the keycard system vs a key, as I consider it more convenient to use.
What hotels should do: Have a better and more reliable means of checking the cards work, before they hand the card over.
Bins
I have mixed feelings about bin systems in hotels. Being someone who is quite environmental I would prefer not to waste tons of plastic bags. However I hate putting "wet" rubbish in a bin that has no bag, as it then just looks dirty, and ruins the bin too.
What hotels should do: This is a tough one, but I think hotels should look at better means of disposing of waste in an environmental way. I think they should all have two bins in the hotel rooms. One for recycling and one for waste. And the one for waste maybe use paper bags or something bio-degradable.
Summary
These are some of the things that annoy me about hotels. Not all hotels are guilty of the above, but I feel that any property manager that reads this should use it as inspiration on a few things to look out for, so as to ensure that these don't let guests down.