The main advantage of these Lightroom presets is that you can apply them to both people and street-style photos. You can choose filters depending on the subject of the photo: warm and light or cold and dark. These presets allow you to speed up your workflow and add unique effects that are difficult to achieve manually.
The presets are compatible with JPG, CR2, RAW formats. They come in lrtemplate and XMP formats. You can use them on both Mac and Windows devices. These street photography Lightroom presets are also compatible with all versions of Lightroom, including the mobile version.
Note: presets can help you achieve certain looks but don't do all the work. Your images might require additional editing/tweaks. Article provided through our partner FixThePhoto and contains affiliate links.
How to Install and Apply Lightroom Presets
First, you need to unzip a downloaded ZIP file. Then, run Lightroom and go to Settings. Press Show Lightroom Preset Folder and double-click on the Lightroom folder. Go to the Develop Presets folder and click on it twice to see a drop-down menu. Select Import Presets. Restart the application, and presets are ready to use!
To apply any urban street photography preset for Lightroom, choose a picture and select a preset. You can use the Export option to save modified pics with the original metadata.
Best Preset to Use for Street and People Photography
1. Free Lightroom Presets Collection
These urban Lightroom presets work well with a variety of photo styles, from urban photos to warm seaside shots. With them, you can adjust contrast and make your photos more eye-catching. Use them to make colours more saturated or highlight details.
With this collection, you can quickly edit your images to fully transform its style. Moreover, these photography presets make your pictures more textured.
Features:
Makes pictures more textured
Increases contrast
Accentuates details
Presets in pack: 10
2. Dark Moody Lightroom Presets
These street photography Lightroom presets will add dark and saturated colours to your photos. A fading effect will help transform your photos and make them more stylized. With this collection, you can apply a dramatic effect to your pictures, add muted tones and dark saturated colours.
By using them, you can increase brightness and add warm hues, without affecting the natural skin colour. You can also adjust greens to create a gloomy mood.
Features:
Vintage effect
Adds warmth to pictures
Well-balanced collection
Presets in pack: 40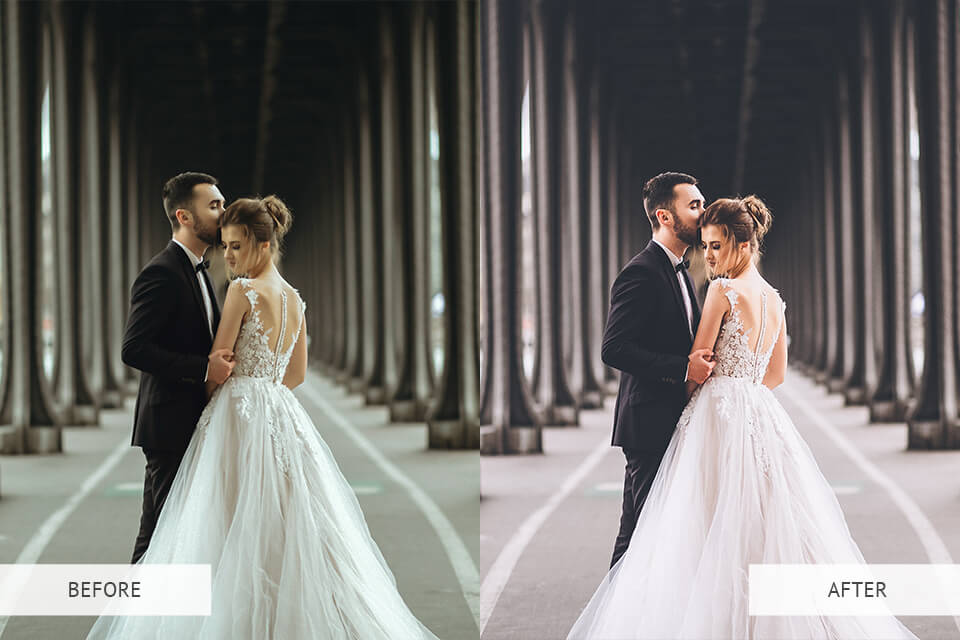 3. Sepia Fantasy Lightroom Presets
These presets for street photos enable you to add a sepia effect, enhance white balance, brightness, and contrast.
This collection will help you quickly edit your pictures, make them more attractive and atmospheric, without distorting the quality of the shots. Use the Lightroom sepia preset with RAW photos to achieve the desired result.
Features:
Old-photo effect
Creates an atmosphere
Supports HDR for contrast adjustment
Presets in pack: 60
4. Entire Collection of Lightroom Presets
This huge collection of Lightroom presets allow you to enhance colours and make them richer. The presets can be used for adding a creamy shade and natural tones to the skin.
Use the collection if you want to find your style and create a consistent look of your photos. You can add a natural glow, shadows and highlights to your pictures.
Whether you want to highlight an object in a photo or enhance its brightness, these helpful Lightroom presets will offer lots of options and are the way to go.
Features:
Saturated colours
White balance adjustment
Noise removal
Presets in pack: 2067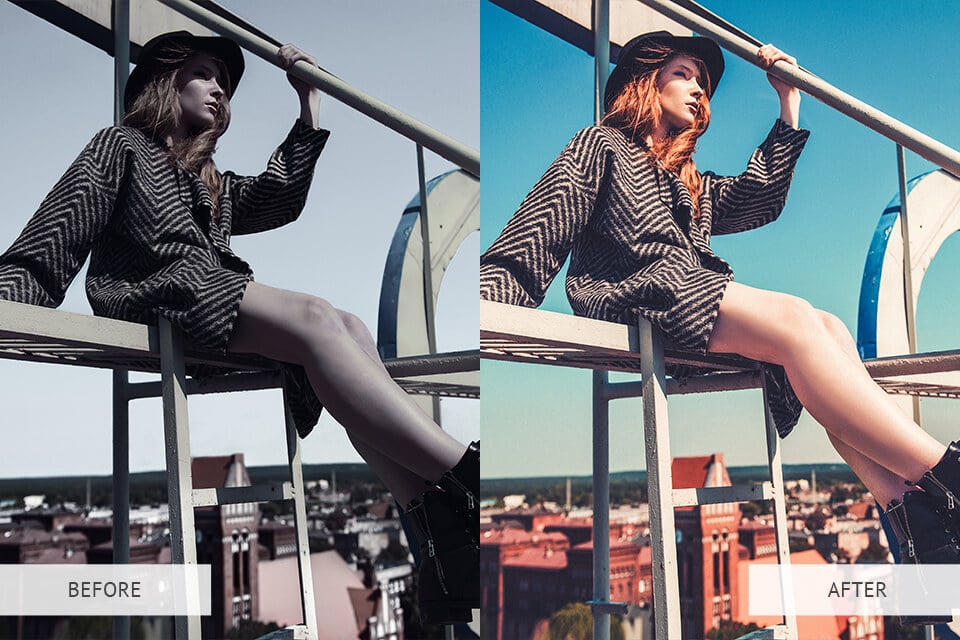 5. Black&White Essential Lightroom Presets
Designed for black-and-white photography, this collection of Lightroom filters is perfect for city street and people photos. Whether you are a beginner photographer or a professional, these presets will meet your needs and help you create unique black-and-white pictures.
Each filter is designed for enhancing saturation, hue, lighting, and contrast. By choosing a high-contrast filter, you will get darker and moody photos, while by adding highlights, you can make some objects stand out.
Features:
Adds a toning effect
Black-and-white filters
Adds depth to pictures
Presets in pack: 70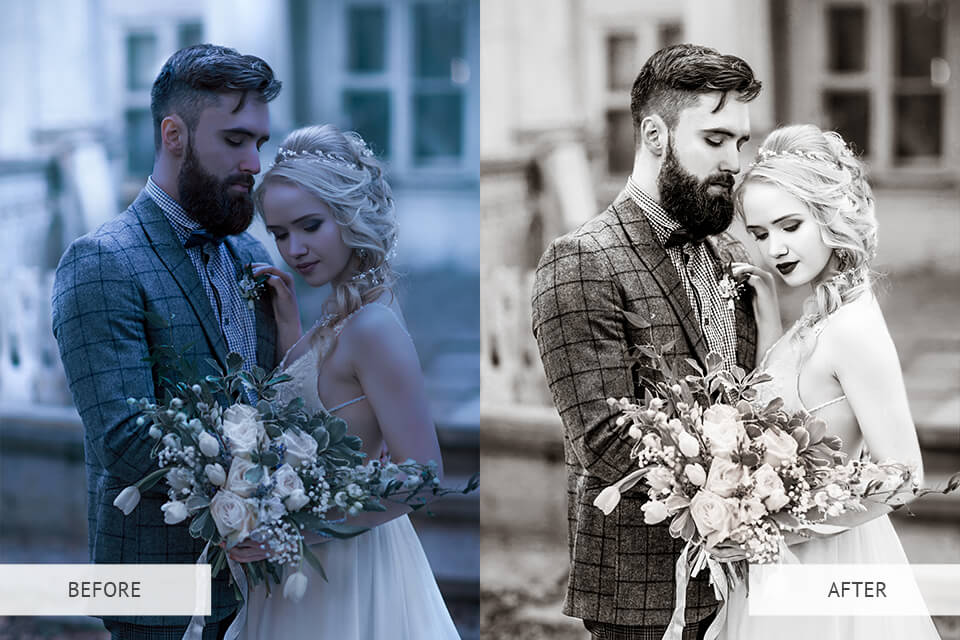 6. Chocolate Effect Lightroom Presets
This urban street photography preset for Lightroom creates a chocolate effect, adding a timeless vibe to your photo and making the details look clearer. With these presets, you can enhance dark tones, and make even simple shots look like frames from old movies.
Use these filters for outdoor shots and street scenes. What's more, you can use these presets even for low-light shots. By adding a brown tint, you can soften light and dark tones. A purple tint is perfect for enhancing shadows.
Features:
Enhances lighting
Adds a warm effect
Emphasizes brown shades
Presets in pack: 25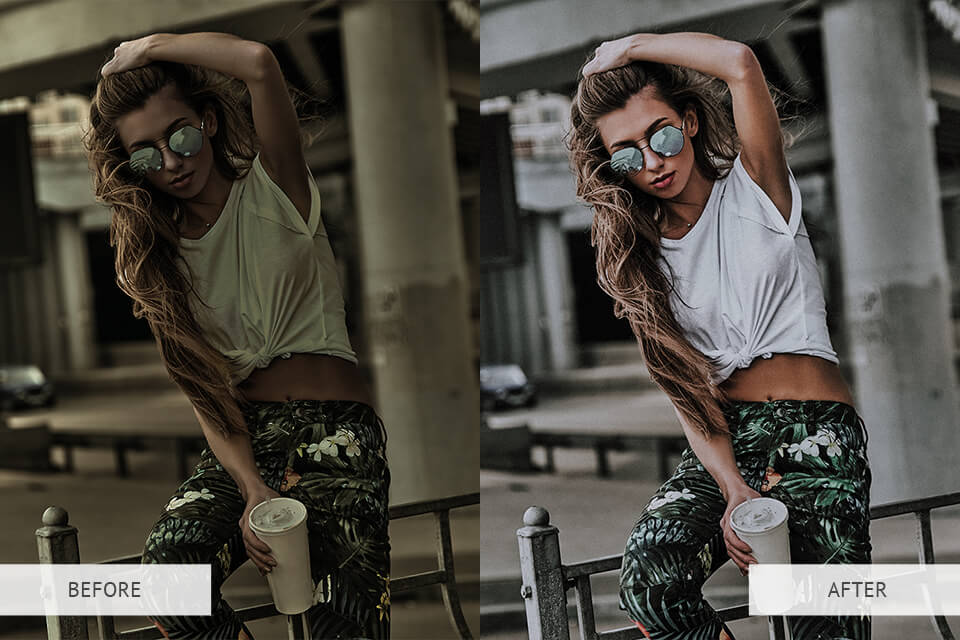 7. Matte Effect Lightroom Presets
This collection of presets features a matte effect that darkens your shots slightly, thus creating a moody atmosphere. Retouched photos look like they were printed on matte paper.
Thanks to the matte effect, your photos will become more atmospheric. Each filter from the collection has unique characteristics. While some muffle the colours of the image, others make shadows more detailed. Use these presets with your people shots to create a beautiful look.
Features:
For enhancing shadows, clarity, and highlights
Moody effect
Soft matte filters
Presets in pack: 30
ADVERTISEMENT
CONTINUE READING BELOW
8. Premium Collection: Orange & Teal Lightroom Presets
This urban street photography preset for Lightroom enables you to add an orange-turquoise effect with pretty blue, orange and brown tones. These presets are perfect not only for outdoor photos but also for indoor and people shots.
It simplifies the tints in your photos, which makes them look even more eye-catching.
Features:
Orange and turquoise shades
Soft tones
For creating a dynamic atmosphere
Presets in pack: 30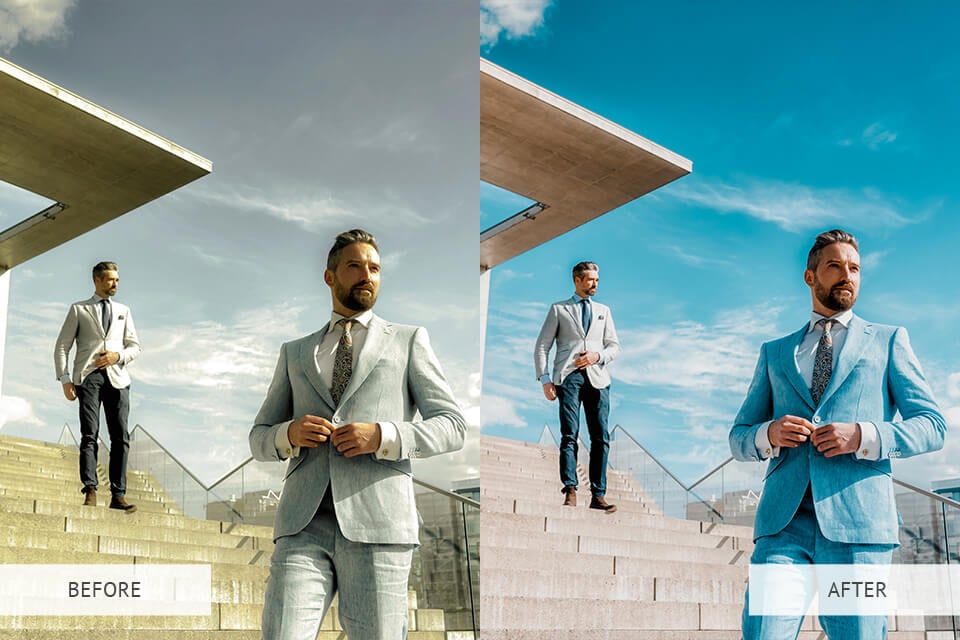 9. Cinematic Colors Collection of Presets
These Cinematic Lightroom presets are perfect for movie fans. With this collection, you will give your people and street photos a cinematic look. Each preset has unique colour schemes, from dark and moody hues to vibrant and colourful ones.
You can use the collection to embellish images in different styles, like foggy landscapes, night city pictures, or abstract images with monochrome colours.
Features:
Highlights the main elements in the frame
Adds warmth and brightness
Adjusts the white balance
Presets in pack: 40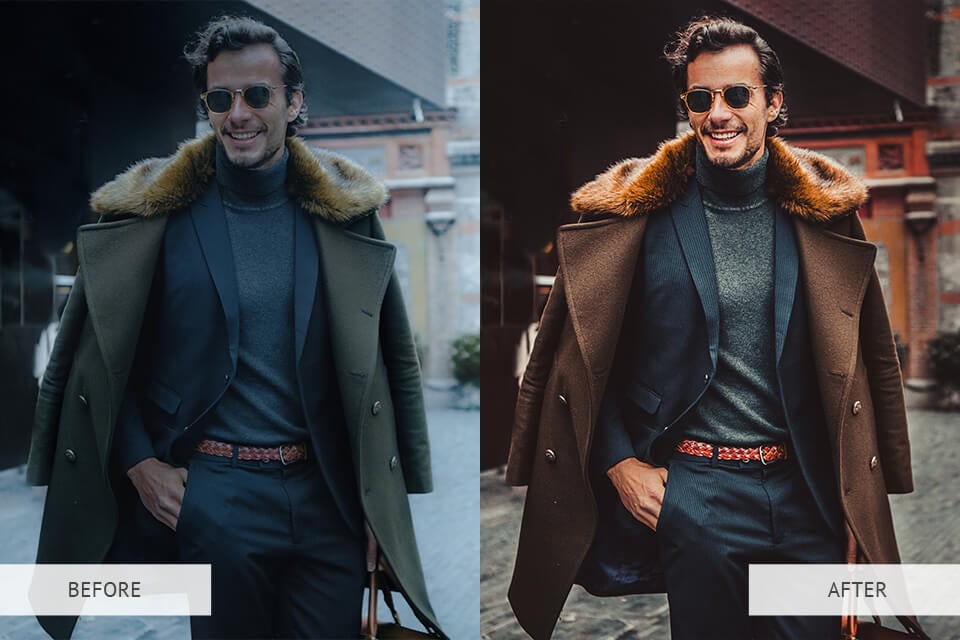 10. HDR Effect Collection of Lightroom Presets
Finally, these urban Lightroom presets add an HDR effect by enhancing the lighting and colour saturation. By using the Wide Dynamic Range filter, you can dramatically enhance your photo without affecting its natural look. You can customize these effects depending on shooting conditions. They would be perfect for helping you to quickly edit and improve your pictures of streets.
With this collection, you can achieve a perfect white balance between shadows and highlights. These presets will help you improve the sharpness of a photo and make each detail stand out.
Features:
Image clarity
A high level of detail
Intense colours
Presets in pack: 40
ADVERTISEMENT
CONTINUE READING BELOW
Summary
Use this collection of Lightroom presets to quickly enhance images of people and those taken in streets. They'll help you to improve the colours, balance the highlights and shadows, and create consistent and better images.
Related Articles