Prague, the capital of the Czech Republic is a wonderful city to visit, packed full of historic attractions as well as fun and exciting experiences. We'd also consider it as one of the most photogenic destinations in Europe. Prague is a perfect city to visit at any time throughout the year, with a great mix of both indoor and outdoor activities, as well as nice cafes, restaurants, beer taverns, museums, Christmas markets (in December) and lots more. The city is also a great place to base yourself before going on day trips to other places in Czechia such as Český Krumlov, Bohemian Switzerland and Pilsen. Whenever you decide to visit, be sure to add a few of these suggestions to your list. Here are top things to see and do during a visit to Prague.
1. Wander across Charles Bridge
Charles Bridge is one of Prague's biggest highlights and attracts thousands upon thousands of visitors each day. The Bridge was completed in 1402 and was built to replace a previous bridge (Judith Bridge) that was damaged in a flood in 1342.
When first built it was called the Stone Bridge and Prague Bridge, but later renamed to Charles Bridge. Presumably, because construction started while King Charles IV was reining. The bridge has been built in a gothic style and at either side, you'll find impressive towers which are publicly accessible and serve as awesome viewpoints. Also along this cobbled bridge you'll find 30 statues of various saints.
This bridge can become extremely busy. So if you are wanting to visit and get some none crowded pictures, then ensure you visit first thing in the morning, or fairly late at night.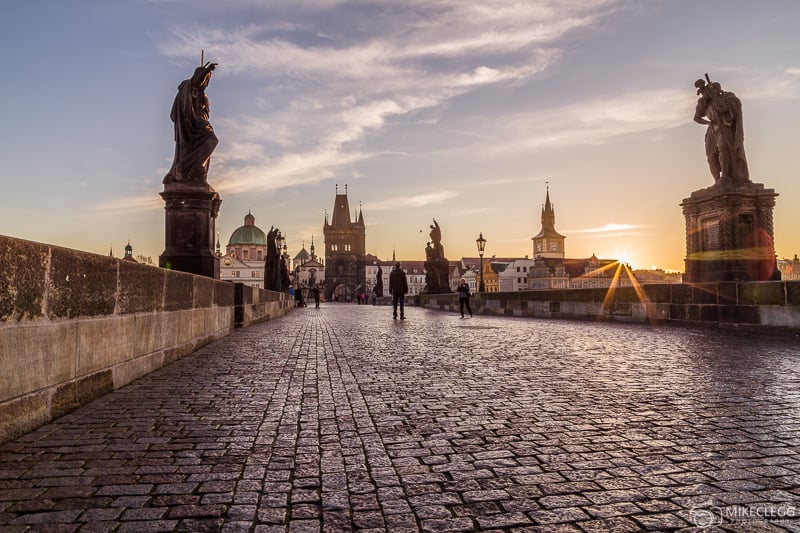 2. Explore the cobbled streets of Old Town
All throughout Prague Old Town you'll find beautiful cobbled streets and historic architecture. Similar to Charles Bridge these are best enjoyed early so as to avoid the crowds. One of the best places is around the Old Town Square where you'll find the impressive Prague Astronomical Clock, the Church of Our Lady before Týn with it's gothic design, as well as many stunning facades from the surrounding buildings. Whilst here be sure to head up the Old Town Hall Tower for some of the best views of Prague.
Tour Idea
3. Have a tour in a traditional Prague Vintage Car
For a fun experience hop into a traditional Prague Vintage Car and enjoy a tour around the city. You'll find these parked up throughout the city waiting for your business, or you can also pre-book them online. These cars are iconic and would be a fun way to travel around and learn about the city.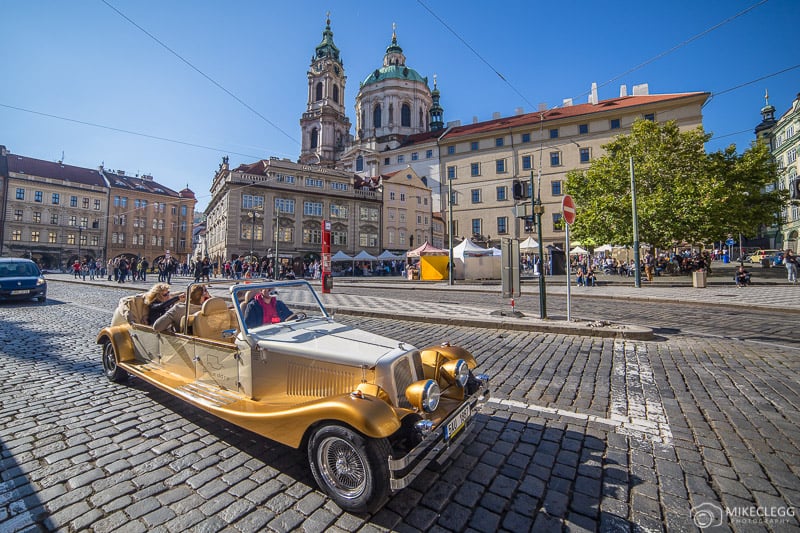 ADVERTISEMENT
CONTINUE READING BELOW
4. See the city from the Old Town Hall Tower
For some of the most epic views of Prague be sure to head up the Old Town Hall Tower. This gothic tower has an observation deck at 41 meters high which is easily accessible using the lift, or you can choose to walk up. When taking pictures using a wide angle lens to capture as much as possible.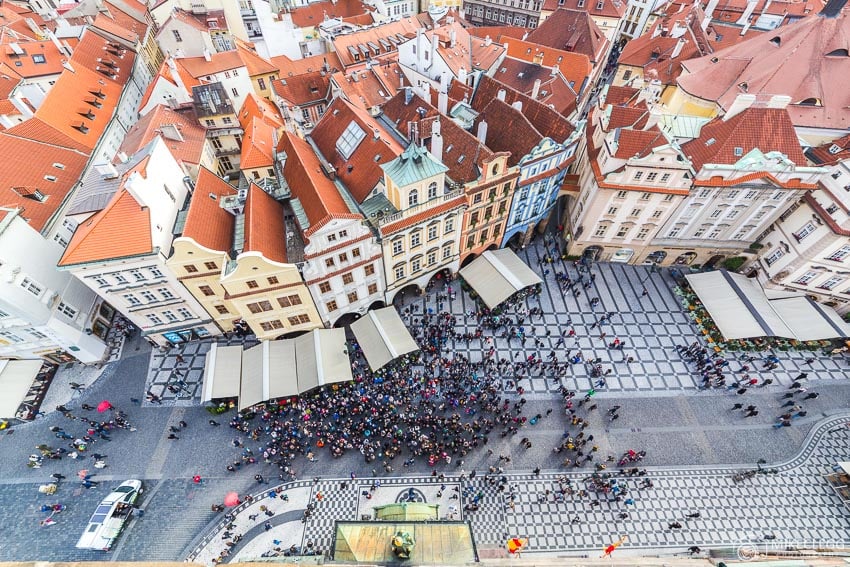 5. See the Prague Astronomical Clock
At the base of the Old Town Hall Tower you'll find the Prague Astronomical Clock. This attraction is extremely popular and throughout the day you'll find large crowds waiting for the hourly appearance of the twelve apostles.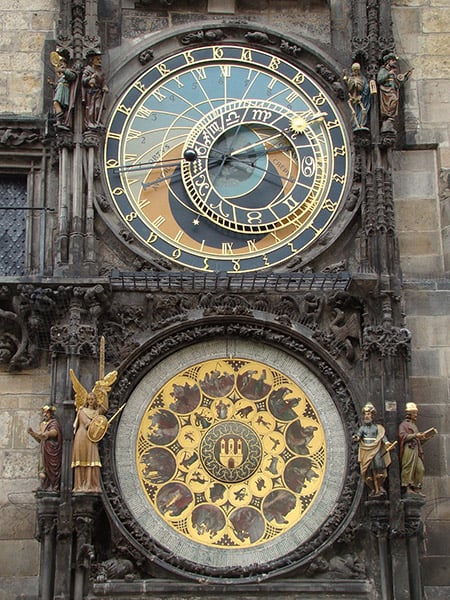 6. Visit a historic cafe
There are various historic cafes throughout Prague with one of the most beautiful being Café Imperial. This cafe opened in 1914 and the interior has been decorated in a beautiful Art Deco style. Other notable cafes include Café Louvre which is one of the city's oldest cafes opening in 1902 and was even visited by Albert Einstein. As well as Grand Café Orient which is in the house of the Black Madonna and was first opened in the early 1900s.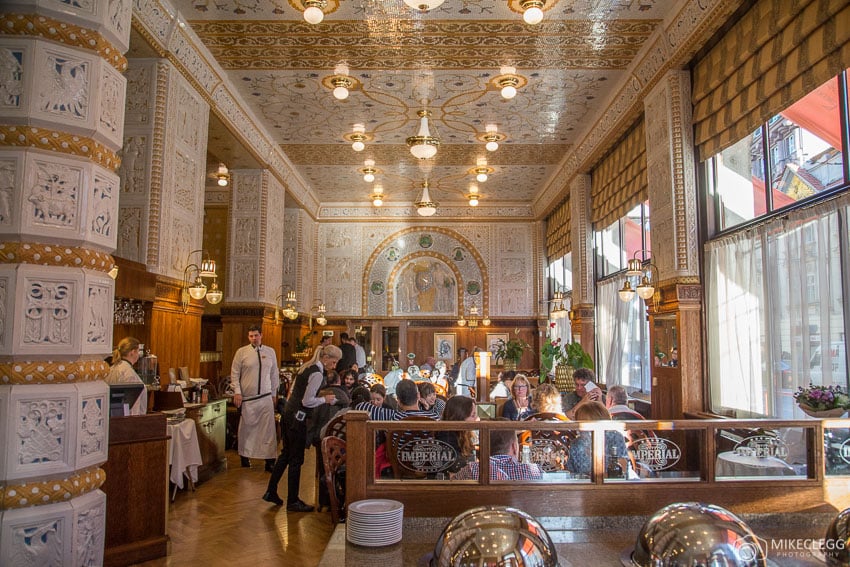 ADVERTISEMENT
CONTINUE READING BELOW
7. Walk through Petřín Hill
Petrin Hill is in the Lesser Town (Malá Strana) part of the city. Here you can go for a peaceful walk whilst gazing down at the city below. Towards the highest point of the park you'll find the Petřín Tower which you can climb for even higher views of the city.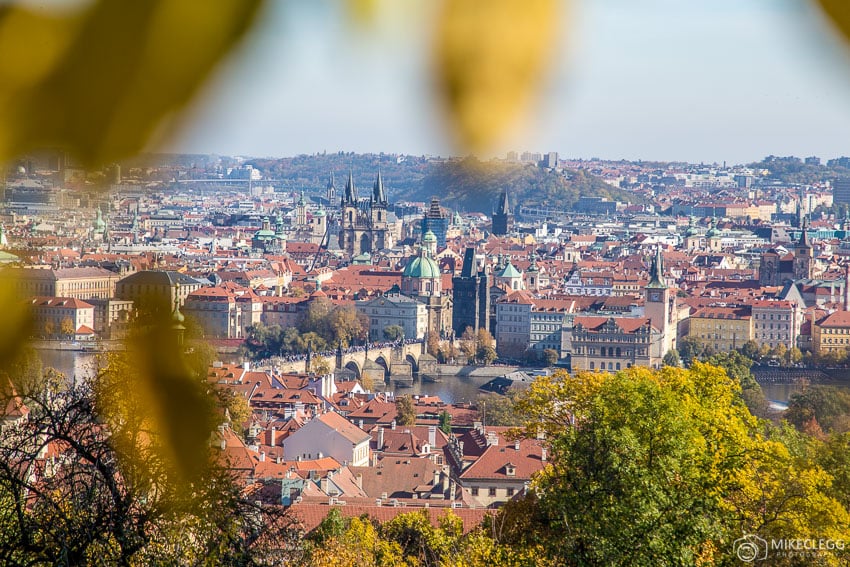 8. Explore Prague Castle
Prague Castle is a UNESCO World Heritage Site and huge castle complex covering an area of around 70,000 square meters. Throughout the complex you'll find St. Vitus Cathedral, palaces, the Golden Lane, as well as architecture in various styles including Romanesque and Gothic. Around the castle you'll also find some fantastic spots to enjoy views over the city.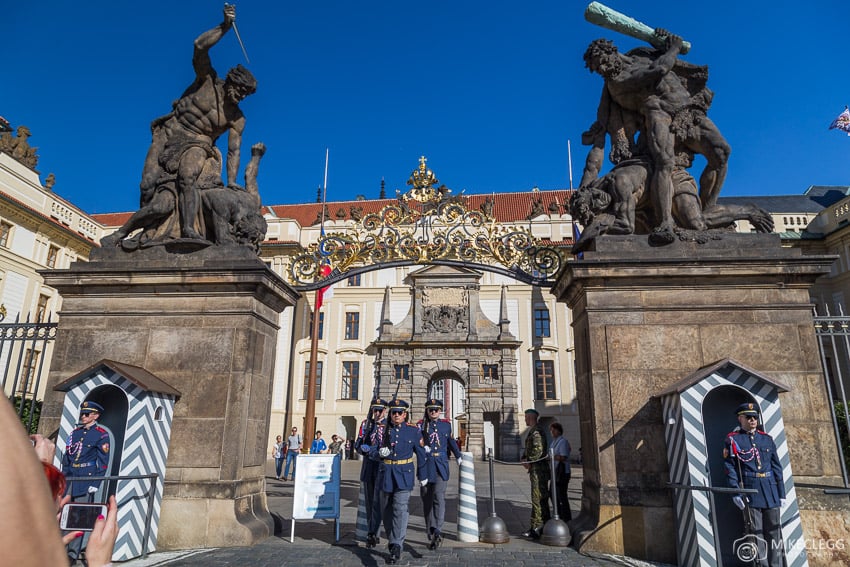 9. See the city from Letna Park
Possibly the best place to go for sunset is at Letna Park. This is a great place to relax and from here you'll get stunning skyline views of the city. This also serves as one of the best photography spots in Prague.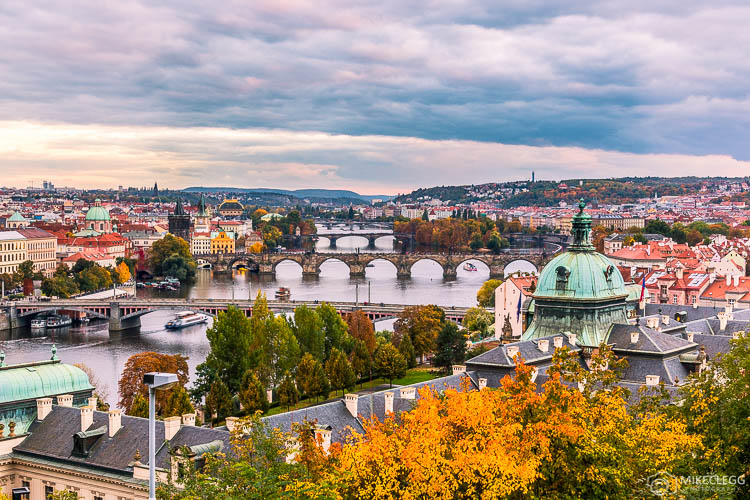 10. Drink pilsner at a beer hall
The Czechs love their beer and an awesome experience is to go to a traditional beer hall. At some beer halls you sit, order a beer and every time you finish your glass the waiter brings you another one and marks it on a slip on your table. To stop you put your coaster or hand on the top of the glass.  It's quite a fun experience that you probably wouldn't get in many places around the world. For some top beer halls in Prague head to prague-stay.com…26-beer-halls-and-pubs.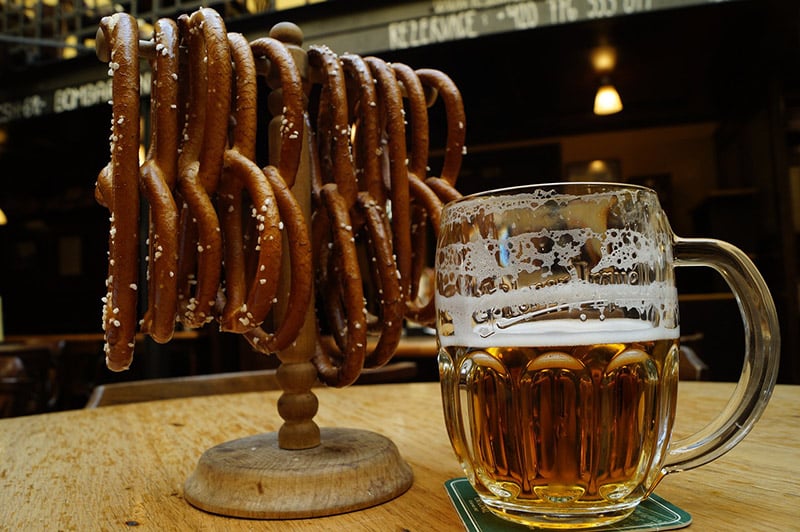 11. Explore the Strahov Monastery
The Strahov Monastery is very popular partly due to its stunning library. The monastery was founded in 1143 and was originally built in a Romanesque style. It has since been rebuilt in a Baroque style and the complex includes a church, Strahov Library, Philosophical Hall, Picture Gallery and various other buildings. There are different tours available, including a tour of the Strahov Library and the Strahov Gallery.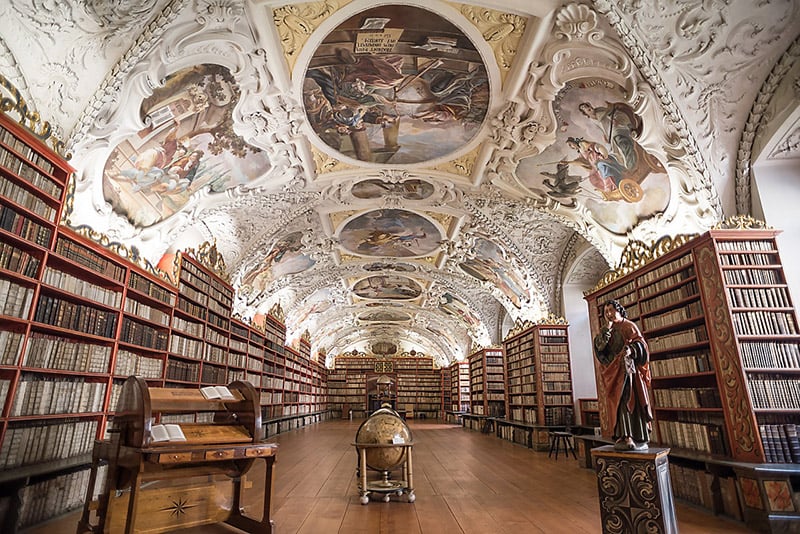 12. Enjoy a free walking tour
You'll find various free walking tours available in the city. These provide a great opportunity for you to learn about the city and discover some of its secrets. Although advertised as free it's generally expected to provide a tip or donation at the end.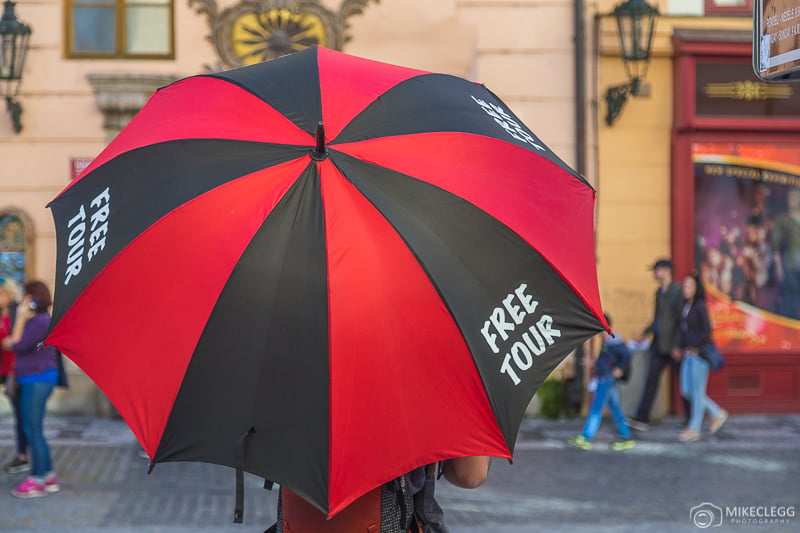 ADVERTISEMENT
CONTINUE READING BELOW
13. See the city from the Powder Tower
The Powder Tower is a 65-meter gothic tower in the Old Town and construction started around 1475. When visiting head up 186 steps to the observation gallery which is at 44 meters high and provides some great views of the city. If possible I would recommend coming here around the blue hour and using a telephoto lens to compress some of Prague's highlights into a great photo.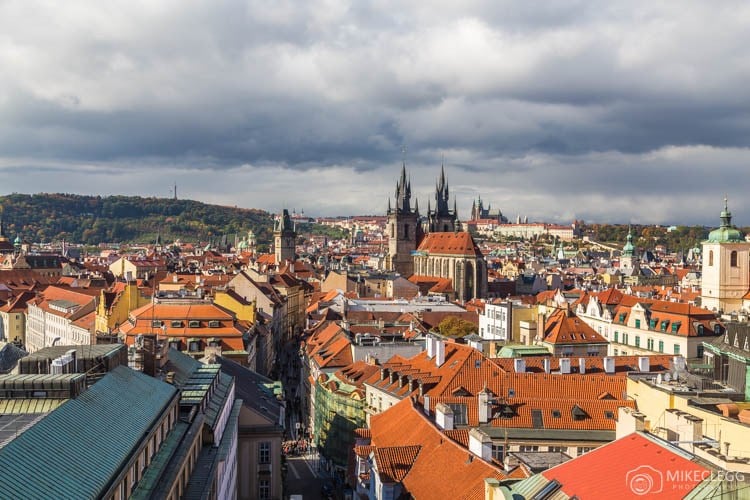 14. Wander the cute streets of Nový Svět
Around Nový Svět are lots of beautiful and photogenic streets. It makes for a nice place to wander after visiting the nearby Prague Castle.
15. See the National Monument on Vítkov
The National Monument on Vítkov is a monument that was built in honour of the Czechoslovak Legions. It is built on top of Vítkov Hill and is a nice place to relax and gaze out over the city.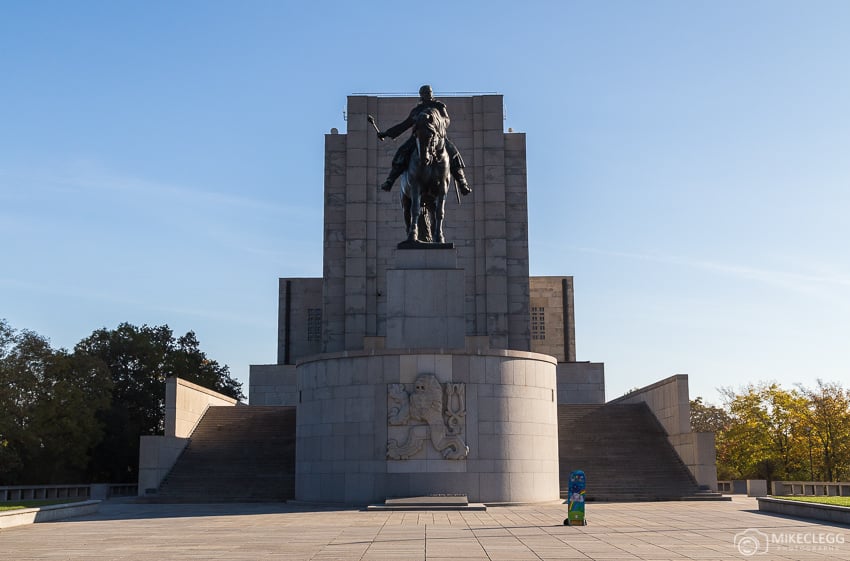 16. Enjoy a boat ride on the River Vltava
A nice experience whilst in Prague is to take a cruise along the River Vltava. This could be a great way to split up your day and a relaxing way to take a break in the afternoon. Visit GetYourGuide for a variety of options.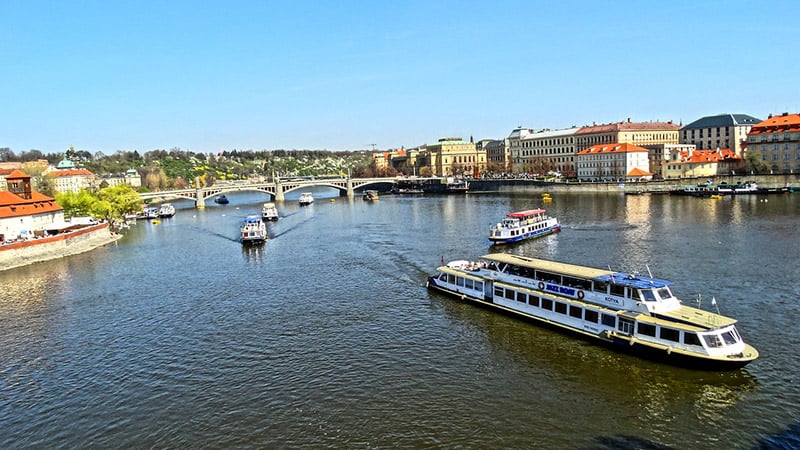 17. See the city at Christmas
Prague is magical at Christmas and has one of the best Christmas Markets in Europe. Explore the market stalls, drink mulled wine and eat lots of tasty treats whilst soaking up the festive atmosphere all around you. For the best views of the market head up the Old Town Hall Tower mentioned above.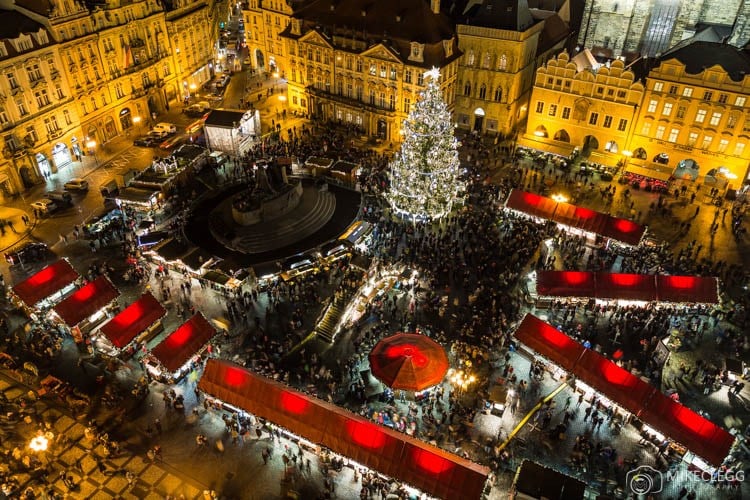 18. Go on a day trip to Bohemian Switzerland
If you're in Prague for a while then consider going on a day trip to Bohemian Switzerland National Park. This beautiful park is located north of the country and here you'll find gorges, incredible rock formations, and can enjoy stunning views. As well as this you can take a boat ride along the stunning River Kamenice and Edmund Gorge. This was one of our favourite experiences during our visit and we'd highly recommend this.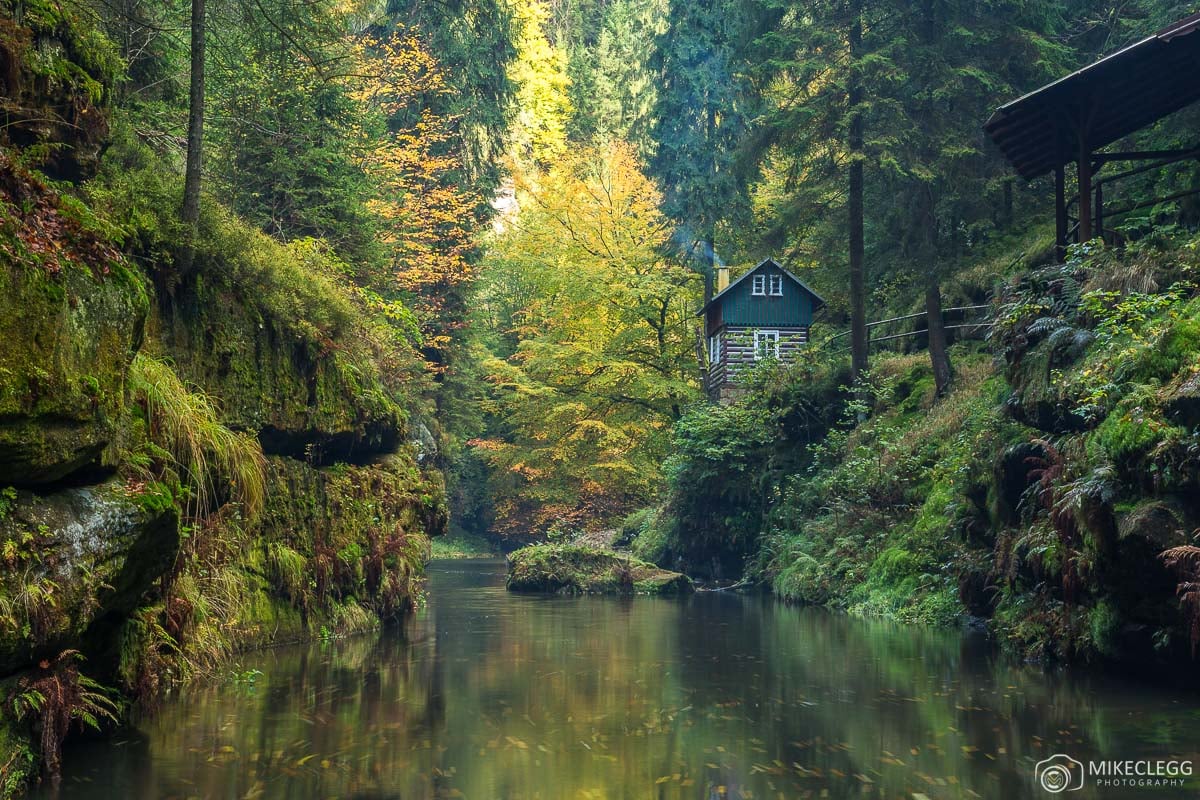 ---
Prague featured tours
You can start booking your tours and activities through getyourguide.com. There are some ideas below to get you started.
---
Summary
Prague is a must visit destination in the Czech Republic and has plenty of things to see and do to keep any traveller happy. As well as these suggestions above you'll find lots more to do during your visit.
Ready to book? Search for:
---
Related Articles