Instagram is one of the best places to get your travel inspiration and some of the best types of accounts to follow for travel inspiration are hubs or feature accounts. These are accounts that feature other photographers work with credit. They often given permission to do so by the artist tagging the hub/feature account, through direct messages, or by email. If you are on the hunt for some of the best to follow then look no further. Here are some of the best travel hubs/feature accounts to follow on Instagram that will ignite your wanderlust!
---
1. @travelanddestinations
Starting with @travelanddestinations which we run and showcases some of the most beautiful travel photographs from across Instagram. Posting multiple times a day and images from all across the globe, definitely follow for plenty of travel ideas and inspiration. Read how to get featured on this account.
Follow @travelanddestinations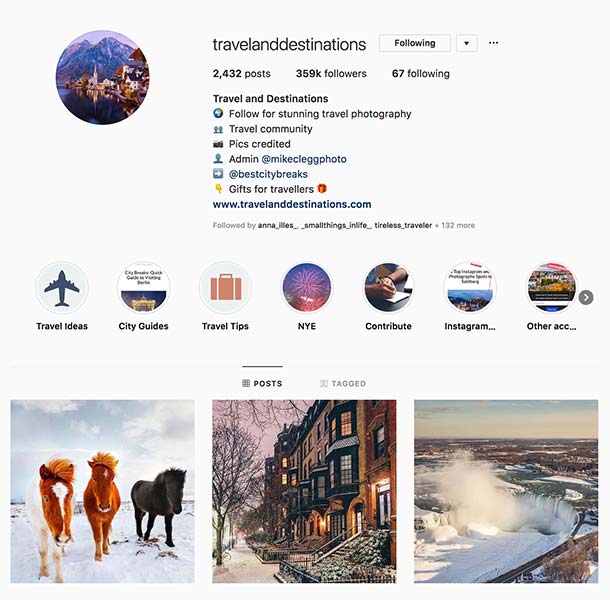 2. @bestcitybreaks
For urban inspiration such as cities, towns and other built-up establishments then follow @bestcitybreaks. You'll find images from cities in Europe, Asia and other places around the world.
Follow @bestcitybreaks
3. @living_destinations
For awesome photographs from around the globe you won't go wrong with @living_destinations. Sharing urban, rural and other travel pictures from fantastic photographers this hub is definitely worth following.
Follow @living_destinations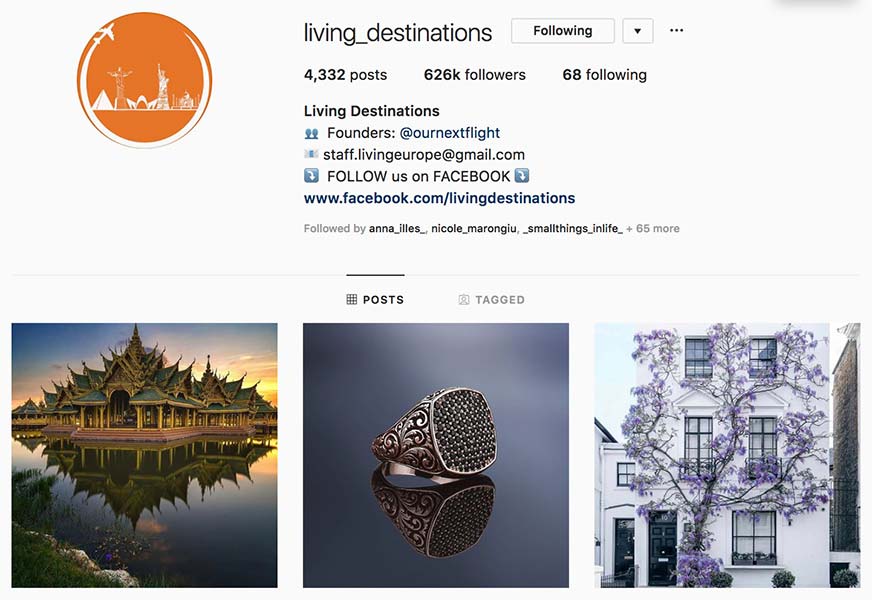 4. @citybestpics
@citybestpics is another Instagram hub that shares awesome pictures of you guessed it… cities. Follow them for images of cities from across Europe and beyond.
Follow @citybestpics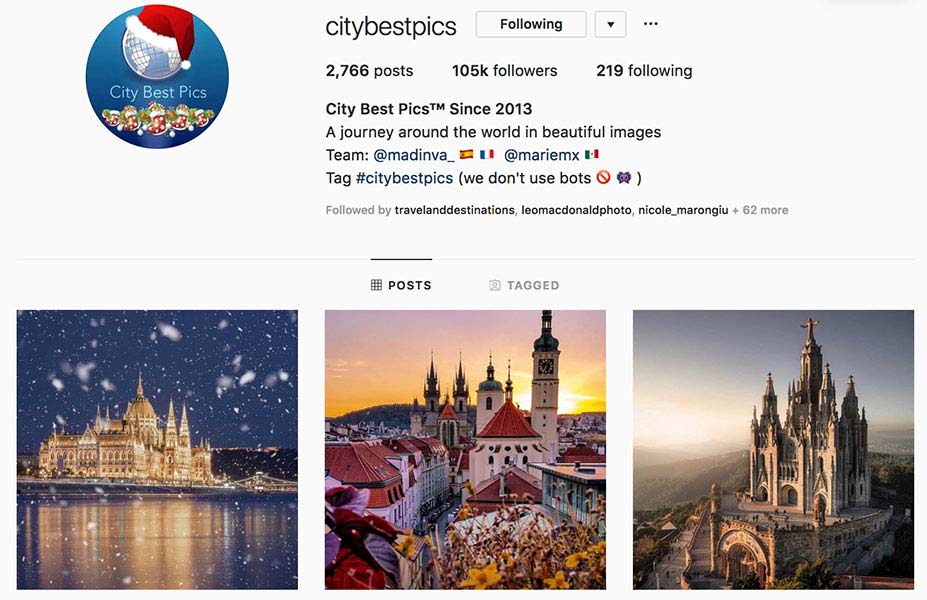 5. @europe.vactions
Sharing Europe content, including cities, landscapes and more, then check out @europe_vacations. This hub is part of a large collection of feature accounts. Follow and tag them with your best travel images from across Europe and you may get featured in this beautiful account.
Follow @europe.vacations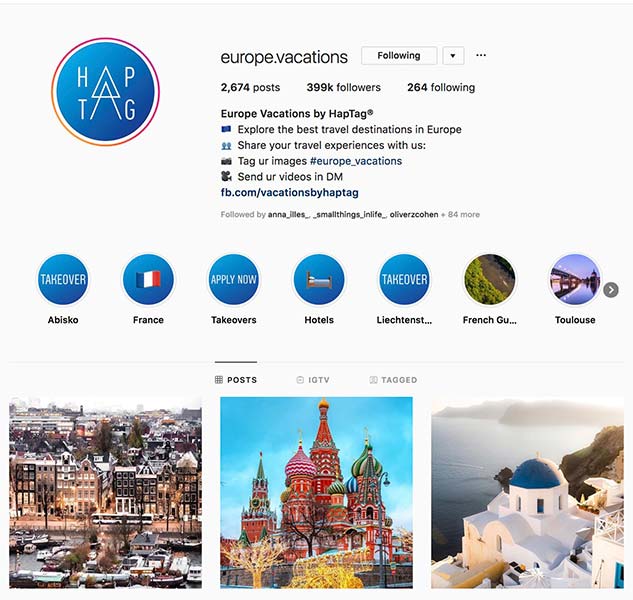 ADVERTISEMENT
CONTINUE READING BELOW
6. @bestvacations
A very large account with over 4million followers @bestvacations is one of the oldest travel feature accounts on Instagram. The images include resorts, landscapes, cities and other awesome travel content providing heaps of ideas for your next holiday.
Follow @bestvacations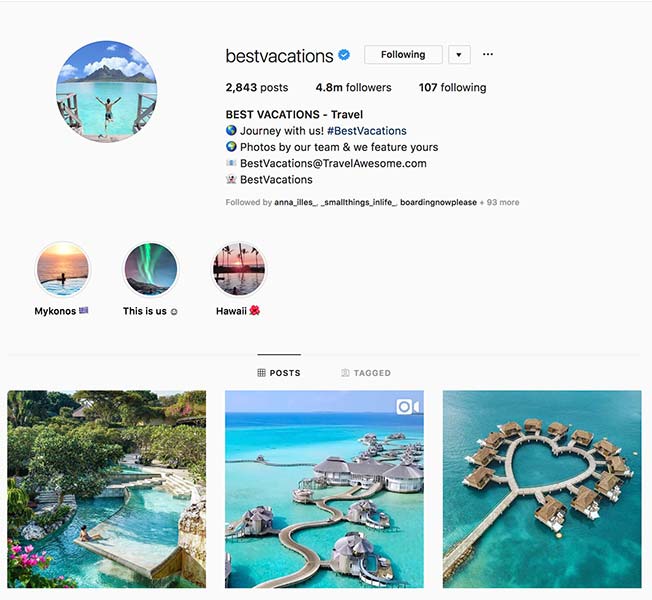 7. @topeuropephoto
For tons of Europe travel inspiration then follow @topeuropephoto on Instagram. This hub is part of a collection of accounts related to "Top [destination]" and showcase some of the best shots of European destinations.
Follow @topeuropephoto
8. @divine.worldplaces
Every photograph is beautiful and well-curated on @devine.worldplaces making it a top account to follow on Insta. Showcasing images from all corners of our planet make sure you visit for travel inspiration.
Follow @divine.worldplaces
9. @travellingthroughtheworld
Now with over one million followers @travellingthroughtheworld has grown quickly into a huge travel hub. Posting pictures from highly talented photographers on Instagram you'll find this account full of awesome ideas. As well as the typical travel shots you'll also find the occasional cute animal pic thrown in for good measure.
Follow @travellingthroughtheworld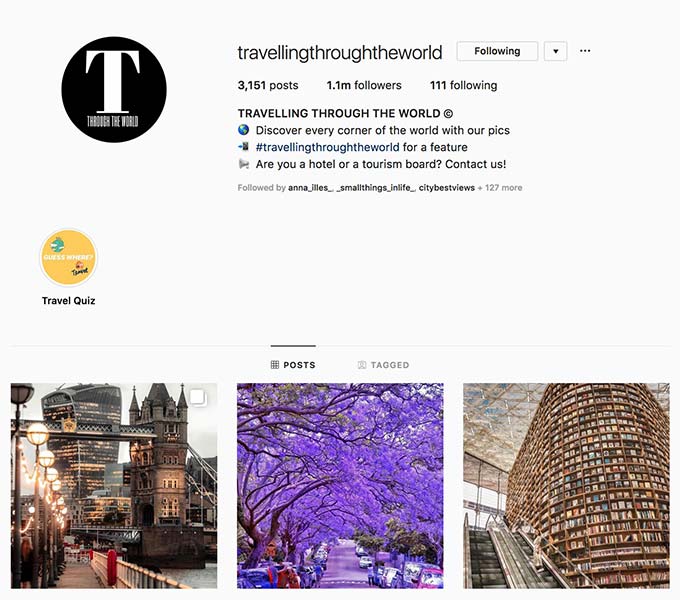 10. @earthpix
A massive account with over 14m followers and sharing breathtaking nature shots from around the world, @earthpixwill be sure to ignite your wanderlust.
Follow @earthdelux
11. @beautifuldestinations
One of the biggest names in the travel and social media industry @beautifuldestinations own a huge travel hub and share images from all corner of the globe.
Follow @beautifuldestinations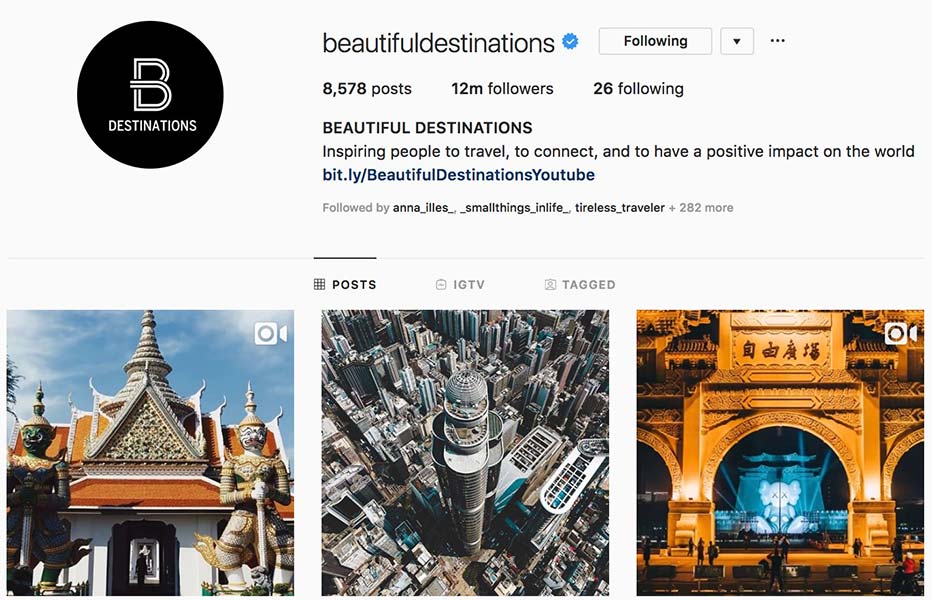 12. @wonderful_places
Another gigantic account @wonderful_places has over 10million followers and shares some of the most stunning travel shots on a daily basis.
Follow @wonderful_places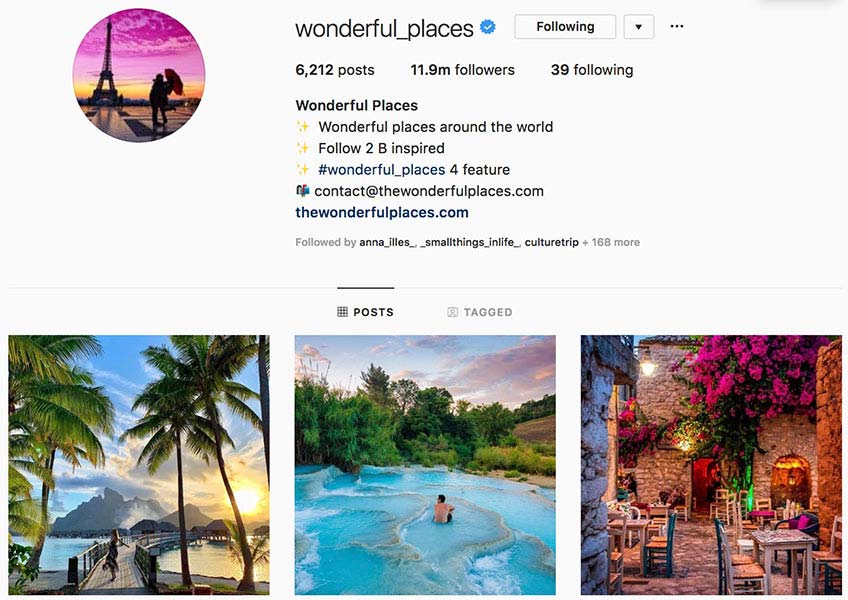 ---
ADVERTISEMENT
CONTINUE READING BELOW
---
Summary
As well as following feature accounts/hubs you may also be keen to see your work included/reposted. However, it's not always that straight forward and should you want to be featured you need to ensure your pictures fit the account. Read Tips on Getting Reposted by Feature Accounts to learn more.
Related Articles