This post will provide you with an ultimate list of gifts, gadgets and products ideas for those that love to travel.
The post is split into different sections such as general, gadgets, products for him, her, kids, adventurers, the photographer and some travel book suggestions. Many of these products I have used or own, and some of them such as the solar charger and the men's toiletry bag I would personally want to own myself.
If you click on the picture, product name, or Buy button, you will be able to buy the products from Amazon.com (US store). Those are affiliate links so I will get a bit of commission at no cost to you. If you have any other suggestions on amazing travel products please leave a comment.
General Travel Products
This first section has general travel products that would fit all purposes.
Travel Money Belt

A travel money belt is a great accessory allowing you to keep your valuables hidden and safe from pickpockets. They can also eliminate the risk of important items falling out of your pockets.

LifeStraw Go Water Bottle

A leak-proof bottle and the company claims 99.99% of waterborne bacteria can be removed. This kind of bottle may be a good choice for when travelling in countries where you're unsure of drinking out of the tap directly or to use when hiking and you want to fill up from streams.

4 Set Packing Cubes – Travel Organizers with Laundry Bag (Aqua Teal)

Packing cubes are a great way to keep your clothes and other items organised in your luggage. This particular version has four different sized cubes and also a laundry bag included.

Travel Scratch Off The World Map

A scratch map is a fun way to mark where you've been in the world! On the outer layer is a metal foil type layer, and using a coin or your nail you can scratch off and reveal another layer with various colours.

Microfiber Bath Towel and Carry Bag, XL

This kind of towel would be great for those camping or staying in hostels where you may not get provided towels. In the Amazon description, the towel is claimed to be compact and quick drying which is important when travelling.

Silver 100% Pure Mulberry Silk Sleeping Bag Travel Sleepsack

This liner is perfect for when you are staying somewhere and you'd prefer not to touch the sheets, or if you just wanted to have a liner in your sleeping bag.

All-purpose First Aid Kit, 299-Piece Kit

Whenever you travel it's always a good idea to have a First Aid kit just in case you have any small accidents. You can also use the case to pack medicine, such as paracetamol, anti-sickness etc.

Selfie Stick for iPhone

Great for taking photographs with your family or friends. A selfie stick allows you to put your phone in it, extend it and then take a photograph. This particular product even allows you to pair with a Bluetooth smartphone and then press the button on the stick to take the photographs.

Antibacterial Waterproof Toilet Seat Covers

When travelling and especially when using shared facilities, such as in public toilets and in some shared accommodation, it's always good to have toilet covers in the event that the facilities are not to a good standard. This package of toilet covers are antibacterial, waterproof and even claim to be biodegradable.
 Gadgets/Electronic
This section has various gadgets and electronic products that you may enjoy during your travels.
EasyAcc 20000mAh Power Bank

These battery packs are great and I use one for my Google Smartphone. It manages to fully charge my smartphone twice. A power pack like this is great for when you are on the move, such as on a train, bus etc for long periods of time and without access to main power.

DOSS Touch Wireless Bluetooth Portable Speaker

Fancy listening to some music whilst travelling. Then this Bluetooth speaker may be just what you need. You can use Bluetooth enabled devices to stream music to the speaker. The device is also claimed to last up to 12 hours with 75% volume and can recharge in 3-4 hours.

Bose QuietComfort Wireless Headphones, Noise Cancelling

Noise cancelling headphones are great for use on planes, trains, buses and anywhere where you just want to become immersed in your music. These speakers from Bose connect wirelessly and offer 20 hours of battery life per charge.

Kindle Paperwhite E-reader

One of Amazons own products. The Kindle Paperwhite allows you to download books straight from the store onto your device. The display is none glare and provides a feeling of almost reading from a book.  As well as this the device is small, light and portable.

SKROSS WORLD TRAVEL ADAPTER

The Skross World Travel Adapters are great for when you are travelling to multiple countries. This particular model takes a range of inputs/plug types and also has a range of outputs.

Apple World Travel Adapter Kit

If you have an Apple laptop this accessory pack will allow you to get plugged in in most countries around the world! I would however consider leaving some of the plugs at home when you travel and just take what you need.

All-New Fire HD 8 Tablet

The Fire HD8 is a high-performance table type device from Amazon. Using this device you can watch movies, play games, browse the net and so much more!

Apple MacBook Air 13.3-Inch Laptop

I currently use a MacBook Pro for all my blogging and photography. The MacBook Air is also incredibly high quality and versatile, allowing you to browse the net, watch movies, work, play games and so much more. What's more this device is light and compact allowing you to easily take it on your travels.

Philips Sonicare DiamondClean rechargeable electric toothbrush

The ultimate electronic toothbrush! I have used this model for years and love it! With the toothbrush, you get a case that allows you to carry two toothbrush heads and even charge it.
For the Plane
Here you'll find products that would be perfect for the plane.
Aeris Memory Foam Travel Neck Pillow with Sleep Mask, Earplugs, Carry Bag

A good quality memory foam neck pillow is a must when flying. I have previously owned a bean based and also a blowup pillow and they don't compare!  This product even comes with a sleep mask, earplugs and carry bag!

Travelrest 4-in-1 Premier Class Travel Blanket

This high-quality travel blanket goes over your shoulders and fits comfortably, meaning it's not going to fall off while you're sleeping!

BlueCosto Luggage Strap 4-Pack, 4-Color

As well as adding a bit of extra support to full and overpacked luggage, these straps also help you find your suitcase as it comes out at luggage collection.

Ultra Soft Foam Earplugs,

Earplug are great for when you're trying to sleep on a plane, train or bus, or when staying in noisy accommodation. This pack from Mack's provides 50 for you to use.

Bedtime Bliss Sleep Mask with Moldex Ear Plugs

A comfortable sleep mask, great for use on the plane, buses, trains, or even at home when you need to sleep but it's too bright. This sleeping mask also comes with earplugs to block out unwanted sound.

Tarriss Jetsetter Digital Luggage Scale

This handy little luggage scale is small and portable. You can use this to check your luggage when you are packing to ensure it's within the limits for the cabin or the hold. It can also weigh up to 50kg/110lb.



TSA Heavy Duty 3 Digit Combination Luggage and Travel Padlock, 2-PACK

This kind of lock would be great for your luggage as it allows TSA airport agents to check your luggage if necessary and then re-lock.
 For the Beach
Here you'll find products that would be great for the beach.
Earth Pak -Waterproof Dry Bag With Waterproof Phone Case

Dry bags are great for the beach, boats and other places where you may want to keep clothes and other items dry. They aren't 100% waterproof so wouldn't be guaranteed to keep your items dry if submerged, but should be good for most other purposes.

Solar Charger,10000mAh

Although I haven't tried one of these they have always appealed to me. As well as being able to charge your devices using the two USB ports it also has an LED light.

Universal Waterproof Case,

This universal waterproof case is for a smartphone and is designed so you can keep your phone on you, whilst doing water sports such as snorkelling, swimming etc. The case is stated that it can keep your device dry for up to 100 feet (30 metres).

Crocs Unisex Classic Clog

Crocs are awesome for the beach and the pool. They are also great for kids such as when they are clambering over potential sharp rocks etc.
 Adventure Products
Here are travel products which are great for adventure type trips
Winner Outfitters Double Camping Hammock

This hammock is designed so you can put it up in minutes and you just use the included equipment to attach it between trees. It should be able to support up to 500lb.

Floating Waterproof LED Flashlight with Carabineer Clip, 55-Lumens

This torch is perfect for the outdoors and adventure trips. As well as being bright at 55 lumens, it is also waterproof and can even float.

Thermos Stainless Steel 40 Ounce Beverage Bottle

This flask allows you to take hot and cold drinks with you and keep them cold or hot for 24 hours. The flash can hold 40 ounces of liquid and is designed with a vacuum.

Gerber Suspension Multi-Plier

A multi-tool gadget with lots of components, such as a bottle opener, knife, pliers, screwdriver, scissors and various others.
 For him
Here are travel products which are great for the guys.
Vetelli Leather Toiletry Bag For Men

This bag is nothing short of beautiful. Made with luscious brown leather, a waterproof lining and with an interior pocket, this bag would be great for the guys.

Fossil Passport Wallet

Fossil is a great brand making high-quality products. This passport wallet is made of leather with a textile lining and has space for your passport as well as 4 cards.
For Her
Here are travel products which are great for the girls.
Traveller Compact Hanging Toiletry Bag

A beautiful hanging toiletry bag with multiple compartments allowing you to keep your products organised when you travel.

Fintie Passport Holder Travel Wallet

This passport holder has a beautiful design and comes with space for both your passport as well as multiple cards.

BaBylissPRO Tourmaline Titanium Travel Dryer

A tiny, portable and yet powerful hair dryer for your travels. This little device is 1000watt and has a dual voltage switch allowing 110-125v or 220-250v operation.

Travel Refillable Perfume Bottle Spray

These handy little bottles allow you to take small amounts of perfume with you on your travels. This product comes in a set of three which will allow you to take multiple perfumes on your trips.

 Travel Games
Below are some great portable games that you could take on your travels. A few of them such as Charades are great for the family.
Wonders Of The World Top Trumps Card Game

If you've never played Top Trumps then you should definitely get this game. It's heaps of fun and you deal cards between the players and then have to compare stats and then whoever has the highest wins. This product is even travel related and is about Wonders of the World.

Uno Card Game

UNO is a super fun and highly addictive game great for the family. You take turns matching cards with colours and numbers, and there are various rules to beat your opponents.

Family Charades Board Game

Charades is the ultimate family game and will provide fun and laughter. This game involves acting out things from the cards you read and then your team has to guess the answer.

Magnetic Travel Chess Set

Chess is a great way to keep yourself busy for hours and involves quite a lot of tactics to win. This game is also magnetic meaning it would be great for use when on transport.
 For the Photographer
Here are some travel products which are great for those interested in photography. For a more detailed photography list head to Equipment Recommendations where you'll find all the photography equipment, I use when I travel.
Canon EOS 6D 20.2 MP Digital SLR Camera

The Canon 6D is a fantastic camera allowing you to capture professional travel photographs. It's not the cheapest and there are plenty of other options available, however this is what I use and I highly recommend it. The camera capture images at 20.2 megapixels and allows for interchangeable lenses allowing you to customise the camera for different shots.

Canon PowerShot G7 X Mark II

I also use this camera and think it's great. The picture quality is fantastic and you can even shoot raw. The camera has lots of the functionality of a professional camera and if you are into night photography you can even take long exposures that come out amazing.

GoPro HERO5 Black

GoPro is a great camera for adventures, action and underwater photography. You can also get lots of add-ons for it so you can use it for different purposes.

Dome Port with Waterproof Case for GoPro Hero 3+ 4

Have you ever seen pictures where the image is half above and half below the water? Using a device such as this should allow such a thing. As well as shooting those types of images it should allow you to take higher quality images underwater as they'll be less water directly in front of the lens.

DJI Phantom Quadcopter Drone

The ultimate device for capturing areal shots. The DJI Phantom is now used by many travel photographers all around the world.

MeFOTO Aluminum Roadtrip Travel Tripod/Monopod Kit – Blue (A1350Q1B)

I've used a MeFoto Travel tripod during my travels for years now and highly rate it! The tripod is strong, well made and even looks good! When buying they have several models, with a smaller and larger version. The smaller version is good for compact or light cameras, whilst the larger tripod is more suited for heavier products. Before buying check the specification for what weight the tripod can handle.

Lowepro Event Messenger DSLR Camera Shoulder Bag

A great bag for travelling around the city. The bag isn't huge so wouldn't be suitable for those wanting to carry around huge amounts of kit, but it's perfect for your camera whilst you explore cities, or want to pack less for a day trip.

Memory Card Case For 12SD Cards & 12 Micro SD Cards

If you are travelling for quite some time you may take thousands and thousands of photographs. Because cameras are getting higher and higher quality they take pictures that are a larger file size. This means you are likely going to need multiple memory cards. Using a device such as this will help keep them organised so you don't loose them. This card holder can hold 12 SD cards and 12 Micro SD cards.

Seagate 2TB Portable External Hard Drive USB 3.0

Whenever I travel for long periods of time, such as over a week I always take an external hard drive with me. I then duplicate my pictures from my SD (camera cards) onto the hard drives so I have a backup.

JOBY GorillaPod SLR Zoom

GorillaPods are awesome and allow you to attach your camera to doors, fences and almost anything you can wrap or position the legs around. You can get different types which can handle different strengths, such as for compacts, SLRs or just for GoPro cameras.

LensPen Lens Cleaner

Lens Pens should always be in your camera bag. They are a way of cleaning your lens and filters whilst you are on the move and they take up minimal space.

Apple MacBook Pro 15″ with Touch Bar: 2.9GHz quad-core Intel Core i7, 2TB – Space Gray (Late 2016 model)

The ultimate travel and photography computer. I currently use this model for my blog and all my photo editing and I love it! You can get various models which comes with different specs, such as more ram, more hard drive (storage) space, different screen sizes etc.
 Book Suggestions
Here are various book suggestions which would be great for those wanting to improve their photography, or want some ideas on places to visit, or just want a nice coffee table book.
Unforgettable Places to See Before You Die

This book is one of the first travel books I ever purchased. Within the book you will find stunning pictures and tons of information suggesting ideas of beautiful places you should visit in your lifetime. It's actually part of a series which I also recommend. I have them all on my shelf.

Lonely Planet's Guide to Travel Photography (2012 edition)

Probably one of the best travel photography books out there. I have read every page from the front to the back. It has helped me on my journey to take high quality travel photographs and understand the ins and outs of photography and cameras. If you wanted to see some of my travel pictures head to: www.mikecleggphotography.com. You can read my review on the book here: Review of the Lonely Planet Travel Photography Book

Lonely Planet's Guide to Travel Photography (2016 edition)

An update to the book above. It's written by Richard I'Anson who also wrote the 2012 edition which I was a huge fan of.

100 Countries, 5,000 Ideas by National Geographic

A book from National Geographic, you'll find lots of ideas and inspiration of places to visit, as well as things to do whilst there.

Around the World in Cut-Outs

An upcoming book from Rich McCor @paperboyo who is an extremely creative photographer making pictures using cities, architecture and paper cutouts.
Do you have any other suggestions for great travel gifts, gadgets or products? If so please leave a comment below.
Other posts you may like:
Top Websites to Help Plan Your Travels
Posts with Travel Tips
Pin for later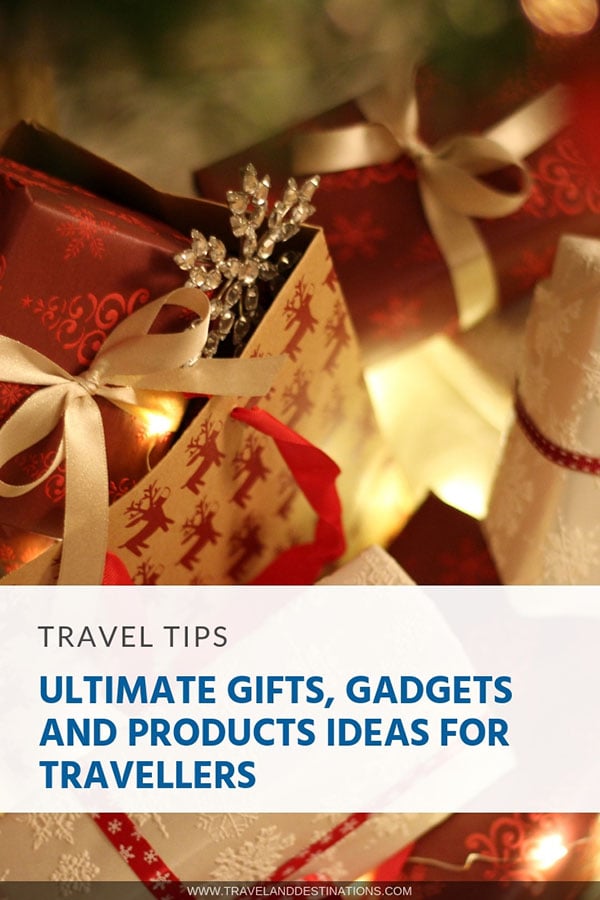 Disclaimer: Please read full product details and reviews (as necessary), before making any purchasing decisions. Please check compatibility for any electronics and applicable products. Many of these products have been used by myself but some are recommendations based on things I would like as a traveller and products which have good reviews from previous buyers.