The prospect of planning and booking a multi-destination trip can be quite daunting. Such trips are often complicated, the planning takes a lot of time, and you have to get everything to align. In this guide, I will give you my tips on what I do, when planning trips where I visit multiple destinations.
---
Why book a multi-destination trip?
You'll get to visit more destinations
It should be cost-effective vs flying back home each time between places
It may be more environmental vs separate trips
It'll challenge your planning skills
And finally, you will hopefully have the time of your life
More reasons why should you book a multi-destination Trip.
ADVERTISEMENT
CONTINUE READING BELOW
---
Step 1. Research
The first steps to planning a multi-destination trip will be to do research and decide where you want to go. You'll probably find that your initial plan will always change. Such as when I was planning my Asia trip I originally planned to start in Shanghai and my trip included Seoul and Tokyo, but I ended up not going to any of those destinations and went to completely different places and countries in Asia.
Decide where you want to go
Have a big think about which regions you want to visit and whether you want your trip to be different destinations within a country, or if you'd prefer to visit multiple countries. It's also worth checking in advance whether the country allows short visa-free stays, as this can make your planning and decisions a lot easier. You can use a service such as iVisa.com to help you with this or apply should you need more help.
For guided and specialist tours you can also look on sites such as G Adventures who offer tours for many destinations around the world and these often come with local guides, transport and lots more.
When I decide where I want to go I often get inspired by places I see on Instagram, and that can often lead to me booking a trip that includes destinations that I would never have thought to visit otherwise. You can also read blog posts such as top places to visit, such as my Europe post on cities that are good to visit: 10 Top Cities to Visit in Europe for a City Break
Use Google Maps
One of the first things I do when planning a multi-destination trip, is to look on Google Maps to get a clear picture of where places are in relation to each other. This ensures I can book transportation in the most efficient way. Ie if you are visiting Europe and want to see France, Germany and Austria, then it probably wouldn't make sense to visit France followed by Austria, then Germany, as Germany is in the middle.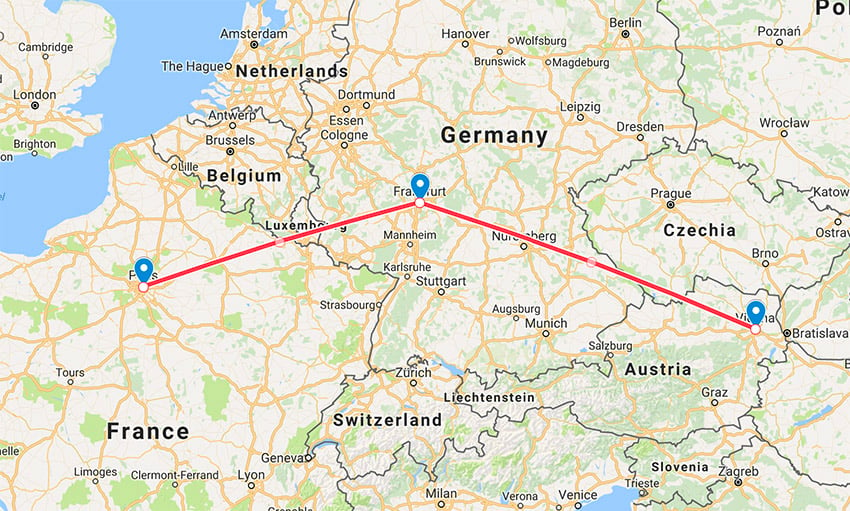 Look at connections between destinations
Flights Comparison Websites – If I am travelling quite far and need to fly I will next look on flight comparison sites such as Google Flights, KAYAK, or Skyscanner and see what the connections are like and whether the flights are affordable and not too long. Using a service such as Google Flights you can search using the Map view or just the Flights View. There are even options to filter on the number of stops, airline, price, flight times and various other options.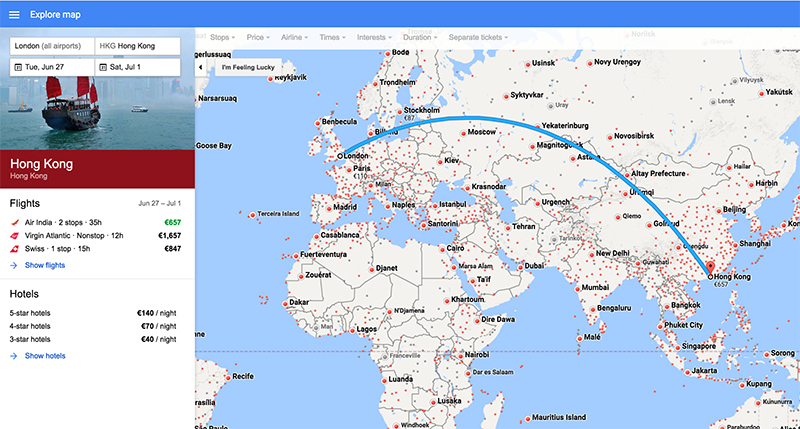 Flixbus – If I am travelling in Europe I also look at the connection options on FlixBus. I have used Flixbus for quite a lot of trips and I find them cheap and provide a great quality service. When booking they have an awesome interactive map that helps you search for routes.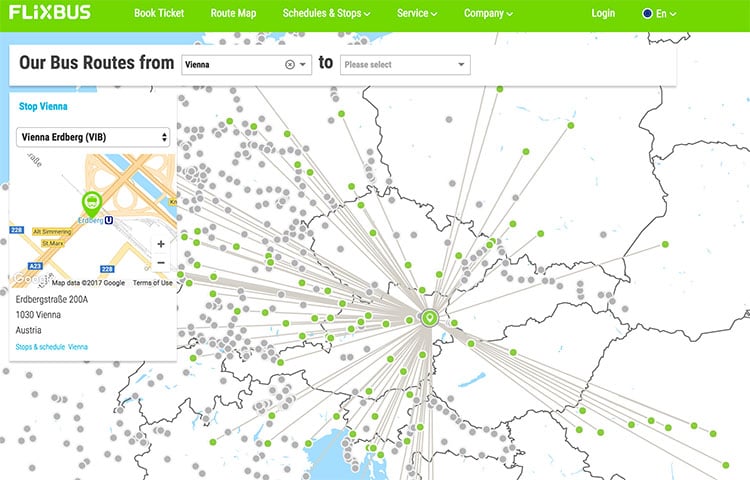 Interrail – If you're travelling in Europe then another popular option to help plan and book your transport is to use Interrail. With their service you can buy train passes that allow you to travel flexibly between 33 countries (40,000 destinations). This might include a certain number of travel days over a time period, such as 7 days of travel over 1 month, or 10 days of travel over 2 months. You could also use that for your major connections and then get local transport or buy individual passes for any additional travel/transport you might need. Interrail isn't necessarily the cheapest way to travel in Europe but is a handy service for multi-destination trips.
Omio – Another way to see what connections are available between destinations is to use a service such as Omio. Omio is more for travelling in Europe, the USA, and Canada, and the service helps you search across different transport options to find the cheapest and quickest routes. You can then book your tickets through them as well if you want.
ADVERTISEMENT
CONTINUE READING BELOW
---
Step 2. Planning
Now for the planning. Things may and do often change when planning, but you will probably have a good idea on the destinations you want to visit.
Create a Google spreadsheet with your itinerary
Once I've established the route I want, I will then create a spreadsheet using Google Docs, such as below. This spreadsheet will include as many details as possible about the trip, such as:
Dates – Including the day of the week and the actual calendar date.
Location – The country and city, or place, that I am visiting. I also track how many days I will be in each place.
Booking Status – I update this as to whether accommodation and flights are booked.
Flight details – All flight information such as flights times, flight number, duration, baggage allowance, cost etc.
Transfer details – How to get from the airport, bus, or train stop to the accommodation. By doing this research in advance it'll make the start of your trip that much easier and more enjoyable.
Hotel/accommodation details – Make a note of the dates, address, cost, contact number and free cancellation date, which is often possible through Booking.com.
Visa information – Whether or not a visa is required, and I will make a note if it's been arranged.
Below is an example of my spreadsheet/itinerary for Asia. You could also add columns to track who is paying for what when you are travelling with someone else.
Click here for a blank version of the spreadsheet which you can download and use. You could then import this into Google Docs if you wanted to use it online, or open it using Microsoft Excel or similar program on your computer.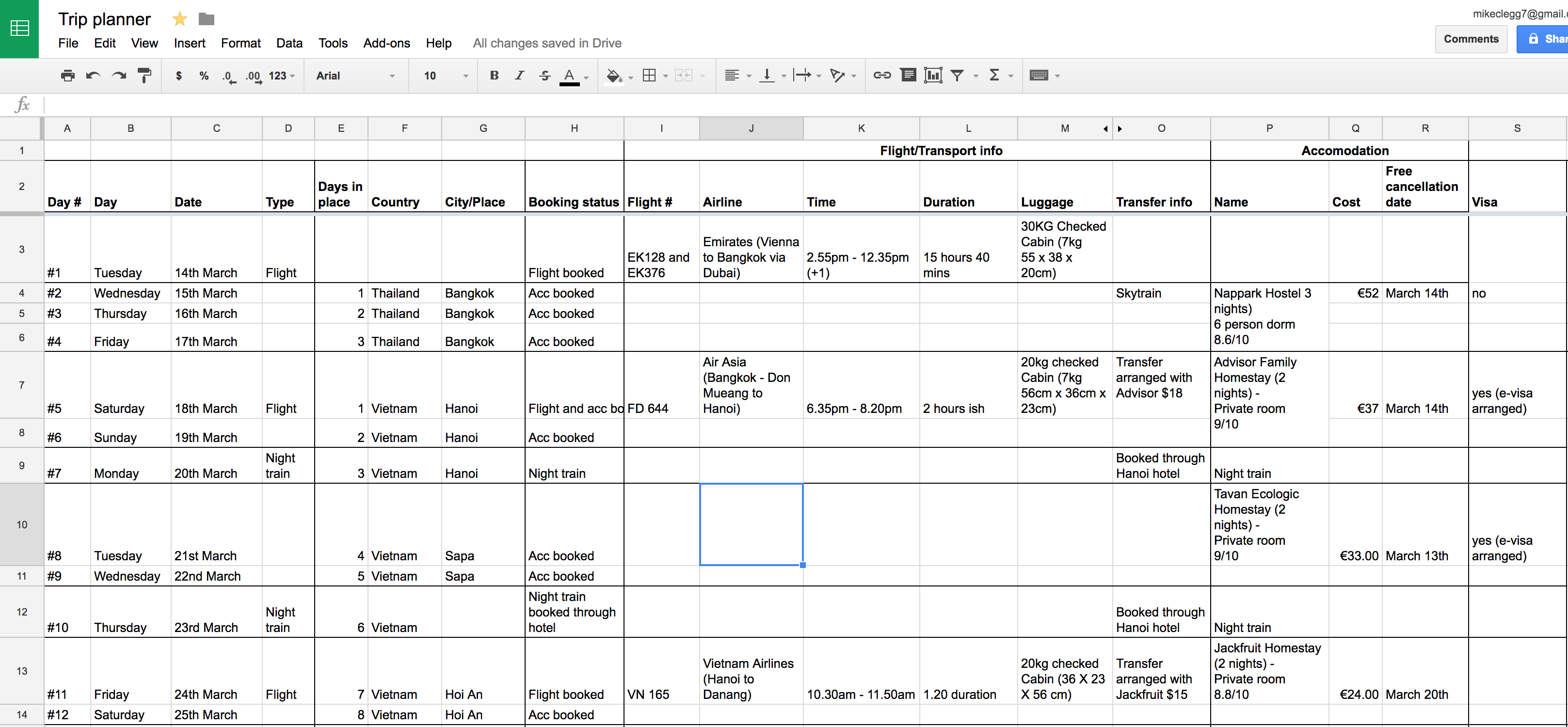 Consider an online tool such as Wanderlog
A free online tool that is helpful for planning trips is wanderlog.com. This allows you to build an itinerary using maps and lists and has been built with a great user experience in mind (this is why we recommend it). There is both an online browser-based version, as well as an app and it's possible to add notes and create lists for different things, such as places to visit, restaurants and pretty much anything else you may want. You can then save this in your profile or share and collaborate with friends too, which makes it useful when planning a trip with friends.
Hopping between places and keeping it affordable
When booking multi-destination trips you can keep it affordable by hopping between places in the most direct route. You can often do this on cheap flights, trains or buses.
For example, if you did a multi-destination trip in Europe which involves Berlin, Prague and Vienna, then you could use FlixBus or trains. The bus between these cities may cost around €19 between Berlin and Prague, and then around €15 between Prague and Vienna. So you see travelling like that is an incredibly cheap way to travel. If you prefer to travel by trains you could consider using Omio, Trainline or Interrail to plan your train travel.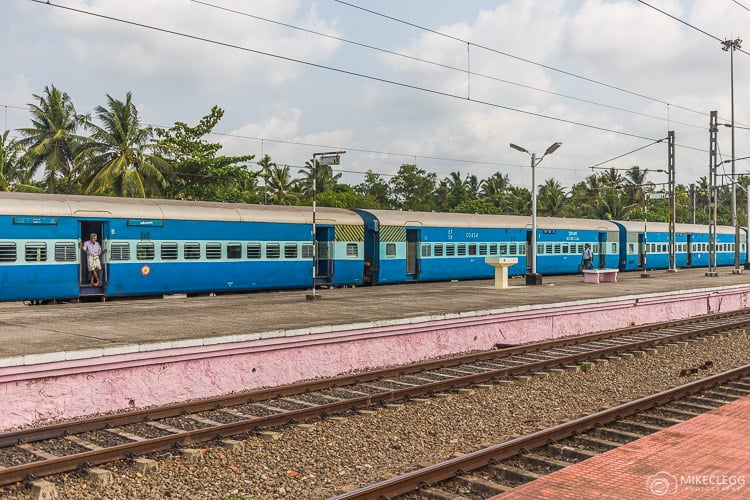 Always book connecting flights through one airline
If you need to book a flight that has a stopover, then try to book through one airline. That way it's the airline's responsibility to ensure you get on the connecting flights.
If you decide to book say one flight from London to Dubai, and then separately book another flight from Dubai to Singapore through completely different airlines, then if you have delays on the first flight and end up missing the second flight, you have less protection and may be responsible for buying an entirely new flight. Along with this added cost, it'll likely be quite a stressful experience.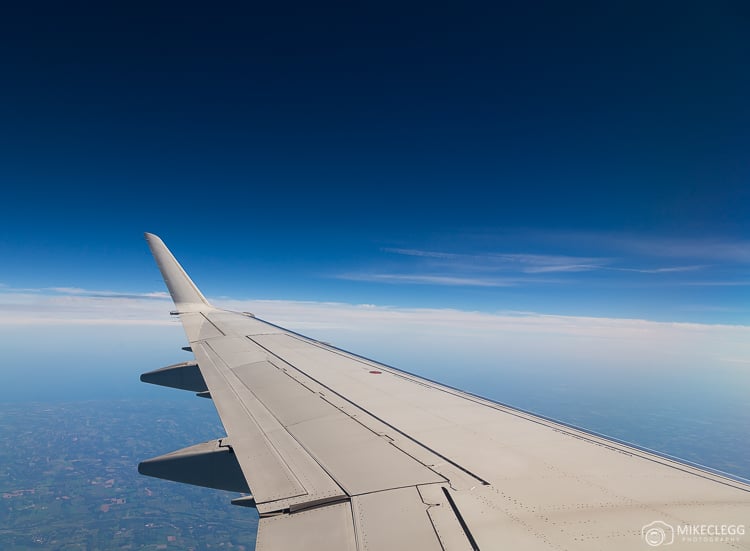 Be wary of delays and cancellations
Flights can often be delayed, so you should always beware of potential delays, cancellations and other things that may come up. So when planning all your connections make sure you leave yourself ample time, so you don't end up missing costly flights or having to rush around unnecessarily. In some destinations such as around Asia, I found there is less passenger protection than in Europe. In Europe, airlines may have to provide compensation for cancellations and delays. Head to europa.eu…passenger-rights to learn more about EU Flight Regulations.
ADVERTISEMENT
CONTINUE READING BELOW
---
Step 3. Find and book accommodation
There are now so many accommodation options available from hotels, guesthouses, homestays, pet sitting, Airbnb, Couchsurfing and more.
Booking hotels, hostels and guesthouses
I now book almost all my accommodation through Booking.com which I am a big fan of. Benefits to using them include:
Genius discounts for frequent bookers – After around 7 bookings you become a Genius member. This gives you extra discounts and other benefits.
Free cancellation – Many properties offer free cancellation up to a certain date, or sometimes the day before. This makes changing your plans a lot easier and cheaper.
Good filters – There are tons of filter options on the site. Such as price, accommodation type, free cancellation, review score, facilities, and many more.
Map view – If you would prefer there is a map view. I often use this to get a good idea of where the hotel is in the location.
Viewing bookings – In the view "bookings" you can easily see where you are staying from day to day in an easy to read format.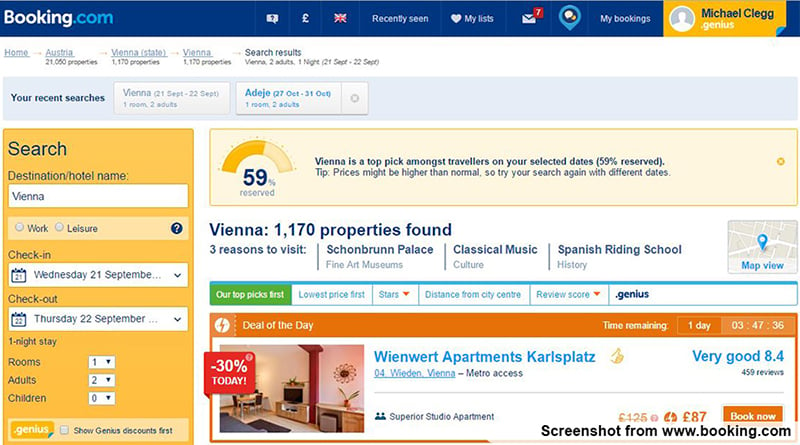 There are a few things that do irritate me about Booking.com even though I use them a lot.
Unless you turn them off you will get lots of emails trying to make you book. I recommend turning these off in the settings.
They put unnecessary pressure on you, saying that x number of people are currently looking at the property. I find this super annoying and wish I could turn that off.
They sometimes show properties that no longer have rooms in a "Just Missed It" fashion! I personally don't see the point in this other than to annoy me.
Despite these things, I still definitely rate them as one of the best providers.
Hostels through Hostelworld
Hostels offer a cheap way to travel and will often include accommodation options where you stay in a shared dorm. These can be crazy cheap such as £5 (or $5) per night depending on your destination.
If you're looking to stay in a hostel then as well as using booking.com you could look on a service such as Hostel World. On their site they list of 11,000 hostels across 2000+ cities so you should find plenty of good options. Another benefit is that you can read reviews from other guests and generally if they have lots of reviews with a good average score then it might mean you've picked a good option.
Apartments through Airbnb or VRBO
Another popular option for accommodation is Airbnb. These are private properties that people rent out and could be a house or flat. You can find properties where just a single room is available, or where the entire property is available. When checking in you will then arrange with the host a time, which can vary a lot as the host may have a normal 9-5 job. I have stayed in several properties with Airbnb and they were nice, clean and it was pretty easy to arrange everything. Another similar option where you can book apartments is VRBO/Homeaway.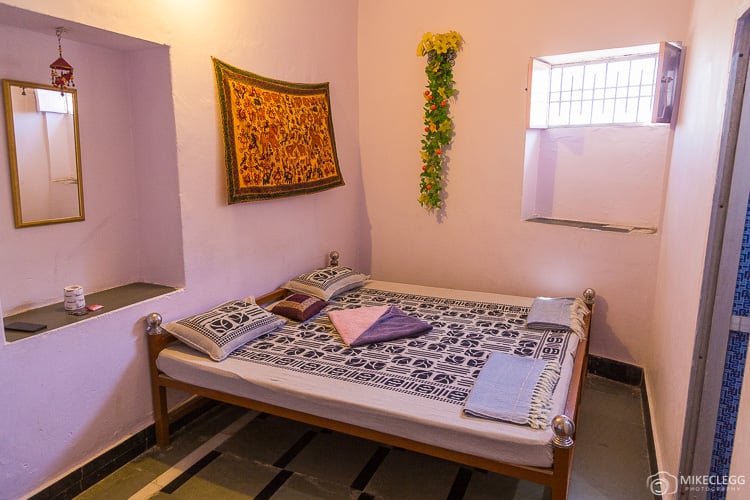 For hotels and Airbnb apartments you can use our map below to start your search. Use the box on the left to change your destination.
Disclosure: We get a commission at no cost to you if you book via our links.
House swap, pet sitting and other options
Other accommodation options which may be good include house swapping, pet sitting or Couchsurfing. These aren't options I've tried yet. If you have tried them please leave a comment as I'd love to know your thoughts.
Here are some websites that produce such services:
ADVERTISEMENT
CONTINUE READING BELOW
---
Step 4. Planning activities and things to do
Planning your activities and things to do in advance can save you lots of time, and can also ensure that you see all the highlights and best attractions in the destination.
You can find things to do and activities through some of the below sources:
Guides books – You can often rent these from libraries or buy your own.
Blogs and online websites – Such as this travel website. We have lots of "best things to do" articles for various destinations around the world, but also use your preferred search engine to find lots more ideas.
Tours and Activities – We recommend searching and booking tours and activities through Viator or GetYourGuide who have thousands of options for most destinations around the world. These also come with customer ratings, free cancellation up to 24 hours before and their booking process is also extremely user friendly. Note that we do get a commission if you book using our links, but we are also their customer and use their service ourselves.
Your accommodation – Often accommodation providers offer suggestions of this to see and do and this has the benefit of being local knowledge too.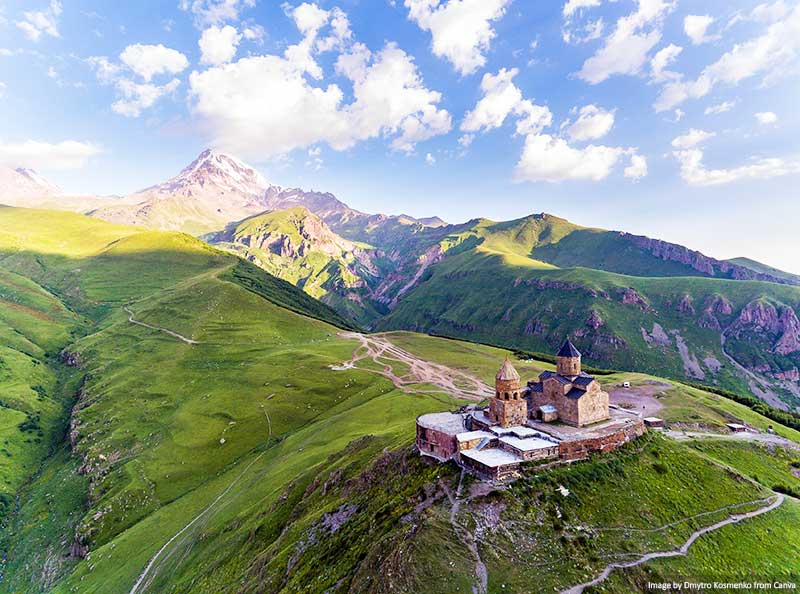 ---
Step 5. Share your itinerary with friends and family
Once you have everything planned you should share your itinerary with your friends and family. This is so that they know where you are throughout your trip. If you are using Google Docs to plan, and then you share the document, then any changes you make will automatically be updated and viewable in the shared document. If you don't use Google Docs then forward any flights, accommodation and anything else important to them via email.
ADVERTISEMENT
CONTINUE READING BELOW
---
Guides and specialist tours
For guided and organised tours then check out G Adventures who offer some great options for destinations around the world. From multi-city trips in Europe to multi-day tours around Canada, South America, New Zealand and many more places. These often come with accommodation, transport, certain meals and tours included.
---
Multi-destination trip ideas
Here are some ideas for multi-destination trips
▶︎ Balkans Multi-Destination Trip – Croatia, Montenegro, Bosnia and Herzegovina
▶︎ Belgium Multi-City Trip: Ghent, Bruges and Brussels
▶︎ Multi-Country Trip – London, Paris, Amsterdam
▶︎ Multi-Country Trips – Berlin, Prague, Vienna, Budapest
See more multi-destination trips ideas.
---
Summary
Going on a multi-destination trip is one of the best ways to travel and see lots of places. Such trips are extremely easy in Europe and Asia due to fantastic and affordable connections.
Ready to book? Search for:
---
Related Articles