The roots of USA cities may not reach as deep as their European counterparts, and their energy may not be as ecstatic as Asian metropolises. Still, they do possess a certain charm and a cosmopolitan vibe. Who hasn't dreamed of wandering around New York's broad avenues or posing in front of the captivating Golden Gate Bridge in San Francisco?
While the iconic skylines of New York and San Francisco are renowned globally, the USA has many more cities that are worth discovering during your travels.
Before you book your ticket and pack your bags, read our guide to 10 of the best and most alluring cities in the USA.
---
1. San Francisco
Located on the USA's west coast in California, San Francisco is a melting pot of cultures, architectural styles, art venues, and cuisines. Not a single traveller will skip seeing the Golden Gate Bridge, but the charming Fisherman's Wharf district and the Japanese Tea Garden are commendable sights as well.
Wandering among San Francisco's avenues might build up your appetite, and the Ferry Building Marketplace can take care of all your cravings. Here enjoy artisanal pastries or fresh honey, go for a ready-to-eat meal or watch life go by with a coffee within arms' reach. Another trade of San Francisco is its proximity to superb beaches such as Funston Beach and Mile Rock Beach with its magnificent viewpoint.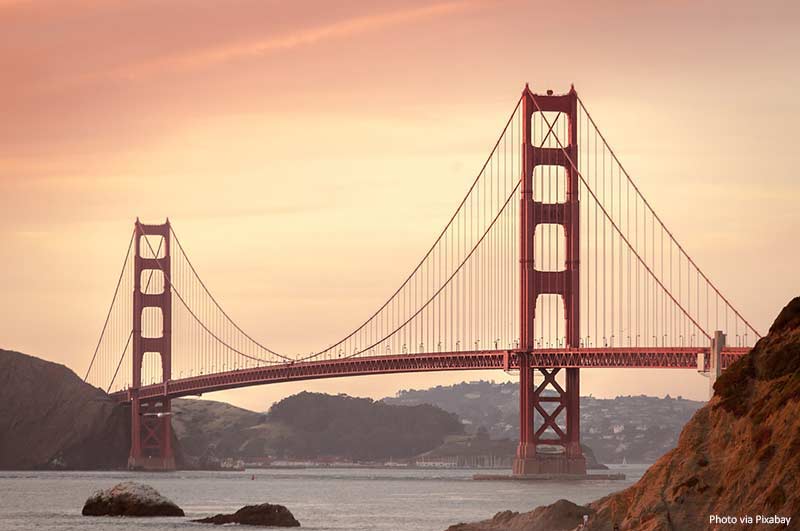 2. Nashville
Food and music are some of the words deeply connected to Nashville's identity. The state capital of Tennessee is bursting with creativity and is often regarded as the US capital of country music. Visiting live music venues like Tootsies Orchid Lounge should be on top of a music lover's bucket list, and so should a stroll through the Country Music Hall of Fame and Museum and the Johnny Cash Museum.
Beyond music, there's much more to discover in Nashville. From the introduction to Nashville hot chicken (the city's culinary pride) to the impressive Belle Meade Plantation. Learn about the history of the plantation and take a tour through the main country house's opulent chambers. The Radnor Lake State Park is also an excellent and tranquil spot to stretch your legs and soak up some fresh nature air.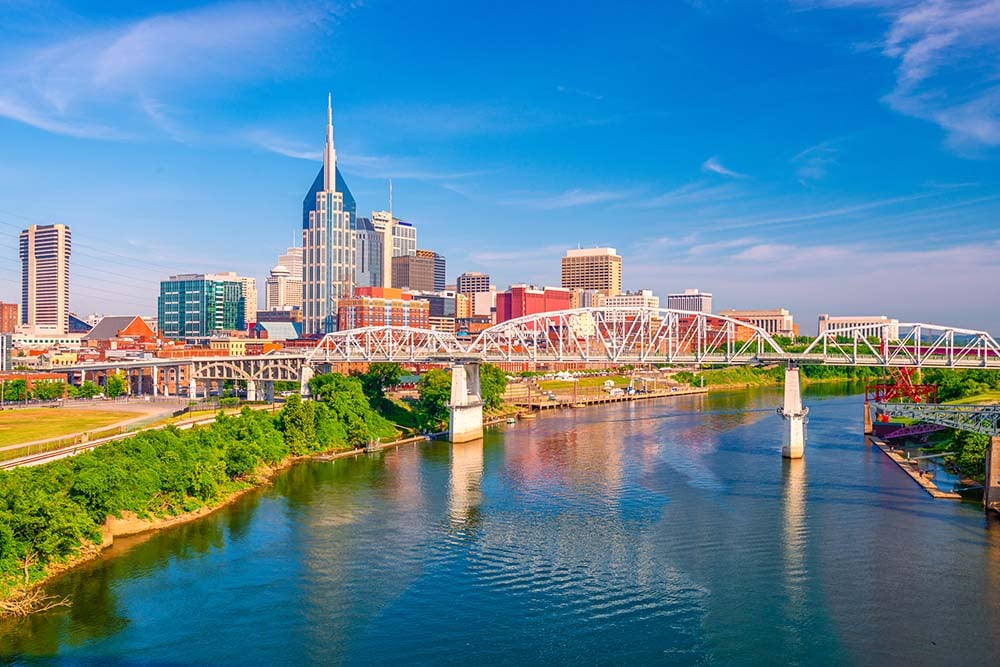 3. New York City
New York City aka "The Big Apple" is truly the US's most remarkable city, featured in numerous Hollywood productions, novels, and artists' repertoires. You could spend weeks exploring legendary locations like Manhattan Island, cruise past the Statue of Liberty, take photographs at Time Square, or laze around in Central Park. But it's worth venturing for less-visited sights; see New York's skyline from a different perspective and relax amidst the greenery of Governors Island, or escape the ever-humming city in Prospect Park in Brooklyn.
Of course, you might want to tackle New York's most famous burger joints or pizza places, but dedicated foodies best spend their time in Chinatown, where you can drool over succulent dumplings and noodle dishes. The dynamism New York showcases is unmatched on the North American continent.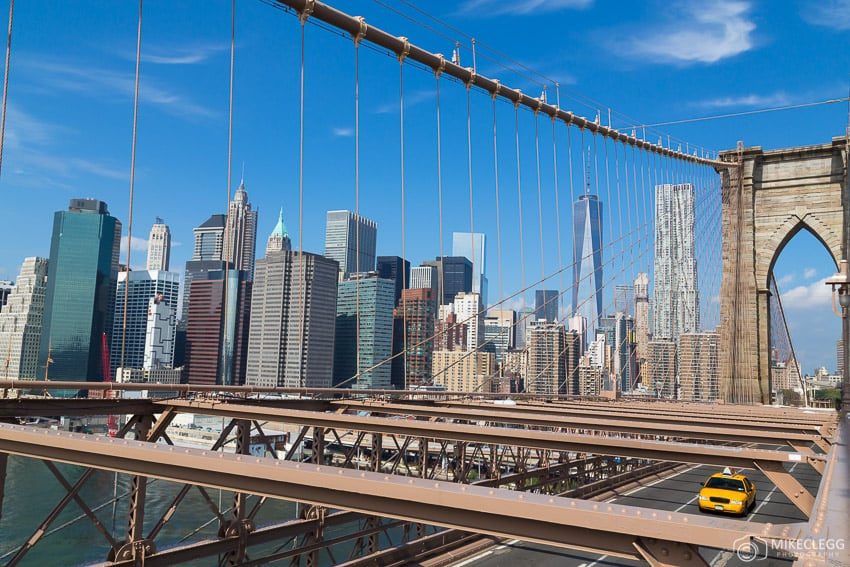 4. New Orleans
New Orleans has a distinct character, shaped by influences from Africa, America, and Europe. Lively music clubs, French-style manors, and exciting African-American cuisine have transformed New Orleans into one of the coolest cities in the South.
A scenic lane called Bourbon Street comes to life at night as jazz artists, locals, and tourists all gather in the jam bars. During the day, Jackson Square and St Louis Cathedral are worth exploring, as you can wander around the landscaped gardens and admire the stunning 18th-century church. The New Orleans Jazz Museum dives deeper into the city's musical history, and it features instruments and other artefacts that once belonged to well-known artists. To see the city and its surroundings from a unique point of view then board a cruise on the Mississippi River in a traditional steamboat.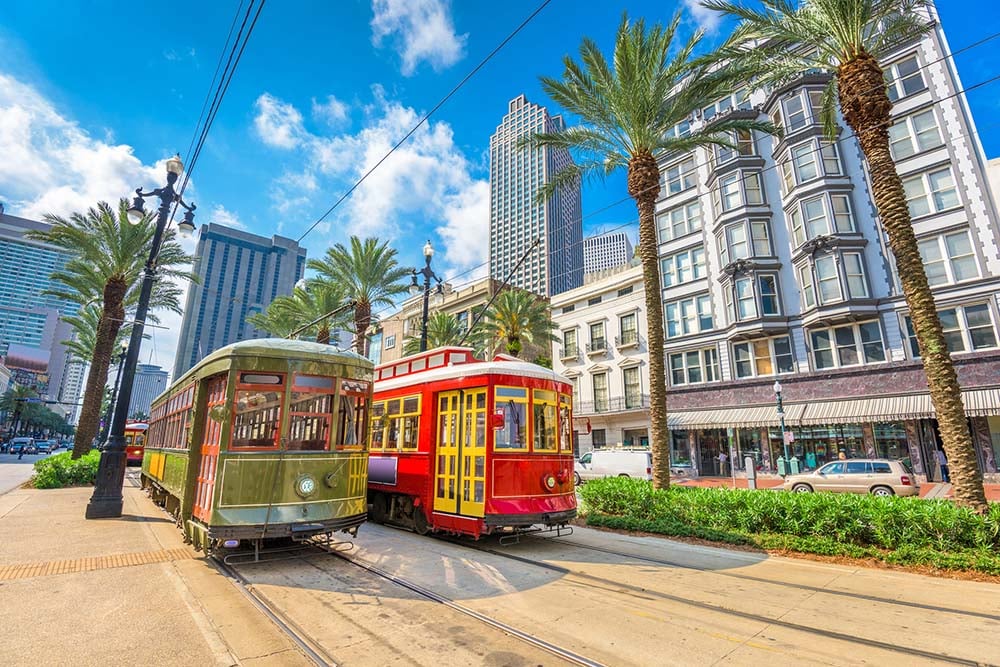 5. Chicago
Chicago borders the enormous Lake Michigan and is home to nearly 9.5 million people in the metropolitan area. The Illinois state's capital has an excellent reputation among art-minded folks, as it features museums like the Art Institute of Chicago and eye-catching outdoor artworks as seen in Millenium Park.
Another iconic landmark in downtown Chicago is the Cloud Gate, a massive sculpture in the shape of a bean that certainly will look marvellous in your travel photo album.
As Chicago can be an urban jungle at times, it's a pleasure to walk past pats of green like the Garfield Park Conservatory with its exotic plants and flowers. The city is one of the birthplaces of blues music, and some fine spots to see live performances include House of Blues Chicago and Rosa's Lounge.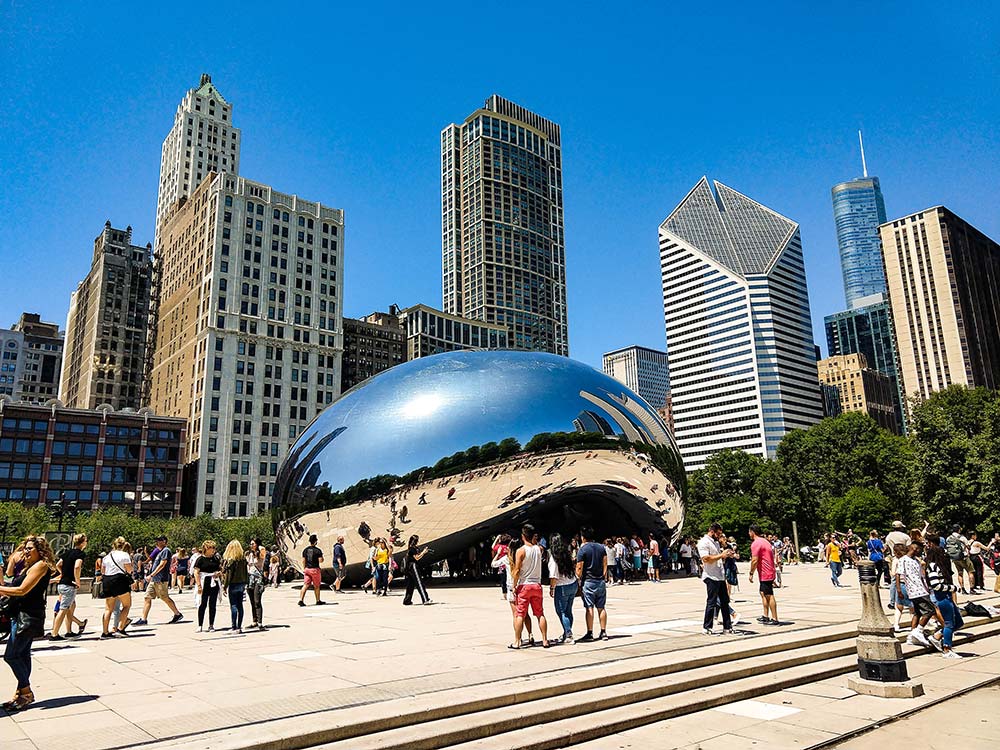 6. Los Angeles
To many, Los Angeles symbolises Hollywood's glamour and fame, but the city also has various other qualities. Entertainment and food never hurt, and Los Angeles delivers those in spades.
Visit Disneyland Park in nearby Anaheim or Universal Studios Hollywood with the family, and stuff yourself with street food at one of the city's numerous food trucks afterwards. The Huntington Library, Art Museum, and Botanical Gardens is a peaceful oasis with stunning landscaped gardens and a historical library with heaps of unique and rare books.
Despite its highly urbanised character, Los Angeles boasts some unique pieces of wilderness. The hiking trails at the Angeles National Park lead along waterfalls, rolling mountains, and lush vegetation.
Los Angeles certainly is one of the most diverse USA cities on this list, thanks to its combination of culture, nature, food, and entertainment options.
7. Las Vegas
No matter how much nighttime fun other US cities offer, Las Vegas will always be the country's entertainment capital. 'The Strip' is where the splurging, dancing, drinking and gambling crowds congregate, but even if you're not into these forms of amusement, it's worth walking along to see the action unfold. For a more serious tone, enter the Mob Museum to find out more about major mafia characters and gangs.
In the downtown area, both the Neon Museum about iconic Las Vegas neon signs and the Southern Nevada Museum of Fine Art show the artistic side of 'Sin City'. Although Las Vegas is primarily known to be a place of carousing and stag parties, it does cater to multiple types of travellers.
8. Washington D.C.
Washington D.C. is known as the capital of the USA and also the government seat. Some of its key landmarks include the Capitol and the White House. But this city of around 6 million has more up its sleeves. Fascinating museums, unwinding river cruises, and historical monuments are all waiting for those venturing to America's 6th largest city. One of the must-visits in the capital is the Washington Monument, a tall column erected to honour the US's first president, George Washington.
Wandering around the quirky Adams Morgan neighbourhood with its historic mansions and a strip of bars and restaurants is another highlight. Washington is also home to some intriguing museums, including the National Air and Space Museum and the National Museum of American History.
9. Miami
Miami is a popular destination towards the bottom of the USA East coast. It is known for its beautiful beaches, architecture and entertainment.
In this top USA city you can of course relax, but also go for walks on the boardwalk, discover the city's arty side, or explore the Everglades National Park.
Read 9 Top Things to See and Do When Visiting Miami for lots more ideas of the things you could enjoy whilst visiting the city.
10. Seattle
Seattle is one of the northernmost state capitals in the US, and from here, it's only a couple hours drive to the Canadian border. Seattle is also a significant hub of commerce and technology, has plenty of relaxing parks, a legendary market, plus highly-praised restaurants.
What the Golden Gate Bridge is to San Francisco, is the Space Needle to Seattle: a truly iconic landmark that looks sublime on your travel photos. Ascend to the top, where a cafe and observation deck make for a memorable experience. Continue exploring Seattle by heading over to Pike Place Market, where you can browse for collectables, delightful food, and souvenirs. See the old buildings and boutique shops at Pioneer Square, or take a ferry to Bainbridge Island for a relaxed day away from the downtown bustle.
11. Honolulu
Honolulu is a one-of-a-kind destination on this list of the best cities to visit in the USA. This is due to its geographic position, atmosphere, and abundance of nature.
Honolulu is the capital of Hawaii, a state in the middle of the Pacific Ocean, marked by towering volcanoes and stunning landscapes. The fact that beaches, forests and waterfalls are some of the city's highlights earns Honolulu a place on this list. However, in the urban area, the Polynesian Cultural Centre and the Pearl Harbor Visitor Centre are actually some of the most interesting places to visit.
Are you more of an outdoor type? Tackle a trail through the rainforest to the pounding Manoa Falls, ascend to the Diamond Head peak, or bask in the sun at Hanauma Bay.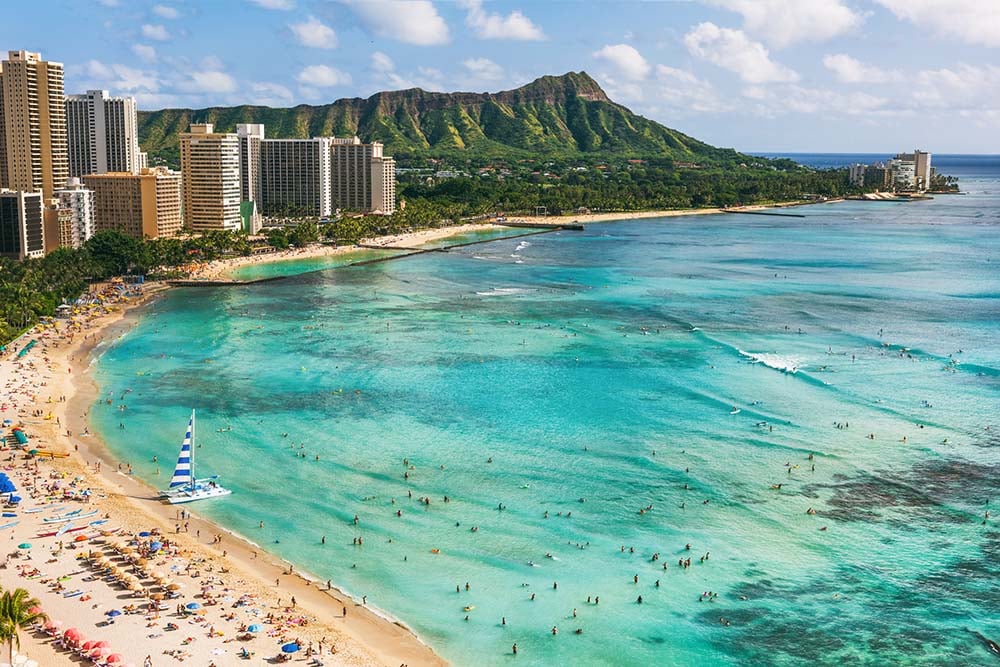 ---
---
Summary
These 10 cities are proof of the incredible cultural and geographical diversity within the USA. From the cosmopolitan vibe of New York to the lush landscapes that encircle Honolulu, each of these cities has its own unique features, and give you plenty of options during your United States of America trip.
Related Articles