If you're like me, you love every single step of travelling. As soon as I close my front door I begin to relax and from there on out, every experience is a part of my travel journey. There is one thing I've had to navigate around my travelling, and that's running a small online business (such as a travel website) while still being able to enjoy the wonders of the world. So, I thought I'd share some tips and experiences with you so you can embrace the digital lifestyle.
---
Packing your mobile office
You'll need to accommodate space in your luggage for your mobile office. For me, it's a good laptop and my camera that are the most important pieces of equipment. Before embarking on any journey, take the time to list out the things you need for your day-to-day job – and make sure they're packed! Here are some essential tools for the travelling entrepreneur:
Travel adapter kit. Different countries have different power outlets and you don't want to be stuck with a quickly draining laptop!
Wireless headphones with a decent microphone. You may have to jump in and out of calls while travelling, so finding decent headphones with a good microphone is essential. Plus, having music playing while working is a must.
External batteries. If you're out and about with no access to an outlet, having an external battery to your devices is a good idea.
WiFi hotspot. It's a good idea to check if your accommodation has a stable WiFi connection, but having a hotspot with you is mega useful if there's nothing in range.
Waterproof cases for your devices. You never know if the weather might turn while you're out and about! Plus, if you're working by the pool you'll have extra protection from any splashing nearby.
---
Challenges to take into consideration
It's all well and good travelling the globe and working, but one thing that many entrepreneurs forget to take into consideration is the time difference. If you're travelling somewhere that's in a completely different time zone, you'll need to make accommodations for this. This might be appointing someone to lead meetings and take minutes on your behalf, or it might even be something as simple as changing your out-of-office reply to let customers know you'll reply as soon as possible. Little details like these are appreciated and may prevent loss of customers!
You should also take into consideration communicating with your team. This may mean you need to prioritise working in the evening or early mornings so you can catch up with them. Make sure you have a plan!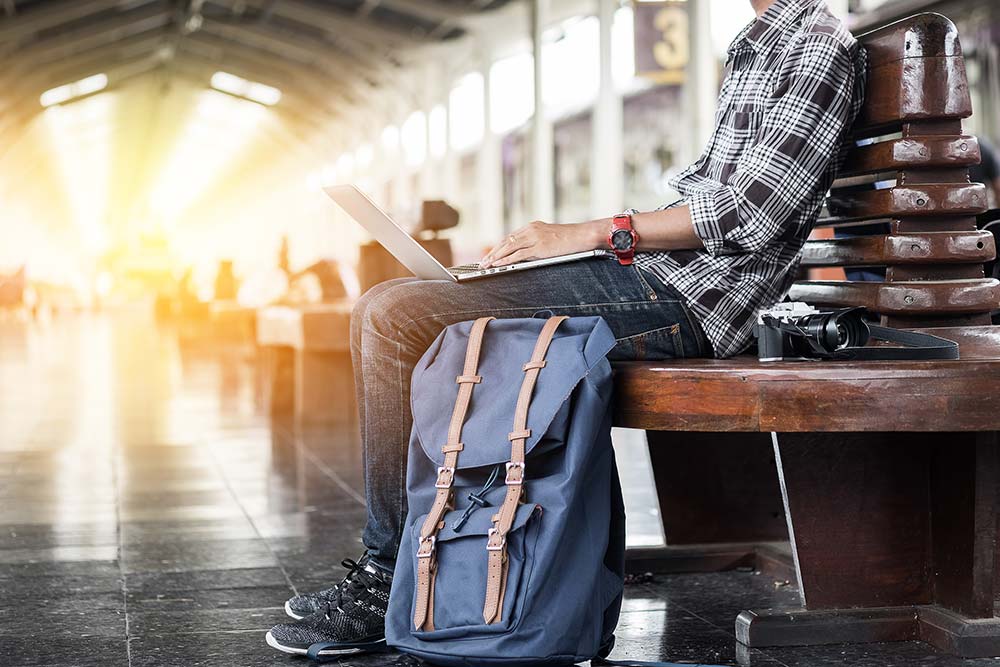 ---
Automate, automate & automate more
Your best friend will be automation when it comes to being a successful globe-trotting entrepreneur. Automate repetitive tasks such as email scheduling and paying your static costs. There are countless automation tools you can use, and some are even free!
What are the benefits of automating tasks?
You can save time and money. Automating tasks frees up human time for more complex or creative tasks.
Reduces human error. Removing the "human" side of things can eliminate most of the processing errors you may run into.
Reduce costs and increase profits. Because you have more time to work on other tasks, workflow increases and therefore increases profits.
If automation isn't an option or you'd prefer to have a person working on the task, then take the time to delegate these tasks to your team before jetting off. Creating detailed standard operating procedures of each role will help assist your team in the day-to-day running of your business if you're not around or aren't currently contactable. Make it a must for all roles within your business – even the ones your team completes – and you'll never worry that a job isn't being carried out correctly again.
---
The role of a live chat bot for your website
If your business is based around customers and selling online then you may get a lot of queries and messages. This can be even more of an issue if you're in a different time zone, so you may find it difficult to keep up with customer queries or people contacting your site. That's where the live chat bot comes in. Using live chat software for website queries from customers is an amazing way of giving customers the answers they need while being able to enjoy wherever you are in the world.
If you're a small business owner, committing to a live chat bot might not be something you're considering, but let's take a look at why they can significantly help your business:
Live chat software simplifies things
While your website may hold all the information your customer could ever possibly want to know, today's consumers don't want to have to look far for the answers they need. Live chat software keeps things easy for the customer by allowing them to simply ask for what they're looking for and then abracadabra, they have their answer.
Fast service – even from a "bot" is essential in today's world, and the faster customers can get the answer they came for, the faster and more likely they are to head to the checkout page.
Effective communication
Online chat windows that are manned by actual humans are great. Everyone likes to feel like they're talking to someone. However, the one advantage that live chat software has is there is no human emotion. So, if the customer on the other end isn't happy, live chat software can help diffuse problems, keeping the customer calm and as happy as possible. In turn, this helps businesses receive less complaints or bad reviews online.
Online 24/7
Live chat software is always online. So, if you don't have staff manning your website 24/7, or like yourself, want to enjoy some travelling, having live chat software helps customers get answers to questions at whatever time of the day.
Constant customer service
Another great thing about using live chat software on your website is having the ability to give your customers a personalised experience, even if you're not actually there. We've all had our fair share of moments with chat bots that can be actually rather comical! Having live chat constantly available gives customers instant answers and helps them navigate through your website to find exactly what they want, almost like having a virtual assistant experience!
Convert website visitors into customers
Live chat can help those time sensitive leads turn into customers. Now that customers are able to get fast answers, they're likely to make fast decisions on whether they're buying or not. If the chatbot helped them find what they wanted, there's a good chance they will want to check out and move on with their day.
Help with brand trust
In most cases, live chat software is the first interaction the customer has with your business. If the interaction is successful, and there's no reason it shouldn't be, then that instantly creates a trusting relationship with the potential buyer. The chatbot can guide them by providing them with information about your products or services, and even take them straight to the page they were looking for.
So, while you may have a small business, you can see that it can be extremely beneficial and if anything, help grow your business!
---
The freedom of remote entrepreneurship
One of the most amazing things about running a small business (such as a website) on the road is the fact you can choose when you work and when you take in the sights. Many remote entrepreneurs like me choose to take some downtime in the middle of the day to complete essential tasks, and then use the evening to complete the rest of our work days.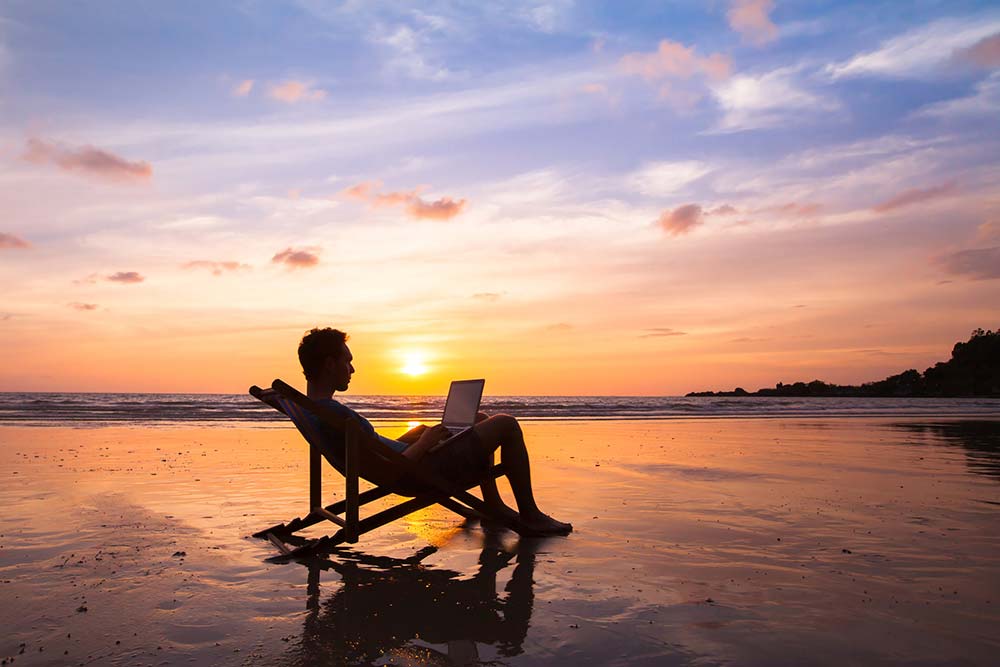 ---
Tips for balancing work and travel
While it's an amazing feeling being able to pick and choose your hours, it's essential that you take control of how many hours you're putting in. It goes without saying that if you don't hit your target quota of hours each week then your business is going to suffer. Here are some top tips that I've picked up along the way.
Stick to a routine
Creating and sticking to a routine is imperative as a digital traveller! Pick specific working hours and stick with them as much as possible. This will not only allow you to alert your colleagues when you're working, but it also allows you to differentiate between work time and your leisurely time. As I mentioned above, even if that means doing a few hours in the day and working in the evening, as long as you stick to it you will hit your goals.
Plan ahead
It's unlikely you plan on working in your apartment or hotel every day. Therefore research cafes and places with strong internet beforehand.
Make use of time management tools
These are your best friends on the road to help ensure you don't get lost within one particular task or neglect others. Tools like Trello are super useful for those on the road.
Keep communication levels high
Don't completely go off the grid! Let your team know what hours you'll be working and when is best to contact you.
Ask advice from other travelling entrepreneurs!
Finally, even now I still ask other digital travellers for their best tips and tricks when it comes to staying on top of my website when I'm on the road travelling. Having a support network will help you achieve your dream of travelling the world as a successful entrepreneur!
Related Articles