Bolivia is a landlocked country located in the heart of South America. It is a destination that boasts breathtaking landscapes, a rich culture, and incredible adventures that will leave you awestruck.
Visit the capital La Paz and enjoy skyline views from the teleferico (cable cars), or take a walking tour to learn more about the city and its hidden gems.
For those seeking nature then head to Rurrenabaque, where you can venture into the Amazon Rainforest and discover some of the incredible animals that call it home. One of the biggest and must-see highlights in Bolivia is the world's largest salt flat, Salar de Uyuni and this is accessible from Uyuni or Tupiza.
You can find some of our articles below helping you to discover Bolivia and the best places to go, as well as find accommodation maps, activities and tours to help plan your trip. So keep scrolling to start planning an adventure of a lifetime!
---
Articles, tips and inspiration on Bolivia
Here are some articles about or that include Bolivia:
---
Bolivia hotel map and accommodation
Find your perfect Bolivia accommodation using this interactive map. You can search for both hotels and apartments. Use the filters to adjust your search.
Note: Please wait a moment for the map to load as well as the suggestions of places to stay. Sometimes you may also have to just move the map slightly or zoom into your desired location to see additional properties which are available.
Click the button below to find more accommodation options:
---
Top tours and activities in Bolivia
Here are some of the best activities that you may like for Bolivia. These are provided through our partners. You can also use the blue-button a little below where you can be more specific with your search, including adding your dates, filtering by type of tour and many more options.
---
Bolivia guided and specialist tours
If you're looking for a long multi-destination tour then have a look on G Adventures. They offer some of the best tour and itinerary packages available and come packed with activities and attractions for you to enjoy. You can choose to visit just Bolivia and see highlights such as the Salt Flats, Sucre and Potosi, or visit neighbouring countries in South America as well. Many of the itineraries include your internal transport, accommodation, certain meals, guided tours and more included.
Below is an example of one of the tours that you might find.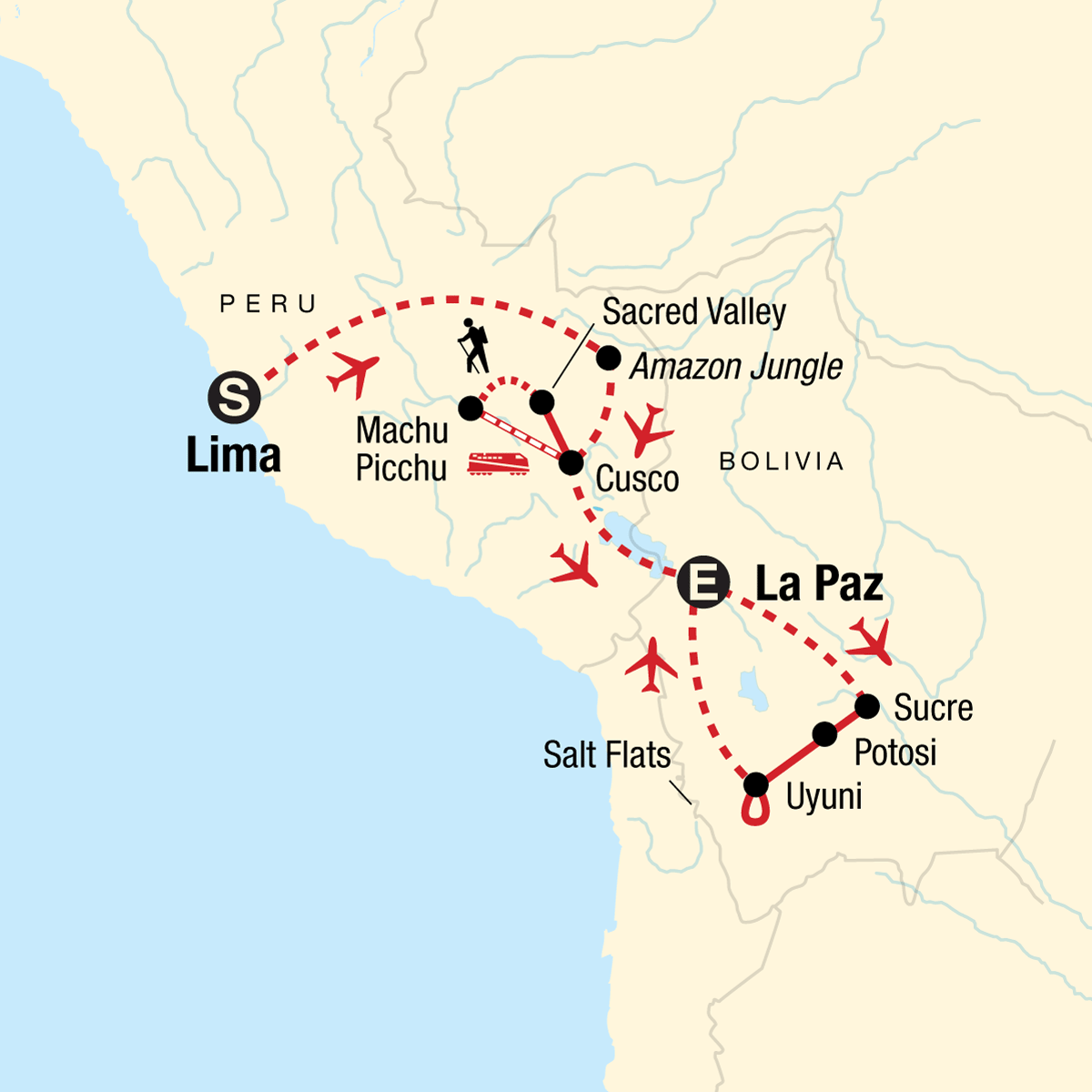 ---
Transport
Below are services for finding transport. You can start searching for flights through a site such as Skyscanner.
Here are some other services that can help you get around, such as by using trains, buses and cars.
---
ADVERTISEMENT
CONTINUE BELOW
---
Want to find somewhere else? You can use the button below to find a different country.